Before your Big Bird feathers get all ruffled, let me start out by saying that if I listened to every single comedy podcast out there I would actually be a Time Lord. Yes, a frakkin Time Lord! Why, you ask? There are not enough hours in a year and even Time Lords have lives. So since I am not the Dr Who of Los Angeles I must present to you a list of those comedy podcasts I've had the pleasure of discovering and appreciating in the year of the Mayan forecasts, 2012. You might wonder what criteria I adhered to drawing up this list. Firstly, the podcast must make me laugh out loud. Not just a giggle or a chuckle but an all out burst of euphoric pleasure. Second, the podcast must keep me engaged. Now we know all podcasts have their share of awkward guests or lulls in conversations but a quality one will always get their audience back on track and end triumphantly. Last but not least, a podcast should have a "tattoo", some identifying feature that keeps it unique. It is this special quality that will make a listener a diehard fan. And if you have not had your fill of disclaimers I leave you with just one more: this is not your mother's podcast list.
____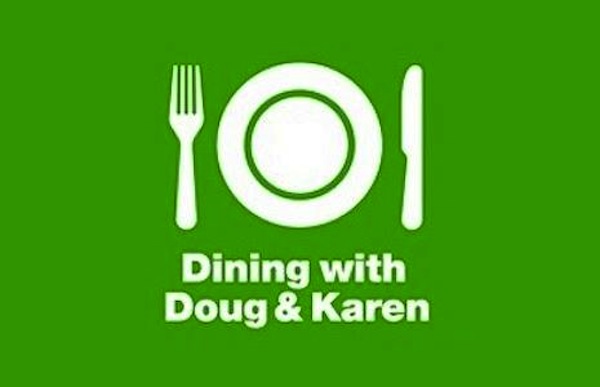 Food! Comedy! A podcast that puts those two passions together so beautifully just had to make my top ten. Comedians Doug Benson and Karen Anderson dine with an equally funny guest at the Meltdown in Los Angeles and explore the gamut of culinary delights. From food truck fare to 5-star chef cuisine the hosts do not hold back discussing their food experience (especially Karen). They also manage to fit in some hilarious stories with their guest. I am consistently left mentally sated by this podcast.  And boy do I yearn to seek out the meal of mention by podcast end. I simply can't wait till Doug puts together a live taping next year where the audience participates in the dining. Save me a seat guys!
*Yes, I know Doug Loves Movies and Benson Interrupted did not make this list. They are equally awesome podcasts. When Doug has 10 podcasts going at once I will give him his very own top ten list.
____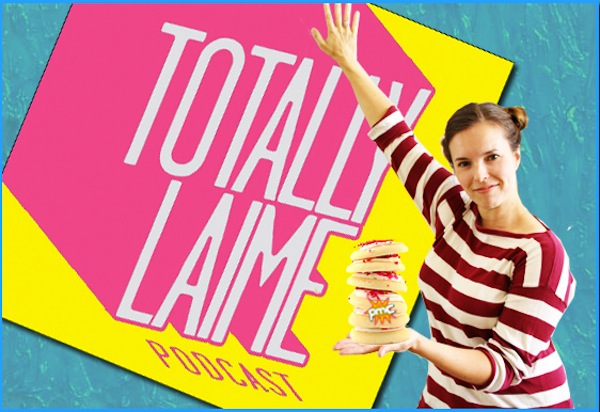 First word that pops in my head when I listen to Totally Laime is GENUINE. Husband and wife team, Andy Rosen (aka Psychic Andy) and Elizabeth Laime talk comedy and life with a guest of their choice in the most relaxed environment possible, their humble abode. Andy is the ying to Elizabeth's yang and the two capitalize on this rapport in every episode. Elizabeth is a seasoned comedy writer and has performed at UCB and Groudlings (to name a few). She has amazing comedy timing during her interviews and never stops charming her audience. Hubbie Andy's day job is that of cool music producer but in the podcast world he keeps Liz in check and does so with complete ease. Damn these two are peachy.
____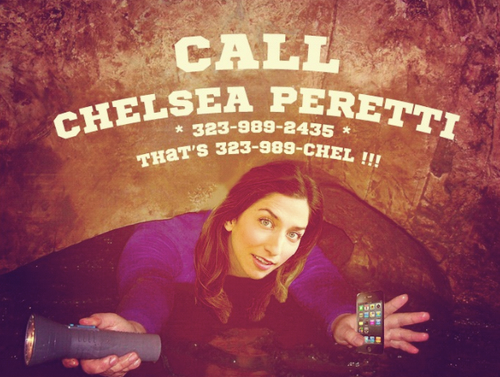 Comedian Chelsea Peretti is a tough nut to crack. You can never tell whether she's just pulling your leg or being downright deliciously evil. This call-in show is bizarre, sweet, idiotic and insulting all at the same time. Yet I can't get enough! The topics are ever changing and the callers are dealt with in Chelsea's very special irreverent way. To add to the strangeness you have what always seems like random celebs dialing in to add their two cents to the mix. This podcast is one hell of a wild ride so be sure "Coffee's crankin through your sys."
____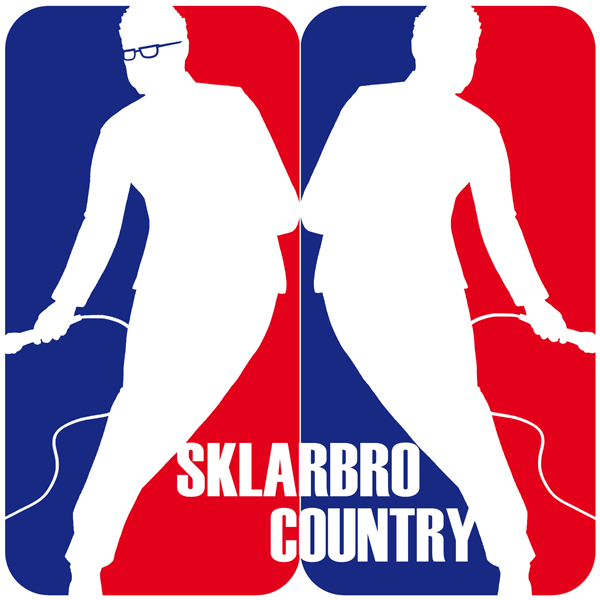 The only two sports I'm even remotely familiar with are tennis and ice-skating yet I absolutely love Sklarbro Country. Twins Randy and Jason Sklar bring you their take on the wonderful world of sports and pop culture. In addition to brilliant guests each episode features performances from a wide range of plain hilarious characters voiced by Dan Van Kirk, Chris Cox and others. There is never a dull moment. And who knew I could learn so much about sports from a comedy podcast?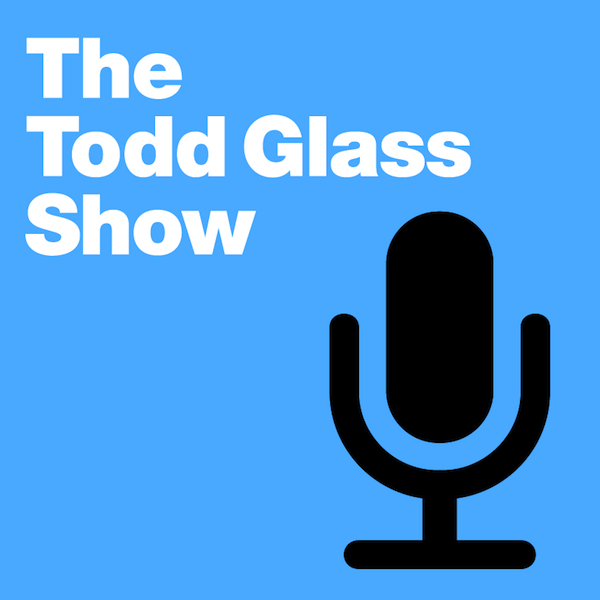 Todd Glass IS his show. The podcast is thoughtful, crazy, hilarious and pretty much any word you would use to describe Glass. Always the charitable host, Glass instantly invites an audience into his crazy world and cast of funny friends. That list of buddies includes Daniel Kinno, Chris Burden, Blake Wexler, Lynn Shore and whoever wishes to join in. So grab a glass of vino, sing some oldies, and listen to this class act. The bits abound.
____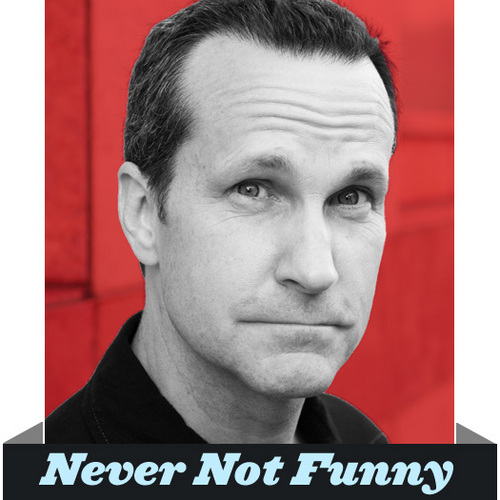 Well, the title pretty much says it all. The NNF funny bunch will be starting their 12th season in January '13. That is just crazy sauce! Every week TV personality and comedian Jimmy Pardo sits down with producer Matt Belknap and a guest from the comedy microcosm to discuss life and pretty much anything that enters Jimmy's pretty noggin. It is one big party and the laughs never end. Oh, and don't forget once a year NNF has their Pardcast-a-thon which raises money for Smile Train. Videos from 2012 are available for purchase at Dailymotion.com.
____
4. Dead Authors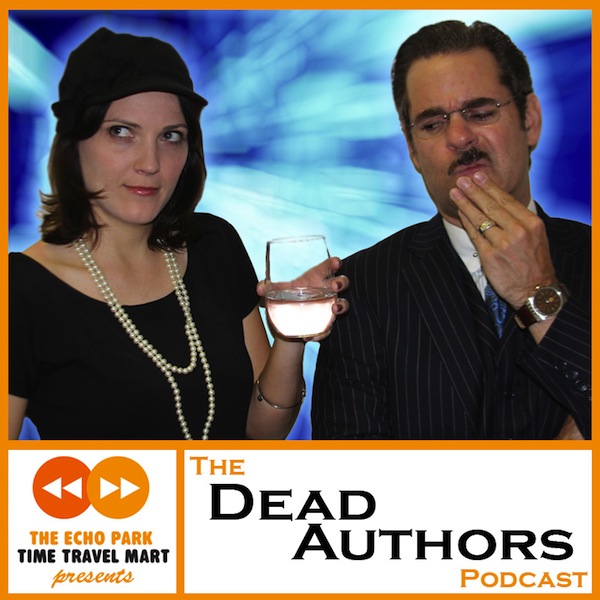 Once a month the esteemed time-traveling writer H.G. Wells (voiced by Paul F. Tompkins) plucks a literary marvel out of their comfy world and interviews said writer on the UCBTLA stage. The guest and Wells discuss the author's history, bibliography and pretty much any subject that pops up. Plus listeners and audience members can tweet questions for the author of note to answer. I dare you to find an episode where Mr. Tompkins isn't giggling it up with a dead author or two. There are just a few facts you should be aware of before taking a listen. Mr. Wells can get a bit uncomfortable at the mention of his nemesis Jules Verne. And the subject of "death" is best left unturned in the presence of a "dead" author. Proceeds from the podcast benefit the charity 826LA.
____
3. Dork Forest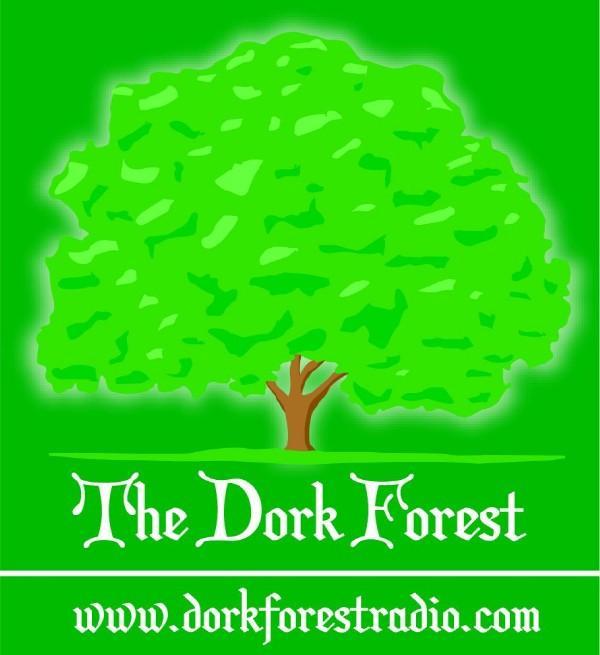 Interesting people talking about geeky subjects they would not ordinarily share with the public is simply fascinating. I cannot begin to impress upon you how much I have learned listening to this podcast. I am so prepared for a Hobbit viewing after the Tolkein Professor episode I will be completely un-phased by any mocking you may bestow on me. Seasoned comedian Jackie Kashian picks her guests' brains in the kindest, most entertaining way possible. The interviews occur in her home, on the road, and once a month there is a live taping at the Nerdmelt theatre in Hollywood. Don't be intimidated by the 100s of episodes that await you. It is always an adventure traversing the Dork Forest. (A side note: this podcast wins for best opening music and coolest t-shirt.)
____
2. Harland Highway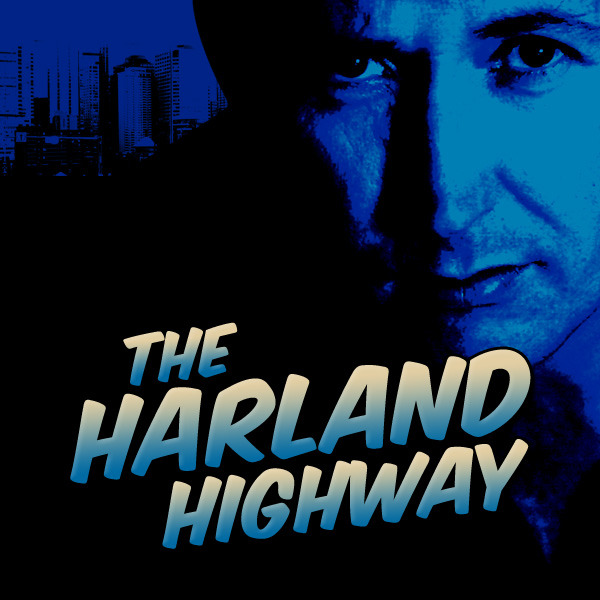 Every episode of the Harland Highway is a total mind trip. Harland Williams fills ~30 minutes with his unique brand of humor, silly characters, thoughtful commentary, interviews, observations, and the best sound effects ever. Not only is the talent superior, but this podcast is imho one of the best produced podcasts I've listened to. These folks know what they are doing and it really pays off. So queue some episodes up on your iGadget and take a ride down the Harland Highway. Heeeeey-oooooooooo!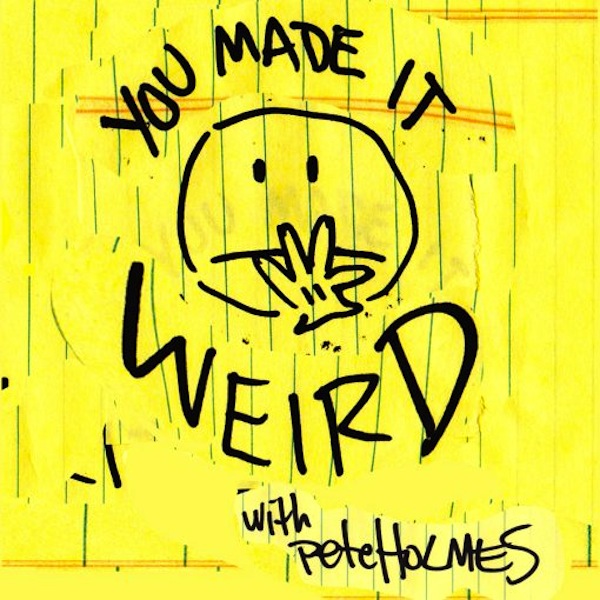 Pete Holmes just never disappoints me.  He is a masterful host who carefully brings out the weirdness in his amazing guests. Pete's spontaneity and adorable narcissism only add to the splendor that is YMIW. I can't even recall the number of times I've burst out laughing from a crazy anecdote, impression, or random turn of events. The podcast always make a valiant effort to focus on religion, sex and comedy but its the windy road traveled there that really makes the trip worth taking. I do not know how I lived so long without this gem of a podcast in my life. Keep it crispy!
Honorable mention: This Better Be Funny, Cashing in with T.J. Miller, The Nerdist, WTF
____
SO Note: Deborah Thomasian is the West Coast Editor for Serial Optimist. If you disagree with the list or feel she left some out, let us know in the comments or attack her directly @SOoooohaha.