One of our favorite shows in LA (Silverlake), TheBusiness, just had their last show, and I'm just gonna say, it felt pretty sad. Oh! But also funny, I… I don't mean the show wasn't just as great as ever. Ok! Back on track. They opened with most of the regulars, Sean O'Connor, Chris Garcia and Chris Thayer, all getting on stage and either choosing their favorite moment from the show or posing on the stage stool. Thayer did both, mentioning a little fact that's no big deal. Just that his, estranged, biological dad showing up halfway through a show they did on his birthday and wishing him a "happy birthday" from the audience… Right? And he also did a series of cheesy (adorable) mall poses on the stool. Sean and Garcia decided to stick with just the cheesy (adorable) mall poses together as if they were a couple.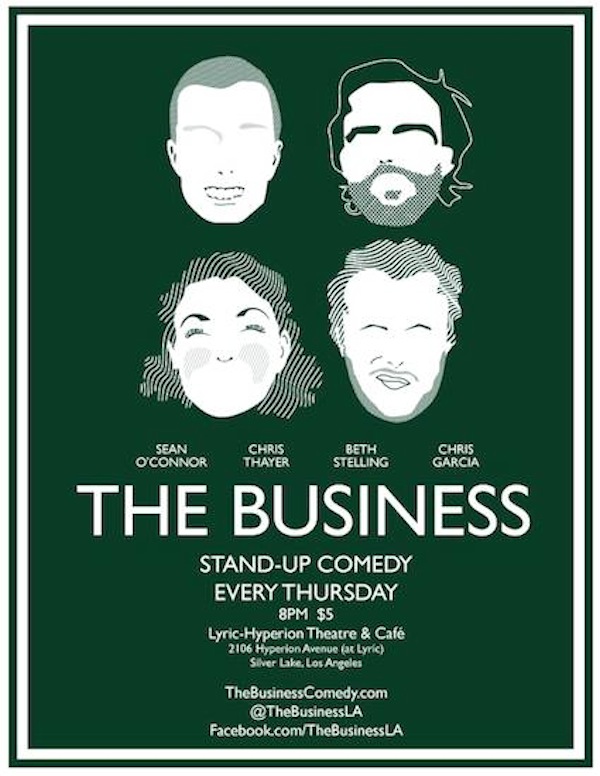 The lineup went with funny sets from Jeff Wattenhoffer who did serious crowd work on a couple of ladies who brought a whole bottle of white wine and two big glasses. Alison Stevenson who mentioned the fact that she often has great pizza thoughts, past and soon to be memories. Sean O'Connor who injured his back whilst standing still in front of us and recounted the difference between dirty/ugly NY rats and pretty/model LA ones. Grant Pardee who felt that hipster glasses, jean jackets and plaid were his identity and he'll dress like 2013 long after it's past. Chris Garcia who spoke of his lovable father with dementia getting in an argument with a cholo. Chris Thayer who told us of three bad dates he had with the same person and getting pretty real with us discussing what a risk or vulnerability is to him on stage that was nice to hear. It ended with DeAnne Smith who, first of all, looks adorable, second, told us of her love/hate relationship with American Apparel ads.
It was great show that ended with the Chris', Garcia and Thayer on stage together thanking all of us for coming out. WELL, I spoke briefly with the two about the show ending and what they're moving on to.
Serial Optimist: How do you feel about the show ending?
Chris Garcia: I feel good about it. We had a fun year, a lot of great shows, and I'm looking forward to a hiatus. Just because we've all gotten really busy, which is a good thing! This is a nice [break]…We'll bring it back soon.
SO: What's next?
Chris G: For now, a lot of comedy. I'm writing a lot, I got into a minority writing fellowship sponsored by ABC and NBC. I'm touring and doing a lot of stand-up … Oh! And developing a one-man show, headlining the Punchline in San Francisco in about a month, and I'm going to workshop stuff for the one-man show [involving] stuff about my dad.
Serial Optimist: What is your most valued experience here?
Chris Thayer: Ooh… I got a lot out of doing this show. I learned that doing a show in LA is not the same as doing a show in San Francisco. There's just so much more comedy going on here and it's hard to compete. I think all the shows we had were really great even though the attendance was not great sometimes. The whole thing was like a learning experience if anything. I wish that we could keep going, but we're all busy… Running a show is hard and sometimes not fun, but ultimately it was worth it, and I don't know if that makes sense because we're not doing [it] anymore… Good luck transcribing this.
SO: What's next for you Chris T?
Chris T: I'm gonna try to keep doing stand-up. I'm writing for "The Pete Holmes Show," which starts tonight! That takes up a lot of my time, so I'm not writing and doing stand-up anywhere near as much. But, beyond that, I have no idea. I wish my answers were funny and I feel like they're not.
SO: Oh, they're real. Which is almost better.
Chris T: Not quite though.
____
SO Note: That's it guys! Follow all the regulars, past and present, @_chrisgarcia, @BethStelling, @seanoconnz, @MrEmilyHeller and @ChrisThayerSays. It's been fun…