Well, with both 2012 and December 2012 officially over, it's safe to say, according to me, that comedy gave a damn fine finish to the year. Plenty of deals were made, plenty of things worth watching and laughing at aired/were uploaded, and there was no one getting offended in a big hissy fit over what someone said on stage, the Internet, movies, and TV. Well, certain people are getting up in arms about the language in Django Unchained, but there's no helping getting offended over a word in the proper context that's completely removed from them.
____
Late Night Clips Not to Be Overlooked
Jon Dore and Rory Scovel do something amazing on Conan like they did about a year ago.
http://www.youtube.com/watch?v=FIWU05sdovA
Bill Murray redoes his holiday television instead of an interview on Letterman.
http://www.youtube.com/watch?v=hNFlaoiAcZ8
Albert Brooks is pretty much the perfect guest on late night on Leno and Letterman
http://www.youtube.com/watch?v=0J9FkVnP5sA.
Reserve Channel's YouTube got some nice long interviews with Louis C.K., Ricky Gervais, Sarah Silverman, and the writers of SNL.
Eric Andre gets naked on Attack of the Show.
Kyle Kinane wonderfully notched his second appearance on Conan.
Robert Smigel insults Jimmy Fallon as Triumph the Insult Comic Dog and sings the Korean lyrics of Gangnam Style.
____
Deals, Schedules, and What to Watch For in 2013
Alejandro González Iñnáritu, director of the critically acclaimed drama, Babel, is developing a comedy.
ABC is developing a cop comedy with Hannibal Buress like they should be.
Comedy Central released its mid season line-up and it's pretty great.
This latest season of "Arrested Development" is getting more episodes.
Nielsen is partnering with Twitter to make the Nielsen Twitter rating. We'll see how that goes.
Fake suicide comedy, Imogen, with Kristen Wiig changes its title to Girl Most Likely and gets a release date.
FX gives "The League" another full season.
BBC America gives The Nerdist a full season.
MTV Movie Awards pick Rebel Wilson to host.
____
Whether SFW or NSFW, These Clips Will Get You Over Some Type of Hump
Joe DeRosa's episode of Modern Comedian and his new web series We Should Break Up.
A more realistic ending to Wizard of Oz on the Witz APM show with Maria Bamford and some of Rifftrax Live.
James Adomian's impression of SoCal TV cult legend Huell Howser finally gets made into a video at Funny or Die.
Rainn Wilson's Soul Pancake shows what a kid president would do when answering questions: he'd dance.
At Shelby Fero's request for an interview with Ira Glass and Mike Birbiglia for Sleepwalk With Me, they all role play each other.
Chris Gethard tries to reach the milestone of his career by getting his headshots hung at local businesses.
For IFC's "Portlandia", Kumail Nanjiani visits real life places that inspire the sketches on "Portlandia" and yes, they are that quirky.
Matt Oswalt's Puddin' with Eddie Pepitone tests the limits of what a parody is when parodying Frank Capra's Christmas classic "It's A Wonderful Life"
Jimmy Fallon along with Billy Crystal, Jerry Seinfeld, and more make a sequel to the Abbott and Costello classic "Who's on First?"
Pete Holmes and Chris Thayer attempt to talk to each other after eating habanero peppers for the Spicy News Network.
Nick Turner locked himself out of his own car right before he took the stage and just did his set about that. No surprise here, it was hilarious.
____
The End, Unfortunately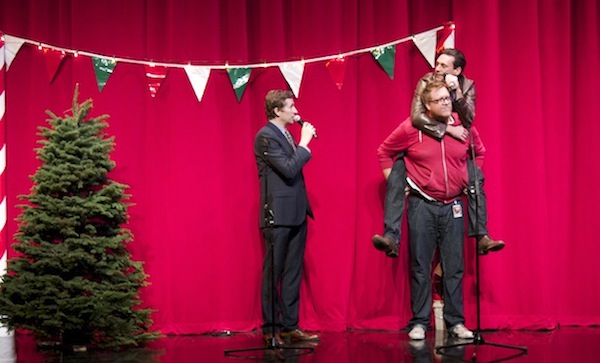 Satirical hip-hop group Das Racist broke up.
Comedy Bang Bang ended it's long tenure being a live show in LA.
____
Excited for These Trailers For Things to Be Excited For
____
Call For Submissions
Bridgetown Comedy Festival in Portland, OR
____
Coming Soon Hopefully Close to Wherever You Are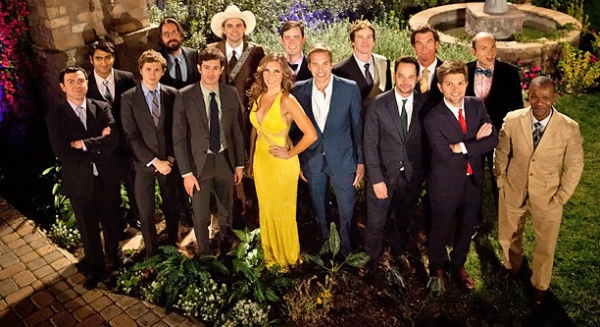 Pitch perfect Bachelor parody, Burning Love, has its second season cast line-up, which will make for a great parody of "The Bachelorette".
SF Sketchfest is always written up as a comedy nerd's dream and their line-up for 2013 is no different.
Anthony Jeselnik's next one hour special Caligula is set to air and release Jan. 2013.
____
Erotic Short Form Fiction by Dave Hill
Dave Hill has extended his repertoire as an author by penning some wonderful erotic short stories on Twitter.
____
To Be Glad That You Can Make It Your Own
Mike Birbiglia's film adaptatoin of Sleepwalk With Me is now on Netflix Instant and VOD.
____
Stephen Colbert Is a Hilarious, Good Person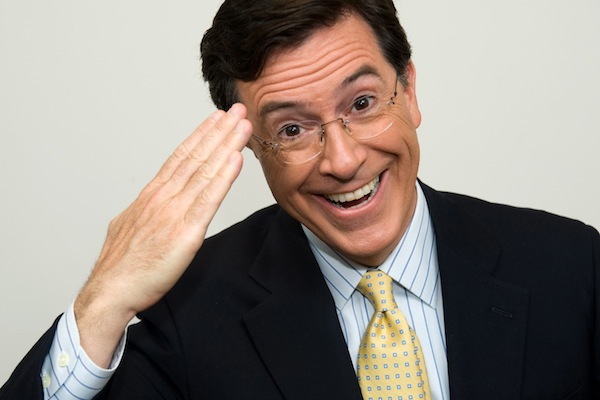 Colbert used his left over Super PAC money to help victims of Hurricane Sandy.
As South Carolina Senator Jim DeMint resigned from his office, Stephen Colbert could have been a U.S. Senator had Governor Nikki Haley gave Colbert's Twitter campaign more creedence.
____
SO Note: Jake Kroeger is a comedian living in LA and publisher of The Comedy Bureau. Follow him @mfjakekroeger.