Our friend Jenna Laurenzo is back at it again with a web series gem in "Water with Lemon". The show is a mockumentary that follows the employees of the fictitious restaurant Bar Basta. From the teaser that brings multiple laugh out louds, you instantly want to see more from each character, and already start deciding who you'll love and love to hate. It makes me think of one of my favorite short lived shows "Party Down" which is high compliments. We caught up with Jenna to get the scoop, and if we've learned anything so far, it's to NEVER or a lemon with your water.
Serial Optimist: Tell us about the crew! 
Jenna Laurenzo: I produced the show with Scott Kaufman and Gabriel Stanley. Gabe came on board as cinematographer and producer. He was my DP on "Parker & Maggie". Gabe enthusiastically wanted to work on Water with Lemon and brought a handful of the "Parker & Maggie" crew back for the shoot. Scott brought on board Josh Sugarman (Trophy Kids) to direct. The crew as a whole was unbelievably talented and patient. Shooting the amount we did with such a limited time constraint really highlighted how amazing they all were.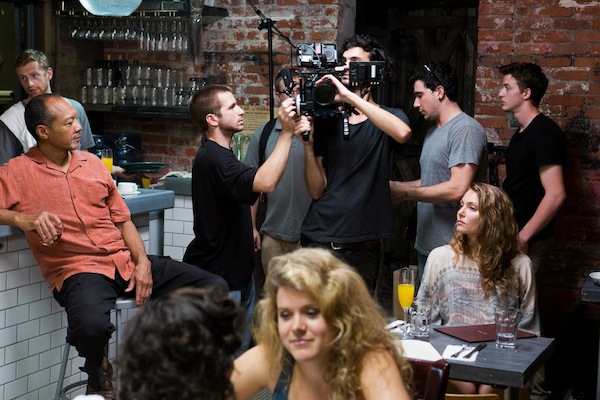 SO: Tell us about he concept!
Jenna: I've worked in various restaurants for 5 years. I didn't realize how much inspiration I had until I sat down to create a SERIES BIBLE for "Water with Lemon". Working in restaurants has made me…um…sarcastic with a dash of empathy for some, and a dash of "I'D LIKE TO PUNCH YOU IN THE FACE" for others. Mix that with my occasionally inappropriate sense of humor and you've got the ingredients for an entertaining show.
SO: Is a lot of the material based on real experience?
Jenna: YES! I named the fictitious restaurant after a place I used to work at that recently closed. All the characters are loosely based upon the people I've worked with in the various restaurants. Naturally I've blown their quirks and nuances up in the writing, but they're pretty damn entertaining people as is, off and on the page. Restaurants bring out the good, the bad, and the ugly in people, and often when I should be taking an order, I take a step back to laugh at the scenario and write it down.
SO: Anything to add?
Jenna: The show isn't going to be released just yet. For more information regarding what's the next step and such, e-mail: waterwithlemonshow@gmail.com. 

Check out the FB page where I post when I should be working: facebook.com/WaterWithLemontv
I just created a "Water with Lemon" blog that feels like a PSA with a warped sense of humor: WaterwithLemonBlog.com
____
SO Note: Follow @WaterWitLemon for updates!