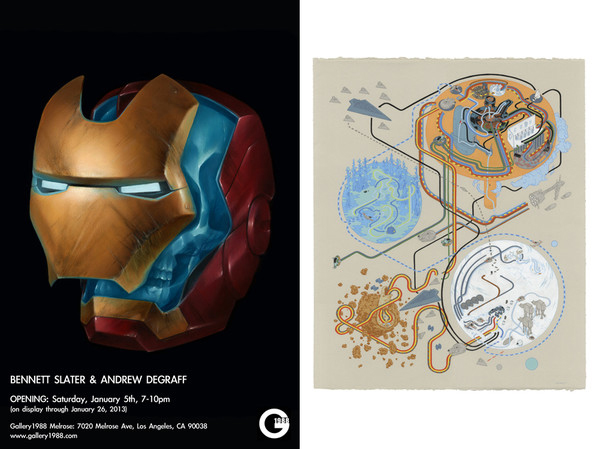 What better way to start the New Year off right than with an art gallery opening? Gallery 1988 (Melrose) will reopen for 2013 with a two-man show. Artists Andrew DeGraff and Bennett Slater will be displaying their mind-blowing artwork to the public tomorrow Jan 5th. Their works will be on display until Jan 26th. Both artists will be in attendance at the opening reception from 7-10pm. Any remaining artwork will be sold online at gallery1988.com.
____
ANDREW DEGRAFF
If you are unfamiliar with the works of these two artists let me give you the 411. DeGraff is a New Yorker and freelance illustrator who majored in Illustration at the Pratt Institute in Brooklyn. His work has had wide commercial success. Here are just a few of his clients: Kellogg's, Visa, New York Times, The New York Observer, Los Angeles Magazine, TimeOut Chicago, FHM(UK) and Popular Mechanics. His artwork is extremely detailed and graphic and you've just got to check out some of the maps he has created because they are just sickeningly dope.
____
BENNETT SLATER
Canadian resident Bennett Slater is an illustrator and designer who has been ever slightly obsessed with sci-fi and Saturday morning cartoon fare. Bennett typically uses oil media on natural wood and enjoys breaking the constructs of our logical perceptions. His impressive list of clients includes Walt Disney Studios, Marvel Entertainment, Society6, KesselsKrammer, NRG Drums, LSSAA, OYAP and TRAVIS Magazine.
____
SO Note: Follow Andrew DeGraff @drewpatroopa17 and Bennett Slater @BennettSlater. Check out more of their artwork at andrewdegraff.com and bennettslater.com, respectively. Remember Gallery 1988 has exhibitions throughout the year so subscribe to their mailing list here.