Shadow Paint completely blew us away as the first band of the Middle of The Map Fest in Kansas City at the beginning of April. Their lead singer, Angela Schroder, is one big surprise in a tiny package. As noted in the previously published "13 Things I Learned At Middle Of The Map Fest 2013", her voice packs a power punch very reminiscent of Hayley Williams… and we're lovin' it. This band has ridiculous chemistry, which makes Chris Brower, Chris Turner, Corey Vitt, Hannah Smith, and Angela one of the most incredible midwest acts right now. Check out the interview below and get ready to be charmed by these amazing musicians.
____
Serial Optimist: If you could introduce yourselves to our audience in the most unique way possible, how would you do it?
Angela: Don't worry, it's just a dream!
Hanna: Via flying harnesses.
SO: If you had to fit Shadow Paint into a genre (or several), which would you choose?
Angela: Indie-rock, pop, punk.
SO: You went with the "several" aspect, and we are pretty sure we agree. You have a very unique sound. What kind of musical training do you all have?
Angela: Opera, musical theatre, street beats.
Corey: I was a music composition major in college, but all of us have also been playing in various KC/Lawrence acts for some time.
SO: Education and experience are the two keys to success. We love songs like "Wolf Tongue" and "Best Shadow". Angela just recently moved to Boston, which is quite a ways away. But can we look forward to some sort of music video in the near future? We're kind of curious to see what kind of spin you guys would take on your music.
Angela: We would love to make a music video. We will work on that the next time we're all in the same city. We would definitely want to include dancing, Martians, drag queens/kings and live animals, all shot in the pitch black.
SO: Well, that could go one of several ways. If this video comes to fruition, let us know and we will stay on set with a First Aid kit and some pepper spray, as we wouldn't want to permanently harm any of the random elements in the video. Or you, on accident, as it is in the dark. We were lucky enough to see you at Midde of The Map. You guys were one of our favorites and you opened the fest with a bang. What was your favorite part of all of it?
Angela: Amazing shows all going on at the same moment.
Hanna: Party bus!
Brower: Running into people I haven't seen in years. Music brings people together, after all.
Corey: My Gold Mask from Chicago was awesome! Their sound is very unique.
SO: We have never been to a show where a band passes out candy and business cards, but thought that was very Midwest of you. And we loved it. Where did that amazing idea come from?
Angela: Corey & his beautiful fiancee and discounted Easter candy–we honestly have to thank Jesus for that one.
Hanna: And the Shriners!
Corey: Being from the Midwest, we find that it just oozes out of you.
____
____
SO: If you could tour alongside anyone, who would you choose and why?
Angela: After seeing Deerhoof at MOTM, we would love to (dream of) tour with them. Their energy was amazing and all of the members seemed to genuinely love what they were doing.
Corey: It would be a dream come true if all of our projects could tour together!
SO: That would be a lot of work, Corey, but we think that's a superb idea! Go ahead and start planning that now, please and thank you. What, in your opinion, is the best kind of cheese? Substantiate your claim.
Angela: Well, we may have some differing answers on this one.  I'm a pseudo vegan and dig cashew cheese.
Hanna: Feta.
SO: Cashew cheese sounds brilliant, but probably too fancy for our wallets. Feta is pretty amazing. Your answers are acceptable. What inspires your music?
Angela: It's been a few months since we've been able to create music together but I would definitely say "the jam" inspired all of our songs. Corey, Hanna, Turner & Brower are amazingly attuned to each other, so when they build on jams, it can turn out to be a killer song. I loved to imagine their instrumental jams as a film score & create images in my mind for lyrical and melodic cues.
SO: We know about your side music projects, but could you elaborate to our audience?
Angela: Corey, Brower, Hanna & Turner have started a new rock project with KC local, Elsa Rae called Rooms Without Windows. You can expect to see them around the KC local music scene. I'm in an electronic pop/R&B/dance project called Citrusphere and we have our first show lined up in Boston in May. Corey and I also began an electronic robot/R&B/streetbeat project called LowGrumbles. We hope to get our tunes playing in local KC clubs for people to get groovy to.
____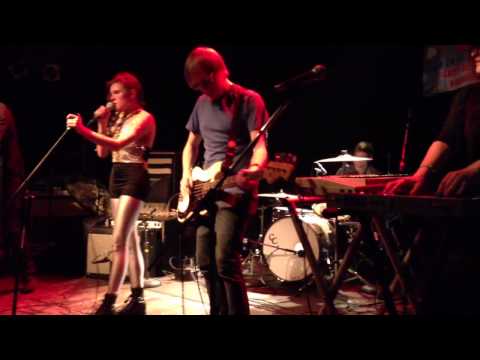 ____
SO: Seriously, so much talent in one group. It's a little selfish of you, we'd say. But we kind of freaking love it! What do you guys do for fun/work when you're not being superheroes on the stage (Don't worry, we won't stalk you!)?
Angela : Whiskey, Sun, Chill by the Ocean, Read tarot cards, Create.
Hanna: Kickball… I hurt.
Corey: Collectively, we work for a wireless phone company, pharmacy, library, hair salon and a program run by nuns.  When not playing music, I (try to) learn about computer programming, play with my 100 lb. dog, and maintain a Mexican food Instagram.
SO: What an eclectic collection of activities. We are jealous (of some of your lives). Let's pretend we are on "Inside the Actors' Studio". What's your favorite word? Why?
Angela: Unravel–it has the capacity to be perceived as chaos or "letting go". It's an agile term.
Turner: Free.
Corey: Radbadical.  Make-believe words are more fun.
SO: Never had anyone make up a word, so kudos! Any plans to travel (as Shadow Paint or with another project) anytime soon? We're kind of craving another show!
Angela: We would love for Shadow Paint to play a Boston/NYC show at some point. Citrusphere is playing a couple shows in NYC this summer.
Corey: Rooms Without Windows has several Lawrence and KC shows coming up in the next couple of months. Check out our Facebook for updates.
SO: Is there anything else we should know to be the ultimate Shadow Paint fans?
Angela: Shadow Paint was built on live performances & we love the spirit of live music.
___
SO Note: Keep up to date with the band and "Like" them on Facebook here.