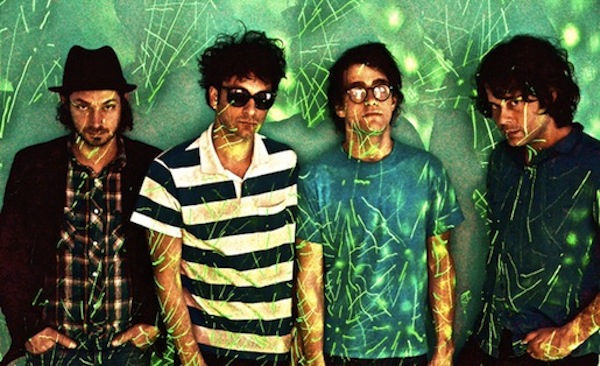 Gringo Star is a band on the rise. The quartet, composed of brothers Nicholas and Pete Furgiuele along with Pete DeLorenzo and Chris Kaufmann, hit the music world like a tropical storm with their debut album All Y'all, released by indie stalwarts Gigantic Music. The response was explosive, with praise for Gringo's ability to craft an energetic, genre blending style that fuses classic rock and roll with a modern flavor. Gringo Star is releasing their sophomore album Count Yer Lucky Stars, on October 25th, again with Gigantic Music.  Their first single off that album, "Shadow", melds a doo-wop melody with aggressively catchy musicianship. Read on for an in-depth interview and get to know one of our favorite bands, Gringo Star.
____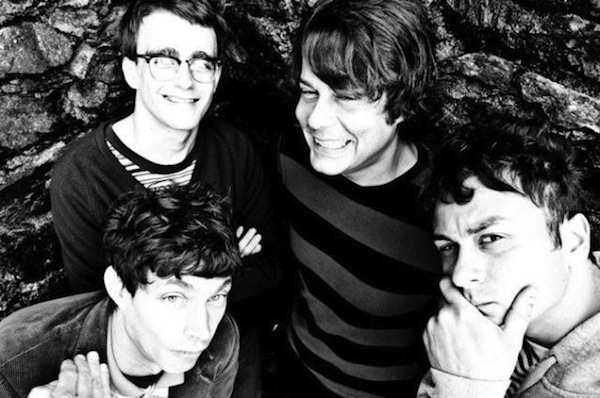 ____
Serial Optimist: For our readers who haven't heard of Gringo Star, can you tell us a little about yourselves? How did you come together as a band?
Gringo Star: My brother, Pete, and I have been playing together since our early teens, just writing songs, recording, and playing together in various bands. We met Pete D. when we were all working together at this local Atlanta eatery, called Eats. We did a bunch of touring, and our "fourth" member couldn't hack it anymore, the gypsy life and all, so we replaced him with our good friend Chris Kaufmann a few years ago.
SO: Your name is a Beatles reference, and songs like "All Y'all" draw clear influence from the British Invasion. Is tapping into musical nostalgia important for Gringo Star?
GS: Actually our name came from working in kitchens around Atlanta with Mexicans. They always called me gringo "this" or gringo "that", and when we were coming up with a name, we wanted it to be gringo "something". One day it just rolled off the tongue, gringo star. We think of it in a more literal, tongue in cheek kinda way, that we are white stars, but white in a derogatory Mexican slang kinda way.
SO: On Gringo Star's Facebook page, you list yourself as "Big-Beat, Psychedelic, Southern Rock-n-Roll and Circus Pop." How do those broad genre tags encompass your sound?
GS: Since all four of us all sing and write songs, take turns at the different instruments, and being the "front" guy, we end up having a variety of sounds (and songs). Each of us has their own influences, so with all the different songwriting angles, and then the different arrangement set-ups, we end up being more like 5-6 different bands in one.
____
Gringo Star – Shadow
____
SO: You're hosting a cruise in New York City soon. Does that illustrate a conscious attempt to share your music with people in creative ways?
GS: Yes, we do it all the ways we can, and even if we can't we'll find a way. If it can, it will also be a Billy Fogg production too. For those of you who don't know Billy, he's kind of a legend in the South. He puts on high-profile celebrity parties around town, but we convinced him of his natural gift of lighting/production. He's a fan of the band, and he will DEF be on-hand in NYC to make this boat feel like ursa major.
SO: I've noticed a trend in the press for your band: admiration for your ability to put on a damn good live show. What is it about your live performances that elicit such a reaction?
GS: Well….we put a lot of attention on writing good songs, actually, hit songs. I think when folks get to see something different and every song the lead singer changes, or the drummer moves to guitar, or bass, or organ, and the constant harmonies, and it's drowned in a Billy Fogg Production, and when you combine these great songs with the good looks and the amount of sweat and energy that's thrown out there to the audience members, I guess they have no choice.
____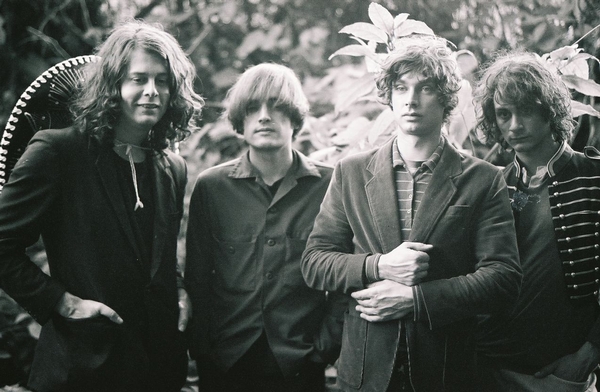 ____
SO: You worked with Ben Allen (Animal Collective, Gnarls Barkley, Christina Aguilera) on your new record. How did collaborating with such an established producer affect your approach to recording?
GS: We started working with Ben (and James "the sonic scientist" Salter, who engineered) on our debut album, All Y'all. It was a great chemistry for us. Since all of us in the band write and have adamant ideas about how we want things, it was great to have someone like Ben there to bounce ideas off, and to filter our songs through. I feel like we're all on the same page most of the time, with arranging songs and wanting to create something that is solid gold all the way through. Ben and James were both so great on the first album that we really wanted to do it again, and luckily they were both way into it. Ben has a lot of great arranging ideas, and gets great sounds, and with the new album we just had a blast. We did all the songs live in a great studio (glow in the dark) in Atlanta.
SO: Many artists face the pressure of expectations for the first time, causing them to stumble on their sophomore record. Was this a problem for you on Count Yer Lucky Stars? How do you stay focused on producing quality music after a successful debut?
GS: Having as many songwriters in the band as we do, we've never had a shortage of songs, and a strict drug regimen helps with the focus. We wanted to write an album that was killer, and we thrive on pressure, so it was easy. Also, if you eat enough chile rellenos, you can do anything.
SO: The band's Southern heritage is a clear influence on Gringo Star's music. Can you speak a little about what's happening in the Atlanta music scene?
GS: We're playing a lot of baseball right now. We have a little sandlot league that gets together every couple weeks, and duke it out over 9 innings of fast pitch, no holds barred, renegade baseball. We've got folks from Washed Out, Black Lips, Ocha La Rocha, Lightning Ray Jackson, Billy Fogg, Newmerica (guys that do video production and make music videos for artists (like us!) and businesses around town) the Booze, the Soundmen, BMI reps, bartenders from all the main clubs in town… Atlanta's music community is thriving now more than ever. It's exciting.
____
Gringo Star – All Y'all
____
SO: Where do you want to take Gringo Star in the future? Do you strive to achieve mainstream success?
GS: Well, if you consider Marlboro, Tommy Hilfiger, and Hewlett Packard mainstream, then we've already had some of that, since we've licensed "All Y'all," to all three of these companies since we released it. We'd love to just keep doing what we're doing, and with the new album we hope to reach a lot more folks. We can't wait to tour Europe, the U.S., and the rest of the world again. We love playing, and making music, and traveling around the world doing it.
SO: Gigantic Music describes Gringo Star as a force of nature, describing you as a musical movement that is "creating the new standards to usher in the next tsunami." What new standards are you laying down that will help you differentiate yourself from other bands?
GS: We write hit songs. And bring it live.
SO: What artists are you drawing inspiration from right now?
GS: Sam Cooke, Arthur Alexander, Neil Young and Crazy Horse, Muhammad Ali, Dion, Ritchie Valens, Outkast, CCR, Jack Kerouac, Lightinin' Ray Jackson, the Lizard King and a million others….
SO: Thanks for taking the time to talk with us. Where can our readers find your music and information about Gringo Star?
GS: Thank YOU!!
The new album, Count Yer Lucky Stars is coming out on Gigantic Music, Oct 25th, but you can get our debut, All Y'all on I-Tunes, or check out gringostar.net, our Facebook, and giganticmusic.com.
____
SO Note: We love Gringo Star. Hopefully you do as well! If this interview wasn't enough, make sure and check them out at the above sites and listen to as much Gringo Star as possible. It's good listening!