*This interview was originally published January 27, 2011. Check Nick out on his critically acclaimed Comedy Central show "Kroll Show," with new episodes starting January 13. 
Going in to my interview with comedian Nick Kroll, I didn't really know what, or I guess I should say who, to expect. It hit me that I've been a fan of his for so long, but that I'd never heard or seen much of Nick Kroll the person. His super popular characters Bobby Bottleservice, Fabrice Fabrice and El Chupacabra, now those people I know. I chatted with Nick as he waited for his flight out from Park City, where he's been the last few days for the Sundance Film Festival. If you don't recognize him from any of those characters (and if that's the case, you best recognize, for real) you probably know him from his stand-up, or as Ruxin in "The League," or his roles in "Date Night," "Get Him to the Greek" and "I Love You, Man" amongst many others. The world premier of "Nick Kroll: Thank You Very Cool," a Comedy Central original one-hour stand-up special, debuts this Saturday, Jan. 29 at 10pm.
I was lucky enough to preview the special, and truly, it's like no other one-hour stand-up you've seen. You get Nick Kroll doing his stand-up, sure, and it's great, but you also get some hilarious cameos, some "how did they do that" camera work, short film, and an hour of television that I really have to stamp as can't miss, and even groundbreaking, in terms of traditional stand-up specials. And Nick? He is super nice, funny, passionate, humble, has a lot of really good energy for what he does and who he is able to do it with, and just an all around good guy. I don't know why I ever expected anything else. Continue reading for some video clips, pics, and a really fun interview with Nick Kroll.
Serial Optimist: I watched the stand-up special, and I think it's the first one hour stand-up special I've seen that isn't in the traditional one hour stand-up format – how it incorporates all of your characters – some shorts, mixed in with your actual stand-up, it's really, really great.
Nick Kroll: Thank you, I appreciate it. The goal was to sort of do what I do, which is a mix of characters, sketches, and stand-up and present it all-in-one in the hope it would come across as something new, and more importantly just representative of the kind of different things that I do. Hopefully it tells a story of an evening from a bunch of different voices that ends up showcasing what my voice is.
SO: Do you consider yourself an improv person first or a stand-up comedian first?
Nick: I don't think I would choose to put myself in either category. I think comedy is moving more that way where you have stand-ups who are doing sketch or characters or videos and improv and sketch people beginning to do more presentational stand-up related stuff. I credit the web for that, and between Internet video and podcasts I think it allows people to explore different things and develop characters and stand-up in different ways. I really just think of myself as a comedian, and however that comes out whether it's stand-up or as a character or in a video, it all just has the end goal of trying to make people laugh.
SO: Absolutely, which goes right into one of the questions I had regarding Twitter, Funny or Die and all the different online platforms for videos and comedians to showcase themselves. When you have 85K followers on Twitter you can tell a joke once or twice a day if you want, and that is a full audience for you to kind of "perform" for. I was thinking about how ten years ago a comedian didn't have that audience. You had to go to their show, or watch them on a sitcom, or they had to be on an HBO special for you to hear their voice.
Nick: I agree. I think the web has democratized comedy in a really great way, both giving kids in the middle of nowhere a voice and also giving people, like Paul F. Tompkins for example, who is so fucking brilliantly funny who ten years ago was doing stand-up and you had to see his show to really hear his voice. Now you can hear him on a podcast and hear him do a character that he would never do live on stage. Now there are so many different ways to develop the work and develop the fan base to support that work.
SO: Totally. I've been a fan of comedy my whole life, but am still a late bloomer to amazing comedians who I never heard until the past few years, and I have to give credit to the Internet for that.
Nick: Sure, and I think that we all have benefited from that. It's crazy that Bobby Bottleservice has been doing internet videos for a year and I started a Twitter account for him last week, and within a week he has around 10K followers and he's doing these events now, like hosting this Vegas VIP party on Thursday (tonight), it's really bizarre.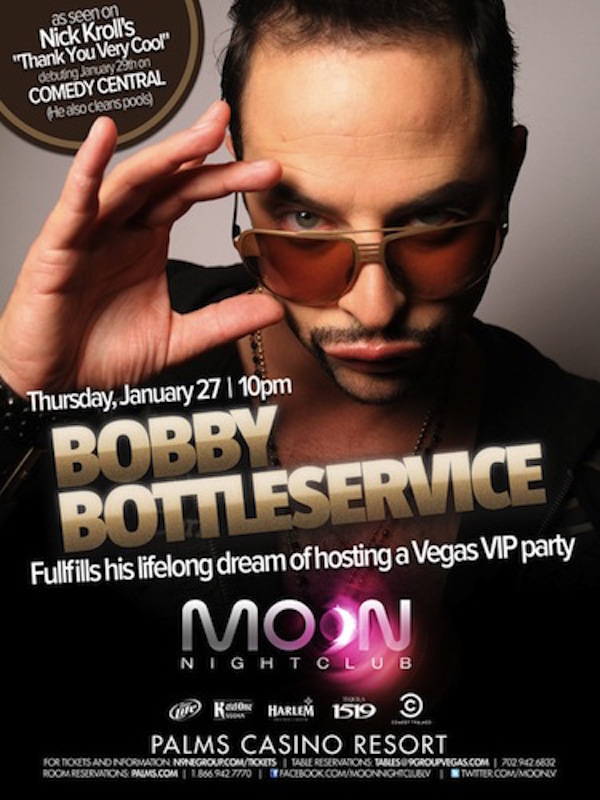 SO: I've had people telling me over the past week: "Bobby B. has a Twitter account! It's hilarious!" and I'm like: "I know, it's great, but Nick Kroll has a Twitter account, HE is hilarious!" almost as if some people don't understand that he is a character you have created.
Nick: The beauty is that, in regards to the special, some people might know me from "The League" or from stand-up, or El Chupacabra from Marc Maron's podcast or Bobby B. from the internet videos or from CDR, and then there's this show "Oh, Hello" with John Mulaney that people had an affinity for. The idea for the special was to sort of integrate all these things so if you were a fan of one hopefully it will bring you to these other characters who are doing different aspects of what I think is funny.
SO: Speaking of you and John Mulaney, did you guys really drink that martini glass full of tuna and vodka?
Nick: Oh yeah.
SO: Ugh! I felt pain for you both when I saw that.
Nick: People find that gross, and to me I'm just like, it's tuna fish, everybody eats tuna fish, but there's something about that that just makes people go crazy.
SO: I'll have tuna fish for dinner, with nothing but a little salt a pepper, but I think just the aesthetic of that, not being drained or anything, just poured right into the glass, it's just like, whoa.
Nick: It's fun. That's a thing we used to do in our live show years ago in New York and I was hoping that it would translate to film but we didn't know whether it would work without the stench of tuna, you know at the live show people could smell the tuna, so I'm glad to hear it still has that effect.
SO: You went to Georgetown. What were your intentions when going to college? What were your plans at that point?
Nick: I didn't know people could do comedy. I knew of Mike Myers and Adam Sandler and Steve Martin and Eddie Murphy, and I knew I loved comedy my whole life, but I didn't know I was allowed to be a comedian, if that makes any sense. Then I did an open mic contest on campus my freshmen year, and Mike Birbiglia was in the same contest. I bombed and he won. But he saw me perform and invited me to audition for a sketch show at the end of the year and I did it and fell in love, and then just improv became my life at Georgetown.
Mulaney was a freshman when I was a senior and we worked together and just hit it off. We're all still buddies. There's others: Brian Donovan, Alison Becker, Ed Herro, Mulaney, Birbiglia, these are all the people I was writing and working in comedy with, and we were just the weird comedy guys at this conservative school, but they gave us a chance to perform a lot and I credit the opportunity to getting a lot of stage time, which is very important. There's really nothing more important than just being able to get on stage for a comedian, even if it's little acts or performances, but just being on stage.
SO: Is it more nerve racking to perform as Nick Kroll, or as one of your characters? I would imagine it being much less scary going on as Bobby B. or Fabrice Fabrice because you have that mask to kind of hide behind.
Nick: It depends. In the past, the characters were easier because you could hide behind them a little more, and in stand-up, inherently you don't have anything to hide behind. Over the years of just doing stand-up I've really just fallen in love with the art of it, and have a tremendous amount of respect for classic stand-ups that I think are just so honest and truthful and revelatory. I think I've evolved over time in finding my creative voice. I really enjoy doing all of it and for the special, Fabrice is improvising up there, which is comfortable but also slightly nerve racking. Stand-up is like: here is the act, I've been working on the act, there are going to be moments that are going to be nuanced in the moment. But in reality it's: here's the bit I've been working on the last couple years and I hope you like it.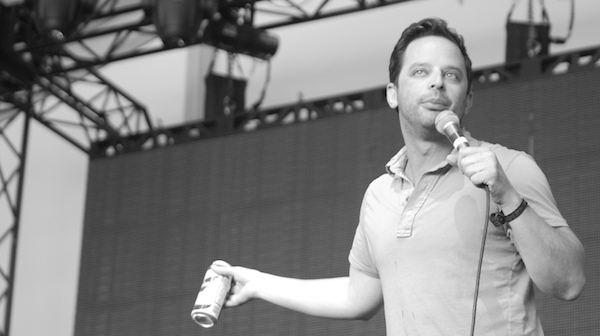 SO: Does it come to a point where you have certain jokes, or bits that you just know are going to work, because you have done them numerous times, and does that give you more confidence presenting something you know works?
Nick: I think the beauty is in the edit and the polish. To do a stand-up act, I think a lot of people think it's like "get up on stage and just say whatever's on their mind for the first time" and don't realize that it takes a lot of work and a lot of polishing and editing and changing order and rhythm and waiting on certain things and letting other things breath, and realizing "oh this reference doesn't work" or "if I lose this one reference the whole joke comes together or it all falls apart". There are a lot of different things to hone along the way. I have found the joy in that process.
So there is some comfort in that these are the jokes that I've done and they've worked and so here it is. But it's also this feeling of this is my time capsule and the comedy I'm doing at this very moment in my life, and this is what I'm putting out as what I think is funny. Nobody is telling me what to say, there's no one to hide behind. This is what I'm presenting to you as the funny things I say and do.
SO: For me that is one of the hardest things to do as a writer, or just as a person in life, and it's one of the things I most respect about comedians, and that's to just trust one's instinct. You don't know if anyone else will find this funny, but you think it's funny, and you just have to trust that, and go with that, which is such a scary thing to do.
Nick: Yeah, and I think as of editing the special, there's certain jokes in there that are more, this joke is for me, some people are going to think this joke is hilarious and other people are not going to get it, and you choose your spots. There's this Michael Jackson joke, about how all of his brothers look like shiny Carl Lewis, that joke doesn't work for everybody, there's a lot of young people who don't know who Carl Lewis is, but to me, I'm going to say that line whether everybody laughs or nobody laughs, for me I think that's funny. You just do what you believe in and hope that people get it and enjoy it and sort of go from there.
SO: How much of the stuff your characters do is all improvisation? Like Fabrice Fabrice, doing the spoken word on your special, or on the recent CDR podcast, that is brilliantly funny. Is part of that pre-written or worked out, or all improvised?
Nick: I've done spoken word as Fabrice a bunch of times and it's always different. Really it's entering the muscle of doing that thing over and over. The jokes change, and in the special there are a few jokes in there like the fried chicken joke, that is a joke that I've told before, but it just happens to fit nicely into that realm. The one on CDR is completely improvised.
SO: Are most of the characters you do on the podcast all improvised?
Nick: Yeah, yeah at this point they are. The first time I maybe did Bobby on CDR or something, I had some jokes that I went to, but the more comfortable I get with the character the more it's all improvised.
SO: Any particular reason you chose Mindy Kaling, Chelsea Peretti, Brandon Johnson and Lake Bell as cameos for the special?
Nick: Chelsea is one of my oldest friends in comedy. We came up together doing open mics in New York and I think she's just about the funniest person I know. Mindy and I have become friends over the last couple of years and I thought her reactions to dealing with a guy like Bobby would be great. Lake is at the front of the special, and I thought Brandon Johnson who is DJ Ol' Youngin for Raaaaaaaandy and just a super funny guy, I thought he would be a great fit as the foil to the "Oh, Hello" boys.
SO: "The Life and Times of Tim" is literally one of my favorite shows, and I don't think enough people watch it, but one of my closest friends and I have been huge fans since it first aired. Is it coming back for a third season?
Nick: It is. We're recording it right now. It's been great. It's just super fun. It's really a joy to do and we get to work with all these fun people. Jennifer Coolidge just came in and Horatio Sanz just did an episode, and then there's Andy Daly, a bunch of great people, and it's a blast.
SO: And you've written an episode haven't you?
Nick: I have. I wrote some early episodes along the way.
SO: And you've also written some episodes for "The League" as well, with Paul Scheer?
Nick: Yeah, we wrote a few together last season.
SO: What's that like getting to work with people, and be involved in projects that have such an open creative platform, and allow you to write episodes and improvise throughout the show?
Nick: I think the best part about it for me is that all these shows have a common thread, which is collaboration. I think it's the same with my special too in that just creating a community of funny people that I respect who I think elevate my material and we've been able to create a very collaborative environment I think benefits us all. Or at least I know it's benefited my work, and hopefully others feel the same way. And all that stuff I think just adds up to a great movement in comedy, of people collaborating both through the web and Internet and then also live and for TV.
I think you find a staple of people you really like working with and the material reflects that. I feel like my special is a sign of all of that collaboration and development through digital media and that kind of stuff. It's a great time to be doing what I do, and to be able to be surrounded by such great people.
SO: Thanks so much Nick for taking the time, it was a pleasure!
Nick: Thank you as well!
____
SO Note: Make sure to watch the world premier of "Nick Kroll: Thank You Very Cool" on Comedy Central this Saturday, Jan. 29 at 10PM! Also follow Nick on Twitter @nickkroll and Bobby Bottleservice @akaBobbyB.