I kept asking myself where I should start with this interview. You probably recognize Casey Wilson from "Saturday Night Live," where she was a cast member for two seasons in 2008 and 2009. She also often contributes hilarious shorts to Funny or Die. So she is a comedian, right? But wait, she has acted in a bunch of stuff: Killers, Julie & Julia, Bride Wars, and is one of the stars of the much anticipated 2011 ABC comedy "Happy Endings." So she's an actress. BUT WAIT! Casey and her writing partner/BFF June Diane Raphael have written major movies like Bride Wars, 2011's Ass Backwards, and the 2011/2012 Ruben Fleischer directed film The Bachelorette Party, which is already being described as The Hangover (but actually starring women). So she's a writer. BUT….well you get the point. Triple threat and all that. She can probably dance and sing as well, but I'll let her keep those tricks up her sleeve.
Hollywood rarely puts out female driven and female starring movies, but clearly they see something in Casey that makes them believers, allowing her and June to pen scripts for ladies, starring ladies. Maybe Hollywood is realizing that movies starring chicks (bro!) are actually funny to everyone, not just other females. Oh and she is also kind, sweet and beautiful with a raunchy sense of humor. Dream girl, right?
____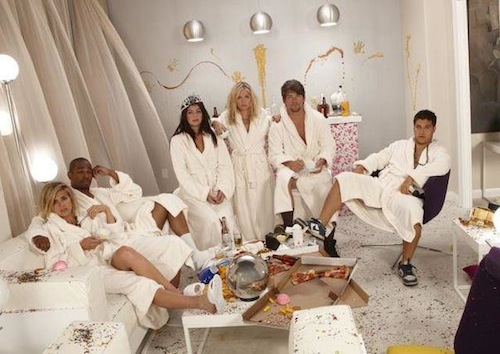 ____
Serial Optimist: Casey! You beautiful, pretty, funny, awesome lady. Real excited to have the chance to talk with you. Let's start things off real simple. What do you think the meaning of life is?
Casey Wilson: The meaning of my life can be found in your question: I am a beautiful, pretty, funny, awesome lady…so yeeeeah. That's all the meaning I need.
SO: I like it. I'm going to start telling myself I'm beautiful, pretty, funny and awesome when I'm down. I can already tell it will help.
SO: Okay now that we have that figured out, lets get a solid introduction. I'm sure a lot of people recognize you or remember you from being on SNL for a year and a half or so. Being on SNL is a huge accomplishment, but to me that should kind of be overshadowed by all of the other amazing stuff you have done, which I will get to in a moment. What kind of girl were you growing up in Virginia? What things were you into? Who were you in high school?
Casey: In high school people have since told me I remind them of the Rachel Berry character on "Glee." Not sure that's a good thing? I was very involved in all the musicals and plays. I also played Field Hockey and was Class President. Okay, I'll stop bragging. I wanted everyone to like me so, I guess not too much has changed!
SO: After high school, you went to college at NYU's Tisch School of the Arts. What was the mind set at that point? Were you thinking about comedy at all, or did you just know you wanted to be a performer and writer, or all three? What were you dreams?
Casey: When I started at Tisch I thought I was going to be an AC-TOR. We studied Chekhov and Shakespeare and I remember opening night of As You Like It and people were laughing and I was crushed, but then my teacher said, "Of course, you're a comedienne." I didn't really know that was something to want to be, even though my favorite actresses were Lucille Ball and Shirley MacLaine, Bette Davis and Catherine O'Hara, and of course the women of SNL at the time (Molly Shannon and Cheri Oteri)- all comedic genius's. Then I just embraced it and now I take pride in being funny.
SO: When did you become confident enough to know, or when did you realize, you weren't just a great actress, or a great writer, or a great comedian, but that you were all three?
Casey: Post Tisch my writing partner and best friend June Raphael and I weren't getting any auditions so we put up a sketch for a comedy night and it went well. We decided to write a two woman show called Rode Hard and Put Away Wet (named for my mother's phrase about women who look like they belong at an airport bar before noon). We worked on the show for about a year and ran it at The Upright Citizens Brigade for a year in NYC, and eventually it got in the HBO Aspen Comedy Festival. We went hoping we would at best get our mugs out there and maybe get an agent. We were QUITE taken aback when noone signed us as actors but rather as writers. We thought (ludicrously) "Writers?! Is this bad??" Out of Aspen we also were hired by New Regency to write Bride Wars and it was the first screenplay we ever wrote. So it was not at all the outcome we wanted but ended up being an amazing sort of back door into getting agents as actors and now we both act and obviously still write. The gift has been the writing because it really is such a fun job I get to do with my best friend and takes pressure off HAVING to book the acting job. So Aspen sort of opened that door for us and I'm so grateful.
SO: Where/when did you met June Diane Raphael? How did that friendship develop into such great chemistry both on stage performing, and off stage writing?
Casey: June and I met at NYU in a clown class and share a sensibility, we always have. She just makes me laugh harder than any person on earth and I am proud of the close friendship we have maintained as it also transitioned to a working relationship. We love to write for and about women. We don't like writing the straight laced lady who has to fall down to get a laugh, but love getting into female friendships and all there is to mine there, and there is A LOT.
SO: It seems like 2005/2006 were big years for you. Is that where things really started to change for you career wise?
Casey: Yeah, I got on SNL and it was a blast. It was like being thrown into the lion's den in many ways, but all good ways. I learned so much working at that pace and at that level. I love all the cast and writers there and Lorne, of course. Even though I'm not on the show anymore it changed everything for me and I'm so glad I got to be a small part of it.
SO: When did you and June start writing Bride Wars? What was that experience like for you? Were the two female leads the ladies you had pictured for the part? Was your script kept true to your original vision? To be blunt, I have no idea about anything, but the fact that a lot of time and effort is put into writing a movie, then it ends up getting overshadowed by Kate Hudson and Anne Hathaway tabloid-esque drama, etc, like do you sweat any of that? Is it frustrating?
Casey: Kate is amazing. She hired us and gave us a chance when we were completely untested so I wanted her to get hers and I think she did in Bride Wars. When we found out Anne would play opposite her it was so thrilling. The two of them couldn't have been more supportive or cool, truly, to June and I. You know, we wrote a script that I think was more War of the Roses-esque than what ended up getting made, but who cares- it got made. The frustrating part was the reviews slammed the movie so hard for being another wedding movie when in reality it was a rom-com. For lack of a better word, the two "lovers" were two best friends. And non-wedding related comedies with women rarely get made in Hollywood. And you know what? Women like those movies, and what's wrong with that?? We don't fault guys for loving nerd stuff…. So that was disappointing and I think diminished the intention of the movie, but what can you do? I'm proud of it.
SO: What is The Bachelorette Party? It's being described as the female version of The Hangover. Did you both write the original script for this? Has anyone for sure been cast yet? I would imagine you all were able to just go nuts with that script, and have a lot of fun.
Casey: It's a rewrite of a super funny script by Aline Brosh McKenna, and Ruben Fleishcer is directing, no cast set. June and I have gone to Vegas 14 times for "research."
SO: I just watched the promo for "Happy Endings." It looks REALLY good. I know it's a totally different premise and show, but I can almost see it being the "Modern Family" for ABC next year, hit wise. How did you get involved in the show? What are your hopes for it?
Casey: My hopes for "Happy Endings" are high of course. It has been to date, the best experience I've had working on anything. The cast is amazing. Full of super funny comedians (Adam Pally from the Upright Citizens Brigade and Damon Wayans Jr, both phenomenal) and the writing is so fast and funny and edgy and heartfelt. David Caspe created it and it is his first show. He is so talented. I really think it's a special show.
SO: Okay, WHEW. Enough work questions. When was the last time you laughed really hard, and why?
Casey: Last time I laughed really hard was yesterday at work when my hair person Lori showed me the finest email I've ever read. Lori (sorry to out her) ordered these knock off Christian Louboutin shoes from this online company in China. They sent her the wrong shoes and she emailed them asking if she could exchange them because the shoes weren't right. This COMPANY wrote back the following email: "I predict you will die in a traffic accident because of your shit words and fucking soul." Genius. Short and sweet. Makes me laugh so hard, and as I told her is totally worth the hit she took on the shoes.
SO: That is UNBELIEVABLE. I believe you, but it's just unbelievable. She had to have read that multiple times, like, "No…Way."
SO: What is your favorite late night snack?
Casey: Fav late night snack is FAGE's yogurt and TiVo'ed episodes of "Frazier," which lull me to sleep like an Ambien.
SO: What current shows are on that you love right now?
Casey: I love "Modern Family" and "Community," and I cannot tell a lie – The Real Housewives shows are my whole life. Bev Hills? Jewel of the franchise. And sister wives!? What!?!? Yes, please. Favorite show of all time is The Comeback.
SO: What is your favorite moment of the day?
Casey: Favorite moment of the day is the moment I have my coffee cup in my hand and am about to drink it. It's just before the day kicks off and things get weird. It's the moment of hope.
SO: What things in life give you inspiration?
Casey: Inspiration comes from everyone I meet. June and I joke we must be the laziest writers on earth because we pull so much from friends and family and our relationships. Actually, is it lazy or is it soul baring? I prefer the latter.
SO: We are a little more than a year apart in age, sometimes I feel old, most of the time I feel young, and I for sure don't act like I'm 29. Do you ever feel your age or do you just pretty much always feel like, 26?
Casey: I just turned 30 (thanks for that, David!) but I'm always 47 at heart.
SO: I'm so bad about accidentally doing stuff like that. Sorry! Thanks Casey!
____
SO Note: Check out a preview of "Happy Endings" here, check out Casey's Funny or Die videos here and follow her @caseyrosewilson.