If you haven't seen the newest viral video to come out of legendary comedy theater Second City, then you're about the only person who hasn't. On Monday, The Second City Network released "Help Kickstart World War III" a parody campaigning to help pay for… well, whatever President Obama wants. You know, like all supporters promised to do when we elected him. The satirical take on our support of the President struck a chord with the internet and the video quickly became a hit. It was picked up by Huffington Post, The Daily Beast and just about every other blog out there along the way.  I talked to the hilarious minds behind this brilliant video, writer John Loos and director and producer Jeph Porter, to go behind the scenes of this viral hit.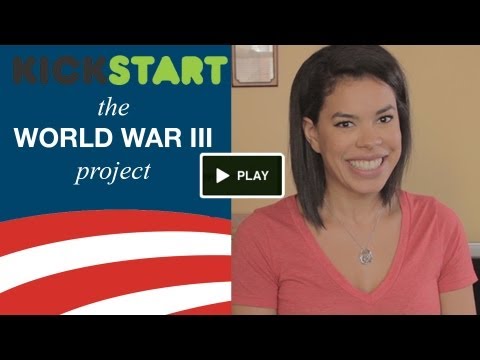 Serial Optimist: Congratulations, "Help Kickstart World War III" has gotten almost 2 million views so far in less than a week! Is this the biggest Youtube video for The Second City Network?
John Loos: The Network has a lot of great videos with million-plus view counts, actually. I'm truly excited that ours can stand among them now.
Jeph Porter: We have definitely had big hits in the past. Sassy Gay Friend , Advice from a Cartoon Princess are a few early examples. As well as a few reaction pieces including Weak Man and World's First Lib Dub Divorce and of course a Harry Potter parody but this is certainly one of our fasting rising videos and its still going!
SO: Tell us a little about yourselves. How long have you been a part of Second City?
John: I took my first writing class at Second City in 2006, and then in 2010 I became a cast member for Second City at Sea and have since done three pretty amazing contracts for them, sailing on Norwegian cruise lines. Recently, I joined The Second City Writing Program faculty and will begin teaching in the Training Center soon, which is sort of a dream fulfilled for me.
Jeph: I've been with Second City since 2010. I started working with them at their LA theater as a video producer and director and worked on some of the Sassy Gay Friend videos. I also worked with Andy Cobb on a lot of the politically themed videos under his handle The Partisan. In 2012 I moved back to Chicago, where I'm originally from, to work on Production with Second City here.
SO: How did the video come about?
John: I had an idea about two weeks ago for a Kickstarter parody video where the people in it raise funds for a war, and I ran it by my boyfriend Andy Eninger (who runs The Second City Writing Program), and he urged me to send it to Jeph. Jeph really liked the idea and had me draw up a sketch, which at first had senators asking for money. He and Tyler Alexander gave the suggestion that it be everyday people, and that just made everything click. It was the perfect suggestion.
Jeph: We release two original videos a week on secondcitynework.com. Some of those are web series and some are sketch. We get this material either from commissioning pieces from writers we have worked with or taking pitches from people. Generally we like to keep an open door because Second City is full of so many talented people it wouldn't be in our interest to be completely closed off.
So we'd never worked with John before, and in fact until just yesterday I'd never even met John in person, but he submitted a script to me with the basic idea and I thought it was great. So I ran it by my boss, Tyler Alexander (VP of Digital at Second City) and he had some solid notes on it, including changing the characters from actually being Obama and some Senators to being Obama supporters. I passed those notes onto John and he turned around another script in about two hours. I believe that was on Tuesday the 3rd, and I then shot the video on Friday the 6th. We then released it Monday the 9th in the late morning/early afternoon and it went from there.
SO: Any backlash from viewers? 
John: The YouTube comments are really just a carnival of personalities. A lot of people seem to like it, which is great, but those earnest "Great job!"comments are easy to miss in all the ranting and raving from people who, apparently, have quite a lot to say about things entirely unrelated to the video.
Jeph: We've seen a great response from a wide spectrum of people. I think generally the response has been positive. I know my whole family thinks I'm famous now.
SO: What's the best or the weirdest comments you've gotten on the video? 
John: I think my favorite so far was one Jeph spotted that said "This video is bogus. Nothing will replace Pinterest." It made me laugh out loud. As for the weirdest, there was one that called me out for being a realtor, which I'm not, but I do work in property management, so clearly someone took the time to Google me and find my LinkedIn profile. And after misrepresenting my resume, the commenter proceeded to talk about something entirely unrelated, so there was no reason for him even to bring it up. It was pretty bizarre.
Jeph: At this point it's almost impossible to choose a favorite. I was just telling some people you know you have a hit when you're comment section has both the conspiracy theorist and the people trying to get you to click a link that promises to make you money.
SO: Any fun behind the scenes stories like, "So and so actor wasn't wearing any pants during that scene"?
John: I wasn't at the shoot, but I just want to say how amazed and delighted I was by the finished product. Jeph directed and shot it perfectly and Greg Ott, Neal Dandade, Brianna Baker and Niccole Thurman were all beyond hilarious.
Jeph: I can assure you everyone was wearing pants. And to be honest it was a pretty straight forward shoot. I didn't even take any photos, which I usually try to do. I wish someone would have told me it was going to go viral, I would have documented it more! And all our actors are so talented that it wasn't any problem to get a ton of great performances out of them. My favorite story though, didn't happen on set, it was my girlfriend's mother calling her at 1am on Wednesday morning to tell her the video had 400K views. She made her wake me up to tell me. 
SO: So what's next? Plans for more shorts or sketches?
John: Hopefully we can get lightning like this to strike again. I'm just really excited to work with the Second City Network and create more comedy, in whatever way I can. The channel produces really fantastic, smart stuff, both video and written, so whatever comes next will definitely be worth checking out.
Jeph: We release two videos a week (except this crazy week!) and I've actually shot a few other pieces since this video. We also release written content by some of the same funny and talented writers and performers who worked on this video every other day. So there is always new content on secondcitynetwork.com. And John and I have already been talking about what's next for him. Hopefully this is the start of a lot more great things to come!
____
SO NOTE: Watch for the new videos and subscribe at www.SecondCityNetwork.com, @SecondCityNetwk on Twitter or at Facebook.com/TheSecondCityNetwork. John Loos can be seen in Gayco's #GodHatesHashtags at Donny's Skybox and at www.PinquePony.com.