If you haven't heard of Love in Stockholm yet, then you haven't experienced love. These guys can take you from those kicking off your shoes and putting your feet up on the coffee table moments to slow dances at twilight and road trips in the blink of an eye. Everything you love about life can be found in the musical talents of this Boston-based soulful rock band, who have been all over the country in the blink of an eye since their first full-length studio album, A King's Ransom, was released in 2010. They are currently in the studio working on their next big project, but in the meantime they are raising funds with Pledge Music and recording cover songs on their YouTube channel for your enjoyment. Lucky for us, we got to sit down and talk with them about basically anything we wanted. And lucky for you, this is a great read with some great guys. Cheers!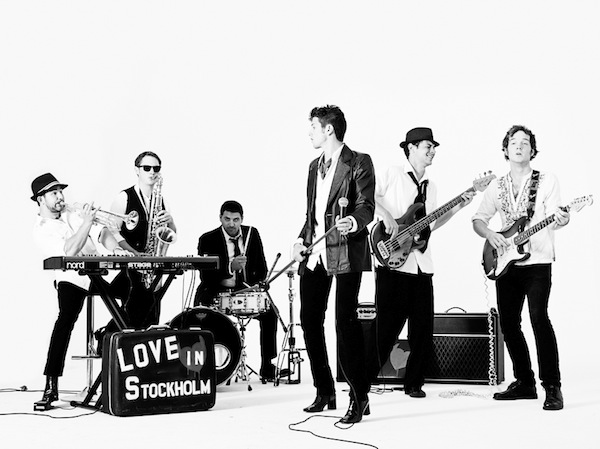 Serial Optimist: Please, introduce yourselves to the amazing Serial Optimist family!
Love in Stockholm: Love in Stockholm is the new Homer. When we are finished musically deconstructing your picture of reality, your definition of "epic" will cease to invoke poem, film or worn tome and will instead utilize only your fractured memory of completely ceding your will to us at the show the other night.
Alternatively, we're a rock band from Boston. Nice to meet you.
SO: Uh-oh. This looks like it's going to be a fun chat! How did you meet each other? In other words, how did Love in Stockholm come to be?
LIS: Have you ever seen Predator? It was a lot like that. But actually, most of us met at BU and pulled in the rest via random Boston music connections. You can probably read a lot more truth and fiction about our story by Googling.
SO:  You mentioned that you travel in a Honda Pilot. Those things are like spaceships, so kudos! What color and year is your van, and does it have a proper name? If not, what would you call it and why?
LIS: The color is ichor; its claytronic exoskeleton is forged in the blood of gods. The year is 2257–it transcends time, which is how we are able to show up for the gig before the sound guy, every time. It also transcends perception, which makes it difficult to name, but I suppose we should call it Hannibal, since its previous owner used it to transport elephants over mountains.
SO: Good reasoning. What are your top 3 venues to play?
LIS: Harpers Ferry (if we could travel back in time to when it still existed), Rockwood Music Hall, and the Taj Mahal. The real Taj Mahal, in Atlantic City–not the fake one in India.
SO: But, of course. This should be a fun one! Have you noticed any fun quirks about each other while on tour? Care to let us in on some?
LIS: Charlie will blow his nose anywhere. Jesse doesn't text and drive–that's illegal–he Instagrams and drives. Dave Carroll tells punchlines without jokes. Evan will do anything for the sake of entertainment on the road, including running a Sega Genesis through a VHS player because it was the only way he could figure out how to hook it up to the video console. Brendie can create the most unique and fun road game without any effort whatsoever. Alex is the beginning and end of all that ever was and will be, and is referred to by some as Jehovah, Buddha, Yahweh, Brahman, Allah or Quetzalcoatl, by others as Shaitan, the bringer of destruction and chaos. It is he alone who decides the fate of the human race. Just something we noticed while on tour.
____
Love in Stockholm Session – "Running in Place"
____
SO: Probably the most interesting answer you could have given… So what's your go-to fast food of choice (Ya know, while on tour? Or any other time.) And why?
LIS: We actually don't eat, except to maintain the facade of being human. So probably Sonic.
SO:  So I guess you're not buying into the new branding of Wendy's and Arby's then? Good for you! Your "God Loves Corn" story is perfect. Is there any other song that you listen to that might seem to come out of left field?
LIS: We would have said "Call Me Maybe," until we started getting asked to cover it at nearly every private gig we've played this year. Also, the theme from Predator. Have you ever seen Predator?
SO: Is there any one tour experience or memory that you will never forget?
LIS: Paying over $20 a head to go to the Rock and Roll Hall of Fame in Cleveland, only to be told by someone in the gift shop on the way out that if you're a band on tour, you all get in free in exchange for your CD. Still worth it, though, at least to see Lady Gaga's meat dress in the flesh (see what we did there?).
SO: If you could pull some crazy stunt during a photo or video shoot–money and safety not an issue–what would you do?
LIS: Cure cancer.
SO: That's a noble answer! If you could play a song with any artist–living or dead–who would it be and why?
LIS: Have you ever seen Predator? We'd play the "National Anthem of the United States of America" with Jesse Ventura on the trombone, "Stairway to Heaven" with Arnold Schwarzenegger conducting the Vienna Philharmonic in full accompaniment, the "1812 Overture" with (one-armed) Carl Weathers firing the cannons, and Jefferson Airplane's "White Rabbit" with the Predator on a full church organ. All at the same time.
____
SO Note: Follow the guys @loveinstockholm and be sure to pledge to their new album, which is expected to release within the next month!