Comedian and writer Matt Ingebretson has put together one of my favorite web series in quite awhile with "Matt's Game Chamber". The premise? A comedian joins Matt in his sister's basement aka game chamber and plays video games while Matt interviews him. So, you have video games, some of our favorite comedians, and Matt running the show, that's called a win win win situation. Check out some episodes and a few we questions we asked Matt below.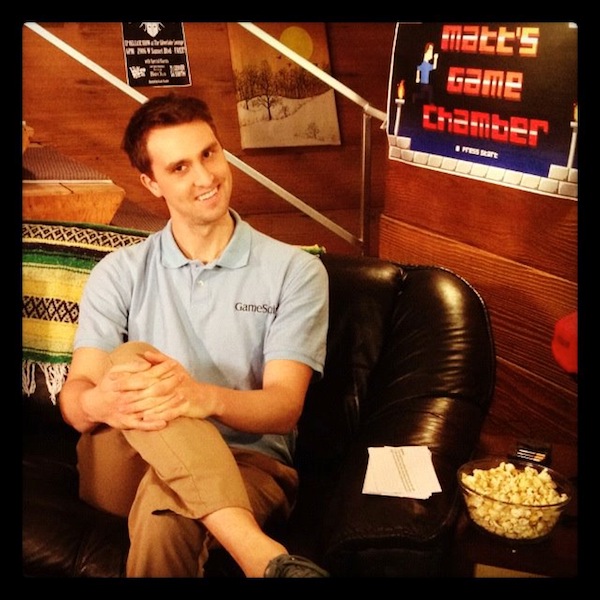 Serial Optimist: How the idea for "Matt's Game Chamber" come about?
Matt Ingebretson: I approached David Schilling with the idea for the series and we developed it together. The idea was initially to just invite comedians to play video games with me and we would just joke around, but then the more we played around with the idea, and after shooting a test episode, we ended up having a lot of fun with this character that is both intensely confident and completely lacking in self-awareness.
SO: How would you describe the basic premise of the show?
Matt: The overall premise is that Matt invites his favorite comedians into his sister's basement, where he lives, and interviews them while they play video games. Although most episodes devolve into Matt bringing his tumultuous personal problems into the show — like his horrifying relationship wit his mother or shame-based relationship with his sister. I use my own name in the show but the character I play is basically an autistic version of myself. The first half of the season has no real through-line, but the next half coming up has an arch involving a female companion for Matt.
SO: What people have helped make this happen?
Matt: Behn Fannin directed all of the episodes. Brock LaBorde, Brandie Posey, Zach Ames, Allen Strickland Williams, David Schilling and I wrote them all. Brock, Brandie, Zach, and David were also producers. Josh Blackburn ran sound. Zach wrote and recorded the theme song. Mark Estrada did the opening animation.
SO: Is it more improvised or straight from the script?
Matt: We went into each episode with a rough outline of what we wanted to do and then we would improvise and play around during the shoot. The writers were always on set pitching lines and then we would just let the camera role and play around in this little universe we created.
____
Episode 1: Kyle Kinane
____
Episode 2: JC Coccoli
____
Episode 3: Brent Weinbach
____
SO Note: Follow Matt @mattingebretson, check out all the episodes of "Matt's Game Chamber" here, and for even more Matt funniness go to his website mattingebretson.com.