Mike Kelton is a comedic genius. An alum on the University of Michigan, he comes from a theatre background and rubs elbows with cultured and brilliant people much like himself. His repertoire includes a host of acting gigs, writing credits, an insanely hilarious blog, improv and stand-up comedy, hosting credentials, a radio show, a web series and even a television stint! The kid's got gumption, and we've been obsessed since we first encountered him at a hosting gig. If you walk away and you're not in love, then there's only one point in this interview that we think might have turned you off (and it involves an unfortunate and hilarious incident with an ex-boyfriend). Mike has also demonstrated his vocal cords on stage in productions such as The Rocky Horror Picture Show and at benefits such as Broadway Cares Equity Fights AIDS. So sit back and get ready to be absolutely enamored by Mr. Mike Kelton!
____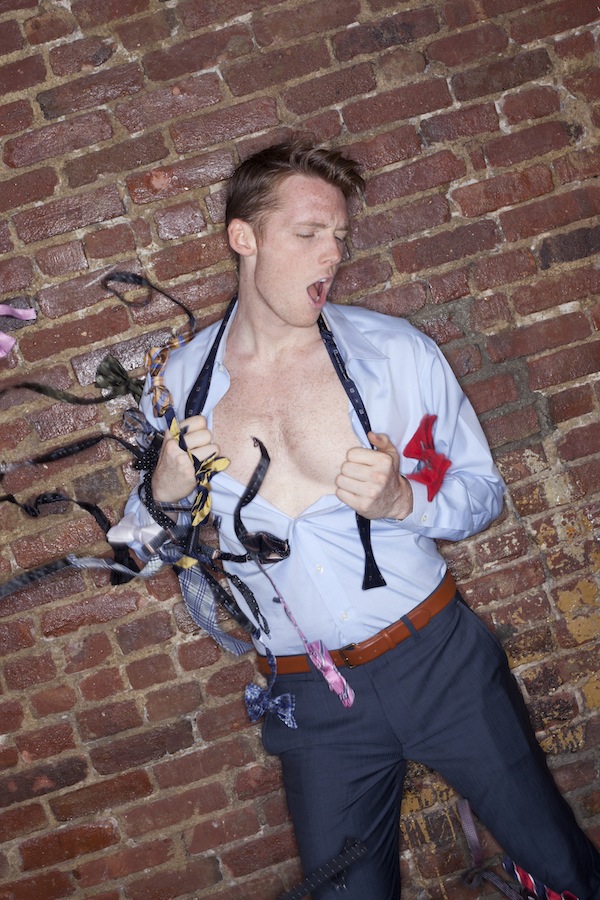 ____
Serial Optimist: Please, introduce yourself to the Serial Optimist community in the most unique way possible.
Mike Kelton: My name is Mike. Offer me peanut butter and say no more. We are one now. Namaste.
SO: You went to University of Michigan, where we hear the campus community is like none other. What did you study and what were your years there like?
Mike: I blacked out and forget, Go Blue. Next Question.
SO: You have dabbled in writing; stand up, acting, hosting, improv, radio, and even your own web show. Did you always know you wanted to be a comedy extraordinaire?
Mike: I love that this question if phrased in past tense. I dabbled in everything and now work for the JCC making cool snow flakes out of white construction paper for the hallways outside the bathrooms in the basement. No, I literally think I for sure have ADD or ADHD or A-Z because I can only do something if I am obsessed with it. Also, side note, I love cheese. Melted cheese is better than non-melted, but I will take cheese in whatever form. Where was I? Oh, Obsession. I can only do something if I am obsessed with it. I am obsessed with irony and humor and being myself. This has culminated in becoming a comedian.
I know that one day I will have my own late night talk show where I just get to fuck around and talk with people and wear suits that are way too tight for me while drinking 'not coffee' in my big coffee mug. I am currently doing everything in my power to somehow let the universe know that I should do that. So, I make funny videos that make me obsessed and those can be found on YouTube here. I tell stories about my life around the city and some people call it stand-up, and I love making people laugh telling them the pretty strange things that happen to me on a regular basis. I started writing for USWeekly about a year and a half ago when someone saw my Warlocks blog and thought I was pretty darn clever. I said sure, most celebs look like art teachers/warlocks anyway, I WOULD LOVE to write for your little magazine. I will host anything that people will trust me to host. Give me a mic and I promise your show/concert/radio program/Seder dinner will be a blast. I have fun wherever I go. Great for most everything in life besides funerals…SO FUN!
I would watch "Letterman" with my dad as a young kid (Yeah, I had a late bedtime, so what!) and I just knew that I had to do that! I also would watch "TRL" and pretend I was Carson Daly. He is not as fun but still, what a normal person with lots of famous friends, RIGHT??
Was that good? Because if not, just insert a chapter from one of David Sedaris' books or some tweets from @robdelaney because that might work better.
SO: It was amazing, albeit off-topic at times. Side note: I love cheese, too. Sharp Cheddar takes the cake! Anyway, let's get to Take2. Your Twitter bio reads: "If POP CULTURE was a drug, we would be your escape from Rehab! If THE SOUP were a bit gayer…" We totally dig it. What was the inspiration behind Take2?
Mike: I was sick and tired of watching peoples' "Web Series" and I found myself watching them over and over audibly being like, "Ugh, these are just stupid and so self indulgent and NO ONE CARES!" Then I realized I was half correct and half jealous. I needed my own thing so I could be as self indulgent as teenage girls on Instagram. I wanted to put together a show to have fun with people and put some of my ideas out there while also commenting on pop culture. Because I have ADD some videos are similar and some are super wacky. It allows me to interview D-List reality stars and run around Times Square dressed up as a member of the Village People… I mean THE NAKED INDIAN. We have been picked up by a couple cool blogs and that makes me happy. It's not a viral success but I really love doing them and I think people love watching and that's all that matters. One day, I will get paid big bucks to act like an asshole, and for that… I am again, obsessed.
____
Mike Kelton: The Naked Indian
http://www.youtube.com/watch?v=X4-tdBDE144
____
SO: My favorite episode by far is "The Naked Indian". I am super impressed with your ability to keep a straight face, and I must say you wear that costume well. What was that filming experience like? How many people did you scare off?
Mike: Naked Indian was one of the best days of my life. I explained the premise to people for weeks prior and everyone was like, "Yeah right dude, there is no way you are gonna actually do it!" I won, because I did it and kinda loved it! I had to travel from the UWS to Times Square because we started at a friend's apartment. In early November, we lucked out with the weather but my nips were hard all day. I blame all the sexy tourists in Times Square. Anyway, my favorite part was how people really loved my presence in Times Square. We made money just for being there and people wanted to take pictures and be a part of the fun. I was supposed to attack the Naked Cowboy for retribution purposes, but he ended up singing with me and I just felt so much love.
Also, fun fact… When you have 2 cameras following you, you can do whatever the hell you want. People are like; "Oh they are filming it so it must be ok". If you ever want to rob a bank, just have people film it, and you will be good to go. Nobody would ever stop it because it COULD BE FOR TV!!! Moral of the story, people are stupid and I am a genius. A genius that dresses up like a big gay Indian. I win…. right?
Oh, one more thing. There is a big dick hole that stole my idea and now makes lots of money posing as the Naked Indian in Times Square everyday. My video came out way before he got drunk and saw it on YouTube and quit his job at the gas station and decided to do it. He stole my idea and he can go eat a dick. Well, really I would not want to do it everyway anyway, so it's all good. He does have great skin though. I bet he smells nice. Is he single? Find out, I think I wanna marry him. This is all contingent upon the election…so I hope Hillary Clinton wins.
SO: Okay. We think we have officially seen it all. Tell us about your Warlock Blog. Where did the idea come from? Where do you draw inspiration? Enlighten us.
Mike: Simple. People on the streets, well everywhere, look like Warlocks. They could be normal people with oversized capes on or they could be real life warlocks. I just catch them and put them up. I am like the disciple sent to earth to find them and post them, that's all. Oh, if you are a Warlock reading this… put your old rusty finger down because spells don't work through the Internet. I know, I have tried. That being said, if you find a warlock and are lucky enough to live through the iPhone capture, email the pic to me at Igotawarlock@gmail.com.
Yup, everything I just said is real.
SO: You are one half of a crazy incredible improv duo that goes by the name of "Cory & Topanga". How did you get involved in improv?
Mike: Aug 2011 I slept with my ex-boyfriend and pooped in his bed. I felt really bad about it because I was madly in love with him and pooped in his bed. I was gonna call him and tell him all of this but I signed up for an improv class instead. This was the best choice for my comedy career and the worse choice for my love life. He is happily in a new relationship and I am happily making people laugh all the time. He looks great whenever I see him. We never spoke about me pooping in his bed. I don't know why. If you are reading this (insert any name that sounds like Bryan here), I am sorry about that. Also, do you wanna get married? Because we should do it before Romney gets elected if that ever happens. I still have your scarf and I smell it every day. Ok, next question.
SO: Interesting… By the way, do tell us about your improv partner, Rita!
Mike: "Cory and Topanga is awesome and makes me super happy. Rita has more testosterone than me and I like it that way. She is a god and I am a goddess, hence Cory and Topanga. The gender roles are switched because we cool like that. We have a monthly show at THE TRIPLE CROWN in Chelsea.
I have another team, "PULLEY". I love them too. We drink too much beer together and spit it in each other's mouths. We rock.
SO: I got to witness you learning how to scissor on a very fateful night of improv. What other shenanigans have you gotten yourself into?
Mike: I pooped in my ex-boyfriend's bed once, did I mention that?
SO: What kind of work have you done with the Upright Citizens Brigade?
Mike: I am currently an Advanced Study Improv Student learning how to make magic happen. I love UCB so much and the community is amazing. I am not yet on a house team but I dream about it. In my dreams, I have great shows and am supported and loved by the audience and my team. It is going really well for myself between the hours of 2am and 5am in my bed.
If you ask me this a year from now, I would like to say I am on a Harold Team and you can see me every Tuesday night performing with my team, "PULLEY". We made it GUYS!!
SO: Explain. All of it.
Mike: The first and last TV show I have booked to date was "Are We There Yet?" on TBS. I luckily got food poisoning the day before shooting which is why I look so great in this pic. I played a gay spin instructor, which was JUST PERFECT!!! Also, something I was unaware of was that my director was Alfonso Ribeiro who is better known as Carlton from "Fresh Prince". When I got to set, I saw him, ran right up to him and went, "Oh my god, you're Carlton…I love you." Then I proceeded to sing the track to the song while doing the Carlton dance. He quickly said, "Please stop." So I stopped and walked away. He is cool though, much cooler than Will Smith because he is directing primetime shows for TBS and Will Smith is well, Will Smith. So, yeah. Cool.
If you are reading this and would like to cast me in a TV show, DM me on Twitter. Thanks.
____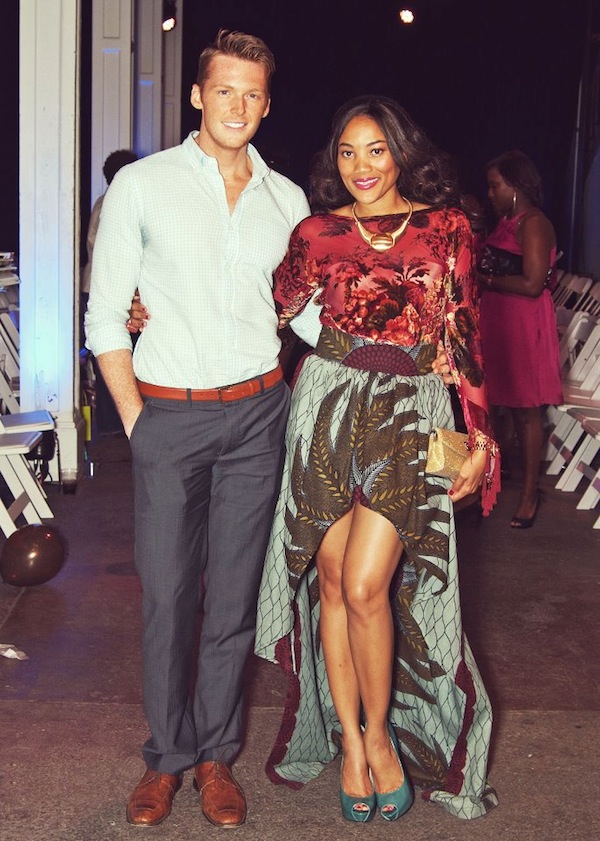 ____
SO: One thing we are dying to know about is this: You are a weekly contributor to US Weekly's Fashion Police. Your one-liners just get us. How did that writing opportunity come about?
Mike: This is probably the coolest thing in the world right? When all else fails and I am feeling pretty shitty, I can just tell people to pick up a copy of US Weekly and they can read shit that I wrote while eating a tub of peanut butter on my couch. It really makes life pretty sweet sometimes. So, I got this because someone over at US saw my warlock blog. She laughed out loud for realz and asked me if I would like to audition. An audition was just writing 5 jokes per outfit. I was really nervous at first as I tried to be super clever and witty, but most of the time, the first thing that pops into your head is the most fun and the most relatable to divorced women on a business trip to Florida on Jet Blue. Also, comparing a celebrity to a Smurf is just enough validation to remain single for a while I guess. I am glad you like my comments. I will let US know that I am pulling in sales. They will not care but maybe it will get me an invite to the Xmas party.
SO: Is there a celebrity fashion faux pas you WISH you had been able to write about?
Mike: I want to do a blog on Justin Bieber's hair. That's all.
SO: You should! We'd follow it! No Shave November: Hit or Miss?
Mike: Wouldn't the right 'no shave month' be February, because it's so cold? Miss.
SO: All right, I just need to get serious for two seconds here. Of course, we all know the recent devastation the Sandy brought to the East Coast. What do you have to say about what you witnessed as an aftermath of the storm?
Mike: No jokes here. This was a mess. I am glad Bloomberg cancelled the Marathon. I thought that would have been insane to have people running around in spandex not to mention all the volunteers and generators keeping the race going. He made the right decision. So many people were affected by this bitch Sandy, and we still have so much work to do. The one nice thing is having people come together as a community and go, "Oh shit, my little issues with returning my Jimmy Choo shoes don't seem like that much of a priority right now because there are bigger things happening in the world." The sad thing is, THERE ARE ALWAYS BIGGER THINGS HAPPENING IN THE WORLD but we as New Yorkers get so caught up in our lives because we are self consumed and 'super busy' that we lose sight of the big picture unless the catastrophe hits us right in between the eyes. We take notice when we are forced to or when we lose use of Facebook and Twitter and our stock market. We need to always be more understanding that the world does not ride the 1 train. Just us.
SO: You have been quick to help out with relief efforts, which we very much admire about you. We saw some of your tweets about doing service work this past weekend with others in the New York community. What was that like?
Mike: After sitting in my apartment for a couple days, I felt useless. Seeing the devastation made me pissed for sitting on my ass. I volunteered on the LES where they had families who were without food, power and hot water for days. I helped at the food bank on 10th street and Ave D. I met some amazing people that had families in cold apartments with no food. These people were stuck and it was too dangerous to go outside because there was looting and people were being real dicks. We got people the food, water and supplies they needed. All that and I thought I met my husband, till I learned that he was super religious and had a wife. It was like that Alanis Morrisette song but in reverse. I still think he is gay but maybe I am just projecting because he was handsome, kind and intelligent. That's gay in my book.
Speaking of, I think I may write a book one day, will you read it?
SO: We can't make any promises, but it sounds like your book would be a winner. On to more pressing matters… If you were a sloth, would you climb a tree or a house?
Mike: Tree house. Why can't life be everything we want it to be?
SO: You have been involved in a number of entertainment endeavors over the years. Is there any one special (or strange, or both) memory that stands out to you out of everything you've done?
Mike: I once stripped at some girl's sister's bachelorette party. Does that count? I used to do sales at David Barton Gym… don't ask. Anyway, this girl came in and when I went in for the hard sell, she was like, "If you strip at my sisters bachelorette party, I will join the gym." I said "NO WAY!" (I didn't shout in person although my voice may have been loud.) And she left. Later that month I was one member away from my sales goal so I called her and said, "YOU WIN!" (this time I was shouting). She joined the gym and I was Gary from Tennessee who went on a one night cruise around NYC and stripped down to a thong for her sister's bachelorette party. I have never consumed so much champagne in my entire life. That and I have never seen a group of women so disappointed. Picture a comedian commenting on every dance move he does. It was funny but not sexy. Similar to my love life. Oh gosh, here I go again. Anyway, there are pictures somewhere on Facebook… If that still exists.
SO: This summer you hosted Broadway Belts for Bucks, a fundraiser for a stage production put on by fellow Michigan alumni. You were a riot, and the crowd ate it up. What became painstakingly clear that night is that you are no less than incredible at everything? You're a singer with just remarkable range. Any plans to take on a singing endeavor in the near future?
Mike: First of all, thank you! You are my favorite person ever. I write comedy songs that I think are pretty great. One day I will get the courage to share them with YouTube. That day may be tomorrow.
SO: How do you keep those pearly whites so jealousy-inducing?
Mike: I just use filters on every one of the pictures that I post. Who needs crest white strips when you have Instagram filters…DUH! But, thanks!
SO: Speaking of teeth, if you were to be eaten by a cannibal, how would you like to be prepared? (This isn't sick, I promise!)
Mike: BBQ, duh.
SO: Well played, Mike. If you had to tell one joke at every one of your shows/engagements (NOT the marriage kind!) for the rest of your life, which one would you use to make the audience remember you?
Mike: (tap mic…tap mic…)  "Hot Mic, Hot mic…" (point to myself) "…Hot Mike! Hot MIKE!?" Ehhhhhhhhhhhhhhhh?
SO: What do you want to be when you grow up?
Mike: A kid.
____
SO Note: Find more Mike at his site mikekelton.com and check him out on Twitter @mikekelton.