Eric Appel is a truly great LA director/writer/performer. You've easily seen his work on "The Office," "NTSF:SD:SUV::," "New Girl," "Human Giant" and more. He's done TV, film, internet videos, you name it! A busy guy with a big passion for what he does, which is extremely contagious, and we love him for it. It's always cool to see people who totally love their work and that is very clear in this interview. We talk VHS cameras, improv and Willy Wonka! So, go on ahead and dig into this one guys. You'll love it.
Serial Optimist: Hi Eric! Thanks for talking with us! How about we start with this, what's your favorite fruit? (Hope you know what we're looking for)
Eric Appel: You want me to say Apple, don't you? It's funny – on the first day of school in fourth grade, my teacher asked if my name was pronounced Appel or Apple, and I answered "Apple" (because I've always been an asshole) but my teacher didn't notice all the other kids laughing and didn't actually find out how my name was pronounced until the parent teacher conferences when he called my mother Mrs. Apple.
Anyway, bananas are my favorite fruit.
SO: A wily one you are. Please, PLEASE describe where you grew up. What kind of environment was it like for you? Did you enjoy your younger years? What made you want to be in comedy? 
Eric: I was born in Long Island, but my parents got a divorce when I was five years old and I moved upstate (near Binghamton, NY) with my Mom and sister. For the next seven years (before my Mom got remarried) we lived in a big house with my Grandparents and most of my Mom's brothers and sisters. My grandfather is a painter (he and my grandmother still travel around to art shows selling his work every weekend) and the rest of my aunts and uncles were all creative people. A bunch of weirdos. They were all involved in art and/or music in some capacity, but they all had big personalities. They're definitely a family that loves to laugh and tell stories. I think that a big part of who I am is because of their collective influence and just being around them so much as a little kid.
Right around the time we moved into that house, my grandfather bought one of those gigantic 1980's VHS video cameras, and late one night, my Frank Zappa obsessed stoner Uncle Pete made this stop motion video out in the garage, where little green army men were being chased around by (real) dog shit and turned into little piles of sawdust. I remember seeing that video when I was very young and becoming obsessed with it. Actually, a couple of years ago, my Mom came across the tape and converted it to DVD, along with a bunch of other dumb little movies that I made as a kid, and gave it to me for my birthday.
Anyway, I became immediately obsessed with playing around with that video camera and used to make tons of movies with my action figures. I was also obsessed with The Monkees, which they were rerunning on MTV back then. My Mom would tape me reenacting scenes from the show and lip syncing to Monkees songs with a tennis racket as a guitar. My sister was in the videos too, but she was a bit shy and I was always jumping in front of her and trying to steal focus. That's probably why I eventually went into performing and she went into finance.
A few years later, in my teens, my friends and I started making these awful gangster movies where my chubby friend Scott would play this hit-man named "Flabio." Essentially, it was just us running around in the woods and choreographing awful fight scenes and then ripping off scenes from other movies. [One time,] Flabio was sent to the park across the street from my house and a mailman walked up with a box that contained his wife's severed head (SE7EN).
But I was always obsessed with movies and TV shows. When I was in high school there was a $1.50 theater near my house that showed movies right after they left the bigger theaters. I was there several nights a week. I think I saw just about every movie that came out from 1994 – 1998. I had no idea that I would eventually become a director, but looking back, it makes a lot of sense.
SO: Did going to the Art Institute of Pittsburgh prepare you for the type of work you're currently doing? How helpful has it been getting an education? Having the experience and knowledge you do now, would you still tell your younger self to go to college?
Eric: I was always playing around with video cameras, but I was also the kid that drew cartoons. It's weird.  I was so obsessed with movies and television, but nobody ever told me that I should go to film school. I could draw though, and I loved drawing, and I loved cartoons, and everyone always told me that I was great at drawing, so when I decided to go to school for Animation, it felt like a no-brainer. However, when I actually went away to college, I realized that I had made a mistake (and also that I wasn't that great at drawing).
I actually spent more time working on videos with my roommate, who was majoring in video production, than I did working on my own projects.
So I guess that I would probably say I regret going to college, but when I was in my second year, my girlfriend at the time, who was a Pittsburgh local, told me about this show at the University of Pittsburgh called "Friday Nite Improvs," where anyone from the audience could volunteer to go up on stage and perform these improv games. She knew that I liked being funny and that I was always making these videos with my friends, so she brought me to the show one week and I think that's kind of the moment that my life shifted in a different direction. I guess everything happens for a reason. If I wasn't in school in Pittsburgh, I wouldn't have found this improv show, and I may not have found my way to the UCB Theatre in New York.
SO: Looks like everything about your younger years set you up for a life in entertainment. It seems like fate! Switching to the performer side of things, how important was/is UCB to you? When did you start performing and teaching there? Do you get the same excitement with writing and directing as you do with performing?
Eric: UCB was and is still very important to me. All of my closest friends are from UCB, I met my wife at UCB, and I also have the UCB logo tattooed on my arm. So yeah, I would definitely say that it's still important to me.
I started taking improv classes there back in 2002 and it wasn't long before I was basically living at the theatre. I became very involved very quickly. [I was] taking improv classes, interning, running the lights for shows and really helping out in any way that I could so I could just be around comedy as much as possible. I was performing a few times a week, but I was also writing sketches and directing shows.
As I started to get actual paid work as a TV writer, my focus started to shift. It didn't take the excitement out of performing, because making things up in front of an audience is still as thrilling as ever, but it definitely took some of the pressure off. When I started performing at UCB, I didn't know what was going to become of it. Maybe I would become an actor? I had no idea. I was just doing what I was doing and hoping that I would eventually be able to stop waiting tables to make money. The fact that it somehow turned itself into getting writing jobs meant that I didn't have to worry about the performing leading to anything other than performing on stage at UCB, if that makes sense.
I still do this show, "Shitty Jobs," every Sunday night at UCB in LA with a bunch of my friends that have also moved out here from NY. I think we all kind of treat it differently than we did when we were coming up in the theatre, since we're all working professionals now. The shows are good and the audience loves them, but it's just us having fun up there. We're very lucky that people will pay money to watch us fuck around and have fun on stage every week. #soblessed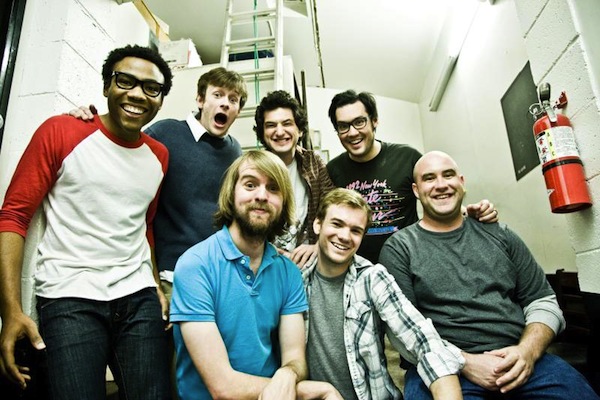 SO: After moving to LA, what was the first show you worked on? Which ones felt more like play than work?
Eric: I wrote for the first two seasons of "The Andy Milonakis Show" when I lived in NY, but almost everyone else in the cast and crew (including Andy) lived in LA. When it came time to do a third season, they decided to move the show out west. I had been looking for an excuse to move anyway, because I hate snow and love swimming pools, and I was very lucky to have a job waiting for me when I got there.
I was also lucky enough to get hired to write for the fourth season of "Crank Yankers," which was produced by Jackhole, the same company that did Andy's show. So, when I got to LA, I spent a couple of months on "Crank Yankers," and then went straight into season three of "Milonakis."
It's hard to say which show felt more like play than work. One involved making prank calls and the other involved Snoop Dogg smoking a blunt through a pancake he wore on his face. I've worked many service industry jobs in my life that were not very fun, so I have nothing to complain about in the TV world. Everything feels like play.
SO: That sounds great! TV has been a good thing for you and vice versa. So, let's go to the internet. What type of things did you do as the Senior Writer for Funny or Die? How did that job come about? What was your first official day like with that title? Were you nervous?
Eric: Funny or Die was such a young company when they hired me. They wanted to bring in someone with a little bit of TV sketch writing experience, and I had just come off "Human Giant." I think I was probably supposed to run the writers room, but there wasn't much structure there. It was definitely not like television. There were about eight of us all sitting around a large dining room table on laptops. Every day a few people would disappear to go shoot some shit and then the next day they would be sitting next to you editing it. Then it would go up on the site and it would either get a million hits or nobody would watch it and it would disappear and then it was on to the next thing. Everyone there worked at their own pace and you were encouraged to just go pick up a camera and make something. There was no set schedule.
I used this as an opportunity to start directing my own sketches and quickly found out that not only do I like directing more than writing, but also that I'm better at it.
Before long I was writing, directing and editing about one video a week. At first my friends would come act in them, and then I started getting to work with a bunch of celebrities. I got to work with everyone from Weird Al Yankovic and Pee-Wee Herman to Megan Fox and Lindsay Lohan. Those are pretty much opposite ends of the spectrum, right?
SO: They definitely are opposite, but pretty equally cool. "NTSF:SD:SUV::" is a silly, random and super funny show. What was it like working on the set? Did Paul Scheer ask specifically for you with your shared "Human Giant" past? 
Eric: I think I was just lucky that Jason Woliner was busy at the time. Woliner is such a great director and did such amazing things with "Human Giant," but I think he was working on "Eagleheart" at the time. Which, I'm guessing, is the reason that Paul didn't ask him to do "NTSF."
Aside from working with him on "Human Giant" though, Scheer was actually one of my first teachers at UCB and I spent years running the lights for his Saturday night improv show at the theatre.
"NTSF" started as a fake trailer for the fake season finale of the show (that Adult Swim was going to air during "Children's Hospital"). Paul had acted in a fake trailer I did for Funny or Die called "Gobstopper" (Willy Wonka re-imagined as a horror movie with Christopher Lloyd as Wonka). He knew that I was good at making fake trailers and asked me to collaborate on this one.
Adult Swim ended up picking it up for twelve episodes based off the trailer alone, so I went on to direct half of those, and then another six episodes in season 2.
SO: Who knew Willy Wonka would be so important for you! Just like Paul, you seem to consistently collaborate with the best, and it also seems like it's just one giant group of friends. Is that a realistic perspective?
Eric: That is absolutely a realistic perspective, but the real key is that most of us are from the Upright Citizens Brigade Theatre.
SO: UCB for life! What top three shows you've worked on do you watch the most? Which one makes you laugh the hardest? Which one does your wife enjoy the most?
Eric: "The Office" was the first show I did where I had already seen about 100 episodes, which made it kind of bizarre to step onto that set and start telling everyone where to stand.
I never miss an episode of "NTSF," and this upcoming season is the first I didn't work on but I'm very excited to check it out! I never miss an episode of "Eagleheart" either. I did a couple episodes in the first season, but they really pushed that show into some insane places in season two. I can't wait for season three to start airing. I have a lot of friends that work on the show and have heard some amazing things about the new episodes.
"Happy Endings" made me laugh the hardest and my wife loved "Up All Night," but neither of those shows are coming back this year.
SO: Are there any projects you're currently working on that you'd like to share?
Eric: I'm doing a bunch of TV this upcoming fall/winter. I'm directing "The Michael J. Fox Show" in August and going back to "New Girl" this year as well. In total, I'm doing about ten episodes of various new shows across all the major networks this upcoming TV season, which I'm very excited about.
SO: Sounds exciting! Every time we see your name in the credits, we know it's going to be an extra good ep! Onto inspirational time, if you could give advice to an aspiring writer/director, with just one quote or sentence, what would it be?
Eric: Make sure that everything you do is better than the last thing you did.
SO: Eric! This is the last question! If your life stayed exactly the way it is now for as long as you're alive, would you be satisfied? 
Eric: I would be bored.
SO: Thanks a lot Eric! Let's hope this scenario never happens.
____
SO Note: That was just the wonderful Eric Appel! Follow him @erockappel. Check out some of his videos and see what he's working on here. And be sure to watch the new series "The Michael J. Fox Show" on NBC and new season of "The New Girl" on Fox.