It is not a surprise The Meltdown show with Jonah Ray and Kumail Nanjiani was named the best comedy show in Los Angeles by the LA Weekly. Every Wednesday evening at 8:30p Meltdown showcases some of the top comedy acts in the city. The amount of love and enthusiasm put into this show is quite evident. From the very get go, you feel that you are part of something very special. As attendees are let into the theatre, they are greeted with a spirited high five from Ed Salazar, standup comedian and Meltdown tech guy/cheerleader. While the audience is seated, sweet tunes are blasting and a palatable excitement builds. The theatre is a Spartan room located at the back of the Meltdown Comics store. It is certainly not for the claustrophobic but the audience doesn't really mind the close quarters. The mood is relaxed and unpretentious.
____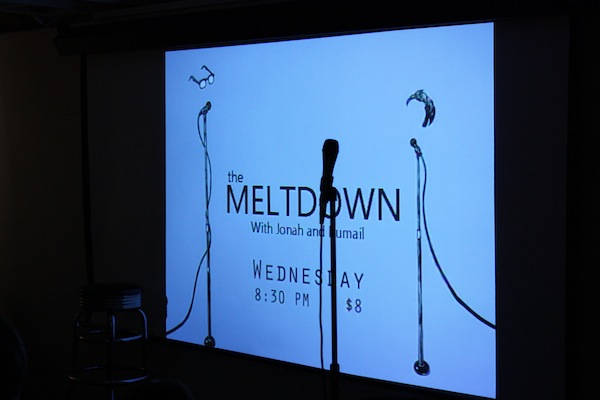 When the music dies down, our louder than life hosts, Jonah and Kumail take the stage. The rapport between these two is fantastic. The guys discuss current events; personal stories or whatever touches their fancy. The night I was there the topic of the night was stripper stories. Kumail recanted his recent first experience at a strip club. Not only did Kumail get to tell an awesome tale but, as is customary at this show, the audience participated as well. Three brave souls re-counted their personal strip club stories with hilarious results. My favorite was a gal who talked about casually receiving a lap dance from a stripper only to discover said stripper was the missing daughter of her gynecologist. That was a real audience pleaser! Another fun element of the show is the VIP guest revelry. Every week a VIP guest is chosen via Twitter contest. The winner always gets the best seat in the house FOC plus some take away prizes (and copious amounts of staff adulation). One of the prizes included a Portlandia T-shirt. Seriously jelly! The question that won the esteemed VIP guest "king for a day" status was "What is the name of Brittany Spears perfume?" I know, real tough stuff.
Once the crowd was pumped and all orders of business were taken care of, the real party was ready to start. The lineup for the evening could not have been more impressive. Loaded up on the roster were Alex Hooper, Howard Kremer, Josh Cheney, John Mulaney, Guy Branum, Matt Manser, Shane Mauss, and Greg Bernhardt. And if that wasn't enough, we were graced by the presence of 2 drop-ins, Jim Gaffigan and Hannibal Buress. Folks could not have been more ecstatic. One of the highlights of the evening had to be John Mulaney's story of his first meeting with Bill Clinton at age 9 followed by Branum's quick-thinking opener about having never met a president because his family was poor. Any aspiring comics in the audience had to be pinching themselves. It was truly a magical evening.
Of course, the night would not have been complete without the original artwork created by Serial Optimist BFF, Dave Kloc. His poster is always for sale after every show. I snatched me one of those real quick like before they sold out.
The producer of The Meldown show, Emily Gordon (and co-star of The Indoor Kids with Kumail Nanjiana and Emily Gordon podcast) was kind enough to answer a few questions about how exactly The Meltdown show has become such a staple on the alt comedy scene.
____
Serial Optimist: What's the Meltdown show origin story?
Emily Gordon: The Meltdown was originally Jonah Ray's Meltdown, and it was a show he put on once a month at Meltdown Comics. When Kumail and I moved to LA in October of 2010, we became immediate friends with Jonah, and one day we were chatting about how I wanted to start a show in LA but couldn't find a good venue. He said he wanted to take his show weekly but needed some help, so I stepped in to book and produce, and Kumail stepped in to cohost. Our first show together was at the end of October 2010.
SO: Give us a breakdown of what it takes to produce such a fabulous show.
Emily: Well, it takes booking good comics that our audience will like, making sure both the comics and the audience know where and when to be, and doing everything in your power to let everyone involved know how much you appreciate them. It requires a lot of consistency, level-headedness, diligence, good communication- you know, all the rock n' roll stuff.
SO: What sets The Meltdown apart from other shows?
Emily: Well I think that there are a lot of really good shows out there. We try hard to make everyone in our space feel like family while they're there. We have inside jokes with the audience, we try to recognize our regulars, and we always book with the audience in mind. To get to the show, you have to journey through the fantastical world that is Meltdown Comics and into a "secret" back room that feels like comedy has been outlawed, and that really sets the tone as well. Plus, we have two hosts that are separately two of the best comedians on the planet, and together, unstoppable, and we have a team that really just wants to bring you an evening of entertainment once a week.
SO: What advice do you have for comedians who want to create their own show?
Emily: Give a shit about it. Think through things like stage setup, sound, how you'll get the audience in, and if you don't have good enough answers to those, keep working on it. Don't be satisfied with a show that you wouldn't want to be in the audience for yourself. Also, think about whether or not you're creating it because you want there to be more good comedy, or because you want to be able to trade spots with other comedians. If you don't want the responsibility of running a show, which is a lot of work, then find someone who will.
SO: Makes sense. What are the most memorable Meltdown moments you can recall?
Emily: We've had a ton! There are big drop-in nights, like when Robin Williams showed up on my birthday, or when Louis CK dropped in, but there are also moments like when Jonah threw a sweaty t-shirt onto Kumail's face and he lost his mind, or when an audience member told a story about how his friends ditched him at Disneyland and the whole audience started chanting "We would hang out with you!" or when we've brought in food for the audience (around Thanksgiving we bring in a ton of pumpkin pies).
SO: Thanks Emily!
Sooooooooooo, if you are in search of mid-week entertainment and some funny bone tickling please, please, please attend The Meltdown Show. You will be so glad you did.
____
____
SO Note: Check out more of The Meltdown here, and follow The Meltdown on Twitter @Meltdown_Show. All photos by Scott Sutton