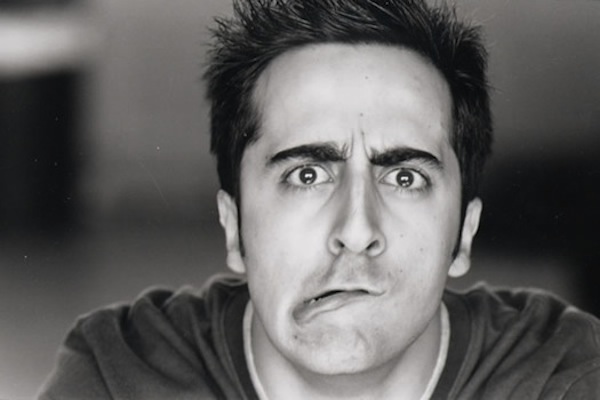 You may recognize him as the goofy Geek Squad kid in the Best Buy commercial or his role as Raza in Harold and Kumar Escape from Guantanamo Bay, but you'll definitely remember Amir Talai's name after you see him play Patel, 1/4 of the "Dudes Group" in  What to Expect When You're Expecting, which is out in theaters now. Working on a movie with huge stars like J. Lo and Chris Rock hasn't fazed this talented actor at all; read more to see what a smart, humble guy he is – and definitely what I'd call a Serial Optimist.
____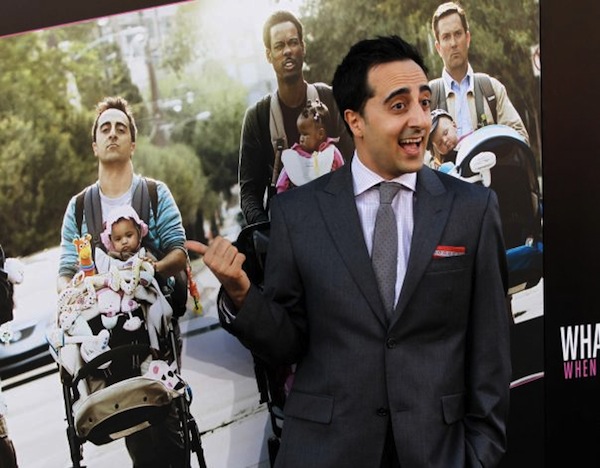 ____
Serial Optimist: Hi Amir! Tell us a little bit about yourself. When did you know you wanted to be an actor?
Amir Talai: Well, I grew up in the Bay Area, and I was always sort of a goof. It just sort of came naturally. I was doing celebrity impressions at age three, and I've never been particularly athletic, so I made friends by being the class clown. So it just kind of followed naturally. I always thought that it's something I wanted to do, but I never knew if I had the balls to do it. And then after I graduated college, I said let's give it a shot, and I guess it's worked out.
SO: What did you study in college?
Amir: I went to Cal, and I studied Marketing and Advertising, and I figured I'd go work for an advertising firm and do acting on the side. But I soon realized that working in advertising is like a 50-60 hour a week job, and I wouldn't be able to do any acting. So I just started doing whatever hourly work wherever I could get it and did acting. My first few years after college about half my income was from acting and half of it was from other stuff.
SO: Looking back would you have taken the same path and still gone to college?
Amir: Yeah, I just think college is just a great place to grow up. I feel like people who jump into the work force after high school don't know as much about themselves as they could. I feel like in college I learned a lot about myself and a lot about the world. And frankly, the marketing and advertising degree taught me more about Hollywood than I expected. It taught me about the media in general, which was very useful. I still look at everything that I consume and produce through the lens of my communication degree, and I feel like it makes me a more informed creative person.
SO: Your Twitter refers to the Story of Stuff project. What is that and how are you involved?
Amir: Well, you have to put your website on Twitter, and I don't really update my website anymore, so I tried to think of the one website that I'd like people to go to the most. The Story of Stuff is an organization that I'm really passionate about, but I'm actually not connected to them other than the fact that I donate to them on a regular basis, and I really support what they do. They're really great because they help teach people about the background of what goes into consumerism. Where does your stuff come from, where does it go when you're done with it? I think it's sort of an overwhelming thing for a lot of people to think about, and the Story of Stuff does a really awesome job of breaking it down and making it really simple but without making you feel guilty. It really makes you feel just informed and powerful.
SO: What was your experience with standup?
Amir: I took a standup class like three years ago because I wanted to develop my voice as a writer. I love doing standup, but I've only done it 15 or 20 times. I don't pursue it the way a real standup comic would do it. I basically do it for fun. Being successful as a standup is more difficult than being successful as an actor, so I'm just going to keep doing what I'm doing and anytime someone wants to give me ten minutes on stage, I'll take it.
SO: Is doing standup scary for you?
Amir: I don't think about what the negative consequences might be. I'm too dumb to think about what it might be. I guess I could think of something terrible if I tried. I try not to over think life in general.
SO: You've also done some voice over work for cartoons and video games. What was that like?
Amir: I have a separate agent for my voice over work, so they will either have me go to the casting agencies or record my auditions from home. If I book a job, that's when I get to go spend some time in the recording booth. I don't do a whole lot of it because it's pretty tough to break into since there are so many really experienced voice over people. I've gotten fortunate enough to do a few video games, a couple of cartoons, and I really lucked into doing Kung Fu Panda. That's been just incredible for me. I'm a very small part of that show but I find myself very fortunate to have gotten that one because it's so much fun. I play Crane, and in the movie it was played by David Cross. We've now recorded almost three seasons of it. Season one is currently airing.
SO: Do you like hearing the sound of your voice or do you have issues with hearing/seeing yourself?
Amir: I'm good at separating myself from the work that I do, so I actually always watch myself because I'm trying to learn and improve. I don't like watching myself if I feel like I did a bad job, but usually I'm just looking for what worked, what didn't work, and what I can do better in the future. I did a show one time where they didn't let us see the dailies (the rough edits of what was shot the day before) because they said actors get really self-conscious. But the show starting airing a month later anyway, so I watched and saw that I had some bad habits. I noticed myself talking to fast and looking down at the ground sometimes, so when I went back to set, I was able to correct those. So I actually like to watch myself in case I can improve.
SO: What kind of feedback have you gotten or learned from watching others on set?
Amir: The people who I find entertaining are the people who are the least self-conscious.  I just worked with Thom Lennon and Rebel Wilson on What to Expect When You're Expecting, and when I see their work and how they work, it's just very interesting and educational. That's something that I definitely aspire to.
SO: Tell us more about What to Expect When You're Expecting. How did you prepare?
Amir: It was a regular audition process, and I got it and flew out to Atlanta to shoot it. It was pretty amazing. All of a sudden I'm working with a bunch of really talented, really successful people who I've looked up to. Frankly, I would say that the great thing about being on the bottom of the totem pole of this movie, is there's no place to go but up. I just tried to stay out of Chris Rock and Thomas Lennon and Rob Huebel's way and let them be hilarious, and if I can ride in their wake, then I'm cool with it. It was just great to be in the same sentence with them.
SO: Congratulations on such a huge film! What's next for you?
Amir: My wife and I just wrote a pilot together, so we're shopping that around. We're really excited and proud of it, so hopefully if things go as planned, it'll be out in year.
____
SO Note: Follow Amir @AmirTalai and check out What to Expect When You're Expecting in theaters now.