In this series we ask musicians about the one album that changed their life, the album that turned that slow burn of curiosity into an uncontrollable fire, the album that straight up turned them on. This week we interview three electro/pop musicians of the dark sound persuasion: Travis Caine Seitz of  Von Haze, Zohra Atash of Azar Swan and Jasmine Golestaneh of Tempers. Von Haze and Tempers are both signed to Pendu Sound – one of many brainchilds of goth lord, Todd Pendu, who's deservingly noted as a tastemaker in the alternative and more macabre New York/London music scenes.
____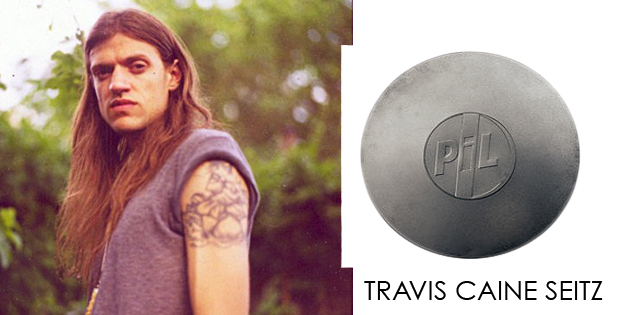 Travis Caine Seitz of Von Haze
Album of Influence: PiL – Metal Box (Virgin Records)
Seitz: "There was a strange kid that lived down the street from me growing up.  I was eight, he was eleven or so, if I remember correctly.  It was almost summer, and I was treasure hunting in the concrete ditch that ran alongside a steep hill on the main street of my neighborhood.  I looked down to see this kid running towards me.  His hair was glued into three mohawks that stood around four inches off his head.  His shirt had two gaping rips in the front, held together by safety pins, but you could still make out that he had written FUCK OFF in the front.  I was awe struck of him but I was also scared.  He was running at me with some demented Maori-like face as if he wanted to kill me. I thought surely he'd rip my head off or at least have a nibble of my cheek.  I was transfixed.  He ran on the topside of the ditch above me, grabbed the crotch of his army fatigue shorts and screamed, "I AM THE ANTICHRIST! I AM AN ANARCHIST-A!…….", he kind of mumbled the rest but I was sold.  He had me at antichrist."
"Thankfully, even wild animals can dub a tape cassette, and he was kind enough to supply me with the drug I became addicted to for many years, the Punk Rock.  Thinking back on that now, I realize why years later, I had such a strong reaction to PiL's Metal Box.  I couldn't believe what I was hearing.  The Sex Pistols basically blew open the doors for me as a young boy, and although by the time I heard PiL for the first time I had been listening to as many different things as I could get my hands on, this was still completely different.  It was shocking.  Jah Wobble's lagging bass and Keith Levene's guitar playing still blow my mind. This record taught me that most of the brilliance is between the notes.  It pulses with an undeniably kinetic energy, all the while, the crazed carnival barker of a front man, John Lydon, leads the minimal and jagged symphony to a snarling and sublime perfection.  It's certainly a record that is never far out of my rotation."
Von Haze released their sophomore LP, "Kar Dee Akk Ake" this past fall, below's a single off that album.
Von Haze – "Suicide High"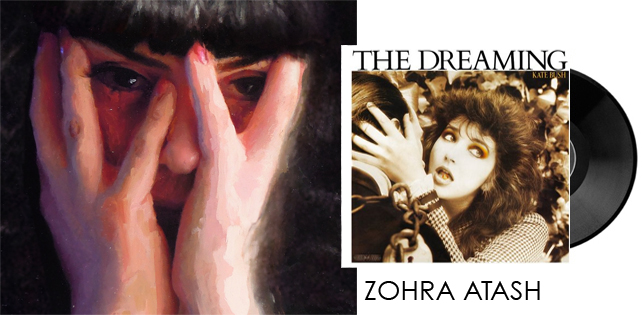 Zohra Atash of Azar Swan
Album of Influence:  Kate Bush – The Dreaming (EMI)
Atash: "As wary as I am of feeding into the "every non-alto woman with a sense of drama who doesn't put out a Country or R&B record is copying Kate Bush" narrative, I can't hold it against a wonderful record that I owe quite a debt to, not only as a musician, but as a person who needed the emotional support it gave me.  Hearing The Dreaming for the first time was a revelation.  There was such beauty and darkness filling the same sonic space.  I grew up just wanting to sound like Suzi Quatro, but this gave me a new-found appreciation of the voice that can assume different roles and characters. Hearing the vocals twist and bend from beautiful and operatic to dark and gutteral, from eerie lows to quivering highs, from characters with child-like innocence to the possessed and ghostly – it was just incredible.  The production is artful and otherworldly. It's the kind of record that you can listen to time and time again and still hear things that you've never heard before.  Of course, this is why it has the staying power it does.  And Josh describes himself as perpetually obsessed with the track Get Out of My House, which is about The Shining – he thinks it's one of the greatest songs ever written or recorded."
Stream Azar Swan's second single, "Lusty" below.
Azar Swan –"Lusty"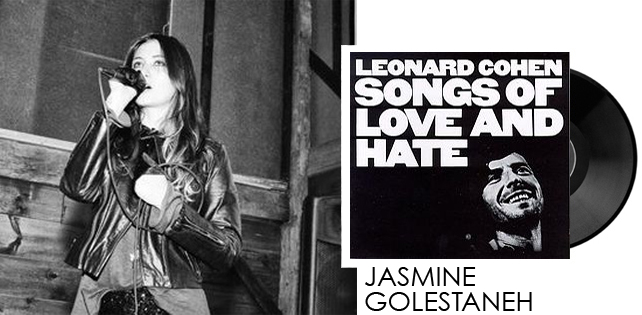 Jasmine Golestaneh of Tempers

Album of Influence: Leonard Cohen – Songs of Love and Hate (Columbia)

Golestaneh: "I think of Leonard Cohen as a poetic doctor who can diagnose and heal your emotional sickness in one breath. He is also a master of seduction, from the moment I heard his voice, I have remained tightly under his spell. "Songs of Love and Hate" scours the depths of the deep, the album opens with the lines "I stepped into an avalanche / It covered up my soul" and goes on to dig in every possible direction and dimension from that point. Another thing is Leonard Cohen's flamenco inspired classical guitar playing, an insidious rippling that is warm and hypnotic, it makes you feel safe to take the medicine. I honestly think I would be a different person if it were not for "Songs of Love and Hate".

Stream and download Tempers,"Eyes Wide Wider" single here.

Tempers – "Eyes Wide Wider"

____

SO Note: Tweet your most inspirational album to @Serial_Optimist.