One of my favorite things about Hanukkah is the creativity that goes into the menorahs. You just don't get that with a Christmas tree, at least not to the same extent. Though the "8 Crazy Nights" are over, the memory and the Chanukah photos are still with us. Enjoy our favorite homemade menorahs from around the web. And yes, we did spell Hannukah in three different ways. This is allowed.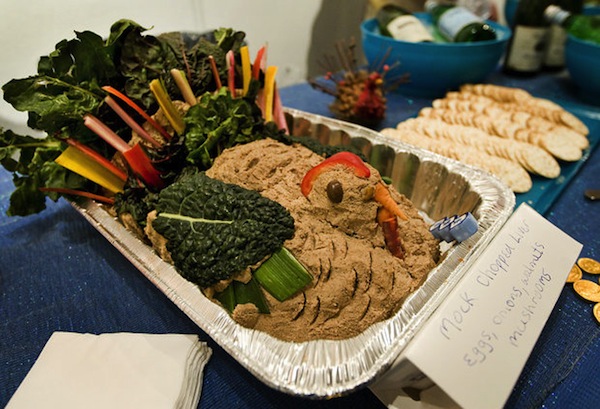 Not sure this is the most appetizing turkey… or technically even a menorah for that matter, but you gotta give them credit for creativity.
Hockey Menorah
Part of Plainview's annual homemade menorah contest, second-grader Jesse Singer combined a toy hock net with cardboard, checkers pieces, paper plates, chopsticks and aluminum foil.
Challah Menorah
Holla for a very carb-y challah Chanukah ! (via jewitup.com)
Menorah Tree
Perfect for those of us who celebrate Christnukka.
Fish head Menorah
Yeah, that's going to smell better as each night passes. (At least it's not gefilte fish.)
Lego Menorah
Now this is how you combine learning and playing. (via bnaihavurah.org) And while we're at it…
Who knew lego people were the chosen people?! (via biblebeltbalabusta.com)
Pez Menorah
A delicious classic.
Star Wars Menorah
This is my favorite, partially because this is my nephew, Jonathan. He was pretty upset when he found the toys and mom wouldn't let him play with them. Little did he know, she was going to make the world's universe's most awesome menorah.   (Disdads.com)
____
SO Notes: Share your homemade menorah's on Twitter @Serial_Optimist!