Ty Burrell plays everybody's favorite dad on TV. We have all had a Phil Dunphy moment at one point or another in our lives, and this is why quoting him is almost like quoting ourselves. "Modern Family" gives us hope as a nation to be as dorky and hilarious as Phil. With this list of our 25 favorite quotes, we raise a glass to Phil Dunphy for his quirky attitude and amazing comic relief in the most awkward of (hopefully) made-up situations.
____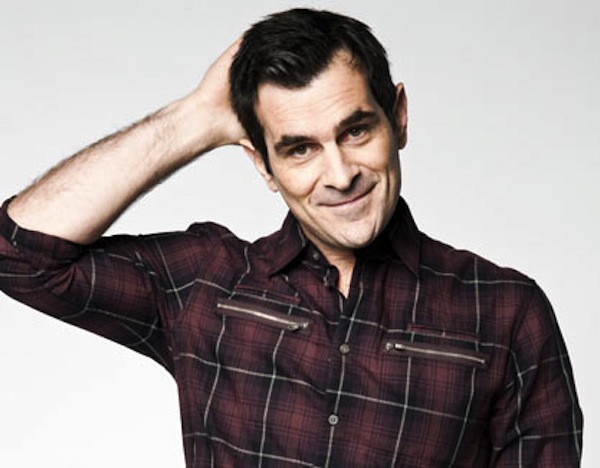 Season 1, Episode 1
"I'm cool dad, that's my thang. I'm hip, I surf the web, I text. LOL: laugh out loud, OMG: oh my god, WTF: why the face?"
Season 1, Episode 9
"You have nothing to fear, but fear itself. And the concrete."
Season 1, Episode 10
"I guess the couch did it to itself. I guess it came home after a tough day, lit up a cigarette and burned itself. Is that what happened? Because that makes no sense."
Season 1, Episode 11
"Gather round like you're hugging me, but don't touch me!"
Season 1, Episode 12
"You're all the porn I need." 
"That was hardly porn. It was a topless woman on a tractor. You know what they call that in Europe? A cereal commercial."
Season 1, Episode 16
"You never want your kids to see you scared. You want to be that rock that they grab a hold of in a stormy sea. Actually, a rock would sink. So a floating rock."
____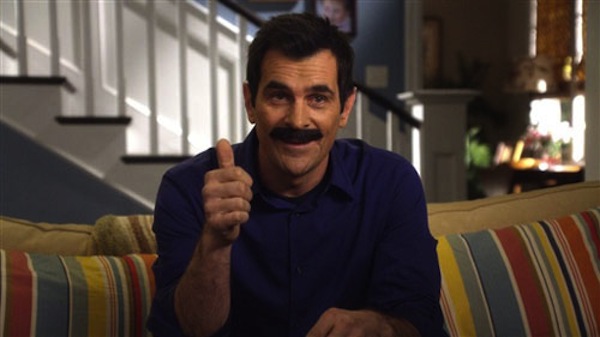 ____
Season 1, Episode 17
"She's one of my 447 friends. Everyone wants a slice."
"I know the pain is fresh, but the lie is really old."
Season 1, Episode 21
"I always felt bad for people with emotionally distant fathers; it turns out I'm one of them. It's a miracle I didn't end up a stripper."
Season 1, Episode 22
"A realtor is just a ninja in a blazer. The average burglar breaks in and leaves clues everywhere. But not me. I'm completely clueless."
Season 1, Episode 23
"Just to be clear, I'm not condoning eating your kids, but I sure as heck know why giraffes do it."
Season 2, Episode 12
"Why do I have to watch a French movie? I didn't do anything wrong."
Season 2, Episode 18
"I love Westerns, the bloodier the better. That's my favorite type of movie – that and anything set against the backdrop of competitive cheerleading."
Season 2, Episode 16
"Happy Valenbirthuhhhversary!"
Season 2, Episode 23
"Do you think he had his butt done too? It looks fantastic."
Season 3, Episode 4
"I've always said that if my son thinks of me as one of his idiot friends, I've succeeded as a dad."
Season 3, Episode 8
"I have three kids and at least one of them is going to college. Worst case scenario, they all go!"
Season 3, Episode 21
"I wanted a car like this since I was a kid. I used to imagine the wind blowing through my perm, blasting some Hall and Oates, maybe horsing around with mister microphone."
____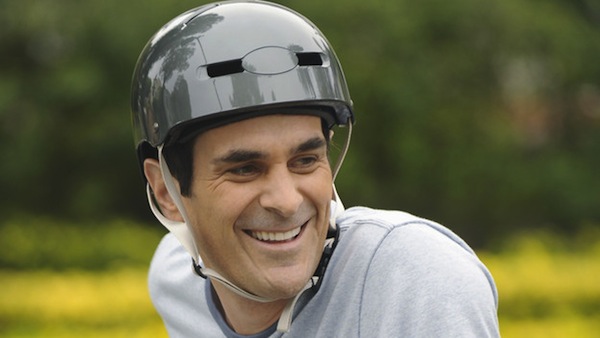 ____
Season 3, Episode 24
"Always keep the rhythm in your feet and a little party in your shoulders."
Season 4, Episode 3
"I'm totally pumped. Pumped pumped pumped. Pump up the jam. Pumped up kicks. Pimpedy dumpty. Pumple-stiltskin."
Season 4, Episode 5
"Seriously, Gryffindor letting his mom carry his Quidditch pole. How Hufflepuff is that?"
"Hey, the world needs more dreamers Luke. Never stop licking things."
Season 4, Episode 8
"It's kind of my lucky number. It's the year Footloose came out."
Season 4, Episode 16
"I should get going. My allergies are starting to cry."
____
SO Note: Send your favorite Phil Dunphy quotes to @Serial_Optimist.