Sufjan Stevens is a crazy person. Throughout Silver & Gold, his second multi-volume set of Christmas tunes, we see him diving back into Yuletide minutiae, combing and back-combing the finer tropes of the Western world's most tired (and treasured) holiday, until it's a tangled mess. The hope here is that, by the end, he's unearthed something fresh about the season… but has he? Or is it just really long and weird? And why is it so weird anyways?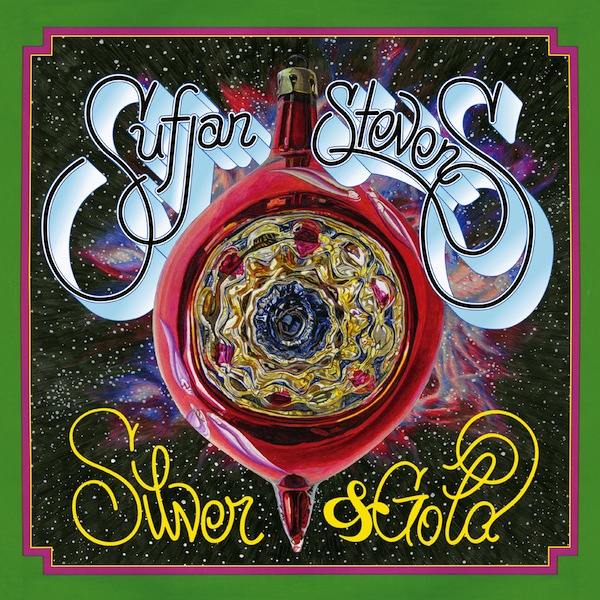 1. IT'S 5 VOLUMES LONG
Sufjan released Songs for Christmas, Vols. 1-5 in 2006, and now he's back with 5 more volumes of music. Vols. 6-10 do stack up against the first five well, though there's some re-trodden ground here. At times, it feels like this collection could be 2 or 3 volumes instead of 5. Around Vol. 7, I Am Santa's Helper, you'll start to get a little bored, and then it veers into drunken caroler territory (listen to "We Wish You a Merry Christmas" and "Ding-a-ling-a-ring-a-ling") with an overabundance of gang vocals and half-baked, minute-long songs. As you slog through Vol. 7, you might agree that if Sufjan had published only the original material here, we'd have a better collection of songs.
2. IT'S BY SUFJAN
OK, at first glance, this isn't that weird. Stevens rose to indie fame on the covert mysticism of his initial releases, albums like Seven Swans, that weren't necessarily about Jesus, but were sprinkled with a lot of God-fearing lyrics & Judeo-Christian leanings. What makes it weird is the direction that Sufjan takes the tone of this collection – at times it feels like he's celebrating the baby Jesus' birth. Other times, it's like he's channeling the pagan traditions of Christmas. And other times he's taking on the commercial side of Christmas and what it actually means – Sufjan collocates the new and old of Christmas, honing in on our deformed feelings about family, presents, religion; the hypocrisy, the commercialism and tradition twisted out of shape. It's a bit like going on a really long car ride with the ghosts of Christmas Past & Future, listening to them argue intently the whole way, just a bystander. By the end (if you made it all the way through), not only are we thinking anew about the Holidays, but we've got a whole new take on Sufjan as well.
3. THE PACKAGING
Everything about this box set is over-the-top. The packaging features some epic 1970's typography and extremely OCD collage work. Each volume is packaged in a sleeve as well, with all-original artwork – illustrations of unicorns, giant anime robots, showering Asian children – on every panel. There's 4 or 5 sheets of dubious Christmas stickers and temporary tattoos, an 80-page booklet of art & essays, a poster and some kind of paper ornament. These whimsical graphic accompaniments actually complement the music – along with the included fire & brimstone essays, one by an actual pastor – giving us further insight into Sufjan's bizarre mania for the season.
4. THIS SHIT WILL MAKE YOU LOVE XMAS
Christmas music has the worst rap. In most places, there's a radio station that, every year, plays 24/7 Christmas music from the day after Thanksgiving until Noel. And every year, it's fucking amazing to me because no one I know will even listen to the stuff – they walk out of rooms where it plays. Sufjan remarks on this in one of the included essays: "So what is it about Christmas music that continues to agitate our aging heartstrings? Is it the substance of things hoped for, the evidence of things not seen? Or the boundless Potential Energy inherent in this bastard holiday so fitfully exploited, adapted, and confounded with no regard for decency?" Is that it? Or is Christmas music just annoying, Sufjan?
But truly, this collection, it'll make even the most black metal Scrooge McChurchburner into a believer. Not because there's something here for everyone (there is), but because he plumbs the holidays for their most intimate moments, ones devoid of cornball or Jesus-y mawkishness. On "Christmas in the Room," Sufjan lures us away from the gilt grandeur of the season into a duller tableau, a home devoid of cheer, with no family in sight, no decorations. "It's just the two of us this year," Sufjan sings. The song is downtempo, but not quite sad – and not quite romantic either. Over this, Sufjan sings: "In the house/ we see a light/ that comes from what we know inside," a line that somehow nullifies everything corny and materialistic about Christmas; an urging to forget all that fake shit, that Christmas – the Holidays – is just a feeling you get inside when you're sitting in a quiet room and you know there's someone in the world that loves you.
____
Sufjan Stevens – "Good King Wenceslas"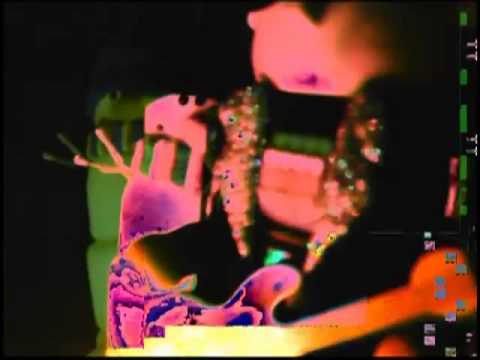 ____
5. YOU HAVE/HAVEN'T HEARD CHRISTMAS CLASSICS LIKE THIS
Mannheim Steamroller, eat your heart out. Stevens gets downright freaky near the midway mark of this collection, returning to the electronic surprises of Age of Adz, but brandishing some new tricks. "Good King Wenceslas" is an exploded, glitchy take on the classic Christmas song. Though nearly unrecognizable as such, it pulses with psychotically distorted percussion and a collage of other electronics, all anchored by Sufjan's calm recitation of the original lyrics. On the transcendent "I'll Be Home For Christmas" he keeps it classy, falling back on some of the tricks he learned on The BQE – his tender voice abutting against a bombastic orchestral score, replete with Depression-era crooning. While my grandma says he's no Bing Crosby, it's a surprising and palatable rendition. Be warned: not all of the classic Christmas songs are awesome or even interesting. Sufjan's throwing a pretty big Christmas Spaghetti against the wall here and only a bit of it sticks. But what does is worth checking out.
____
SO Note: Lou Jeannot is a Contributing Editor to Serial Optimist. Follow him @shreddspread.