The ABCs of Death is an anthology horror film with a novel premise: 26 directors each take a letter of the alphabet as inspiration for a short, horrific tale of morbidity and mayhem…or a dark comedy…or a fart joke.
____
The alphabet gimmick in ABCs is a clever one, but it ultimately proves to be the shackles that drag the movie down: It turns out it's pretty damn hard to cram 26 segments by 26 stylistically distinct directors into 120 minutes—or about four minutes each. Many of the directors clearly weren't really sure how to best handle a concept as broad as death within that kind of time limit, and as a result most of the movie is a muddled mess.
Most directors, with no time to flesh out a plot, were content to pin their segments on a dumb joke or a gross image. Ti West (House of the Devil) and Angela Bettis (May) probably have the highest profile of the involved directors, yet both of their shorts are so lazy it's hard to understand why they would even agree to be involved. Shorts like "T is for Toilet," "P is for Pressure" and the creepily pedophilic "F is for Fart" are insultingly dumb, while many more are simply aimless and bland.
That's not to say that The ABCs of Death is worthless; some of the segments highlight exciting filmmaking talents. "A is For Apocalypse," from director Nacho Viaglondo (Timecrimes), is a weird, stylish little piece that turns a brutal murder into a tender act. Jake West (Evil Aliens) provides a welcome shot of adrenaline in "S is for Speed" and Xavier Gens (Frontieres) shows why he's at the top of the French New Wave of Horror heap with the brutal social commentary of "X is for XXL."
____
'The ABCs Of Death' Official Trailer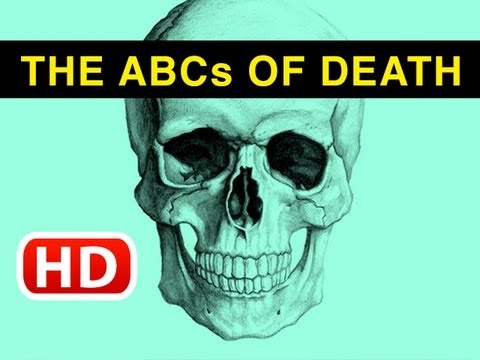 ____
Working within strict limitations can result in brilliant art, but only a few of the directors in The ABCs of Death use the truncated film length as an opportunity to tackle interesting conceptual ideas or play around with the camera in a way that would be tiresome in a longer format. "U for Unearthed," a short filmed from the perspective of a terrified vampire being chased through the woods by an angry mob, is the best example in the film of a director embracing his limitations. The short is tense, scary, and easily the most visually compelling of the bunch.
A handful of the segments are worth watching, but too many of the directors seem so flummoxed by the time constraints that they try to straddle between building atmosphere and going for a cheap gag. The result is a wildly uneven series of shorts that struggle to legitimize their own existence.
Rating: U for Uneven
____
SO Note: Send Micah your movie thoughts and opinions to micah@serialoptimist.com and @Serial_Optimist.