Comic Con has arrived, but are you really ready to attend? Although I'm not going this year I do have nearly a decade's worth of experience attending and would like to part some words of wisdom. For those that haven't experienced the convention I hope you have a memorable first time and everyone else I wish you good luck.
Before we go any further, it's COMIC CON, not pop culture con or an entertainment expo. Over the past four years, these terms are becoming more frequently used by mainstream news outlets to describe the convention and the comic community (fans, artists and individuals involved with the industry) detests this moniker. If you're not embracing the "comic culture," why are you going? Although the term accurately addresses the recent shift in programming I feel obligated as a nerd to point this out for the die-hard fans, who have been attending for decades. During the past five years, there is no reason why Twilight, The Hunger Games and Glee should EVER have been represented at Comic Con, yet they have appeared multiple times and drastically changed the emphasis at the convention. With that in mind, let me give you some tips:
1) Expect To Wait In Lines
Regardless whatever event you want to attend, be prepared to wait in long lines. Whether it's getting on the metro, walking to the convention center, waiting for a panel, trying to redeem an autograph/exclusive ticket or visiting the bathroom, you're going to wait a long time. Honestly if you hate crowds and lines, avoid Comic Con altogether. Each day over a 100,000+ people attend and many of them possess similar interests. So be prepared to wait hours in line, even if an event doesn't start until several hours later.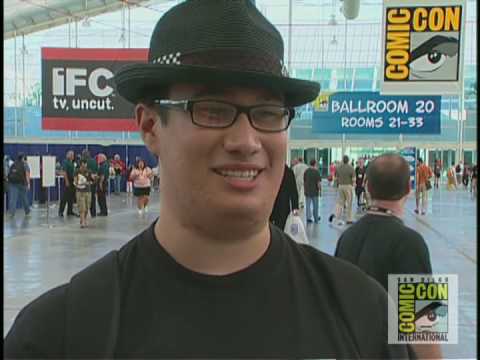 2) Know Your Line
Hopefully, you made some new friends while waiting in line, but don't lose focus why you're there. Often times, lines are broken up, moved around and/or lined (literally) next to an event happening directly after your event. So pay attention and don't be afraid to speak up. Just remember, even though you waited X amount of time doesn't mean you're entitled to anything. After all, it's up to the Fire Marshall and booth employees if people are acting unruly. Pay attention to your surroundings.
3) Over Plan Your Itinerary
During my first year I learned a valuable lesson, you can't do it all. No matter how well you plan things out, certain events are extremely difficult to coordinate. No matter what you've seen on TV or online, attending all the "IT" programs is nearly impossible (even if you're Press or a Celebrity). Hall H is the most coveted programming room at the convention center, but what most people don't realize is some people literally camp out all night just to see those panels. During my last visit I noticed a huge line at 3 a.m. (Thursday morning) and discovered everyone was waiting for Hall H (That happens almost every day of the convention). Panel rooms don't ever empty and some people never leave. I strongly suggest possessing a Plan A, B, C, D, E, and F if you can't get into your first choices. Believe me, it's a lot easier to have everything mapped out ahead of time rather than "scramble in the moment." Another thing people don't realize is showing up "on time" can be one of the worst things you can do. Arrive early!
4) Hidden Events Happen Every Year
Over 100,000+ people attend the convention each year and there are always hidden surprises. When they were promoting The Dark Knight, certain convention dealers were handing out special edition dollar bills commemorating the movie and had a number you needed to contact to obtain exclusive content for the movie. Last year, six "outlaws" clad in Django shirts, blue jeans and a cowboy hat walked around the convention. You had to say, "The D is silent" to obtain a coin redeemable for free Django Unchained collectibles and during the redemption you were provided with insider information for special events. One of those special events with the Outlaw Bounty Hunt included an autograph signing with Quentin Tarantino, Jamie Foxx, Christoph Waltz, Kerry Washington and Walt Goggins. Remember to keep your eyes and ears open while walking around.
5) Beware The Open Air
As I previously mentioned, some people camp out all night to attend certain events taking place, but not everyone remembers a certain thing called hygiene. Be warned, you might get packed next to a super smelly individual, but it's not the stereotypical "nerd smell" of the hygienically challenged. It's everyone. That's what happens when over a 100,000+ people are crammed into an area over several days. The stench on the ground floor and in the panels will persist throughout the con so don't freak out completely. Just know you're smelling thousands of people during the hottest time of the year over an almost 10 hour period each day (should you attend all day).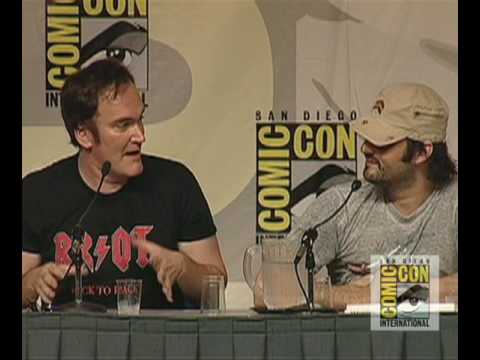 6) Stick to the Questions Jack
Thanks to previous incidents, Comic Con now posts helpful programming tips about saving seats, photography and Q&A rules. I have attended Q&A's in the biggest rooms and at the smallest events with a wide variety of celebrities, but there's nothing worse than hearing someone "ask" a comment. Please refrain from wasting everyone's time and think of good question. Unlike most intimate Q&A's, convention fans will easily turn on you for asking something stupid or making a comment. If there's a question you really want to ask, make sure to carefully craft it and don't create a snarky question otherwise you can really ruin it for others. At one Q&A a few years back, someone made a comment about Bruce Campbell's appearance and for the rest of the convention Bruce was no longer the fun loving guy he typically is at conventions. Whatever you do, be respectful of the talent attending panels.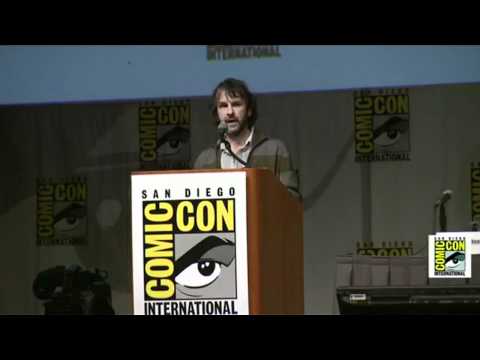 7) Staying Nourished and Planning Your Meals
Cookies, hot dogs, pretzels, potato chips, nachos, and pizza sound pretty delicious, but aren't a good way to stay nourished at the convention. Beyond coffee, water and soda, there really isn't anything else you can buy at the convention. Healthy options simply don't exist so I would suggest bringing healthy snacks like protein/power bars or pre-made food like salads or sandwiches. Although prices aren't steep, it does add up quickly so prepare you meals beforehand. If you're planning on attending any restaurants nearby, the wait will be ridiculous, especially at dinner time. So don't be surprised if you wind up at Hooters because there is no place to go. Back around 2006, I was with a party of 20 and the only place with a short wait was Hooters so don't be shocked if you can't get into a restaurant.
8) Scary Saturday
The first few days of the con are great, but suddenly Saturday becomes the scariest day to attend if you're claustrophobic. By far, it's the busiest day of the convention and you will literally be shoulder to shoulder with attendees in certain parts of the convention hall. Unless you have to be downstairs "on the floor" I would avoid it altogether near all the studio booths. Honestly, you will think a pack of wolves was let loose with how rabid fans become for free stuff and events taking place nearby. This might be the best day to buy stuff on the opposite side of the convention floor.
9) Bring Money
This seems quite obvious, but it's a good idea to plan ahead with how much money you want to spend. Every year I budget how much "I can" spend per day and give myself an allotment so I don't go overboard. Regardless of your itinerary, having a budget in mind makes this trip so much easier when buying items. There are an absurd amount of impulse buy items and plenty of great deals so feel free to look around. I know Booth #1300 typically has a large selection of comics in long boxes for 50% off the Overstreet Price Guide each year and there's a great poster place on the far side (Near Halls A and B) that sells discounted movie memorabilia (lobby cards, photos, posters, etc). Just make sure to look around and take everything in before making any big purchases. Remember not everyone accepts credit cards so make sure to double check if they accept cards (MasterCard and Visa are best options) and if there are any minimum purchase requirements. Also there are plenty of ATM machines inside the convention, but they typically only issue $50 bills so visit your local bank if you want smaller bills before the show starts.
10) Have Fun
By far, this is the most important rule. Just remember at the end of the day, you're at Comic Con to have fun. Whether you're cosplaying, attending panels, buying comics or meeting your favorite celebrities, enjoy yourself. Comic Con comes around once a year and on that note I hope you have an awesome trip!
____
SO Note: Follow John Michael Simko @Edwoodfan.