Welcome to my Five Favs. This is my personal list of things I'm currently digging hard on. Like, so hard it's bleeding. I'm sure you all know the feeling. You can't get it out of your head, and you can't place it, but you LOVE IT! It doesn't have to be the newest thing out there. It could even be something you loved, left, and came back to. So, this is my list. I hope you love it and it becomes one of your five favs. Current and nostalgic all mixed together is just fun. Feel free to send in your Five Favs. BTDubs, the numbering system is in no particular order. Enjoy!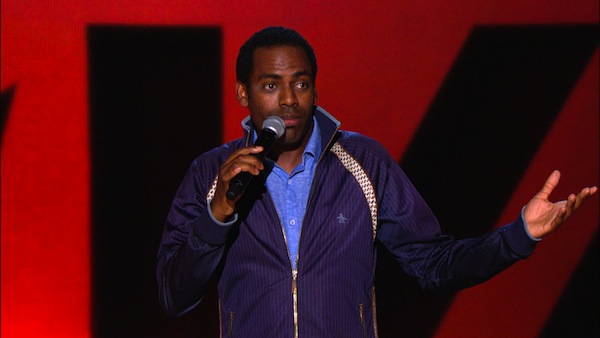 Baron Vaughn: Yay! I loved Baron's "The Half Hour" Comedy Central special! He's very theatrical and kind of like a human cartoon at times—he uses "smurf" words as expletives. There's one joke involving Catgress. You know, that thing where your pet cats take over your house and create a political system? Catgress! There's also one about the choices you have to make while in the cereal aisle at the store. I'd say you should def watch the episode because it's grrrreat! Follow him too @barvonblaq.

[youtube width="600″ height="400″]http://www.youtube.com/watch?v=O7pXE-KwoUo[/youtube]
Hellogoodbye – "Baby, It's Fact": This band is great and so is this song. I first heard of them with their album Would It Kill You? UK/Europe Deluxe Edition in '12 which I love. But, I stumbled on to this from one of their earlier albums from Zombies! Aliens! Vampires! Dinosaurs! And More! It's so pop, gathered with teen love, and kind of corny for a person who's cynical (me), but I love it! It's fun and light and has that Hellogoodbye 60's pop rock sound. Try it out for me! Follow @itshellogoodbye.

[youtube width="600″ height="400″]http://www.youtube.com/watch?v=HLu819Q5USs[/youtube]
John Legend – "Made To Love": This is an awesome drum heavy, dream like song. "Made To Love" is the kind of song you can see networks using in rotation on all their "hip," "new," "passionate" shows, you know? The chorus is impossibly catchy and absolutely worth being in your head for days. This song will be on his upcoming album Love in the Future, so get used to it before the album comes out September 3rd. Follow him @johnlegend.

[youtube width="600″ height="400″]http://www.youtube.com/watch?v=565tXd1UyYI[/youtube]
John Mayer – "Paper Doll": To slow things down a bit, here's "Paper Doll." An easy listening, sort of country/folksy song. People say it's about Taylor swift, but I don't hear it and I don't care. I've been a Mayer fan since Room for Squares and although I miss those earlier pop rock/jazz days, this new country sounding Mayer is still cool too. He's coming out with an album soon, Paradise Valley, August 13. Of course I'm gonna listen to it. So, how about you watch the weird/funny lyric video for this song huh? And follow him @JohnMayer.

[youtube width="600″ height="400″]http://www.youtube.com/watch?v=-0lMNm1JXRI[/youtube]
Deon Cole: Deon addressed the whole Paula Deen scandal on his show "Deon Cole's Black Box," and it was pretty stellar. He approached it in an interesting way that will totally make you laugh. I kind of don't even want to say much here because the video speaks for itself. SO, that's what I'll do. Enjoy and follow him @deoncole.

____
SO Note: For consideration to Five Favs please email Jazmine Hill at jazmine@serialoptimist.com, and follow Jazmine @caminickname.