The "Citizen Kane of bad movies" celebrates its 10th Anniversary this weekend and somehow became an overnight worldwide phenomenon in the process. For the past decade, The Room continues to persist as THE midnight movie for my generation and will be honored with two special midnight screenings commemorating its special anniversary at the Laemmle NoHo 7 this Friday and Saturday. For those unfamiliar with The Room, it's my generation's Rocky Horror Picture Show and has sold out midnight screenings across the globe to enthusiastic, energetic audiences.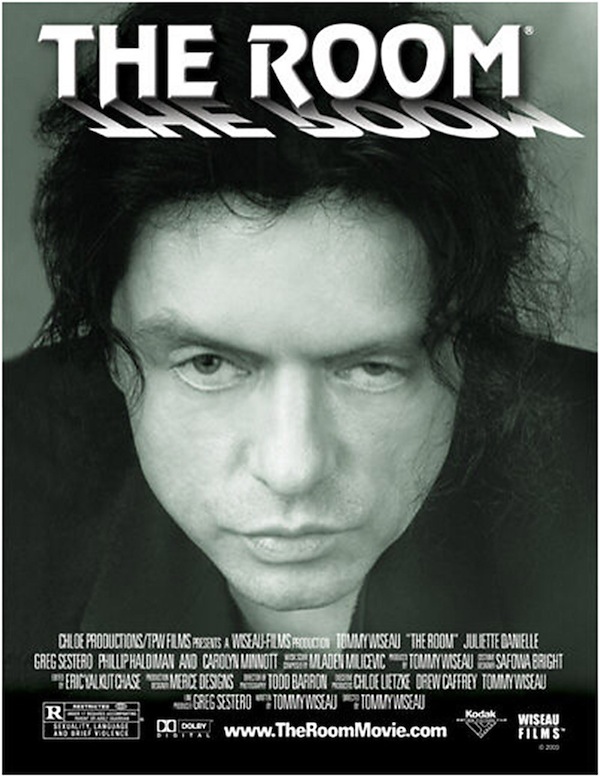 Writer/Director/Star Tommy Wiseau consistently travels with the film worldwide and the film has extensively toured Australia, Canada, New Zealand, the United Kingdom and Europe. For Angelinos, The Room continues to persist as the "IT" midnight movie to discover, especially if you're a college student. In college, my best friend Danny introduced The Room to me while we were freshman and for the past six years I can't stop talking about it.  The last time I saw The Room was at the Laemmle Sunset 5 (now the Sundance Cinemas) along with 700 fans. Despite the damp, rainy Saturday evening, everyone could barely contain their excitement to see the film infamously dubbed "The Citizen Kane of bad movies." But how did this even happen?
Originally conceived as a 600 page book, The Room eventually evolved into a movie, which premiered on June 27, 2003, at the Laemmle Sunset 5 to extremely unfavorable reviews. Even prior to its theatrical release, the film gained notoriety for its large billboard in the heart of Hollywood on the Sunset Strip. Despite early negativity, soon a rabid fanbase developed for midnight screenings and eventually forced the filmmakers to relocate screenings from the Wilshire Screening Room (Beverly Hills) to the Laemmle Sunset 5. There it regularly sold out multiple midnight screenings per showing and typically took up the entire multiplex for several years. Originally perceived as an L.A. cult movie, it all changed when Clark Collis' article for Entertainment Weekly emerged in December 2008 exposing the film to an even larger audience.
In the early days, there were hardly any guidelines for fans except throwing plastic spoons at the screen (whenever a framed spoon picture was seen) and yelling out various phrases like "Sestosterone," "Cancer," "Denny," "Focus," etc. to signal audience participation. However, The AV Club wrote a fantastic article called "A Viewer's Guide To The Room," which is a great way to familiarize yourself with proper audience participation before attending a screening. My personal favorite is the "7th inning stretch," where audience members encourage other patrons to use the bathroom and/or smoke for a few minutes while a previously seen gratuitous sex scene replays.
Despite numerous cues for possible audience participation, many question the film's authenticity as an intentional comedy or poorly executed drama. Wiseau describes The Room as a black comedy, but melodrama might be more accurate with most fans (including myself) agreeing on the latter. Regardless, thanks to classic lines like "You're tearing me apart, Lisa," the film will always be one of the coolest cult films of all time. After Wiseau's appearance on "Tim and Eric Awesome Show Great Job!" in March 2008, The Room has screened annually on April 1st as an "April Fool's joke" on Adult Swim exposing even more people to the phenomenon.
For a long time, many of the cast/crew distanced themselves from the film, most notably Juliette Danielle ("Lisa"), who only "recently came out of hiding" to embrace her past. Unlike stars Greg Sestero and Tommy Wiseau, who regularly attend Q&A's worldwide, most cast members were initially reluctant to embrace The Room, but have since accepted their past.  Still, there hasn't been smooth sailing for this phenomenon after all the success.
In February 2011, Entertainment Weekly published accusations made by script supervisor Sandy Schklair saying he, not Tommy Wiseau, directed The Room. In the article, Sandy argued his delayed response took so long because "Nobody was ever going to see this anyway. I came back from Europe and (The Room) was everywhere. I could not believe it. Who could?" However, fans have wholeheartedly dismissed Schklair and questioned his motivations, especially considering Tommy Wiseau has been out and about promoting the film since Day 1.
Notable fans of The Room and Tommy Wiseau include Tim Heidecker and Eric Wareheim (Tim & Eric), David Cross, Thomas Lennon and Patton Oswalt, who parodied the filmmaker with a sketch on his My Weakness is Strong DVD. A few years ago, The Room screened at the famous Ziegfeld Theatre in New York to a sold-out crowd of 1,163, which included Justin Long. Over the years at several L.A. screenings I have randomly bumped into other celebrity fans like Academy Award nominee Jonah Hill and Paul Rudd. Needless to say, people from all walks of life have embraced this cult classic and audience participation is strongly suggested.
Fans of The Room can always check the official website for details of upcoming screenings, but us Angelinos are spoiled since there have always been monthly screenings of the cult classic in our area. Since the closing of the Laemmle Sunset 5, monthly screenings of The Room have moved to the Regent Theatre. However, if you want to celebrate this special anniversary come to the Laemmle NoHo7 this weekend and attend the midnight screenings with Greg Sestero and Tommy Wiseau in person (http://www.laemmle.com/films/28540#get-tickets)
Whether it's on DVD, Blu-ray or in a packed theater, The Room is best watched with a group of friends or a room of first timers. Just sit back, relax and enjoy the experience as you witness one hell of a movie throwing spoons and yelling various catchphrases at the big screen.
For those interested, Phil Haldiman ("Denny") created a comic book, "My Big Break," which details his experience with The Room and regularly attends screenings in the Phoenix area. Additionally, Greg Sestero ("Mark") has an upcoming book, The Disaster Artist: My Life Inside The Room, the Greatest Bad Movie Ever Made, detailing the making of the film, which comes out October 1, 2013.
____
SO Note: Follow John Michael Simko @Edwoodfan.