Apologize like you mean it. Lindsay Lohan's recent appearance on Oprah's Next Chapter did nothing except reinforce the idea Lohan only cares about the attention and basically regurgitated previous excuses. Apologies aren't for everyone, but if you're going to rectify past relationships and ask forgiveness, do it with some sincerity. Lindsay Lohan is the latest contemptible celebrity to confess her transgressions on Oprah's couch while trying to convince the American public she's genuine about her past mistakes. If this occurred 20 years ago, we would have bought it, but in today's media-savvy world this "apology" just doesn't cut it anymore.
Recently, Nickelodeon actor Lucas Cruikshank came out he was gay while conducting a YouTube Q&A with friend/actress Jennifer Veal. Cruikshank admits, "I'm gay" before bursting into laughter while adding, "It feels so weird saying that on camera." Cruikshank had no problem ever discussing his sexual orientation and provided an exquisite example how to address controversial subject matter in a honest, comfortable manner. By posting a video online readily accessible to his family, friends and complete strangers, Cruikshank demonstrated being true to himself was worth more than "looking good for the cameras" with an elaborate photoshoot or staged interview confession. More celebrities need to do the same.
Nowadays, everyone readily posts their thoughts online as thought its second nature. Internet celebrities continue to effectively demonstrate addressing controversies head on, rather than disappear for days or even weeks with thinly disguised, well-rehearsed "apologies." You're not fooling anyone. We can see through all the smoke and mirrors. Honestly own up to your mistakes and you will be forgiven. Otherwise your apology will only ostracize you even further from your fans and many will never forgive you.
Earlier this year, news emerged about celebrity cook Paula Deen using racial slurs years ago and as a result was fired from the Food Network. Deen later appeared on Today with Matt Lauer admitting she did in fact use the word "once" during a bank robbery when a gun was pointed at her head, but her apology came off as weak and insincere. Although Jesse Jackson and Donald Trump defended her apology, PR experts were left dissatisfied and deemed it unacceptable. No public apology should ever begin with, "It's nice to be here" and the lack of conviction in her voice just demonstrates, sometimes people rather save face than be genuine.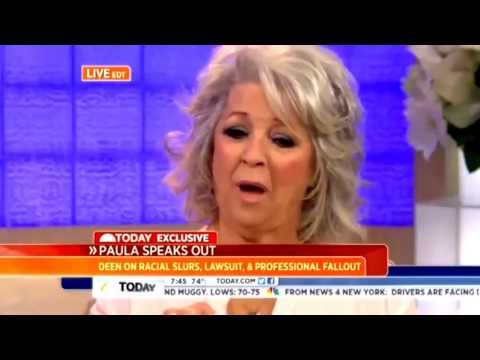 However, the most arrogant and condescending apology ever belongs to disgraced cyclist Lance Armstrong. After being banned by the United States Anti-Doping Agency (USADA) and having his seven Tour de France titles stripped in the Fall of 2012, Armstrong casually posted a pic of himself on Twitter lounging around with the caption "Back in Austin and just layin' around," while his seven yellow jerseys from the Tour de France are strategically placed in the background. Eventually, he admitted on Oprah's couch (of course) to doping earlier this year (January 2013), but the damage had already been done. Arrogance overshadowed a great opportunity to set the record straight and admit any wrongdoings.
Chris Brown's outburst on Good Morning America with Robin Roberts throwing a chair, Michael Richards' awkward apology appearance via satellite on Letterman with Jerry Seinfeld (to promote the Seinfeld season 7 DVD), Justin Timberlake throwing Janet Jackson under the bus after Nipplegate and Kanye West's twitter/blog ramblings after ruining Taylor Swift's speech at the VMA's are all perfect examples of insincere solutions. All of these "apologies" are now regarded as infamous examples of what not to do. What bothers me about public apologies is not the polished statements/outlines (after all you want your thoughts organized), but the manner we've grown accustomed for accepting these so-called admissions of guilt.  Appearing on talk shows is for promoting projects, not redeeming yourself and should not be taken lightly without speaking from the heart. However, the most insulting aspect of these TV confessions/apologies is when a high profile public figure from an organization accepts their apology on behalf of everyone.
Despite gearing up for its 17th season this September, South Park remains unapologetic for tackling controversial subject matter and poking fun at social norms. The surreal lampooning of extremely topical news stories continues to remain strong and only seems to improve with age. A perfect example is the Season 11 episode, "With Apologies to Jesse Jackson," when Stan Marsh discusses his father's use of a racial slur with classmate Token Black and infers all is well after his dad's apology:
Stan Marsh: "Dude, its okay. My dad apologized to Jesse Jackson and he accepted it."
Token: "Jesse Jackson is not the Emperor of black people!"
Obviously, the episode was making fun of Michael Richards' then recent outburst at the Laugh Factory by having Randy Marsh (Stan's dad) use the word while competing on Wheel of Fortune. However, Token's response demonstrates what we all should be saying, "There isn't one person who speaks for all of us." Whether it's Matt Lauer, Oprah, Donald Trump, Jesse Jackson or whoever, no one should claim to be the ultimate forgiver.
If disgraced baseball players Ryan Braun and Alex Rodriguez really want forgiveness with their alleged Performance Enhancing Drug (PED) use, just hold an impromptu press conference and let your emotions run rampant. Don't be afraid to admit your guilt and past transgressions. In the long run, your fans and the general public will be more welcoming than you hiding behind high priced lawyers, avoiding to address "the past" and/or "leaking information" to divert attention away from yourself. Honesty is the best answer and don't be afraid to speak from the heart. This is the one time when composure should be disregarded.
____
SO Note: Send mean tweets to John Michael Simko @Edwoodfan.