Only three bands could interrupt a longstanding glassblowing date a few Tuesdays ago in Brooklyn. A long pole with liquid glass at the end, glowing, hot embers, liquid molten. Magma. Orange heat; like a blacksmith but much prettier and clearer. Combined with a gigantic wood burning oven, mandatory thick gloves and a pair of boots to bring out the manufacturer in me, glassblowing had April 16 completely locked down. I set up the trip out to Greenpoint as part of a day of dates for Valentine's Day, which is also my girlfriend's birthday. The combination of feminine holy days creates a task list that, at first, looks like an insurmountable seaside cliff.
What do we do for breakfast, lunch, spontaneous exploration, blunt sugary love, personal touches, dinner, late night? The execution needs to look as effortless as if Poseidon and Aeolus (God of wind!) teamed up to turn that raw block cliff into a sensual undulating plan. First the powerful rolling waves to sculpt the stone, then gusts of wind to dry the last drops of water and give the plan a shiny finish. So that when my girlfriend wakes up on Super Christmas Morning: BAM! Homemade banana strawberry pancakes, love sesh, chocolate-making in the Lower East Side, a 700-beer bar with a wide gluten-free selection so that she can finally enjoy the frothy goodness without the wheat. Then the kicker: Swoop past the Gowanus Canal to Brooklyn Glass for three hours of sweaty, molten glass craft. Followed by dinner at Runner and Stone.
My planning wasn't Olympian. I pulled off the R&S reservation at noon on the 13th, barely got a chocolate spot and Brooklyn Glass was already full. Apparently glassblowers keep dentist hours, so here we are two months later, finally, with a rescheduled Greenpoint date. Completely locked down. Except for Fitz. And the Tantrums.
I have a strange relationship with music. I'm autistic. I don't explore. I don't read A.V. Club, Spin, Pitchfork, Vibe, The Source (you still around?). New music is like a new New Yorker to me. If it's great now, it'll be just as good in three months. Six. Nine years. Why rush? I didn't listen to Johnny Cash til Walk The Line or Frank Ocean until the NYT wrote about his silent 1990 Beemer. I live in New York City, the heart and soul of it all, but my knowledge of the avant-garde is limited to Sean Parker's Hipster International playlist. I rarely go to shows, and when I do they're often last minute and random. Three weeks ago, Ketchum, Idaho: Reverend Horton Heat at Whiskey Jacques, a big townie bar with a $20 cover. The pool tables were covered in Reverend paraphernalia and the opening punk band was so loud and terrible that we left before it got hot (pun!).
When I do finally listen to a band, I treat my discovery like a new pair of jeans. I'll wear them and wear them, wear them out, wear them into the ground. I'll run a song back six times in a row. Twenty times in a day. Sixty times in three. When I first heard 2Pac's All Eyez on Me, I stayed on "Got My Mind Made Up" from 6pm to 2am when my college paper finally went to print. Lil Wayne's "Shoot Me Down", same deal. Bob Dylan's "One Too Many Mornings." Lissie's "Pursuit of Happiness" cover. Handsome Boy Modeling Schools's "The Truth" + "I've Been Thinking." Once, weaving sitting in mountain traffic jams from Vail to Denver International, I listened to nothing but JT's "Cry Me a River." Five hours: One song.
What's the diagnosis on that one? Not sure. But running a track back-to-back-to-back suspends time. Narrows focus. It's rich, beautiful, melodic white noise. That's when I'm working. When I'm hanging out, I can free the music, unplug from headphones and actually enjoy the tunes. Share them. Share in them, moonwalk across the floor, sing the lyrics in my special falsetto, shoulder shake and dance. Hup! Mmhmm. Over here. All in the hips. Watch out now! I'll know every lyric, drum beat, hook, high hat (whatever that is), the band's story, background, trivial details to the point where I'm like that annoying Civil War buff who can't stop talking about Chancellorsville.
The story's as important to me as the music. Or maybe the beautiful music makes me more interested in the story. I can't tell. Last summer, I fell in love with The Lumineers because a) I used to live in Colorado and b) this lyric: "Took the bus to Chinatown. I've been standing on Canal and Bowereeeeeeee. And she'd be standing next to me." I spend all my time within 10 blocks of there, so that plus Colorado had me hooked before I started obsessing over, in order, "Ho Hey," "Classy Girls," "Stubborn Love," "Big Parade," "Submarines."
Then there's Fitz. What a confusing, delicious journey they've been! A buddy from high school (ay, buddy!) hit me up with Pickin' Up The Pieces via Spotify. He always has progressive tastes, but recommends two-hit wonders, punk, Brits with too much angst. I usually let his recs pile up til I'm tired of seeing the red inbox icon. The name, though, "Fitz" and the "Tantrums" was too seductive to leave alone. I glanced quickly at the cover photo and in the Blink of my mind saw a male black lead singer. Cross between Al Green and Marvin Gaye and that was it. I played "Dear Mr. President" on Sept. 7 and immediately: hooked. The piano, the clapping, the call and response. The simple love stories, money stories, class stories. The piano! Listen to Fitz and don't dance; see if that's possible.
Fitz was my first Motown love since a big Sam Cooke addiction had me combing through conspiracy sites to find out how he really died. Here were the Tantrums, similarly timeless and pure and totally removed from the modern world. No Internet. No cell phones, computers, politics. No news. No Gulfstreams. Nothing new! Just classic '60s, '70s. The thumping, driving march of a political manifesto: "Dear Mr. President, there's trouble on the streets. Now is the time and the test we must meet." The sweet lyrical skipping of a love song: "She had a doorman, elevator, penthouse, alligator shoes and a driver that took her to school."  The cheerful tunes belying pain: "I don't pay twice for the price of a cheap dime whore." The four guitar strokes stalking like a cheetah to start off "Winds of Change," and then the free-flying Ah woo, ooowooo, ah wooo, yeahhhh yeahhhh.
Plus the beauty of being the very first person I know to know Fitz (my buddy lives in Baltimore, doesn't count ;)). I took Fitz under my wing: The long lost Motown band that never got the love they deserve. I considered Fitz the musical version of Missouri Breaks, a movie starring Jack Nicholson and Marlon Brando, directed by Arthur Penn and scored by John Williams yet somehow completely ignored.
Over the past six months, I've listened to Pickin' Up the Pieces, conservatively, five hundred times. They're energetic enough to play during dinner parties – that soundtrack that brings/pulls everyone out of the awkward "we just got here" to the syrupy "I've known ya all my life" in a snap. Clean enough to play around family and kids. Obscure enough to play around music-heads, who are everywhere in New York City. Judging. Watching. Throughout a two-month 3D-printing pop up we put on in Midtown, Pickin' Up The Pieces was the go-to for off-the-street guests and private-invite parties. Whatever the occassion: Fitz.
Turns out…I didn't know Fitz and the Tantrums at all. ("Then I woke up to find truth comes crashing down.") I opened up a magazine a few weeks ago and there was the band stretched out across a photo spread. They're alive? They're white? What the fuck? The lead singer's not a cross between Marvin Gaye and All Green. He's a Lebowski nihilist. I was incredulous, then guilty and regretful. I created their whole story in my head? I went to the Internets to stare at a full-sized album cover – not that tiny Spotify version that confused me to begin with. The cover is a holographic combination of lead singer Mike Fitzpatrick and lead-2 Noelle Scaggs.
____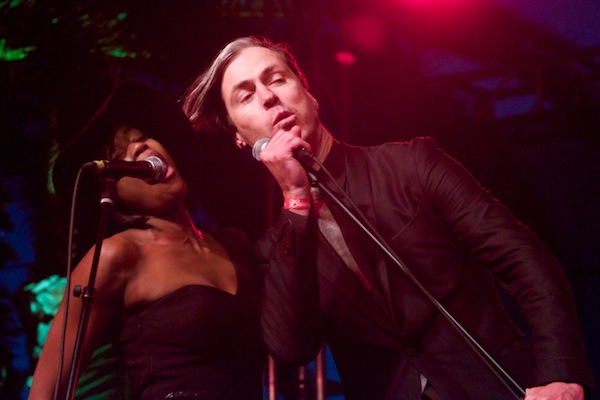 ____
She's black. He's white. He's the lead singer, but she's on the mic. It's a smart and purposely confusing frame created by, I'm assuming, the same people who wrote Fitz' immaculate Wikipedia page. Mad Men! Fitz' first CD, Songs For a Break Up, shows just him and an old-school stand-up mic. Four pictures of Fitz, the letters FITZ large and in charge. All white, clean, Buddy Holly, Weezer, Frankie Vallie. The story was all wrong. So for their second CD, they switched it up. Fitz and the Tantrums are all fonted out in the same size, Mike takes a back seat, Noelle takes the lead with a low-slung lounge dress. This band wasn't just alive, they were moving and in the hand of pro storytellers. Artists and promoters working together: My favorite tale.
When I was asked to cover their April 16th concert I was elated, for a second. Then disappointed. Same day as glassblowing. Noooooooooooo!!!!!
Yes. I cut that glassblowing date right out.
Studio at Webster Hall is underground, small, one bar with two bartenders. Low ceilings filled with lighting and gear that hovers a little too low over the crowd. The stage is short and tight like a jazz club, and since the room is parallel to the stage instead of long with the stage at the end, every spot in the house is close to the stage. Fitz and Scaggs are both taller than six-feet but their sax player James King is a shorty. Combined with Fitzpatrick's blonde streak, the band cuts an abrasive first impression. They're not Bieber beautiful. They're not ripped, torn, sweaty punk. They're not intimidating. There's no symmetry or familiar style they remind me of.  A guy next to me who was hearing them for the first time goes, "Who are these people?" The William Morris agents who helped build the band were cool, waiting to see how a New York crowd reacted to their investment. Everyone's joints were wrought iron, waiting.
Then F&T kicked off. Scaggs broke out a tambourine, waving it over the edge of the stage and back in. Fitzpatrick shoved his mic in the crowd's face. King dropped his sax and broke out a flute (Ron Burgundy!). They stretched out the crowd, roped them into call and response. We all sang along to "Tighter." We stomped to "Dear Mr. President." We swayed to "Winds of Change." When they encored with a long, strung-out, sweaty version of "News 4 U," the whole crowd squatted at Fitz's command. Then rose to meet the explosive finale energy of "News'" finale. Me, I couldn't stop smiling as I watched this cover band play all my favorite songs from a long-gone Motown group.
____
SO Note: Check out Fitz And The Tantrums tour dates and music asap at fitzandthetantrums.com.