Julie Klausner is the kind of person who was born with that special talent of putting words together perfectly. The comedy writer and performer, podcaster, and author is a multi-threat of funny. Her popular podcast "How Was Your Week", which Rolling Stone and GQ both named as one of the best in existence, has become a can't miss listen with each new episode. Her book I Don't Care About Your Band has had an impact like no other since its release in 2010, and continues to grow in popularity daily. I mean really Julie, settle down with all that talent! I could go on and on about all her other accomplishments, how funny she is, and how looking at cute animal pictures together sounds a little too dreamy, but I'll just let the interview speak for itself. Read on to get to know Julie a little better, and of course, for plenty of smiles.
____
Serial Optimist: Hey Julie! How are you? What are doing at this exact moment as you respond to this interview, what are you drinking, your surroundings and what not?
Julie Klausner: I'm okay. A little chilly, honestly. I am watching New York One. Drinking nothing, as I am at the computer! What am I, setting myself for a spill? I am not. I'm a hero.
SO: So many people know you for being a hilarious and brilliant writer, your podcast, twitter, and various other avenues. Did this happen organically? What was your plan at say, 18 years of age, did you always know you wanted to be in comedy?
Julie: Thank you, first of all, for the kind compliments. I've always been a huge fan of comedy—I wasn't sure exactly what I wanted to do besides as many things as possible. There was no master plan and there still is not. I make a living as a writer, and I write a lot of different things. I love performing and I love doing my podcast, but I'd continue to do it for free if I had to. I think everything happens organically, besides the production of some snack foods.
SO: When would you say your first "big break" was?
Julie: I can tell you that my first staff-writing job was for The Big Gay Sketch Show—I was hired with Jackie Clarke, and that was a big deal for me. But "big break"? I'm not sure. That sounds awfully "A Star is Born." I can tell you that getting an essay into the New York Times' Modern Love column helped my agent sell my book. That was a big deal as well.
SO: Your much loved and popular book I Don't Care About Your Band, which I've read and is truly LOL to the max, still seems as popular today as it was when first released. Why do you think that is, and why do you think so many people relate?
Julie: That is, again, very kind of you to say. I put everything into that book and was completely honest, which I think comes across. I was terrified to reveal myself and put myself out there as much as I did, but in retrospect, I think it's scarier to write a cheap version of a memoir that gave people more of an impression of a person you'd like to be. Some people hold back when they have an opportunity to show off who they are. They don't show all their flaws, or they candycoat, or they magnify things that aren't so weird as their quirks. I went full retard, and I was absolutely so scared at the time, but I really do think it paid off in terms of how people appreciate it, and connect to the material. I also think it's harder to be funny when you're not saying something you don't totally mean.
SO: What would you say the most challenging part about being a writer is?
Julie: Just sitting down and getting started, and then working on it until you're finished is and I think will always be the hardest part of writing. Clocking the hours and not going crazy in your own company. Not giving into bullying thoughts. Not getting stuck on the first quarter of the page. Editing is easy once you have words down. Getting words down is always excruciating. Going on the Internet and looking at stuff is so much more appealing.
____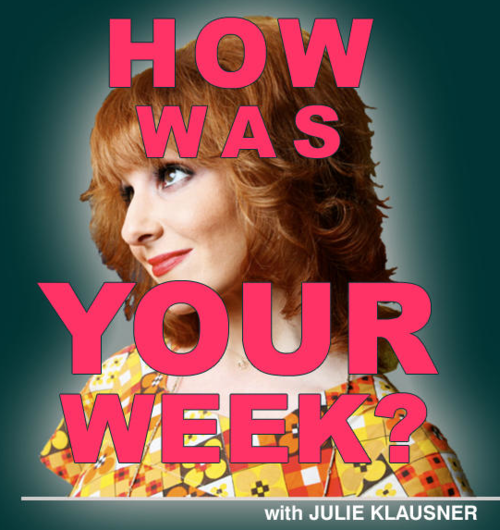 ____
SO: Your podcast "How Was Your Week" is a blast. I believe you're on episode 45, when you started at 1, did you think it would go this far? How did you come up with the concept, and how, if at all, as it progressed as you do more and more?
Julie: Thanks! I would love to keep going with the show for as long as I'm physically able. Originally the concept of "How Was Your Week" came from the literal implications of the title. I thought asking guests how their week was would be an innovative interview technique. That went out the window after I talked to Joe Mande in an interview I've since scrapped—He had a boring week that week and was on the road or something, and I figured out it would be better instead to talk to people about a topic—like, in Joe's case, his history of family pets—than to be, like, "WHAT DID YOU DO THURSDAY AFTERNOON???" That framing device also dates interviews I might want to keep for a future date. So now it's just a reasonably catchy title. But I still use it to structure my opening monologue—I look back on my own week and talk about what went on and what interests me or makes me angry from the past 7 days.
SO: You have big things coming up, correct me if I'm wrong on these, but Will Ferrell and Adam McKay are producing your book for HBO, which will star Lizzy Caplan. First of all, how super excited are you for that, and where is it at in the development stage? Has it been officially picked up?
Julie: No, that's on hold. The project is not dead, but the IDCAYB TV show might go forward with a different group of people attached. We're still figuring out how to package it right now.
SO: You also will be writing and exec producing for an upcoming NBC show, what are the details on that project?
Julie: I just handed in my script for a network pilot based on a book called Apocalipstick, by Sue Margolis. It's very exciting! I think the script is good. Now we wait to hear to see whether NBC wants to make a pilot out of it.
SO: Who are some of your most favorite people to follow on Twitter?
Julie: Besides my IRL friends (Billy Eichner, Jake Fogelnest, Tom Scharpling, Ted Leo, Patton Oswalt, Jon Daly), I deeply enjoy the tweet stylings of Katie Notopolous. Jon Daly, Jon Hendren, aka @fart, @jonnonaarch, who goes by "The Morally Corruptible Faye Resnick" on Tumblr), Boy George, who's on a raw diet now, Jackee Harry, because she's wonderful and she hashtags certain random words in her tweets. @iamenidcoleslaw is great, @WeirdHorse, Mario Lopez. Many others. I'm forgetting a million people. Possibly one billion.
____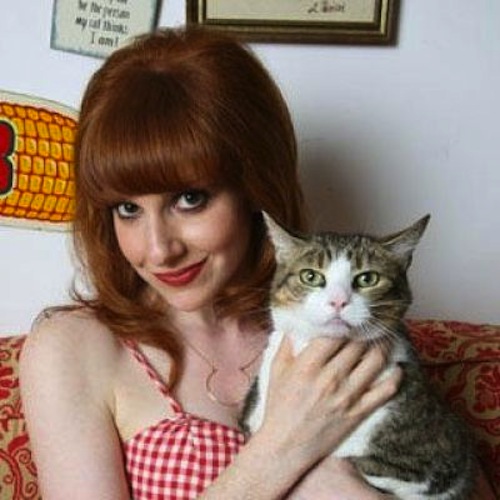 ____
SO: What everyday things in life make you smile?
Julie: Dogs and cats doing stuff. Eddie Pepitone, Andy Kindler or John Mulaney's standup. Friends' emails. Really good gossip.
SO: Tell us anything else you have going on this year that we should look out for, because you just can't get enough of you, truly!
Julie: How Was Your Week Live! This is the second installation of our live show at The Bell House, and it's going to be a barnburner. We have guests Sandra Bernhard and Tom Scharpling, plus an exciting third guest I can't announce just yet, plus, as always, Ted Leo & The Pharmacists will be there to play a live, full-length version of the How Was Your Week theme song, in addition to other wonderful musical things ("songs"). We are also excited to welcome TWO sponsors—Pretzel Crisps and Peanut Chews! Both of those fine products will be at hand on February 2 at the Bell House. Tickets are still available, which is fucking psychotic. You should buy some!
SO: Oh I will! Thanks Julie!
Julie: Thank YOU!
____
SO Note: Follow Julie on Twitter @julieklausner, and MAKE SURE to get your tickets for the much buzzed about How Was Your Week Live Show, coming up Feb. 2nd. You can get tickets here.