Well, good luck not falling in love with Angela Trimbur in the next ten minutes, this girl is all things good. Angela is a comedian, actor, dancer, writer, and all around smile creator. She makes dancing in public completely alone to the beat of her own iPod look fun, not scary. She is raunchy, but in the best kind of way, somehow turning a fart joke into a three-minute video that is so weirdly funny and not at all fart-jokey. (You know what I mean right, too fart-jokey? Exactly.) She is the perfect kind of confident. The kind that is all about believing in yourself and making yourself happy. The kind you hope everyone has in them. She is all over the place, pop tarts and green beans for lunch style. You've seen her pop up in everything from Entourage to Community to The League, in a list of movies, and going all viral with her Dance Like Nobody's Watching videos. She is UCB through and through, which makes her insta-legit. I mean how long should I go on? You'll get it after you're done reading this interview, which Angela nicely did while away shooting Comedy Central's upcoming show Mash Up. Enjoy it, then follow her on Twitter, watch her hilarious YouTube channel, get your LOL's, and then…dance.
____
____
Serial Optimist: What up Angela! You are currently on location filming. Give us the deets! What movie are you shooting? Where are you? What did you have for lunch today?
Angela Trimbur: WHATS UP DAVID! Okay so it's actually a TV show for Comedy Central called Mash Up. It's a T.J. Miller and Jordan Vogt-Roberts creation. The show is live stand-up, and as the comedian is telling their story, it switches over to see their words acted out as a sketch. I'm one of the sketch series regulars alongside some very hysterical actors. It's gonna be dope.
Oh, and I had a strawberry pop tart, green beans, and red bull for lunch.
SO: I feel like you left out "dipped in sugar" after green beans. Let's get to know you a little bit, first date style. Where are you from? Where was the first place you lived away from home?
Angela: UGH FIRST DATES! A POTENTIAL WASTE OF TIME! Just kidding. Nothing is a waste of time! At least let's just kiss and see if there is "anything there at all." (There isn't.) Okay high five! We tried! Goodbye- let's just hike or something as buds soon!
I'm from outside of Philly, technically Bucks County PA.
The first place I lived away from home was an attempt at fashion school in NYC, on campus. I didn't fit in with the label whores and I couldn't sew a button properly, so I joined the school's improv group, and eventually left the clothing career thing behind me. I dropped out of F.I.T to pursue the things that made me happier. Which is always a wise move.
SO: You high five on a first date? Lush! You are a writer, an actress, and a dancer, with a focus on laughs but a flare for the dramatic. Tell us a little bit about how you got there (here). What was your first love; acting, writing, or dancing?
Angela: I grew up as a homeschooled Jehovah's Witness and spent a LOT of time alone entertaining myself, so my imagination was pretty wild. I'd play spin the bottle in my bedroom alone in front of a mirror (making out with the mirror of course). I would stand in the shower and imagine I was outside in the pouring rain, confessing my love for someone (and then make-out with the tile wall of course). Apparently a lot of my imagining led to a make-out scene. I used to think that the sound of heavy wind against my window was a ghost parade and I would smile and watch and wave—WAIT…AM I OK?!
POINT BEING, I guess acting was my first passion since I was always pretending to be in a world I was not. This is sounding pretty deep. I should stop.
*I am no longer a Jehovah's Witness and I did get to go to my senior year of high school so CALM DOWN people.*
____
Dance Like Nobody's Watching: Mall
____
SO: You must be like the best at making out at this point…with objects. I assume you're a dancer only because you dance your ass off in the super fun viral videos Dance Like Nobody's Watching. Are you an actual trained dancer or is it just something you're super, super good at?
Angela: I wouldn't say I'm super super good at dancing, just have a confidant style, bro. When I was little, my mom did own a dance studio, but she closed it down before I hit the double digits age-wise, and I haven't trained since.
SO: You take that double super compliment! How did the Dance Like Nobody's Watching idea come about?
Angela: I went through a terrible breakup and was totally allowing it to distract me from pretty much everything. I got tired of staring through tears at a blinking cursor on my computer screen. My friend invited me to a Dan Deacon show and so I decided to crawl out from my pile of sad tissues and go. The show was filled with some of the freest dancing I have ever seen, everyone was letting loose in their own world. It was so exciting watching everyone be so happy.
As I was driving home having euphoric thoughts, I decided that instead of the typical breakup band-aid fix of painting the town in One Night Stand red (I'm sure that's a nail polish color), I'd do something that would totally scare me yet feel good zoning out and doing. So the next day, I popped in the earbuds, scrolled through my iPhone, found a title that hit home (I'm Good, I'm Gone – Lykke Li), ran into a local Laundromat – danced through one take, and ran out. No one around was warned or given a heads up, nor did anyone seem to care. (!)
HelloGiggles launched the series and I think it's such a perfect home for it since that site is all about positivity!
SO: Love that. Going into it, did you know what a positive message you were sending? Everyone I've watched it with laughs the entire time, and screams something along the lines of "you go girl!!!!" at the screen, even though they have never previously uttered that phrase. That must feel great!
Angela: I mean, I didn't realize to what extent it would infect others with joy- but the whole phrase "Dance Like Nobody's Watching" is a positive thing to begin with so I knew it wouldn't hurt anyone. I'm stoked to do anything I can to make someone have a bit of a better day and inspire others to not give a fuck what anyone thinks, just be happy.
____
____
SO: When did you start performing at UCB? Who have been some of your biggest influencers there?
Angela: I started taking level 101 classes in 2008 and an email went out to all the students about auditions for Matt Besser's new stage show "Freak Dance". I gave it a shot and was cast amongst many of the theaters seasoned players (Besser, Paul Rust, Casey Wilson, to name a few) so I got an opportunity to get silly with the silliest pros early on in my UCB life. We performed that show almost every Friday night for a year and it recently became a feature film.
I'm not trying to sound like a politically correct pageant contestant by saying "Everyone I've worked with influenced and inspired me in some form or another! Peace to the World!" but it's true! UCB really encourages everyone to stick to their own voice, and watching so many hilarious people be comfortable in having weird thoughts and having fun expressing them is contagious.
SO: Would you say you've gotten your first "big break"?
Angela: No? I dunno? Did I? I feel like everyone out here will always be thinking they could be doing more. I have been honored to work with a lot of people who I never even dreamed possible, Miranda July being my personal biggest jaw-dropper, and I hope to continue to ivy up the wall of admiration collaboration.
SO: Who are some of your favorite people to follow on Twitter?
Angela: Harris Wittels @twittels  Jenny Johnson @jennyjohnsonhi5  Aparna Nancheria @aparnapkin Chelsea Peretti @chelseavperetti  Chris Kelly @imchriskelly Lena Dunham @lenadunham  Lesley Arfin @lesleyarfin Amber Tozer @ambertozer Honest Slut @honestslut Rob Delaney @robdelaney.
____
SO: When was the last time you laughed out loud real hard and at what?
Angela: Hmmm…well, the other night I got an invitation from a super rad girl I really wanted to be friends with to go to a Korean Spa with her and her girlfriends & was super excited and even though I could barely make it on time from work, I said yes. Despite rushing to meet them all in on time in the lobby, I was late.
I have never been to one of these joints before, but I knew it was all-nude. The little Korean lady led me to a super tiny locker and walked away. I took off my shoes and pants and underwear and went to shove them in this little cubby, and the lady shuffled back over and said: "No no, that's just for shoes!" Ohhhhhh. I yanked out my pants and underwear and she offered to escort me to the main locker room. I assumed it was stupid to put the clothes back on just to walk over to take them off again, so with only my shirt on, I carried my stuff into the locker room. THERE THEY ALL WERE in full robes…just staring at me. I was totally Daisy Ducking it (no pants just a shirt) and I awkwardly stood there, vag out, extending my one hand while trying my best to cover with the other, and shook hands one by one with all five girls for the most uncomfortable introduction ever! After we commented on how awkward that was, we all shared quite an ice-breaking laugh and continued to laugh about it throughout the night, all NAKED SHOWERING TOGETHER, naked in the hot tub together, all naked in the steam roo- actually I'm going to submit this to Playboy articles. BRB! Okay I'm back. They passed on it. Not enough squirt mentionings! Booo!
SO: I love so many things about this story. Daisy Ducking it? How have I never heard that before? I could have gone without that squirt mention mention though. Gross, girl. Can you tell us about a horrible audition you've had? Any accidental vag out auditions?
Angela: One of my first auditions was in downtown L.A and I usually get into car accidents when there are lots of One-Way streets involved. So, I crashed pretty bad and ran on foot to the casting (again, I was late!) and auditioned with lots of little pieces of glass in my hair and super shaky hands. Needless to say, I couldn't focus and wound up crying halfway through my read and went into a TMI discussion about my life.
____
Handsome Baby
____
SO: Is One-Way always capitalized? It looks like the name of something when capitalized, like a boy band or candy bar or selfish sex position. Where can one find you on the TV and movie screens in the next year?
Angela: I say anyone can capitalize Anything ThEy wanT! I'll be on Comedy Central's Mash Up this fall and have a two episode arc on Showtime's Californication in its upcoming season as a crazy meth head! I'm gonna go try some meth to work on my character, ya know, see what it's like. Just this once I swear!
SO: Nice! Mash Up sounds like it will be dope. And I love Californiacation. You have to describe yourself but you only have one rap lyric to do it. Go!
Angela: I be smoking mad chronic just before a colonic.
SO: Thanks so much Angela!!
Angela: DAVID! THANK YOUUUUUUUU! (squirt squirt)
____
A Shot Taken Yesterday While Shooting Mash Up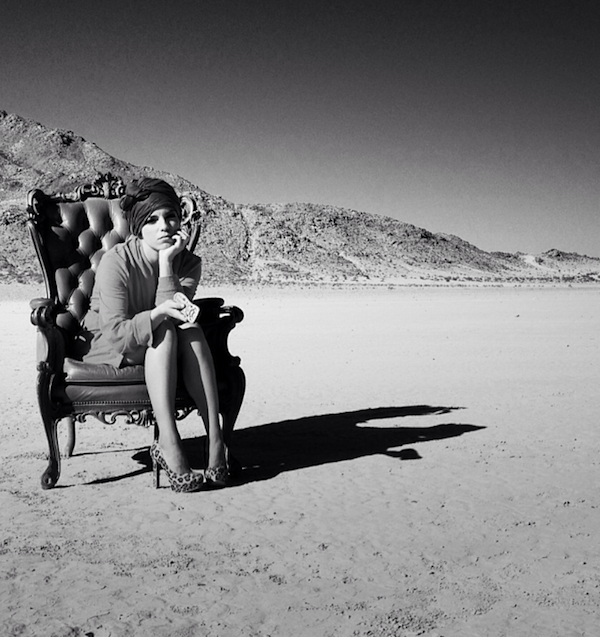 ____
SO Note: Follow Angela @angelatrimbur, subscribe to her YouTube channel here, and see her in Freak Dance On Demand now!