The industry buzz about Voxhaul Broadcast is loud, and everywhere. They have been described as a "fast rising soul-pop quartet" by the LA Times, labeled one of the "best new indie bands" by industry tastemaker Nic Harcourt, and as LA Weekly's Paul Rogers puts it: "Even in an era of overnight sensations, Voxhaul Broadcast's career trajectory has been astonishing as of late." They aren't just buzzing within the music industry. You can hear them (and see them) on Lance Armstrong's Michelob Ultra commercial, in the movie "Live As We Know It", promotional videos for Marc Jacobs, and much more. Their much-anticipated full-length debut album "Timing Is Everything" comes out this month, March 22nd. They will be showcased and one of the more in demand-must see shows coming up at SXSW in Austin, and are ready for what is going to be a busy and exciting 2011. Over eggs and potatoes with some coffee on the sunny West Coast, I caught up with the band to discuss their quick rise, how they feel about all this press, and music in general. The band is not only great (I've had them on repeat), but they also are nice, fun, and have a genuine excitement and outlook on what's to come.
____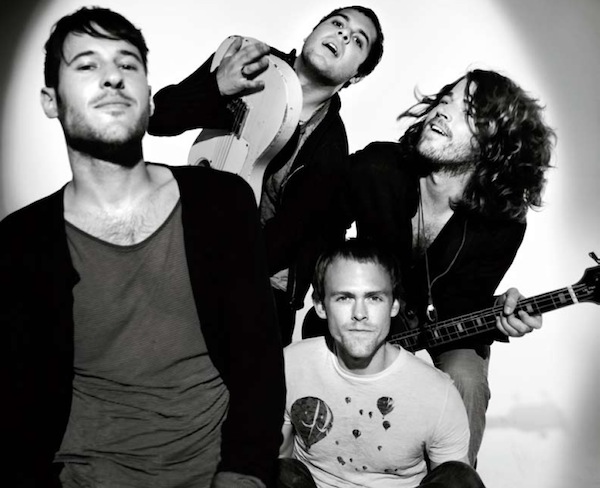 Voxhaul Broadcast is: David Dennis (guitars/vocals), Tony Aguiar (guitar/organ/backing vocals), Phil Munsey (Bass), and Kurt Allen (drums). The answers below are from David Dennis, who was polite enough to let the rest of the band eat and relax while not having to answer my questions.
Serial Optimist: You all are on the road touring with Civil Twilight. When did the tour start?
Voxhaul Broadcast (David Dennis-Lead Vocals/Guitar): That actually hasn't started for us yet, it starts this week, and then we'll be on the road with them for a couple weeks I think.
SO: Have you all been playing some shows recently?
VB: Yeah, we played San Diego the other night. We've sort of been all over the place but haven't really been on tour as of late.
SO: Have you all done a national tour before?
VB: We've done two: One we did with Local Natives and then we did one with Eastern Conference Champions, then we did the rest of the tour with a really cool band out of Atlanta called Gringo Star.
SO: What are your expectations with the tour that is about to start with Civil Twilight?
VB: Our expectations with mostly any tour is that we just want to have fun, and hope that people come out to the shows and respond well to the music, which is really what it's all about.
____
Voxhaul Broadcast – "Rotten Apples"
____
SO: Are you excited about the SXSW festival coming up? Have you all played that before?
VB: We've played it a couple times but this year is a little different. It takes awhile to understand what kind of festival SXSW is because it's not really like the conventional festival. You can get lost in the shuffle especially for a band, in that if you don't get the right shows you can end up playing like a mile out of what's going on. This year we got on a lot of showcases and are playing with a lot of great bands so we're really excited about it.
SO: How has it been for you all as a band with all the press you are getting, especially on the West Coast, now nationally, and even internationally? Can you all tell, are you aware, that the band is at that moment where you all are about to blow up?
VB: It's great. I actually don't see it as much as the other guys in the band because I haven't had Internet or cable for two years, so I'll be walking around in the neighborhood and people will be like "Look there's Voxhaul Broadcast!" My friends tell me that we're getting big and I'm like "really?" So I don't see a lot of what's going on. But I just got an iPhone yesterday so I'm going to start paying attention to that kind of stuff.
SO: You're going to get back into today's world of technology and catch up with the rest of us!
VB: I'm a 21'st century guy now.
SO: How was having one of your songs, and the band performing in the background of Lance Armstrong's Michelob Ultra Light commercials?
VB: It was really funny, like hanging out with the crew when we were doing that video. I was kind of like joking around with the directors and everyone but I guess he didn't get my sense of humor really. I walked up to them when they were shooting the Lance Armstrong segment and I was like "Who's this Lance guy getting all my screen time!" and they all just kind of looked at me, not smiling or saying anything, so I just kind of walked away, like "uhhh".
It was a different experience for us because not only was it our song playing in the commercial but we were also the band playing in the background, so I guess we were kind of actors, even though we didn't really act we just acted like ourselves.
____
____
SO: How does having your music in a commercial like that, and also having your songs featured on trailers for movies and in TV shows, how does that effect you as a band? How does it help you? Do you think it raises awareness?
VB: We were rock n' roll kids in the 90's, in to punk music and all that, and we grew up with this mentality that "you got your song in a commercial you sold out!" which is kind of a silly mentality, but in this day in age the only way to survive as a band is placements. For us right now the only deals we've been offered from record companies have been deals where they're just taking away everything. They want to take away our touring, they want to take away our publishing, and by us getting our songs in commercials we can run our own business. Right now we're paying for everything that a record company would pay for us. We're putting together a UK tour and we can afford it because of our placements, and we can afford to not sign to a label just to survive as a band. The placements help us be an indie band, really. It helps us be independent.
SO: That's really interesting, I never would have looked at it like that. But I also think, I remember writing an article probably five years ago about this, that commercials and especially television are using really great music now instead of "jingles" or "theme songs", and the music supervisors for both commercial and TV shows are utilizing indie bands, which in turn has grown awareness, and also makes scenes you watch much more personal because when you hear that song it takes you back to that scene in that show, or whatever, and really sticks with you. They have almost thread indie music within the actual script. I think that takes away from the feeling of "selling out" because you really aren't, you're not writing songs for these things, they are just choosing great music.
VB: That's totally true. I don't think it's a bad thing at all anymore. I think that's just the way we were all brought up, or I don't want to say brought up, but that was just the mentality for so long. A lot of people have came to our shows and they're like "first time I heard your song was on that movie Live As We Know It" or "I heard your song on Ugly Betty and looked it up and found you all". They have been drawn to the song because of the way the music makes them feel at that point. I've been drawn to songs that way as well.
SO: Tell me a little about how the band formed? I know you guys recorded your first EP in 2008 live in one day, and have been growing rapidly since.
VB: The band came together really organically. We were all friends. Kurt (drums) and Tony (guitar/organ/backing vocals) have known each since they were three. They both started playing instruments and were playing music together all growing up. I got my guitar around seventh grade, and Phil's (bass) brother was a drummer, and I learned how to play over the summer and then started writing songs. At that point Phil suggested his brother should start playing drums with me, and my brother should play the bass. Phil was kind of the reason why I was in my first band; he kind of put it all together in a way.
So we've all been part of each other's musical past the whole way, which makes sense that we would end up playing music together. There are a lot of people who decide to do things with their life, and stay in one place. They don't like traveling that much, and they don't like how it's not very stable, and we were all very committed to doing this, knowing what it would consist of. And we all just enjoy playing together, which is great.
SO: You guys are doing a lot not just within the music scene but also within the entertainment scene in general. Playing at big time fashion shows and the before mentioned placement of songs on a variety of platforms. Are you all business minded thinkers? Do you all come up with these ideas to help grow your audience?
VB: We aren't really business minded people. Our manager is the one that kind of wanted us to be a part of all social outlets like fashion, commercials, etc. Only by us working with him, we feel like we should be involved, under the kind of concept "I'm not afraid of storms I'm learning to sail my own ship" kind of thing. So by working with him we're starting to understand how to promote your band in different ways.
____
Voxhaul covering Smashing Pumpkins "With Every Light"
____
SO: Was there a vision that you had when you started recording "Timing Is Everything"?
VB: We didn't plan on a certain concept and we didn't want to make a really heavy rock album, we really just let it develop on a day-to-day basis. You go through so many different things each day, and that ended up kind of being a part of the record. It doesn't really have a direction as far as sound goes. When you play with people that long the common thread is the way we all play together. We can write whatever song we want, in whatever style, and the end result is really just our sound, it's the way we all play together.
SO: I was going to ask where you draw inspiration from when it comes to writing, but you might have just answered that. Is it mostly just from day-to-day experiences and life in general?
VB: Yeah, it's just, I think it's about searching, in a way, I don't know. There are a lot of different things. One of the things that is common in a lot of our songs and on this record is doing whatever gets you free, might that be love, or just finding whatever makes you happy in life. That's a really hard question to answer, I'm sorry.
SO: I get that a lot when asking an artist to describe what message, or vision, or more or less the meaning what they are working on, whether it's a painting or a song or whatever. I know it's a really tough question and I probably should just stop asking it, but sometimes you get a really great response, even if it's a small one, like you just gave.
VB: I just wish I knew how to answer it better. I'll think about for the next time it comes up!
SO: Thanks so much David, good luck with the tour and I look forward to hearing more and more of Voxhaul this year!
VB: Thanks to you as well, I'll see you at SXSW!
____
SO Note: Find all touring info and dates on Voxhaul's website voxhaulbroadcast.com, and follow them on Twitter for fun updates from the road @voxhaulb.