Ron Funches could be the poster child for Serial Optimist. He epitomizes happiness. He seems to possess a great zeal for life that is reflected in his comedy. You could call him the "Mr. Rogers of Comedy" with a funky edge. Ron has roots in Chicago and Portland but is now making his home in Los Angeles. At 29 Ron already has a "Conan" appearance under his belt and is starting to make waves. He has already been a guest on two of the most popular podcasts: WTF with Marc Maron and Pete Holmes' You Made It Weird. He has been making a name for himself on the festival circuit with performances at Bumbershoot, Bridgetown Comedy Festival, SF Sketchfest, and Outside Lands Barbary, among others. You may have also caught Mr. Funches at the Laugh Factory, UCBTLA, Nerdmelt, etc, etc…And if he isn't inundated already, Ron also manages to support a son with autism. Impressive. No? You will not want to miss getting to know this delightful comedian and human being. And PLEASE go to RIOTla this weekend where Ron will be headlining at "The Best of RIOTla" show!
____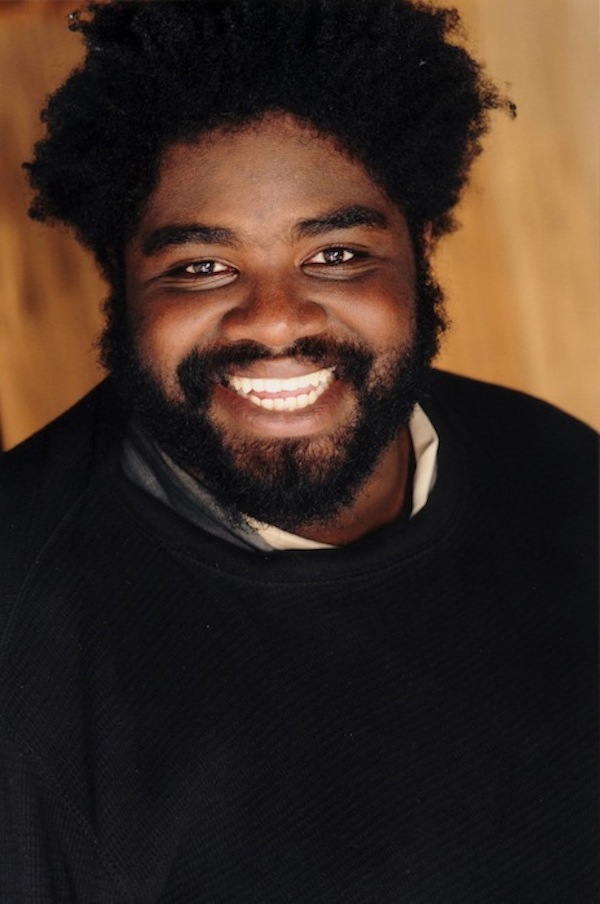 ____
Serial Optimist: Hey Ron, how's it hanging? What is your favorite "Muppet Baby" character and why? I'm in the Fozzie camp. Waka! Waka!
Ron Funches: I'm a huge Fozzie fan. He was probably the first stand-up comic I truly enjoyed, but my favorite "Muppet Baby" is Ralph. His smooth voice and touch with the Muppet ladies is something I inspire to have.
SO: Pooches do have that effect. Where did you grow up? What are your earliest childhood memories of making people laugh?
Ron: I grew up on the South Side of Chicago, my earliest memories of making someone laugh was telling jokes about my mom to my sister while we were grounded. My mom listened outside the door and laughed so hard she wasn't mad. It made me feel good.
SO: Comedy therapy is the best medicine. Who were your comedy influences?
Ron: My earliest influences were Lucille Ball and Carol Burnett. I loved watching "I love Lucy" and "Mama's Family". Stand up-wise the first person I watched was probably Sinbad and I loved him.
SO: Now you're bringing back some serious memories! Lucille Ball, Carol Burnett and Vicki Lawrence are American icons. When did you first start performing comedy professionally? Can you recount your first open mic experience?
Ron: I first performed comedy at Harvey's in Portland in October of 2006. I built it up so much in my head for years, I did horrible jokes about man boobs that got laughs and felt a high I never felt before.
SO: Nice. How would you describe your comedy to the uninitiated?
Ron: Finding niceness in a mean world, feeding weirdness to normies.
SO: Lucky for you, mean folk and normies are quite abundant. How do audiences in Oregon differ from those in LA?
Ron: Not much difference, both are intelligent crowds that demand good writing, then you drive an hour and it changes.
SO: Excellent observation! What opportunities has your appearance on "Conan" opened up?
Ron: The best thing I received from appearing on Conan is the belief that with hard work I could be a great comedian.
SO: What podcast has been your favorite to be a guest on? Which podcasts do you like to follow?
Ron: I really enjoyed doing the live WTF because it was like a dream come true. Having my friends Brent and Rory there made me more comfortable and I got to meet Retta and that's awesome.
I probably had the most fun on You Made it Weird. Pete is just a real cool dude who is easy to talk to. I had a blast.
I listen to WTF, Who Charted, YMIW, The Champs, and The Combat Jack Show among others.
SO: That's a nice mix. In your act you often joke about raising your son who has autism. I would imagine bringing humor to the more difficult aspects of your life could be cathartic and rewarding. Do you ever catch any flack for using your son's disability in your act? If so, how do you deal with these people?
Ron: Not in a long time. I had some people say some mean things that made me stop telling jokes about him for a while, but that's denying a large part of my life. When I started telling them again I received enough positive feedback from parents of children with autism who made it clear I was doing a positive thing.
SO: You definitely are. You had a small part on the first season of "Portlandia". Do you think you'll be making a re-appearance now that you are rising up in the ranks? Carrie and Fred, listen up.
Ron: I'm open to any fun opportunity that comes my way. Fred and Carrie have done more than enough for me. I saw Fred at Bumbershoot this year and he says "Look at you, you're all over the place now, you're a national comic." That meant the world to me.
SO: What a wonderful thing to hear. How did you get involved with "Who the F*** Is Chip Seinfeld?" a dark comedy about Seinfeld's low life, cocaine-addicted brother? Do you think Larry David ever saw it?
Ron: I hope not, the fact that you even know about it is alarming to me.
SO: I'm scary that way. Grin. Can we expect a comedy album from you in the near future?
Ron: I hope so. I want to take my time and make something that I can truly be proud of.
SO: Good thinking! What shows do you have coming up?
Ron: I'm really excited about my "Funches and Friends" show at Nerdmelt Theater Oct 4th. I'll be doing a longer set and I'll be joined my some of my favorite real deal friends: Richard Bain, David Cope, Andy Haynes and Steven Brody Stevens. It's going to be awesome and free.
SO: Thanks Ron!
____
SO Note: Follow Ron @RonFunches.