This gal is currently batting a thousand in the comedy arena. Most recently a writer on the Emmy-nominated "Parks and Recreation" on NBC, Chelsea Peretti is at the top of her game. She is one of the ultrahot female stand-ups performing at festivals including Montreal Just for Laughs, Just For Laughs Chicago, SXSW, Bonnaroo, and Bumbershoot. You've seen her opposite Louis CK on his Emmy winning show "Louie", on "The Sarah Silverman Show," and "Last Call with Carson Daly". Chelsea burns it up on Instagram and Twitter gathering followers like bees to honey. And we must not forget her very new podcast "Call Chelsea Peretti" that we are just mad about. Ever the sarcastic charmer, Chelsea wins audiences over with a piercing wit and memorable laugh. Never afraid to push a few buttons Chelsea is a comedic force to reckon with. But don't worry, deep down she is a softie. For Pete's sake, she listens to Richard Marx. It's been a year or so since we last caught up with Chelsea, and she must be doing something right since we decided to interview her again, am I right? Totally. Jk, we begged her, threatened her…just read the interview. Enjoy!
____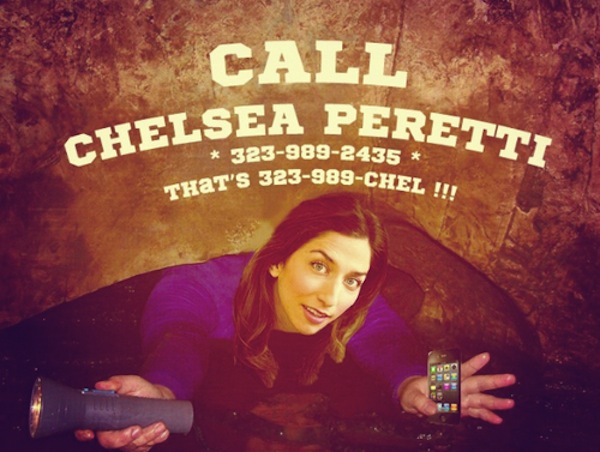 Serial Optimist: Chelki Perelli! What is UP?! I just do NOT get tired of hearing your podcast song "Coffee Crankin Thru My Sys." It makes me curse the anti-christ that lives in my belly and prevents me from drinking a sweet Frappucino Royale with cream. Did that tune just come to you in the night?
Chelsea Peretti: I think of chanting songs all the time. This is part of the great tapestry of what makes me fun to be around.
SO: I know I should be asking you about the Bay Area and your sordid past but OMG all I want to do is talk about your podcast podcast podcast. Folks, if you haven't listened to "Call Chelsea Peretti" yet you should be force-fed thick, murky soup (you'd laugh so much more if you were LISTENING TO THE PODCAST). What inspired you to start a call-in show?
Chelsea: My interactions with people on Twitter were funny slash terrifying. The idea of giving them all my number seemed funny to me. I can be pretty anti-social so being forced to interact with people is a good way to get my fight or flight instincts cranking, resulting in 4000 quips per second. This is a very tough quip average to beat and that is why my podcast is always #1 on iTunes every week (please do not fact check this interview).
SO: Fact checking is for stalkers. I was actually a tiny bit afraid for you when the German gentleman called in the first episode asking if you'd received his letter. Do people actually still write letters?
Chelsea: Oliver does.
SO: That makes me feel so much better. Are we going to start considering anyone that denounces e-mail a "scary stalker person"?
Chelsea: No. Letters are cool. I write them to prisoners all the time.
SO: Nice. So we must address the soup wars that have started as a result of your podcast. You vehemently denounced all soup when you first started the podcast. Then in episode 5 a kink in your soup armor emerged and you confessed that you actually like soup (just not as much as many other categories of food). If you met the perfect Black architect of a man and he professed his true love to you but then revealed he wanted to eat soup on a daily basis, what would you do?
Chelsea: I don't stand by any of my opinions expressed on the show or in real life. I.E. I don't want a BA and could poss like S.
SO: Understood. Glad we got that cleared up. Are you spending copious amounts of time with Richard Marx?
Chelsea: No, but we sometimes text or email as extremely close friends do.
SO: How on earth did you convince him to call into the show? Was it pure serendipity?
Chelsea: I had participated in a live web show he did and we became best friends from that. He likes comedy and I like crying to "Right Here Waiting."
SO: Is Richard working hard on the Mocha version of "Coffee Crankin" as we speak?
Chelsea: Lord only knows he is a real wild child.
____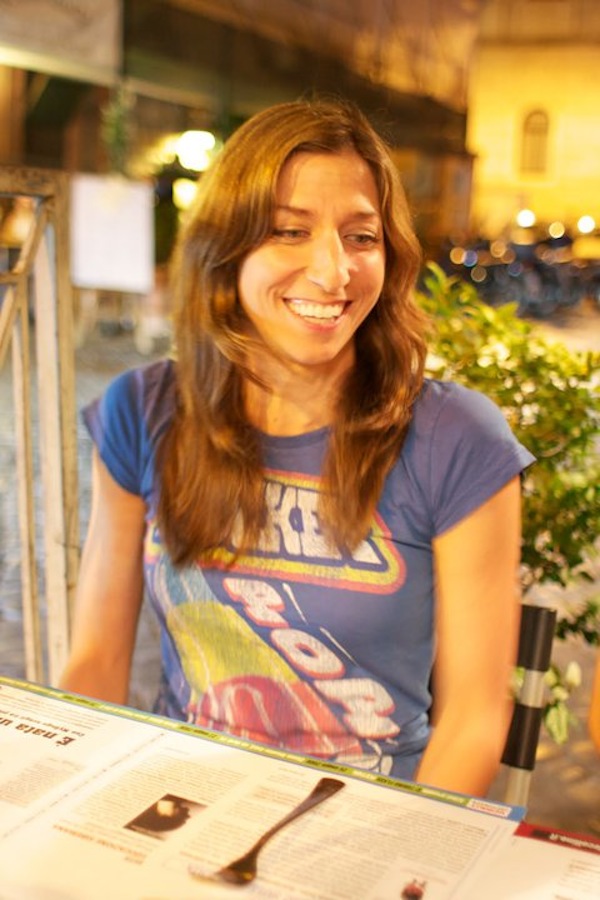 ____
SO: Only YOU would know. Who has been your favorite caller to date? And what kinds of calls are NOT passing the screening process?
Chelsea: The German caller named Oliver has had some real staying power. I enjoyed the donkey guy and the guy whose dad punched him in the stomach and the guy whose mom threw a cement dreamcatcher at him as well as girl who was bullied by "popular hoes" and Aziz discussing Think Like a Man. I'm forgetting some definitely but those stand out.
SO: That about covers it. If you were asked to build the perfect man and you could choose from the following list of your comedian pals, what attributes of each would you choose: Moshe Kasher, Nick Kroll, Aziz Ansari, Brendon Walsh and Pete Holmes?
Chelsea: Moshe's laugh, Nick's food taste and various allergies (jk re allergies), Pete's nothing, Brendon's love of dogs, Azizzes money jk Azizzes love of booty shake music and coffee. Oh! Also Nick's juicy ass DSLs and Azzizes donk.
SO: I just want to say "Azizzes" all day now. The sound effects on the show are just awesome and your liberal use of them is pure genius. My personal favorite is the snippet you use from Antony and the Johnsons "Thank You For Your Love." I was laughing for days when I first heard it. What's your favorite?
Chelsea: Thanks! I love the car driving off with wheels screeching sound and honk in the distance and for years have been writing that out in texts and emails so it is extremely satisfying to have it for real.
SO: I bet. You recently interviewed Pete Holmes for his 100th podcast. What was it like being confined to a small room with super lovable and talkative Petey Pete for 2 hours?
Chelsea: Loud.
____
Call Chelsea Peretti With Chelsea Peretti Featuring Nick Kroll
____
SO: I'm going to borrow a question from one of Pete Holmes' listeners. Please fill in the blanks:
People are…..Dragons are…..Pete is…..
Chelsea: People are exhausting. Dragons are fun to draw when you are a kid. Peter is ultimately tolerable.
SO: So relieved you don't really want him dead. You're Instagram is one of our favorites. But we often see comments from creepy dudes just telling you how hot you are. Are you more "gee thanks" or "ehh gross"?
Chelsea: Depends but mostly thankful. Unless it's truly upsetting then I block or delete.
SO: Tell us about your role as Gigi on "The Couple" TV series, a spin-off of the web series?
Chelsea: My friend (filmmaker Tchaiko Omawale) showed me the series and I loved it. I later met the actress Numa and her husband (and director) Dennis at a party and they asked if I'd like to do something in it. Very much enjoy what they are doing.
SO: We wish them luck. Would you like to do lots more acting in the future?
Chelsea: Yes.
SO: Quit being so enthusiastic! What are your thoughts on the final hurrah of the Comedy Bang Bang show at UCBTLA? You've performed stand-up on that show many times. What will you miss about the show?
Chelsea: It was always a solid show. Will miss those lineups and love the UCB location. Also that is one of the main times I get to see Scott Aukerman. We made up a famous jingle backstage there.
SO: Time to make new memories. What's on your plate for 2013?
Chelsea: Hopefully something healthy. I am killing myself with pie etc.
SO: Thanks for keeping it real Chelsea. Don't go all vegan on us.
____
SO Note: Follow Chelsea @ChelseaVPeretti, on Instagram @chelsanity and if that's not enough go chill on her website. But of course the first thing you should do is Call Chelsea Peretti!