Steve Agee is one of our favorite stand-up comedians. Though he's probably best known as Brian Posehn's husband on The Sarah Silverman Program, his career has been varied and interesting. He's been a writer on Jimmy Kimmel Live and appeared in shows such as Adventure Time, Bob's Burgers and 2 Broke Girls to name just a few. He is a comedians' comedian, collaborating with the best in the business throughout his career. Our interview with Steve ended up being perfect timing as it was just announced that he and Rob Schrab will pen a new FX comedy about Agee's childhood attending a military academy in the 1980's similar in tone to the cult classic Freaks and Geeks and developed by Jack Black's company Electric Dynamite. We are excited for that, and excited to share our conversation with one of our favorites, Steve Agee.   
____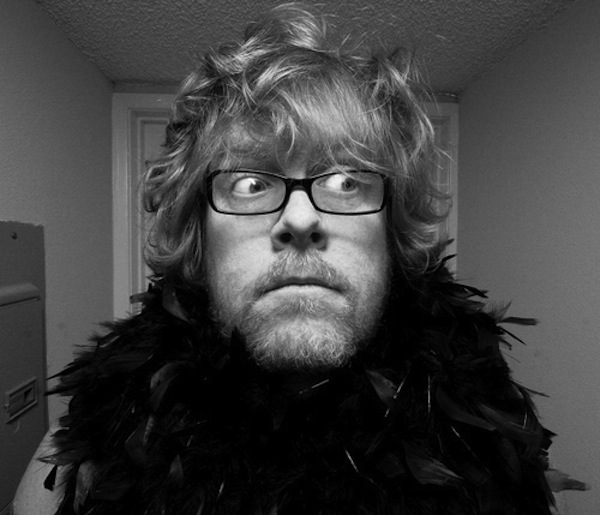 ____
Serial Optimist: Let me start by thanking you for doing this interview. I've been a big fan of yours since I saw you guest-star on an episode of Wainy Days in 2007. Since then I've enjoyed seeing you contribute to and create some of my favorite things. Can you start off by telling us a little about how you got into comedy?
Steve Agee: I was obsessed with comedy at a very early age. The first album I ever bought with my own money was George Carlin's A Place For My Stuff. It never dawned on me that I could actually make a living doing comedy. I tried standup off and on when I was in college but somehow I never figured out how to go about diving into it full-time.
It wasn't until I moved to Los Angeles and started dating a girl who was taking classes at the Groundlings that I realized this was something that I could actually pursue. Shortly after that I enrolled in classes at the Groundlings and the rest is history.
SO: Do you come from a funny family? What was your life like growing up?
Steve: Nope. Most of the people in my family are pretty humorless. My dad was a doctor, my mom was a nurse and my brother ended up going into insurance. Pretty hilarious, right? I spent much of my childhood annoying the shit out of my family by goofing off at the dinner table.
SO: You mention on an episode of your podcast that you lived in Ken Marino's basement for four years. That was an aside in the episode, but it made me super curious about that situation: How did you end up living in Ken Marino's basement for four years? Is he a good landlord?
Steve: I was living in North Hollywood and working on The Sarah Silverman Program and I had this horrible neighbor who liked to bring her friends home after the bars closed and they'd party upstairs from like two in the morning 'til about four or five…and not just on the weekend. This shit would go on about three or four nights a week, and my landlords wouldn't do shit about it. I was miserable.
So one day, at work, one of the writers mentioned that he had friends who were looking to rent out the bottom floor of their house. I wasn't really thrilled with living under people again, but I made a call and went to look at the place.
When I knocked on the door, Ken answered. I was like "Hey, I've seen you before!" and Ken said, "I've seen YOU before!" We hit it off and I moved in a few weeks later.
Ken and his wife, Erica, were the best landlords EVER!
SO: You're a big dude, a fact that's often played for subversive laughs on shows like Children's' Hospital, where you have a guest role as an ominous lollipop salesman who turns out to be (mostly) a good guy, despite his creepy unmarked, windowless van. What are your thoughts on using your physicality to get a laugh?
Steve: It's all part of type casting. I only ever get called in for the part of tall, creepy guy or fat friend. I doubt that I'll ever run into James Franco or Brad Pitt at an audition. I'm fine with it though. So far it's worked out great for me. I like working and I like paying my bills.
SO: You wrote for Jimmy Kimmel Live for a while. What's it like being in a writer's room as opposed to writing for yourself? Does Adam Carolla do his Adam Carolla-thing when he's not being recorded?
Steve: Being in a writer's room for a talk show that shoots every weekday is pretty grueling work. The hours are long and sometimes you just don't always feel like being funny. I have a lot of respect for anyone that can do that. Also, Adam was gone by the time I started writing for the show, but I can say that the Adam you hear on the air is pretty much the same person off. He's a smart guy who's good at talking and can talk at length about any topic you throw at him. I don't know many people who can do that.
____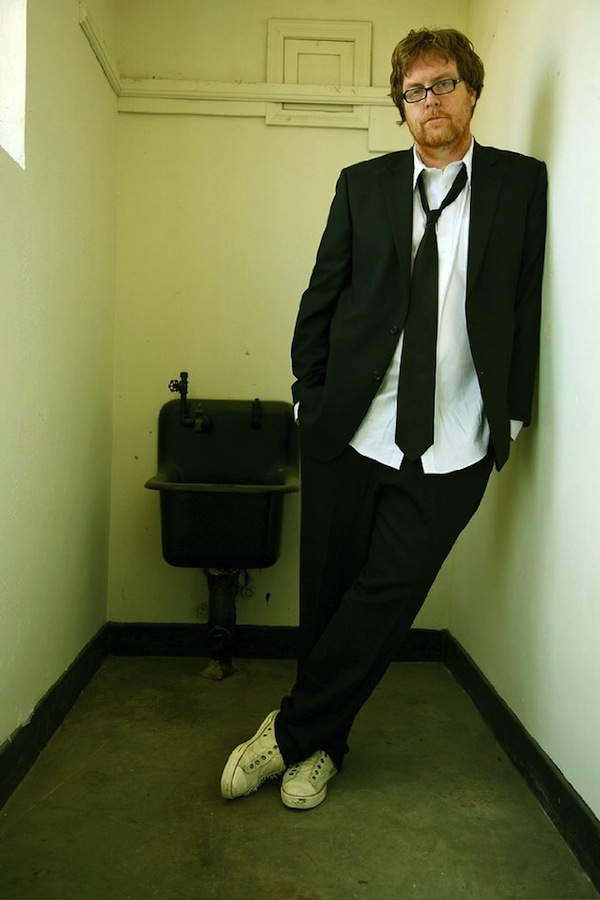 ____
SO: In another episode of your podcast you mention a past dream of becoming a session musician. Do you still play music? What are your favorite genres?
Steve: I used to be a really good bass player, but now I hardly ever play with anyone. When I do play it's usually in my apartment. I like to record myself playing horrible songs about horrible subject matter. I've also got a very short attention span and I never finish recording a song. My computer is full of unfinished songs about vomit, tits, pooping, rotten milk, scrotum sacks, etc. I don't have a favorite genre. I've got a huge collection of funk on vinyl, which some people would probably be surprised by. I love everything from jazz to country to rock.
SO: I thought it was interesting that you were interested in being a session musician instead of the central figure in a band. In your comedy career you echo that by mostly playing supporting roles. Have you ever tried to break out of that supporting mold, or are you content being part of an ensemble?
Steve: It's nothing that I ever planned on. As an actor you kind of just take whatever comes your way until you get to a level where you can pick what you do (and I'm nowhere near that level). I'd love to play the lead in something, but that's also a lot of pressure.
SO: Your Twitter feed is dark and funny, but mostly incredibly dark. A lot of anxiety runs through your feed. What's your worldview like? How do you feel about where you are in life?
Steve: There's something about getting older and realizing your own mortality that changes your outlook on things…at least for me. I've had to deal with depression and panic disorder for most of my adult life and I found that the best way to deal with it is through humor. I joke a lot about things that scare me – death, disease, and girls, just to name a few. As far as my world-view goes, I think the world is a fucked up place and anyone who disagrees with me just needs to go read the comment section of ANYTHING!
SO: You've said before that you and Sarah Silverman bonded by talking about your respective experiences with panic attacks. Over the course of your career in front of cameras and on stage has it gotten easier to deal with those feelings? Was doing stand-up a purposeful way to try to overcome stage fright?
Steve: I never got into doing stand-up as a way to overcome any of my problems. I did it because it was something I'd always wanted to do. I was drawn to it. I do think, however, that it has helped me confront certain fears in a way that I didn't realize was possible. One of my biggest fears as a kid was public speaking and now I can't get enough of it. It's just like anything else that gets easier the more you do it.
SO: You've written for TV, been in TV, podcasts and movies in addition to starring on stage as an improv and stand-up comedian. Of all of those, which do you feel suits your comic sensibilities best? Which are your favorites to do, and why?
Steve: I can't pick out a favorite as easily as I can pick out a least favorite, and for me that would be writing. Writing, a lot of the time feels like homework. However, once you've written something, it sometimes feels a lot more rewarding. It's also hard for me to pick a favorite because I don't really feel like I'm especially great at any of them. I realize that, as a stand-up, I will absolutely NEVER be even close to as good as Louis CK, Chris Rock or a thousand other comedians that I don't have the time to name. The same goes with acting. I love doing it, but I think I'm horrible at it. Wow, you've really bummed me out with this question.
SO: We think you're pretty great at all of it, truly. You're openly a gamer. What kind of feedback do you get from the gaming community as a celebrity gamer? What are you playing these days?
Steve: HA HA HA! I love that you said, "You're openly a gamer." You made it sound so shameful. "So, you're openly a pedophile. How do you live with yourself?"
The gaming community is great and really the only time you hear anything negative is when you're playing something on Xbox live against some fucking 12-year-old hillbilly homophobe who likes to call you a fag or some other horrible slur whenever he kills you.
I've just finished playing Skyrim and I'm about to start playing Borderlands 2.
____
____
SO: We've recently noticed some killer photography coming from you. Is this a new medium you are exploring or have you been taking photographs like this for quite some time? Is this a learned talent or something that came natural?
Steve: I've always been into photography. When I was writing at Kimmel I was able to buy my first serious camera and it was also a great place to take photos. I took a few classes in college, but it's really something I just kind of got into on my own. It's just a hobby/distraction for me.
SO: You've been a mainstay in comedy for quite some time now. Do you think comedy is at an all time high right now? Especially for the "alt comedy" scene or whatever people like to call it? How on par did you think Patton Oswalt's keynote speech was regarding the current and future state of comedy?
Steve: I can't even begin to put into words how amazing I thought Patton's speech was. He was so spot on! As far as the comedy "scene" goes, I'm not sure. It's hard for me to judge something that I guess I'm a part of. When I was in my 20's and first came to Los Angeles I would regularly go to Largo and watch what I think was true alternative comedy. I could see people like Bob Odenkirk and David Cross, Mary Lynn Rajskub, Tenacious D, Karen Kilgariff, Sarah Silverman and Patton doing stuff that wasn't being done in proper comedy clubs. I felt like I was in on some kind of comedy secret. Now these people are more accessible on TV and in comedy clubs and on iTunes, so I guess that the comedy scene is doing pretty great.
SO: Word just got out that you and Rob Schrab will be writing the untitled coming-of-age comedy for FX and Jack Black's Electric Dynamite. It's said to be similar in tone to Freaks And Geeks. First of all, you and Rob writing anything, count us in, second of all, in the tone of Freaks and Geeks, I mean, this just sounds too good to be true. What can you tell us about it?
Steve: Well the show is based on my actual experience going to military school in the 80s. It was a very surreal experience and I've always wanted to do something based on it. When I was in college I wanted to write a book, but then I realized I don't have the patience to sit and write something that long. Five or six years ago I had the idea to do it as an animated show and that quickly fizzled. I knew I had too many stories to do it as a feature, so the only other option was TV. I owe a lot of this happening to Rob. He met with Jack one day and happened to mention that I had an idea for a show based on my military school days and Jack immediately wanted in. Once Jack was on board with his company (Electric Dynamite) things really started moving fast. After a series of pitch meetings and offers, we ended up at FX.
We're currently writing the pilot and have our fingers crossed. Please say a prayer.
SO: That show sounds amazing; I'll convert to any religion to see it come to pass. Thanks so much for your time. I'm a big fan of yours and always love seeing you do something new. What do you have coming up next? Where can our readers get a dose of Agee?
Steve: Well I'm pretty busy now with the FX pilot. So occasionally you can catch me around town doing stand-up. You can also follow me at Twitter and Instagram where my user name is @steveagee. Namaste!
____
SO Note: Follow Steve @steveagee, check him out on WhoSay here, and enjoy him on Tumblr at steveagee.tumblr.com.