I met Alonzo Bodden when he was a panelist on "Wait Wait, Don't Tell Me." And by met, I mean I asked to take a picture with him and stood on my tippy toes next to him, so I wouldn't look too miniature. He was great that night (of course), not just because that show knows what it's doing, but also because he's a great fit for this smarty-pants show. The chemistry of a "Wait Wait" panel is interesting, because while the comedians are there to make the audience laugh, a balance is needed. It becomes clear, really quickly in fact, if you're steamrolling the other panelists or pooching Peter Sagal's jokes. It takes patience, confidence and smarts — something the comedy veteran of almost 20 years definitely has.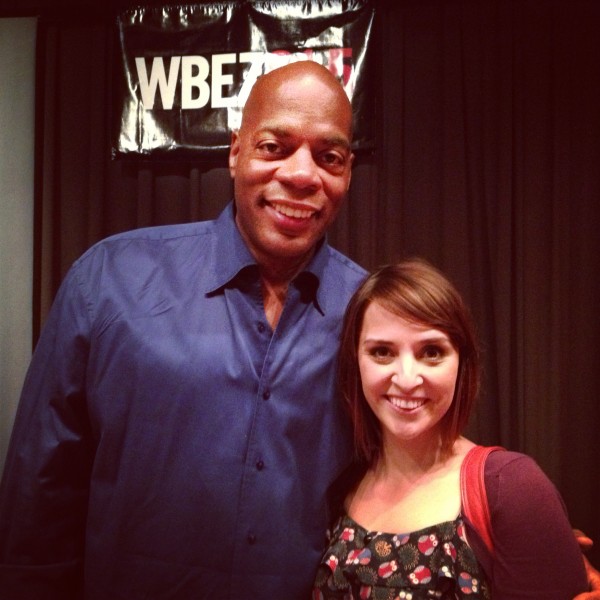 (I'm like the dollar being used for scale!)
Serial Optimist: Hi! Thanks for talking to us. What are you doing right this second?
Alonzo Bodden: I'm suffering on an early morning Delta flight sitting and standing and sitting and standing and sitting and standing next to woman who apparently has no bladder.
SO: Oh no. Well, there's a good chance that woman is me (it's not, but the teeny tiny bladder sounds familiar.) So, what projects do you have going these days?
Alonzo: I'm preparing material for an upcoming Just For Laughs Canadian Tour. I'm part of a football podcast called Time Out with Terrell Owens. Also in November I'll be part of a new show called Mind of A Man on Gameshow Network.
SO: That's great! I'll have to take a listen to the podcast, or at least have my husband listen and report back. Your big break was on "Last Comic Standing," but obviously you didn't just start doing comedy then. Tell us about how you've evolved as a comedian in the earlier days to "Last Comic Standing," to your special "Who's Paying Attention," which by the way, I loved.
Alonzo: My first big break came on New Faces of Comedy at Just For Laughs festival. I had 4 years in, no idea what I was doing but it's when I gave up the day job. Back then my comedy was more personal experience stuff. Last Comic came at 10 years in. I was much more confident by then my material was more topical I especially loved Season 3 where I would do new material on a weekend live date and do it on TV the following Tuesday. "Who's Paying Attention" was really fun because it was probably 90% topical and news driven which showed people a different side than LCS. I want to be known as a social commentary guy. The special showed that but I still mixed in some relationship confusion. That topic will always be there.
SO: Did you always want to be a comedian? What was Baby Alonzo like? 
Alonzo: I was always funny, I think, but I didn't think of doing it onstage until I began training aircraft mechanics. I'd been a mechanic 10 years and training new guys was fun and funny. As a kid I was shy, introverted, a reader and a thinker. I had friends but never thought of myself as one of the cool kids
SO: Woah! Aircraft mechanic. That's impressive. More impressive that you gave up that security for comedy. But you gotta take that leap. What kind of tips do you give to young comics still trying to break out in the scene?
Alonzo: Biz is different now. The one thing I wish I'd learned more about and did more of is marketing. It's such a huge part of the biz. I heard someone say, " No one is responsible for making you famous". I wish I'd heard that 10 years earlier. Of course now videos and social media are huge. The funny still matters but not near as much as it should.
SO: Very true. Which comedians did you look up to and who are some of your favorite comedians these days?
Alonzo: To me the old masters are Cosby, George Wallace, Dom Irrera and Lewis Black. Jeremy Hotz is a friend who's very funny. Young comics like Mal Hall, Matt Kirshen and Liz Miele I love because they actually write. I'm glad to see Chappelle back. I could keep adding names to this list. Robert Kelly, Patton Oswalt, Rick Overton, Corey Holcomb, Kathleen Madigan.
SO: Your swine flu, bird flu, mad cow run (on "Who's Paying Attention") is fantastic. This might be a dumb question, but what is your trick to remembering an hour-long set?
Alonzo: No trick to it. The key is stage time. I work a lot so my brain is trained to remember material. It takes discipline to stay on track without riffing. I love to riff and create, but that doesn't always work on TV. When I have a TV gig like that, running the set a dozen times imprints it on the brain. Also the act of writing, not typing, helps me remember it but then that might just be because I can't type.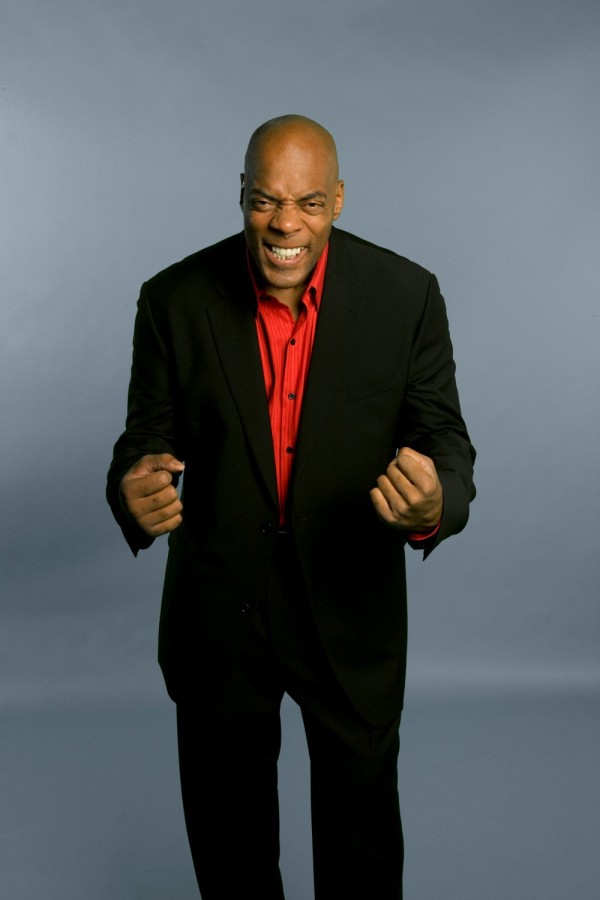 SO: Seems like always comes down to the stage time. So, if you're working so much, what do you like to do for fun outside of comedy?
Alonzo: My passion is motorcycles. Riding them, reading about them, whatever. I love bikes. I'm also a sports fan. I used to love playing basketball until the knees gave out. Don't get old kids.
SO: What's something about you that would surprise most people?
Alonzo: Many are surprised I've never been married and have no kids. I guess when you're built like a pro athlete and have no kids it throws people. I let the ballplayers have kids for me. Some might be surprised I'm not a people person. I'm good with groups, great with crowds, but one on one I'm still not good.
SO: I've noticed that a lot of comedians aren't as good with the one-on-one interactions. And yeah, you're totally built like an athlete. You're 6'4''! Which of course leads to the question the world is wondering: what's the weirdest thing you've crushed with your gigantor hands?
Alonzo: I try to be gentle. I love fake boobs and would hate to pop one. I've always wanted to come up with a joke about my hands, but it would have to be something other than hacky big dick joke.
SO: Yeah, stick with the good stuff you've been doing. 
____
SO Note: Keep up with Alonzo on his website www.alonzobodden.com, follow him on Twitter @alonzobodden and on Facebook.