When I found out I was interviewing Eddie Pepitone I did the most spirited happy dance you could ever imagine. How can one not gush over his talents?! Eddie has a keen ability to at one instant steamroll the audience with his booming delivery and then cradle them with soft, poetic rifts. You will recognize him from the many sketch appearances on "Conan", most notably the "New York City Heckler." He's participated in more podcasts than I can count including WTF with Marc Maron, The Dana Gould Hour, and The Long Shot. He's made appearances on "Community", "Happy Endings", "Flight of the Conchords", "It's Always Sunny in Philadelphia"…should I go on? OK, I will! He's made you laugh with his crazy antics on the Puddin' strip videos. He has a comedy album out called A Great Stillness. And if that wasn't enough to impress you, he will be immortalized in the documentary, "The Bitter Buddha". Now please enjoy this thoughtful chat with the boisterous funnyman. You will no doubt learn a few things you didn't know about every comedian's favorite comedian, Eddie Pepitone.
____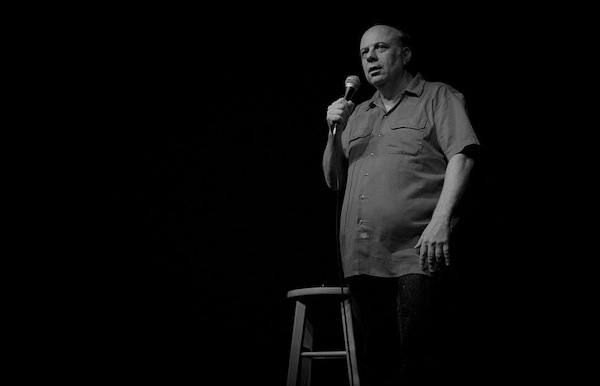 ____
Serial Optimist: Hi Eddie! You are on the road constantly. What would be your dream vacation and what would you do on this fantastic excursion?
Eddie Pepitone: I am not on the road constantly but I am starting to do a lot more road gigs. I am going on my dream excursion this August as I am going to do The Edinburgh Fringe Festival for the entire month. Comedy and Scotland. I have never been to Europe. This 53 year old man-child is finally going. I am going to do 26 shows in 28 nights. Now that's a dream vacay.
SO: The first time I saw you perform I wasn't sure whether to cower in fear or laugh till my stomach hurt. Despite the initial confusion, I enjoyed EVERY freakin' minute of the experience! What do you want your audience to take away from a performance?
Eddie: I want them to come away thinking about what we do in our lives- who are we hurting? Who are we helping? Who are we serving? I want people to think about what role they play as citizens of the world. Also just how insane we all are. I think there is no doubt about that, we are all nuts from the jump.
SO: How did you break into comedy? Was it always your destiny?
Eddie: Total destiny. Born into a family so damaged, so broken that the only way I had to cope was go absurdist.
SO: You have embraced Twitter and incorporated your tweets into your act. On your first live comedy album, "A Great Stillness" you read your savory tweets onstage. Do you think all comics should embrace new technologies and "spread their word" to audiences far and wide?
Eddie: Yes! Why not use this insanely pervasive addictive technology and get people addicted to you. I resisted at first then realized- holy shit, I am my own PR and I can do it.
SO: You have been a podcast guest, a podcast host, sidekick, and listener favorite. Your credits include WTF with Marc Maron, Comedy Bang! Bang!, and of course, The Long Shot, just to name a few. What is your craziest podcast anecdote? What podcast would you next like to conquer?  Do you think we are at the point of podcast saturation or is there still room for little Johnny & Sally podcaster?
Eddie: I love podcasts because I don't have to yell, which I feel compelled to do in front of a live audience. I have been doing Dana Gould's new podcast and that is a trip. Dana may be the funniest man walking the earth. I would love to do Greg Proops podcast; actually I just love them all. My fav one to be a guest on was Howard Kremer and Kulap's "Who Charted?".
Maron's podcast has been an amazing blast and great for my fan base. So many people found me through Marc and he sets me up and uses me to perfection, by giving me 'the last word' on his live ones when he is in LA.
Yes there is room for any and all podcasts as long as they have a VOICE, something to say.
SO: In your act you often discuss becoming a vegan. How's that working out for you? 
Eddie: It is actually official I am a motherfucking vegan. Since January 1 I have had a couple of slips with cheese but come on it's impossible not to have something non-vegan occasionally. I have never felt better and it's amazing to commit to something I believe in (that animals are factory farmed and cruelly treated and I want no fucking part of it).
SO: Congrats! That has to be so hard, but so worth it. We've seen you on "Conan", "Whitney", "The Muppets", "Children's Hospital", "Happy Endings", "It's Always Sunny in Philadelphia" and the list goes on and on. My personal favorite was your small but memorable bit on "Flight of the Conchords". Which do you love more, acting or stand-up? Are they comparable? 
Eddie: I love them both. Stand up is by far more rewarding and artistically challenging. I want to get big roles in movies, and then maybe I can compare the two.
SO: How did Puddin' strip get started? What is your favorite live action cartoon "episode" and why?
Eddie: Puddin was Matt Oswalt's idea. He approached me and the rest is history. He writes and directs – he knows my voice! My fav cartoon? I hate cartoons, comics. I loved Gary Larson's stuff, I love Matt Groening's "Life in Hell".
____
"The Bitter Buddha" Teaser Trailer
____
SO: I just caught the trailer for "The Bitter Buddha" documentary. Will it reveal all there is to know about the great Eddie Pepitone? When will we able to view it in full Technicolor glory?
Eddie: We are trying to get distribution now. Hopefully the summer, I am sure we will screen it soon! It will reveal more than I care to know.
SO: You are truly the best. Thanks Eddie!
____
SO Note: Follow Eddie @EddiePepitone and watch all the hilarious Puddin' Strip episodes here.
*Photo by Mandee Johnson *Photo By Paul Bartunek