Emily Maya Mills is a powerhouse packed into one petite, crimson-curled sweetheart. She is an actor, writer, and stand-up comic who has made appearances on "Parks and Recreation", "Conan", "Children's Hospital", "Key and Peele" and "Harry's Law". Emily wins over audiences with her impeccable timing and winning cast of characters. A graduate of Emerson College, Emily went on to hone her improv skills at UCBTLA where her credits include Comedy Death Ray, Jeff Garlin's Combo Platter, The Charlyne Yi Show, and Brett Gelman's Human Garbage. Her three-woman sketch group, "Birds of Prey" was named Best Sketch Group by Punchline Magazine and the group has produced exclusive videos for FunnyorDie.com and Cracked.com. What do the stars hold for this comedic firecracker? Cherry tomatoes and oodles of success. I present to you the incomparable Emily Maya Mills.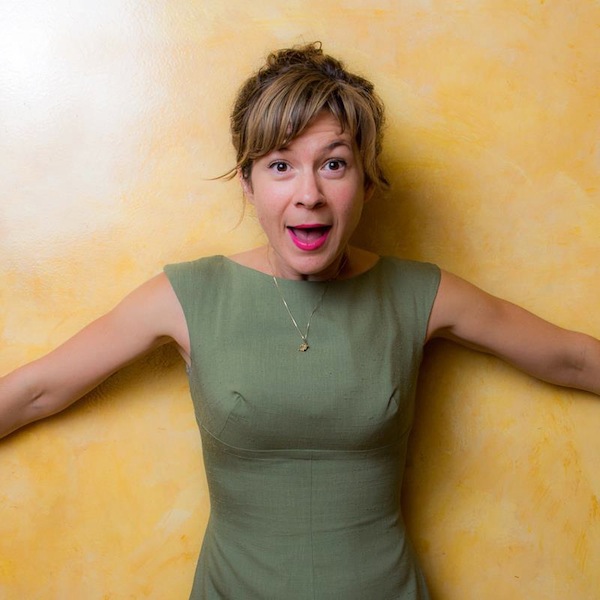 Serial Optimist: Hey YOU! Now I'm not sure what name you go by. Is it Emily? Maya? Emily Maya? Mills? Or do you have some completely different nickname entirely?
Emily Maya Mills: Emily Maya Mills is my given name but my friends call me Emily "Maya" Mills. Kiddin'! It's Emily. Though some kids in middle school called me Booger.
SO: I'll take that any day over "Ma'am". Did you always want to work in entertainment? Did you have your heart set on performing comedy? Who are some of your contemporary comedy role models?
Emily: I did. It was either that or become a criminal mastermind because I have a weird type of ADD that makes investment banking damn near impossible. I always loved comedy and was prone to spastic laughing fits as a child—my brother and his friends killed me. But it wasn't until high school, when I was cast in the musicals as the comic relief because I couldn't sing or dance, that I realized it was a thing that could come out of me.
I look up to a lot of different types of performers. I'm endlessly inspired by Maria Bamford and Paul F. Tomkins because they are equally smart and silly. They manage to be big and weird, or sometimes just weird, but it's always them coming through. Kyle Kinane is a dear friend so that aside I really admire his ability to be both dismal and uplifting at the same time—it's pretty poetic. I think Beth Stelling is hilarious and secretly knows more than most of us. And Amy Poehler, of course. She makes it look so effortless—like she has never once considered getting in her own way. It's inspiring.
SO: That is a stellar list. You are originally from San Fran and attended Emerson College. Would you say you had some advantages over other performers who didn't attend a performing arts college? What are some of the skills you took away from your time at Emerson?
Emily: Good question. Hard to answer. I want to say that there's no formula for this, but hard work, time on stage and the studious pursuit of understanding does add up to something. (And we could be talking about anything here.) So starting early just gives you more time to process. Like, if I didn't have time in college to write-off breathing exercises as crackpot acting teacher porn, I wouldn't have them in my toolbox today. That said, do you really know who you're going to be when you're twenty? You could be anything! You could be an investment banker (gross, don't)… unless you go to performing arts school because those pretend "math classes" pretty much seal the deal. If you are certain you want to work in entertainment, I highly recommend Emerson.
____
Emily At The Comedy Store
____
SO: I may have worked in a bank when I was 20. Uh oh. I understand you worked as a publicist for a time after you made the hop, skip and jump over to Los Angeles. I'm guessing having that background comes in handy in your present career? When did you decide you'd had enough of that gig?
Emily: Oh, wow! Research. What are you a journalist or something? I fell into PR right after college. My phone woke me out of a dead sleep at noon one day and this woman, someone's mom's friend, was like, "I'm Cynthia Bowman and I'm a ballsy broad. Come work for me." (Paraphrasing here.) Cynthia had been the publicist for Jefferson Airplane AND Starship–a true, San Francisco hippy-rock relic from the early days of Rolling Stone. She sounded mystical and full of secrets. I couldn't say no. Mostly because I needed a job. I'd always been fascinated by the media and how information is disseminated but it also terrified me—the potential evil of it all. I guess the biggest thing I took with me from the PR experience was the realization that you don't have to be a total piece of crap to work in entertainment. There can be some harmony: people want information / entertainment, others provide it. Then there's "Wipeout". What am I'm saying?
Los Angeles was always the plan, but the question at that age is, do you do what you say you're going to do or get derailed? A bad break-up and parental whisperings about how much money I could make as a publicist for Silicon Valley (or Pfizer!) sent me running.
SO: Please get the "Wipeout" big red balls out of my head. Ok, I'm back. I would say San Fran and Los Angeles are pretty similar in many respects. What do you think are the major differences having lived in both cities? What are your favorite places to eat at in SF and LA?
Emily: Fog. That's the starkest difference. I grew up in the Outer Richmond district of the city and the fog gets so deep it's like a goddamn emotion. I love it, romantically, nostalgically, but I've found that I thrive better in the sun. Equally stark is the personality difference: L.A. is built on need and San Francisco doesn't need shit from nobody. Los Angeles wants to please and push and pursue and San Francisco is beautiful just the way it is, thank you very much. They are both beautiful and they can both take care of or destroy people in their own special ways. They are what you make of them. But that's anywhere.
My mouth waters when I start to think about food in San Francisco. The list would be endless so I'll just say; the best dim sum in the world is out by my mom's house in the Outer Richmond at Ton Kiang. Get your burritos at Cancun and your groceries at the Farmers Market at the ferry building, maybe grab some crabs up in Bodega Bay— that's enough to have you in tears for three days.
In LA, the schedule never stops so food can sometimes feel like a matter of utility. Some favorite staples are Gingergrass in Silverlake, Yucca's for tacos in Los Feliz, Little Dom's is right in my neighborhood and they do a bang up job with kale. I've never been disappointed by Animal on Fairfax.
SO: I'm sold! You seem to do a little of everything. You perform improv, sketch, stand-up, and there really seems to be no limits to your acting talent. Did you learn the basics at Emerson and then hone those skills at UCB?
Emily: Ah, thank you! I don't think I was aware I was learning the basics at Emerson but I did. Then in LA, I studied with Anthony Meindl for a longtime, which was the first I felt the ingredients coming together. I started adding in other disciplines to create a sort of a self-imposed boot camp or grad school experience. I did some time at the Groundlings School and a creepy shitbox theatre where a guy lived in the wall, but UCB was like the PhD program. Still is. I should mention, I have no idea what I'm doing and can barely keep coffee off my shirt.
____
Birds of Prey: Suicide Girls Suicide Hotline
http://www.youtube.com/watch?v=dzPqbedUrK4
____
SO: By any chance was that dude in the wall Nathan Barnatt? What's the strangest thing you ever had to do onstage?
Emily: Eat a cigarette.
SO: Gag! The first time I encountered you and your bubbly presence was at the UCB theatre where you were dealing with the attendees and performers. You must have some pretty good stories about wrangling those sometimes unruly patrons and comics at the theatre. Care to share an anecdote?
Emily: A guy threw a Cactus Cooler at my head once. I hate giving him credit for how funny that was because he clearly sucks and will probably never focus on personal development.
SO: I must admit that I just laughed hard and, yes, that non-gentleman shall live in infamy. The list of your UCB credits is quite impressive. Some of the shows you've acted in, produced or co-hosted include The Roast of Baby Jesus, The Religion Show, The Freedom Show, Comedy Death Ray, Combo Platter, and Human Garbage. What are some of the craziest nights you recall?
Emily: Brett Gelman is such an insane talent. There were things I remember from Human Garbage that were just mind-blowing. Like the iBrain fan-fiction piece that he performed as a serious reading, held the audience for 20 minutes of intricate, sci-fi head scratching and then sharp-turned it into hardcore porn.
Also, Matt Besser as Satan roasting the baby Jesus was one of the most brilliant pieces of comedy I've seen to date. He nailed some profoundly important points and probably offended a lot of people who weren't there. (I'm not happy about this but I'm not backing down from those puns.)
SO: Gelman both delights and terrifies me all at once. Besser is improv KING! What shows do you recommend attending for a person unfamiliar with the UCB theatre?
Emily: Always start with Asssscat. I love sketch and love doing character/variety shows but there's nothing more entertaining than live improv done well. Facebook, Death by Roo Roo, Convoy, LDoS, the UCB– those guys are rock stars.
SO: Agreed. Your name keeps popping up at every stand-up show I attend in LA. Is there a show you haven't been on that you'd really like to perform at?
Emily: I dance around this longing to do the traditional clubs. I've always done alternative venues and had more fun than anyone should be allowed in a lifetime, but I do think mastery means being able to play any room. So I'd like to get into places like the Laugh Factory, Comedy Store. I've just recently started to play around at the Hollywood Improv and I love it—there's legendary funk on those walls.
SO: Sweet. Where do you get your energy? I recall reading or hearing somewhere that you had quit smoking. What's your nicotine substitute these days? How do you unwind?
Emily: Oh, god. Check back with me in a few months. Recalibrating.
SO: Pressing rewind button. Do you get nervous before you perform? What are some of the pros and cons when working solo versus an ensemble?
Emily: The reason I started doing stand-up was because it was so lightweight. You can do it anywhere, anytime without coordinating schedules, rehearsal spaces or dragging around a bunch of costumes. James Adomian and I had a laugh recently about the whole, "who knew you didn't need all those wigs" aspect of stand-up. (Side note: talk about a rock star. That guy's setting the world on fire.)
Nervousness comes and goes. With wanting to do well and not particularly caring about doing well, so it fluctuates with state of mind. Pretty standard I think. Although, sometimes I suspect the entire world is on anti-anxiety meds but I just can't prove it. It's like my own little private, futuristic-thriller. I should probably just eat some.
SO: Drugs. It's what's for dinner (in L.A.). My favorite stand-up story I heard you tell was about getting a ride with a bunch of strangers off of an ad on Craiglist. I still laugh thinking about that story. Do you find the best stories are always those taken from personal experience?
Emily: Definitely. The stand-ups I most enjoy watching are exploring a very distilled version of themselves— or unpacking every possible, personal thought about a real experience. I love vulnerable comics. It's hard for me to stay engaged with the hardcore joke-machine types. Of course, I've seen it done well.
SO: We always hear about the worst audition experiences. What was the best audition experience you've had? Did you ever have an awesome audition but didn't get the role?
Emily: By far the best audition experience I've ever had was for Thomas Lennon and Ben Garant's NBC pilot, "The Strip", a couple of years ago. I got there and had the wrong sides so I had a couple of minutes to look over the new pages. Tom and Ben were in there with Peter Principato and all three of those guys, I now know for certain, are just wonderful human beings. They were light and fun and funny and radiated support. I went on to the studio test and network test for the role and, because of who they are and the type of room they created, it was incredibly fun at every step. Ask around. That is rare.
____
____
SO: I'll take your word for it. Tell us the story behind the creation of your 3-woman sketch group "Birds of Prey". Do you brainstorm ideas together or think of material separately and then choose the best stuff? What's been your most favorite video to make?
Emily: "Birds of Prey" was born when Roxanne Benjamin over at The Collective wanted to help Susan Burke create an all female sketch group. I think Susan either meditated or dreamed or was suddenly possessed by thoughts of Lizzy Cooperman and I and "Birds of Prey" was born. As the legend goes, there was an earthquake at our first writing meeting. Yes, we brainstorm together and then each take the lead on what we jibe with best. Then we come back and pass it around or bump things up. Sometimes we'll each take a pass at the same script after deciding what we think it needs.
SO: What would your dream commercial gig be? We already know you've cornered the tomato market.
Emily: It's me and Mark Ruffalo having a picnic on a sunny field of green. There's some light petting and making out. The camera pans up to see an old oil refinery overtaken by morning glory and ivy. SUPER: Chevron. We harnessed the fucking sun.
SO: You had me with picnic. What was it like doing a more dramatic role on "Harry's Law"? Is Kathy Bates as amazing as she appears on screen? How does that experience compare to your comedic roles on "Parks and Rec" and "Key and Peele"?
Emily: Oh, man. There is nothing more surreal than how completely Kathy Bates lives up to her amazingness. I don't know how to explain it but… her eyes are eternal? You can't not rise to meet her. But she also has this funny, sweet, hapless energy off-camera that is comforting. I once read an interview with Catherine Keener where she dropped the saltshaker into her soup and could only laugh about it because that's her all the time. My mom has that energy—ferociously bright and successful and then a bunny scrambling in headlights between hyper-focused moments. I look up to all these women as role models because I can't keep coffee off my shirt.
It's hard to think of differences in terms of the drama versus comedy experience because Bill Delia and David E. Kelly keep a light, happy set. I mean the material was certainly different and hitting tearful emotion in take after take is a physical challenge, but also super fun. Parks was kind of stressful because I was trying not to stab Adam Scott in the eye with a needle the whole time. On all those sets though, it was such an education to get to watch talented people work. Aziz, Rhea and Adam are so different in energy but they are just these flawless, consummate professionals. On "Key and Peele" I didn't get to work with Jordan but Keegan—my goodness—that man makes you want to be better at everything. He is so kind and so good and sooooo funny. That was another happy, lucky experience on set. It starts with the producers.
____
What Other Couples Do Trailer
____
SO: What a surreal experience. I caught the trailer for the feature What Other Couples Do. How would you characterize this film? Is it more romantic comedy or drama peppered with humor? When do we get to see it?
Emily: Dramedy, I'd say. It's definitely funny but it's about the pain and frustration of marriage. Someone on the board told our producer that it was, "no kidding," a strong contender for Sundance selection last year and then it didn't get in anywhere, which is a shame. I know people who have seen it really love it. It'll skip over the festival step and be distributed sometime next year. There is talk of making it a series. Oh, Hollywood.
SO: I hope it goes far! As you probably know I'm hooked on the video you put together with Beth Stelling and Alice Wetterlund called "CouchSourced." I love your fresh take on news delivery. How'd you come up with the idea and will there be more to come?
Emily: Thank you, darlin'! I love those gals and what they do. Beth and I are neighbors so we thought we'd put a morning a week to good use and practice writing topical jokes. Can't hurt. Then we figured we'd tape them, because why not. It's just slightly less boring than tweeting. Alice and I are writing partners so it was only natural that she drag her butt over early enough for coffee and dumb jokes.
SO: Talk about a productive breakfast. What's on the horizon for the busy Emily Maya Mills?
Emily: A deep breath. This last year I focused on simplifying and scaling back, but I do enjoy working all the burners. I've found that there's only enough room for projects you really love and are increasingly proud of. That said, I really love a couple of pilot scripts I'm working on, stand-up, real acting work, and even this weirdo, not-exactly-comedic podcast I'm doing about conspiracies and the supernatural called, The Border Realm. 2013 is going to be fun.
SO: Thanks so much Emily! Sounds like you have your plate full for '13. Cheers!
____
SO Note: Keep up with EMM at emilymayamills.com, follow her @emilymayamills, and check out her new podcast here!