Aww…the enigma that is Harris Wittels. Amongst his comedian friends – they will all say he went to Harvard – because the guy is super smart, (and to bust his balls a bit) but he went to Emerson (ie: super smart). Also amongst his comedian friends, you will find out that each and every one of them LOVES Harris Wittels. I wanted to try to not love him, I really did, but nevertheless, after the interview: man crush. He plays drums in an awesome band that is "Don't Stop or We'll Die," he has worked his way up to some sort of executive level position at "Parks and Recreation," (and written a bunch of episodes), wrote for "The Sarah Silverman Program", wrote for the 2007 and 2008 MTV Movie Awards, has a father with killer one-liners and Wittels even has all the skills needed to sweep the ladies off their feet. There is a reason why you hear so many good things about Harris Wittels: He is nice. Funny. Genuine. Is into cool shit. And just the kind of dude you want to be pals with. Read on for an all smiles interview with the troupe loving Harris Wittels.
____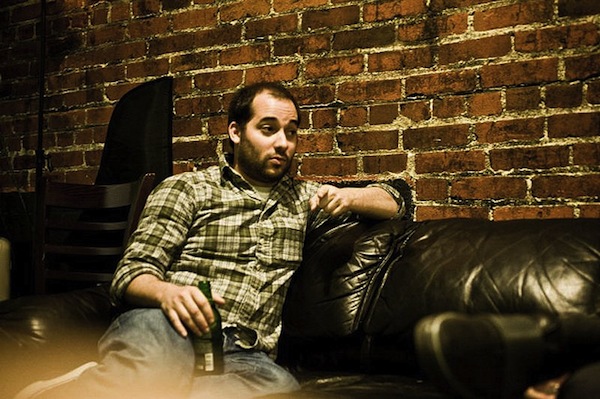 ____
Serial Optimist: What up Harris! What's going on, how did the day treat you?
Harris Wittels: Oh, you know me; stone-cold chiller on the always-tip.
SO: You grew up in Houston, TX right? Then went to Emerson. What did you study at Emerson, and at what point did you decide to become a writer/comedian?
HW: I did grow up in Houston. Love Houston. (No sarcasm implied. I genuinely love Houston and Texas a lot.)
SO: Nice! Serial Optimist is based in Dallas, love to hear that.
HW: I studied TV/Video Production at Emerson. I decided to focus more on TV than video. Thank God, huh? When's the last time you've even seen a video? Surveillance cameras maybe? Even those are probably digital now. Man, oh man. But, yeah, I knew when I was a little child that I wanted to do comedy. It's really the only thing I've ever cared about. I would even go so far as to say I was a downright cut-up!
SO: The surveillance cameras I installed in my next doors neighbors restroom are all digital, so yeah, video is like sooooo over. (If my next door neighbor knows who I am or reads this, just kidding! LOL? Why are your blinds always shut? Love you!)
SO: Who were some people you kind of "came up with" in the comedy industry? When did you start performing at UCB?
HW: Well, I started doing standup when I was 18 with my friend/comic, Noah Garfinkel. He's one of the funniest people I know. We grew up in Houston together, and would go to open mics in Houston and Boston. I feel like I started in two cities (Charles Dickens, holla!). In Houston I would go to the Laff Stop and worked at the Improv as a door guy. And in Boston the Comedy Studio felt like home.
SO: Hollaback! At the Dickens. Well played.
HW: At Emerson, I was in a sketch "troupe" (I hate that word) with Noah, Joe Mande, Jim Hanft (who quit comedy to pursue music), Gabe Rothschild (who quit comedy to pursue music) and Armen Weitzman (who is my current writing partner and who quit comedy to pursue being a weirdo. Kidding, he still does comedy, but he IS a very strange person.)
I started taking classes at UCB in 2006 right when the theatre opened in LA. I was in a troupe (uch, that word again) with Armen, Dave Horwitz and Mookie Blaiklock. We were called "Hendershaw." Neil Campbell and Paul Rust sort of took us under their wing and directed our first show at UCB ("Bros Before Girls"). Then, my favorite sketch troupe (Jesus Christ, you'd think I'd stop saying that word by now), The Birthday Boys, started doing stuff at the theatre and I loved their comedy and we ended up becoming pals and doing stuff together. So, I guess I came up with all of those people I just mentioned?
____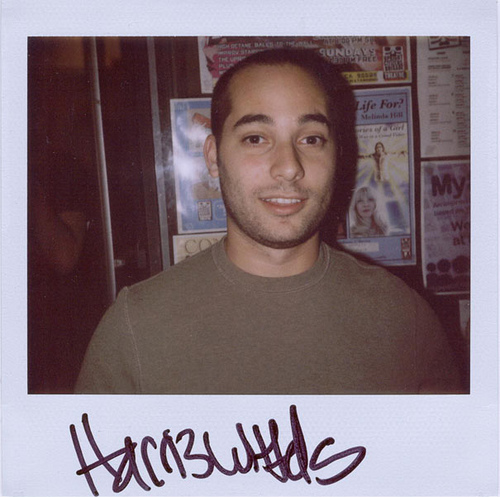 ____
SO: Make up a new word for "Troupe," I'll back you on it. And when you get backed by Serial Optimist, shit gets real. Email all new words for "Troupe" to: troupebewhack@triplestackwhack.com. That's Burger King's email right? They will fix it.
SO: Do you like the aspect of writing things out, i.e. jokes, scenes, acts, or do you like to improvise more? Or is it just a mix of both, writing things to set up improvisation? What mode do you work best in?
HW: Every aspect of comedy has its perks. When writing TV it can be pretty hard to come up with stories and arcs. It's definitely the hardest part. I love sitting around and pitching on jokes. I guess that's my favorite thing to do.
SO: You've written multiple episodes of my favorite comedy on television, "Parks and Recreation," and have been with the show since the beginning. You're now an "Executive Story Editor." What does that title mean? I like to picture you just eating chips or something with your feet on a desk and every time someone brings you a story idea you just scream: "Yes!" or "No!" or "Want some chips?" while throwing paper everywhere.
HW: The chips part is right. Actually, my IMDb page is wrong. I only got to Parks for the start of season two. So, Zuckerberg (he runs IMDb, right?), if you're reading this: fix my page (he reads Serial Optimist, right?). Everyone on a writing staff has roughly the same duties. It's just a difference in title and pay grade, I think. I have never edited a story on our show, and I certainly am not the executive at doing so.
SO: Yeah Z-Berg runs IMDb, and he reads Serial Optimist, that's why I have permission to call him Z-Berg, obviously.
SO: I recently interviewed Chelsea Peretti, who is now a writer for Parks and Rec, and also wrote for The Sarah Silverman Program, as did you. I asked to compare writing for a show on cable, to writing for a show on a network. She got pretty detailed: Parks-hours longer and more snacks, SSP- could go very far out in terms of story where Parks has a more naturalistic tone, SSP-had a dog, Parks room-dogless, SSP- pancakes, Parks- waffles. So Harris, I present to you the exact same question! What are the differences? As in more creative freedom vs. less, etc.
HW: I think hours are the same at both shows: they are 60 minutes long at each (that was a GREAT joke and I am EXTREMELY pleased with myself). SO: (It really was brilliant.) HW: But, seriously, I think Chelsea hit it right on its goddamn head. Good job, Chels. Both rooms are incredibly fun. I used to take my penis out a lot more in Sarah's room – it was just the vibe there. I think now I could probably take it out in the Parks room. I'm more comfortable there now than when I first got there. I'll probably experiment with that more in season four. I'm trying to imagine how Mike Schur (show runner of Parks and Rec) would react, and the answer I've come up with in my head is: favorably.
SO: How do you think Parks and Rec has changed from season one, to where it is now? The characters seem to have really found their voice, and know who they are.
HW: Well, not to beat the "bringing up Mike Schur in this interview" horse to death, but I attribute all great things on the show to him and Greg Daniels (and also how awesome the cast is… are??? Is… Cast is – final answer). Season one really isn't that different from season two. Common misconception. They created the world and people just needed to get used to it. A few small tweaks were maybe made in how people around the office deal with Leslie. I think they are more supportive of her now. And I think she is maybe a more competent at her job than she used to be. But, really, the show was really good season one and I wasn't there yet, so that isn't biased.
SO: Which actor on the show is most like the character they play?
HW: They all share a lot of similarities to their characters. Nick Offerman is a very manly man. Chris Pratt is a big loveable dog. Aziz is really in a green card marriage. JK on the last one.
Don't Stop or We'll Die – "The Ballad of Bird and Fox"
SO: I was talking to someone recently about how people who don't have TV's, or don't watch TV, or that are vegetarian, or whatever, always push it on you with such a sense of belittlement and disdain, like they just HAVE to let everyone know they are too cool for cable or something, they read books, etc. That annoys me beyond no end, because there is such great TV to be watched (and bad TV to be watched), what are your thoughts on that? What shows are some of your favorites right now?
HW: Yeah, people are the worst. I think TV is as good as movies right now, especially with cable. I get as much emotional satisfaction from watching "Breaking Bad" as I do from any movie. Plus, those people all watch Hulu and shit, so they're hypocrites. My favorite shows on right now, in no particular order: "Friday Night Lights," "Breaking Bad," "Tim and Eric," "Louie," "Million Dollar Listing," "The Office," "30 Rock," "Mad Men," "Real World, Intervention" – the usual I guess.
____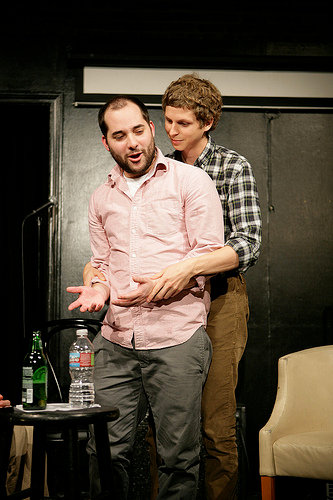 ____
SO: It really is beyond me that more people don't watch Breaking Bad, it actually almost bothers me. It's just so, truly, amazing television.
SO: I think it was on the "Who Charted" podcast that Brody Stevens was on a couple months back, talking about having "game." Somehow your name came up, and they all started talking about how you have great game with the ladies. Is this true? Why you so smooth Harris?
HW: Like my father says: "Treat princesses like whores and whores like princesses." No no no, I don't really employ that philosophy, but my dad really does say shit like that a lot. He is the funniest dude alive. Oh, also, I totally employ that philosophy.
SO: You're in the band "Don't Stop or We'll Die" with Paul Rust and Michael Cassady. Is that just for pure enjoyment for you guys, putting out hilarious music videos, or do you all perform as well? How did it come together?
HW: We were all doing comedy together and it just came together naturally. I have so much fun doing that. It's such a nice feeling to be onstage and not have to be funny, as opposed to stand-up or sketch or whatever. I just sit in back and play the drums and watch Paul and Mike be silly. It's the best.
SO: Will you be taking your stand-up on the road at all this year? Any tours planned?
HW: Nah, no tours. I love doing stand-up, but I'm writing on different things in LA right now and it's hard for me to leave town for long stretches of time. If you wanna see me, you gotta come HERE. Deal with it, America.
____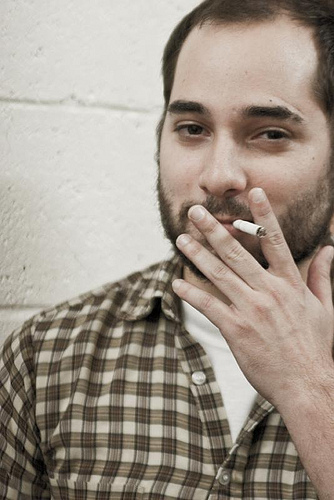 ____
SO: Your "Phone Corner" bit on Comedy Death Ray is super popular. These are just jokes you put in your phone, that you would never use on stage, intentionally not funny jokes, although they usually end up being funny. Can you end this with a few "phone corner" jokes?
HW: I can't spare those! Phone corner jokes don't just grow on trees, man! Also, Earwolf just started a new podcast called Eardrop, so I call into that now, like, everyday and say new foam corner jokes, so go check that out.
SO: I totally understand! (What a dick.) Thanks Harris!
HW: You're quite welcome, Serial!
____
SO Note: Follow Harris on Twitter @wittels, also find more info about him here, get all info on Parks and Recreation here, and check out what's up with the band "Don't Stop or We'll Die" here, AND check out his website harriswittels.com, but be ready to click hard and fast.
*All photos by Robyn Von Swank