Chicago-based comedian Beth Stelling is on her way to being a household name. A few months after being named a new face of comedy at the Just For Laughs Montreal Comedy Festival (that's truly a big deal) she made a stellar appearance on "Conan" (also a very big deal). She was no stranger to the standup world, though. Rooftop Comedy, The Huffington Post, The Chicago Tribune, Refinery29.com, and many more have praised her style. She's quirky, she's fun, and she's one of our favorite up-and-coming comedians. Prepare to laugh out loud, giggle, and possibly even slap your knee as you get to know Beth below. Afterward, you can pre-order her new album Sweet Beth that she just recorded. You're welcome.
____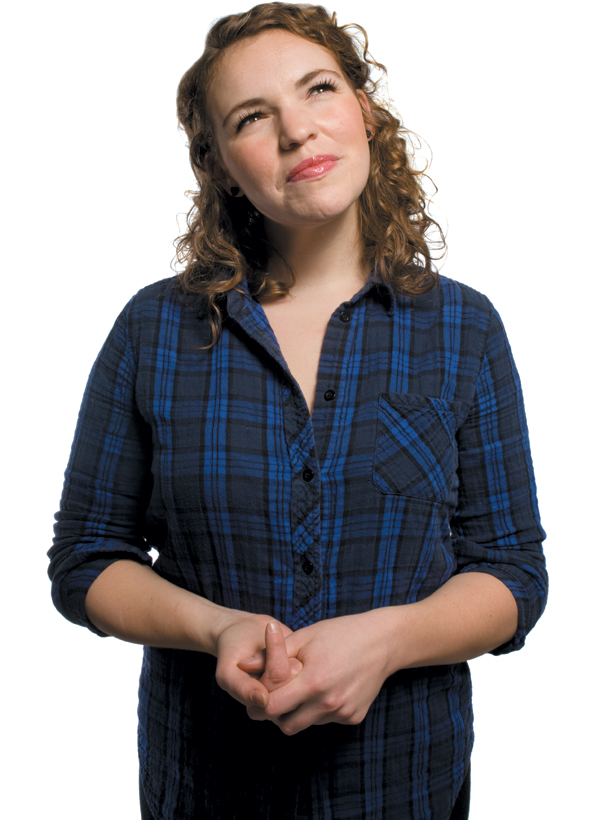 ____
Serial Optimist: Hi Beth! If you were to introduce yourself in the most creative and explanatory way possible to a group of people who quite possibly knew nothing about you, how would you do it?
Beth Stelling: Hey guys, I'm Beth (pass out Snickers, Twizzlers, etc). Then I would sing the song I wrote to the tune of the Spice Girls hit "Wannabe" (a.k.a. "If You Wanna Be My Lover") called "IF You Wanna Be a Mammal."
SO: Love it. You earned your theater degree from Miami University. Two important questions: What made you choose that route academically? What is your favorite college memory?
Beth: I discovered the benefits of being funny upon joining Speech & Debate in 9th grade. I performed Humorous Interpretation (male-dominated, individual performance event slightly similar to stand-up). I also grew to love playing the funny characters in my high school's musicals. When it came time to head off to college, I didn't think my "C" (which was gracious) in AP Bio would qualify me to pursue healing animals, so I asked for a last minute audition for a theater department scholarship and I got it.  Favorite college memory? I did a one act play with my current boyfriend called "The Problem." I was super into him at the time and he wasn't into me, but we had to play husband and wife so I was winning in make-believe.
SO: Is being a comedian and on the road constantly hard on your relationship? What is that challenge like?
Beth: I want to do this question justice because it comes up a lot (especially from my fellow stand-up comedians). Everyone's immediate reaction to my long distance relationship is, "Oh god, that sucks. Must be really hard." I have NO CHOICE but to assume that they are just VERY upset they can't see me naked. But really our relationship rules. I have known Nick since I was 19. He is hilarious and confident, smart and really supportive. Sure I knew we should be together when I first laid eyes on him, but sometimes it takes guys 7 years to see the LIGHT. We reunited just a year ago in May and started dating several months later knowing full well I would be moving to Los Angeles.
So as time went on and we became more sure about each other and our relationship it was clear to see why no one else is better. I'd rather be as happy as I am with him apart, than unhappy with someone I could be annoyed by on a daily basis. When we are both busy (he is a businessman and I'm a business, man) our communication can be strained but being able to FaceTime or chat brings us back together. We see each other once a month and make it count.
SO: The "good" once a month problem! You have a very natural knack for making people laugh, but what made you want to go into comedy?
Beth: Starting in theater I learned the ups and downs of ensemble work. I didn't feel at the time in Chicago (2007) that there was a ton going on that I wanted to do and I got sick of auditioning for things I didn't wholly want. So I took it into my own hands and started performing stand-up. I didn't rely on anyone else, there were no rehearsals to attend, and of course I wrote the script.
SO: You are hilariously active on Twitter. If you could pinpoint the best tweet you have sent out into cyberspace, which would you choose?
Beth: Oh gawd, how about:
"Does anybody need me to burn them the Adele CD?"
OR
"3 of you have expressed interest in what I look like naked. I can't share that, but a gander at any nude painting from 1625 should suffice."
SO: SO good. Now for the winner: What is the best tweet you have ever read by someone else in the Twitter-sphere?
Beth: Maybe this one from Justin Schlegel: "It should be illegal to be as dumb as I am, and STILL be allowed to drive a car. I should be in a basement eating hair."
SO: Who are some of your current favorite comics?
Beth: Erin Foley, Jay Larson, Maria Bamford, Bill Burr, Hannibal Buress, Chelsea Peretti, Nick Turner, Dan Soder, Sean O'Connor, there's too many.
SO: You have a lot of very interesting awards, including The Chicago Reader's "Best Stand-Up Comedian" and "Chicago's Hottest 30 Under 30" by Refinery29 last year. How incredible is it to be put into such fun categories, and how does it feel to receive an honor like that?
Beth: Thank you. It's hard to believe, but of course it's very flattering! Accolades can sometimes be a welcomed pick-me-up if I start thinking I shouldn't be doing this.
SO: Time Out Chicago has hypothesized that you will "steal the show as the sassy best friend in a Hollywood rom-com and become America's quirkiest character girl". If you could choose any rom-com to play the best friend in, which would it be and why?
Beth: I would tag out Julia Roberts in "My Best Friend's Wedding." I think I would actually change the course of the movie by making Dermot Mulroney fall in love with me instead of Cameron Diaz. C'mon she's tone deaf!
____
Beth on "CONAN" in July
____
SO: What was the experience like performing on "Conan"? Were you super nervous? I can't imagine how exciting that had to be.
Beth: Performing on "Conan" was a big goal of mine. It's one of my favorite late night television shows therefore a great honor. Team Coco is very welcoming and supportive so they made my day there super comfortable. I had less than 24 hours notice that I would be taping due to unforeseen circumstances. I was slated to perform in the Fall, but filled in the spot intended for Tig Notaro. I was in Chicago just after my album recording when I got the call, and cut my trip to get back to LA for the taping the next day.
I didn't have much time to over-think it all and because the set was worked out with the booker in advance, it wasn't too crazy to go up earlier than planned. You can't really prepare yourself for something you've never experienced, but I can say that I took my time, did my best and was actually having fun telling my jokes. The weirdest part was feeling like a peer or co-worker with comedians I've admired for so long (Conan, Andy Richter, etc.). Kevin Nealon walked right over to give me a big hug after my set (not having met me yet) and that was so kind. We chatted more backstage and I got to meet his sweet parents. Having Kevin Nealon's comedy blessing should leave me fulfilled for at least a year (comic insecurities). Ben Stiller was also there to tape his episode after mine so that was another comedian I got to meet that I have the utmost respect for.
SO: I was cheering and laughing hard. You did so good! Chicago or Los Angeles?
Beth: Los Angeles! I have to say that. I live here. But Chicago is my homegirl.
SO: If you had to pick just one joke to open every one of your standup engagements for the rest of your life, which joke would you tell?
Beth: Oh no. I guess it would be, "My mom thinks stand-up is so difficult that it should be an Olympic event and if it were that I would win Gold…In Women's Stand-up Comedy."
SO: Tell us about Sweet Beth. How long have you been working on the album? Where was it recorded? What can we expect from Sweet Beth?
Beth: Sweet Beth is what I believe to be my best bits to date. Some I have been telling a long time and others recently written. I wanted to get my old favorites on the record in a way to preserve them at their best and also to push myself to move on and write more material. I recorded first in Chicago (where I started comedy) this past summer. I did four crazy, sold out shows over two nights and was hoping to string them together, but unfortunately there were audio issues that prevented a seamless compilation. So I recorded my set during The Accidental Comedy Festival in Cleveland, Ohio at The Reddstone. It was on a whim but it turned out to be exactly what I was looking for. It really captures my style (without the pretense of a special recording) and you can hear how much fun we were having. This is made even more obvious in the bonus track with my best friends Tiffany and Danielle Puterbaugh where we perform an excerpt of the variety show we all produced in Chicago called Entertaining Julia. They continue to run the show in Chicago.
SO: What things in life make you smile each day?
Beth: My mom and sisters. Conversations with my boyfriend. My nephews. The beautiful LA scenery. Frozen yogurt. Hanging with a good gal. Doing a good show with comics I love.
SO: What do you have coming up in the near future we should know about?
Beth: My album Sweet Beth comes out in on week! Oct. 16th but you can pre-order it now until Oct. 13th and you get a personalized note and Laffy Taffy!!!! Get it here.
____
SO Note: Check out sweetbeth.com for her touring schedule and fun, follow her @BethStelling, and pre-order her new album Sweet Beth right here!