Social media, specifically Twitter, has been such a huge platform with a constant audience to speak to for writers, comedians and really anyone with functioning fingers. Twitter has made careers; it has been the launching point for many who are dominating pop culture in front of and behind the scenes today. I like to think some of those people are so talented that regardless of Twitter they would have ended up writing for a show or performing on stage, Twitter didn't give them talent, they just used Twitter to showcase it. But for those that have become known solely through Twitter, it creates a strange relationship between a person and who that person is following. They only see a small image, a list of perfectly put 140 character laugh out loud tweets, and trying to dig up more info on this person you've become such a fan of can be hard because they don't have much for you to find. It almost makes these people seem un-human, or like some genius robot that gets your sense of humor perfectly. The big payoff though is they are human. Crazy talented, creative humans. My point is MEGAN AMRAM wow a lot of build up to finally say her name, so I screamed it. She is a Harvard grad, writer for the best comedy on television "Parks and Recreation", writer for Nick Kroll's hilarious "Kroll Show", extremely kind, extremely beautiful and extremely hilarious. Just mega talent. I talked with Megan, which of course resulted in a super funny interview, but also gives a peek behind the Twitter curtain of who this @meganamram that has appeared on every "Must Follow" list for the last few years is. Have I used the word Twitter and hilarious enough yet? Good. Enjoy!
____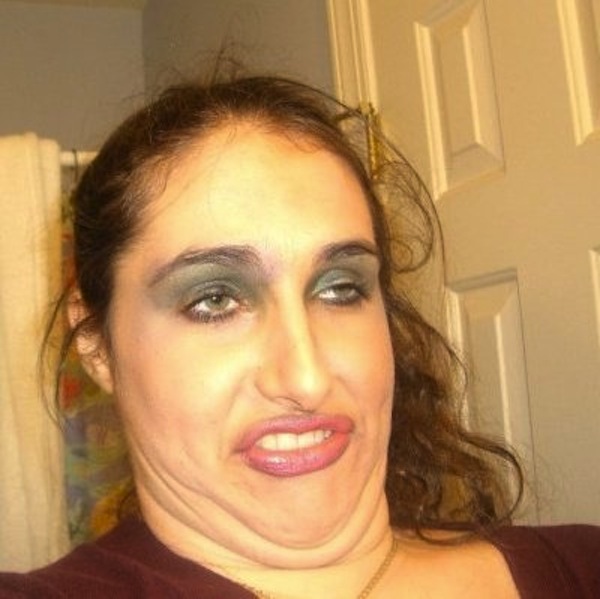 Serial Optimist: Hi Megan, so great to speak with you. WHAT ARE YOU DOING AT THIS EXACT MOMENT WHAT DOES YOUR SURROUNDINGS LOOK LIKE?!
Megan Amram: I am at a Starbucks in the compound in Abbottabad, Pakistan from Zero Dark Thirty. I'm not sure which one. There are three Starbucks in this compound. I'm in the one on the second floor near the wives' quarters. The WiFi is just okay.
SO: That's pretty much common knowledge that Pakistan WiFi isn't all that great. You're very well known for having the most friends, like over 300 thousand friends on MySpace. Are you really close with all of them?
Megan: Oh my God, thank you so much for telling me this. I haven't checked my MySpace in about nine years, but I had a feeling that maybe my influence was growing without my supervision. Sometimes I am going through my day and I just have this feeling, this tingly feeling in my left arm that something amazing is happening in my life without knowing what it is. This tingly feeling in my left arm and really uncomfortable chest pain. It's like, ow!
SO: Obviously I'm kidding, MEGAN I WAS LYING! You're actually one of the most critically acclaimed people to follow on Twitter. I'm sure that's probably the first thing you're usually asked when being interviewed and how most people would know you. Does that ever get bothersome? Do you ever want to just scream, "Twitter doesn't define me!" or something like that?
Megan: Okay, well, I'm pretty effin pissed about the MySpace thing. You got me pretty jazzed up there, and I had no idea it was just a razz. From jazz to razz. That's pretty rough man.
For real, though, I am unbelievably grateful to everything Twitter has done for me. When I first started my Twitter account almost three years ago while living as a barista in this Starbucks in Pakistan, I could never have guessed how much it would have helped me. Now I'm a professional comedy writer and I was able to move to America illegally!
SO: The way I look at Twitter, is most of the people that have actually become really well known and are having amazing career opportunities now is that regardless, they were going to be a writer, super funny, an entertainer and just ridiculously creative. I believe if Twitter didn't exist, that people like you, Rob Delaney and Kelly Oxford for example, would still be successful. You just would have gone down a different road to get there. But what is meant to be will be, and you were always going to be talented. Thoughts?
Megan: Whether or not I would have still made it, I definitely got to skip a million steps and do what I love to do much quicker. I also got the instant gratification of having my jokes and comedy pieces read almost instantaneously by thousands of people, which is so encouraging. It's much easier to slog through the grind of trying to "make it" when you're getting this sort of positive feedback. I am extremely lucky. For a barista in Abbottabad.
____
____
SO: What kind of things were you really into as a 14-year-old? Can you tell us where you grew up and what kind of upbringing you had?
Megan: I'm from Portland, Oregon, so I didn't shave my legs til I was like 34 (projected). I was really into No Doubt. I saw Gwen Stefani with her two boys at the Universal Studios shopping area last year and I almost burst into tears.
SO: What authors, comedians, writers or just people in general do you think have most influenced your career up to this point?
Megan: I was raised by my mom with a healthy dose of the classics: Woody Allen, Mel Brooks, and the Marx Brothers. Watching those on a regular basis was kind of a master class in comedy. I'm also a huge fan of Tim & Eric and the stuff they're doing, which blurs the line between comedy and scary nightmare autism performance art. Flannery O'Connor is one of my heroes and one of the funniest women I've ever read.
SO: Was attending Harvard something you had always dreamed about or an aspiration that came later in high school? What was your first major?
Megan: Harvard wasn't ever something I thought about growing up. I applied to Harvard just to do it and after I got in, I still didn't think I was going to go, since I get very homesick and wanted to live at home and use my No Doubt mouse pad and dream of shaving my legs someday. I had a wonderful time at school, though. I studied Psychology, but I cared way more about the writing and performing musical theater I did than classes. I don't think I remember one thing I learned in a class at Harvard. In the immortal words of one of my professors, "dur dur go Harvard fight fight fight!"
SO: You're a writer for what I consider to be the best comedy on television, "Parks and Recreation." How did that gig come about?
Megan: Honestly, I owe a gigantically huge part of that to Twitter, too. The creator and head writer, Mike Schur, is the funniest and nicest dude you will ever meet. He had followed me on Twitter for awhile and thought I would be a good addition to the show based on the strength of my jokes and ability to make Starbucks drinks amidst the war torn environs of Abbottabad. FYI I'm writing a sequel to About A Boy based on my barista experiences called Abbot A Bad.
SO: Can't wait! That sounds very abbot a bad. This is a big question, but I think questions like this never get asked and this is the kind of stuff myself and others find so interesting: the process from idea to TV. Can you take us through what that looks like? Let's use one of the episodes you wrote for Parks called "Ron and Diane" as an example. You know the basic story now and the characters are so developed, so do you just use that and basically start jotting down ideas, then pitching it in the writer's room? 
Megan: I cannot stress this enough: it's such a collaborative process. Everything that gets to your screen has gone through so many people's brains, which is such a wonderful way to make art. We start each episode as a complete group and break the story together. Then, one or two writers who have been assigned the episode will go out and write an outline, which we clean up again as a full group. Next, the writer will write a first draft, which we go over a million times as a full writing staff again. By the time an episode is finished and on TV, it has truly been "written" by every writer on staff.
SO: You're now writing for the "Kroll Show" which is just crazy funny. It must be a blast for a writer to have someone like Nick who can do all of these characters. Was it a big transition going from a sitcom format to a sketch show format? Do you know if it's getting picked up for a second season yet?!
Megan: It did get picked up for a second season, which is the greatest news in the whole wide world! I wrote for it last year, before I got hired on Parks & Recreation, so I actually had the opposite transition. It was such a fun experience – Nick is incredibly funny and goofy and unique, and the show is so weird that it pretty much gave us free reign to use any sort of comedy in our arsenal.
____
____
SO: At what point in a relationship is it okay to send a sext?
Megan: Whenever you get their phone number from the inside of a truck stop bathroom stall.
SO: When was the last time you laughed really hard and why?
Megan: My friend Brian last night bought a ton of fries when we had just eaten a bunch of fries and it was like ahh oh my god I cant believe you just bought MORE fries!!!! It was so funny I DIED!!!!!!!!!!!!!!!!!!!!! Maybe you had to be there.
SO: 🙁 What little things in life make you smile?
Megan: Oversized novelty props. Things that are bigger than they're supposed to be. It's the true secret to comedy. This used to be my homepage: www.greatbigstuff.com.
Runner up: stock photos.
SO: What is a current favorite TV show of yours? Excluding Kroll and Parks of course.
Megan: I am super into all the acclaimed serial dramas right now: Game of Thrones, Breaking Bad, Mad Men. The whole Parks and Rec writing staff is obsessed with Game of Thrones. I'm going to throw this out there right now; if they want to do a crossover episode, I'm sure we'd be more than up for the task. Here are some possible mash up names: Melesliesandre. Leslisandre. Leslieandy.
SO: That actually HAS to happen. What's your go to subject if things get super quite or uncomfortable on a date?
Megan: What's a date.
SO: This is a date. Who are some of your favorite, lesser-known comedians right now that you enjoy?
Megan: Eddie Pepitone should be one of the most famous comedians in the world. I've rarely laughed harder than at his stand up shows. He's been doing it a long time and is such a hysterical performer and writer.
Have you had the chance to see Zero Dark Thirty? I just watched it. SO intense. 
Megan: No. I don't have to see it. I lived it.
SO: YOU ARE NOT JESSICA CHASTAIN OR THE PERSON SHE WAS PORTRAYING. FUCK MEGAN. Are you an optimist, a pessimist or a realist and why?
Megan: I'm intensely optimistic, but I also worry about everything. So I guess I would call myself "Jewish."
SO: Perfect answer, and truly thank you so much for doing this. "dur dur go MEGAN AMRAM fight fight fight!"
____
SO Note: If you're not already following Megan, wake up bro! Follow her @meganamram. Also follow her on Tumblr RIGHT HERE. Basically any chance you get at following her, follow her.