One could simply call Dave Ross a great comedian, and no doubt is. He's also just a creative A+, always abstract yet spot on. Great blend. His sketch group WOMEN are so absurdly hysterical. He co-created this little gem you might have heard of… HOLY FUCK. We all had to say goodbye earlier this year to HOLY FUCK, but the show will live on forever in our hearts. Or our minds. Or our fingers? I don't have all the answers. Maybe Dave does. Check out our interview with the A+ Dave Ross.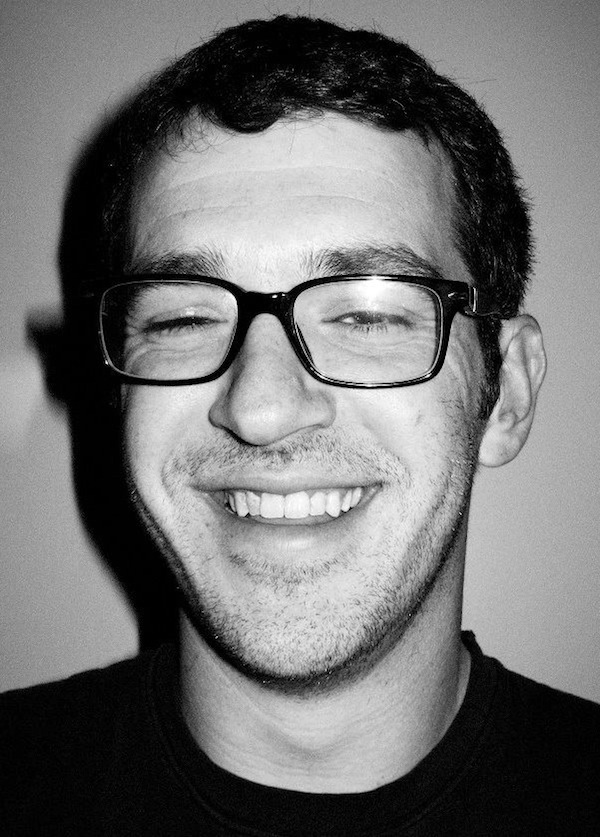 Serial Optimist: Dave! I'd like to start with a hug and possibly a kiss. What's your approach? Go in for the hug, feel out the vibe, and then add a kiss? Or do you just go bear hug and tiger kiss?
Dave Ross: Every time I hug someone, I fuck them.  Hard.
SO: We have been a big fan of yours for a long time. Can you tell us how you got your start in comedy, and when you decided that you were a fantastic storyteller?
Dave: Starting in comedy was somewhat of a long process for me.  I always loved stand-up when I was a kid, but it seemed impossible.  I watched every Comedy Central Presents that I could and just thought all of those guys were superheroes.  Then, after college, I was a radio DJ for two years at a rock station in Fresno, and even though I loved being funny on air and writing bits and pranks and doing man-on-the-street stuff, it still didn't occur to me that it was possible to do stand-up.  It wasn't until I quit radio and some of my friends tried it that it seemed doable, and even then, I was so unnerved by it that I shook onstage and almost passed out before every time I performed.  Sometimes I cried afterward.  I performed five times, hated it every time, and stopped 'forever'.  That was in 2006.
Then, in 2009, I got duuuuuuuuuuuuuuuumped.  I GOT DUUUUUUUUUUUUUMPED.  It was a brutal, horrific, evil breakup, after which I did things like funnel alcohol into my mouth and throw up on strangers.  In the midst of that, a friend of mine named Julie Cohen, who'd stuck with stand-up after I'd stopped in '06, goaded me into hosting an open mic with her.  I'd always said I wanted to try stand-up again, and was always too afraid to follow through, but Julie kept after me about it.  I guess she, and life, had worn me down enough to not care about embarrassing myself on a stage anymore.
I hosted that open mic with her from March to August of 2006, not doing any other performing or even writing any jokes, and then someone booked me on a show.  I didn't want to suck, so I went to some open mics, and for some reason, I didn't have the shitty attitude I'd had three years previous anymore.  I was still scared, and I still shook, and I still desperately wanted everyone to like me, but I remember walking offstage after bombing the shit out of my first open mic set at Westwood Brewco and thinking, 'I gotta do that again.'
And here we are.
SO: Where did you grow up? What kind of things were you into as a senior in high school?
Dave: I'm from Greenwood Lake, New York.  It's a tiny town about 60 miles north of New York City.  I did two things there:  theater and punk shows.  I performed in every school play and musical, and in community musical theater in the summers.  And at night I went to every punk show.  (Every POP punk show, to be exact.  I loved me some blink-182.  And Ataris.  And Goldfinger.  And NOFX and MxPx and Bigwig and Cooter.)  The punk scene around those parts was super lively back then, so it was easy to go out and mosh with my one punk friend instead of stay at home and think about how scared I was of parties.
I also had sex once!  She hated it.  (Soft dick.)
SO: LOVE your sketch group, WOMEN. Like, I love each and every one of you, truly. How did that come together and how much fun is it performing and working with those guys on the regular?
Dave: The group came together in 2010 when Allen, Jake and I became close.  We'd wanted to collaborate on something, but we had no idea what on.  We'd talked about doing sketch, but we all thought sketches were lame and long and boring.  The name just popped into my head one day, though, so I texted them both saying we should start a sketch group called WOMEN.  They both immediately texted back, 'Yes.'
WOMEN is the thing I'm most proud of.  Like in my whole life.  I think the other guys would say the same.  The things we make are so god damn weird and crazy and defiant of all things you expect.  It is SO FUN.  It's surprisingly easy, too.  We've certainly had our difficulties and disagreements, but we write and work together so well.  Just give us a TV show.  Someone PLEASE give us a TV show.  All I want in life is to hang out with those guys and write sketches about murder.
SO: Okay. It's time to get fucking real. HOLY FUCKING REAL. The new comedy album, HOLY FUCK. Live Comedy just came out. It's so good. Like so good I want to type "so good" a hundred times in a row. When did you first decide to make the album?
Dave: I'd been thinking about it for a while when we did it.  I don't even really know when the decision was made, but it seemed like the next step.  We love the show, and people seem to love the show, and comics seem to love the show, so why not immortalize it?
Plus, I love those $5 punk compilations.  I bought every single one of those when I was a kid.  They were so cool, and all I could afford, and I wouldn't have discovered nearly as many bands without them.  (Punk labels would put out these cd compilations of songs from bands on their roster, and sell them for way cheap to get the word out about the artists.)  What I'm saying is, I decided to make this album when I bought Punk-O-Rama 3 in 1998.
SO: The people on the album are just insane. From Matt Braunger to Beth Stelling to Natasha Leggero to T.J. Miller to basically every one of Serial Optimist's favorite comedians. How difficult was it breaking segments down to each under 5 minutes? How excited that YOU MADE THIS HAPPEN?
Dave: First of all… I'M SO EXCITED.  Dana Gould?!  I mean Dana Gould?!  Shit's crazy.  I love comedians.  Big and small, famous and not, comics want to do stuff, and make stuff.  It's maybe the most respectable thing about a comedian.  Never not working, never too good for anything.  It's great.
As far as editing the album down, it was basically impossible.  We came out of the recordings with six hours of audio, and we had to get it down to 156 minutes.  So, from every one of these amazing comedians' 5-6 minute set, we had to pick the best three minutes?  Are you fucking kidding me?  Dominic (from Rooftop Comedy) and Jeff (my co-producer) and I labored and argued over it for months.  We ended up cutting out some great jokes.  It was tough.
We also wanted all the tracks to flow together smoothly, and for each disc to sound like one big, cohesive show.  (As opposed to a bunch of standalone tracks that don't connect.)  That was even more work.  The mixing and crossfading and making sure the intros sounded right…  Thank god for Dominic.  He mixed it all and for some reason never once screamed at me when I called him every day for two months to tell him I heard a click in the mix or a weird fade.  I should buy him a trip* to** Maui*** or something.
In the end, I think it came out great.  I'm really proud of it.  Plus, we have all this extra audio!  Maybe we'll do something with it some day.  Hopefully!
*bag
**of
***weed
SO: The album was recorded over 4 nights in Jan/Feb of this year and features 47 tracks. It's a lot of comedy. But really, in life can there ever be too much comedy?
Dave: Yes.
SO: The actual LA show Holy Fuck. Is really just a classic at this point. Not just one of the best "alternative" comedy shows in LA, one of the best in US. What were your expectations for the show when you (and crew) started it?
Dave: None!  Basically none at all.  I wanted to put on a good show, and I wanted to make the comedians happy, and I wanted my friends and I to have a good crowd to perform for, but that's about it.
It was kind of an accident that I had it in a venue that big, too.  The original venue was my friends' art gallery, but they got evicted a week before the first Holy Fuck, and the Downtown Independent was the only venue that would take me in on such short notice.  I don't think the show would've gotten as big as it did were I not forced to have the show at that theater.  Thank god I did, because that place is incredible, but it's a 222-seat theater, so we basically HAD to make the show a big deal for the room to not feel empty every week.
SO: Can you share with us a few of your favorite Holy Fuck. Show moments?
Dave: The last Holy Fuck was the best show of my life, and honestly it might always be.  We've had some incredible things happen over the years – Louis CK dropped in, a heckler assaulted Nick Turner, we had to move the show to the roof once – but that final show took the cake in every way.
For one thing, it was sold out before 8 o'clock.  I think more than 500 people came that night.  At a regular show, we'd get around 100 or 150 people showing up.  At a big show, like an anniversary show or a show with a huge headliner, we'd have the place at capacity by 9:30pm.  This time, though, there was a line around the block an hour before the show started.  I couldn't get all my friends in.  I couldn't even let in all the comics I wanted!  I'd made a guest list, and at around 8:15, that guest list was in the trash.
Patton Oswalt did the show.  Marc Maron did the show.  Marc Maron did the show and HUGGED ME. He hugged me after his set.  I had botched his intro, and felt terrible about it, and I was apologizing profusely to the crowd after his set, so he walked onstage and hugged me.
Megan Koester cried during her set.  I cried during my set.  I got a standing ovation.  People yelled out requests for my jokes.  After that, people yelled out requests for comics that hadn't performed yet.  The show went til' 1 am.  It was unreal.  I wish you could've been there.
SO: What are a few of your favorite tracks from the HOLY FUCK. Live Comedy album? I know you can't really answer that, but there has to be a few personal favorites.
Dave: Oh I can answer that.  I think it's pretty clear to everyone on the album that I love every track.  (Except mine!  LOL!!!!!!!!)  Sean Patton's is my favorite.  His and Moshe Kasher's.  I just love in the moment stand-up, and I love riffing, and they both joke around talking about the show and the situation, and kill.  Sean just reads the lineup and makes fun of each comic's name.  It's ridiculous.
I also love that they put something on our album that would, and could, never go on any other recording.  It adds specialness to the record, and helps paint the picture of a very specific time in our lives.
That's not to say I don't love all the written material on the album.  I love all of it.
I mean, honestly I just fucking love all of it.
SO: You and Rooftop are including some rad swag and posters and just killer stuff along with the album. What are some of things people can expect to get in addition to the album if they so choose?
Dave: Posters!  And a special edition box.  It's called 'BOX FUCK.'  In the box, you get a Holy Fuck t-shirt, and poster, and punk patch, and pin, and copy of the album.  At first I thought it would be lame to have merch (beside the album), because I'm not into squeezing money out of people, but it's all pretty cheap, and it's cool.  It's just cool to have merch, as lame as that may sound.  I think I secretly want to be a punk band.
SO: Describe your perfect LA day.
Dave: Oh man.  You ready for this?
1) Wake up next to my girlfriend.
2) Hug my girlfriend.
3) Have sex with my girlfriend.
4) Hug my girlfriend (more).
5) Walk to Brite Spot and have a late breakfast.
6) Take a walk around Echo Park Lake.
7) Walk home and hang with my roommates on our porch.
8) Go to Bourgeois Pig and write for a bit.
9) Walk to the subway.  Ride that subway to an open mic.
10) Do that open mic.
11) Do a sold-out show at Meltdown.
12) Go back to Echo Park, grab some friends and get a beer at El Prado.
13) Get a burrito at Tacos Arizas.
14) Buy an 18-pack and invite everyone over to my house.
15) Hang out on the porch again.  Smoke weed.
16) Drive to Malibu to go night swimming.  (WITH A DESIGNATED DRIVER.)
17) Smoke more weed.
18) Sleep.
SO: Thanks Dave!
____
SO Note: Follow @davetotheross, check his website davethross.com and just make him a part of your daily life! Oh his YouTube is great.