Hmmm…what words immediately come to mind when describing this talented comedian/writer/actor? Engaging, astute, tawdry, vulnerable, charming, pornographic, hairy and funny are just some descriptions that come to mind. Moshe Kasher is no cookie cutter individual. Norman Rockwell would have probably had a stroke had he tried to fit Moshe into his idyllic representation of Americana. Moshe's colorful and dark past was beautifully documented in his autobiographical tale Kasher in the Rye. A young life filled with drugs, sex and raves almost ended in self-destruction but ended up producing one of comedy's rising stars. Moshe has graced the "Chelsea Lately" round table panel, slayed audiences on "Conan" and "Fallon," and acted on critically acclaimed shows like "Shameless." The world is Moshe's pearly oyster and there's no turning back now.
____
Serial Optimist: Salutations, Moshe. I imagine you responding to this interview taking a drag off a cigarette, strewn across a chaise lounge in your silky robe, surrounded by a female entourage with a copy of "Game of Thrones" at your side. Am I far off?
Moshe Kasher: If the above was an allegory for the reality of me, on my couch, watching day reruns of "Downton Abbey" with a coffee stain incident drying next to me on the couch as my dog plays with my discarded socks and I consider putting an Aquafresh white strip in my mouth, then you are not far off at all.
SO: Your act has deep roots in your past but you also balance it out with topical material. Is there a taboo subject for you?
Moshe: The only taboo subject for me is the pornographic incest fantasy video series from the 1980's"Taboo."
SO: What is your favorite venue for stand up and why?
Moshe: I guess my favorite places in Los Angeles are the UCB and the Nerdmelt theatre. But I also love the Improv, The Comedy Store and my car, parked on Mullholland, staring out onto the skyline and imagining everyone, in every window, is watching me and realizing, all at once, that I truly am the genius of a generation.
SO: How do you decompress after a set?
Moshe: I generally go into a frio-magnesium antechamber that lubricates my internal hydraulic robo-nervous system. That or I jerk off to the pornographic incest fantasy video series from the 1980's "Taboo".
SO: In a Laughspin interview you jokingly promoted "The Champs" podcast in this way:
"If you are a white person and u want to know what black people are like please tune in.  If you are a black person and you want to hear what white people are like when they timidly interview black people please tune in. If you are a non-white, non-black person you are not welcome to listen to our podcast."
All joking aside, what demographic do you think is most drawn to your podcast? With all the podcasts out there, what sets yours apart?
Moshe: What sets my podcast apart from the majority of other podcasts is that we have had more than 2 people of color on the show. Tryin' to break that digital glass ceiling.
____
Moshe Kasher Stand Up
____
SO: What was it like interviewing adult film star, Sasha Grey? Don't spare us any details.
Moshe: Sasha Grey was a wonderful person to interview but, of course, I was distracted by the constant passes she made at me. It's like, hello, my eyes are up here?
SO: OK, Its time to get our geek on. You are a noted George R. R. Martin fan. You've read "Game of Thrones," are you a fan of the TV series as much as the books? What character would like to have a tryst with?
Moshe: The character I would most like a tryst with is def Melisandre, the Red Priestess. I'm trying to experience that high level red headed, shadow demon, R'hllor voodoo witch pussy.
SO: Favorite "Star Trek Deep Space 9" episode and why?
Moshe: Um- I would have to say my fav episode of DS9 was the one that took place, off the station, back on earth where I literally had the thought " It must have been very expensive for them to film this episode ON EARTH." I sincerely thought this. I had watched so many episodes in a row that, for a moment, I genuinely believed that the show was being shot in a space station at the edge of the Alpha quadrant. And for that moment, for one boy, Star Trek was real.
SO: Was filming the prequel to Course of the Force at the headquarters of Industrial Light and Magic with Chris Hardwick and friends a sci-fi dream come true?
I did a scene with r2d2 and you'd think the guy was cool, but typical middle management, he was a total dick. Chris had to talk me down from kicking the guy's ass.
SO: You and your comic buddy, Brent Weinbach, have such a great rapport whenever you combine talents. Do you plan on collaborating with him again? You've put on many comedy shows together and starred in the hilarious comedy video Dating Etiquette. I nearly soiled myself laughing when I first saw that video.
Moshe: Great question. Brent and I no longer speak. Except on the phone. And in person. Sometimes we speak.
____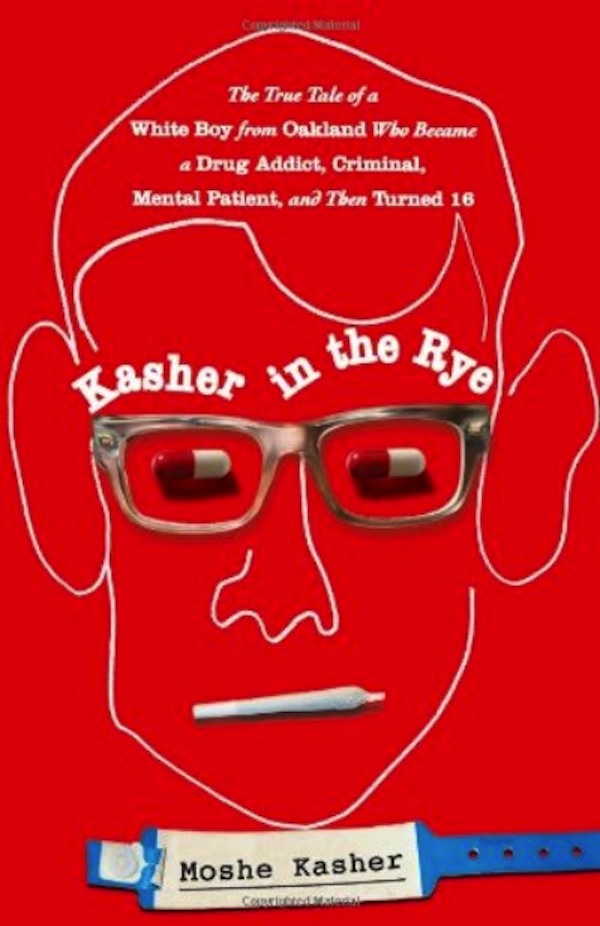 ____ 
SO: Kasher in the Rye was truly one of my favorite books of 2012. How therapeutic was it for you to put all that on paper?
Moshe: I'm very proud of the book. It felt really nice to be able to tell my strange story in a way that was funny and dark. I felt like I'd done something important for once. Ok enough sincerity. Next q.
SO: How did you start putting the book together, was it mostly research and talking with family and friends? At what point did you want to write the book, and at what point did you decide to actually make it happen?
Moshe: Well, it was a collaborative idea born out of a script for a one-man show I never actually performed and the vision of my manager. When I sold the book, I knew I had to produce something so I just sat down every day and wrote two pages. I realized if I did this, that in 6 months I'd have like a 300 page document. Writing a book is daunting. Writing two pages a day is not. Little by little we made a book.
SO: Describe your experience acting opposite Joan Cusack on Showtimes's "Shameless?" Your role as a Reuben, a deaf, wheelchair-ridden ex-junkie was absolutely spectacular.  Did you ever in your wildest dreams imagine you'd be using your signing skills for a TV role?
Moshe: Thanks I was really proud of it. The best/worst part was the waiting room for the audition. There were a bunch of actual deaf actors there. I just thought of them, deaf people who had decided to go into acting, already a nearly impossible career task, finally getting an audition for a cool show on Showtime and not an episode of Sesame Street teaching the ABC's and getting so excited only to have some hearing asshole (me) walk in and steal the role. It felt really nice to snatch the dreams from a bunch of deaf people.  Then again, I paid my dues in years 0-15 so a middle finger to all the haterz.
SO: I clicked on "Click here to see a picture of my father" on moshekasher.com. I'd like to wipe that image from my mind permanently. Can you help?
Moshe: I can help by saying congrats. You have made it to the next level.
SO: What projects are you currently working on?
Moshe: I just wrapped a season writing on "The New Normal" on NBC. The hour special is out on Netflix and I'm doing a bunch of touring with a new hour. Life is pretty good. People can go to my website for my dates and come see me live. Other than that I'm working on a very exciting project for Google Calendar where I put all of my plans into scheduling software and it syncs them up for me. That way I don't wait 9 months to complete an interview.
SO: Thanks for talking with us and joining the modern technological age.
____
SO Note: Follow Moshe @moshekasher, check out Moshe at moshekasher.com, listen to his awesome podcast The Champs, and if you haven't read Kasher in the Rye yet DO IT! Get it here.