Brent Weinbach defies convention in every possible way. He is hailed for his experimental style and deadpan delivery. However, attempting to describe his comedy inevitably ends up in a contradiction of words. Intelligent and stupid. Dark and innocent. Frightening and adorable. It is this very dichotomy that compels audiences and will make Weinbach a household name for years to come. Mark my words! Brent has been the recipient of the prestigious Andy Kaufman Award. He has appeared on "Conan", Comedy Central, and "Lopez Tonight". He has created countless comedy videos featuring crazy characters like Bebe Dubbs, the fashionista who gives handy motivational advice. Brent and fellow comedian, Rob F, created The Legacy Music Hour video game music podcast, which is housed under the Nerdist umbrella of podcasts. Today, you can purchase Brent's latest comedy CD Mostly Live.  I guarantee you will laugh your socks off! If you still need more giggles after listening to Mostly Live read this interview one more time and that should do the trick. Enjoy!
____
____
Serial Optimist: Hello, Brent. What's the first thing that pops in your head when you hear the word "laughter"?
Brent Weinbach: Well, the first thing that "pops" in my head is a boner. But the first thing that comes to mind is the thought of a boner.
SO: Hard to suppress those visuals. Do you recall the first time you made someone laugh and how it made you feel?
Brent: I do. I was five years old. I was a boy. I tickled my little friend Freddy F***face and he laughed and he laughed. It made feel like a bad-arse.
SO: That brings a whole new meaning to "Freddy Got Fingered". If you wouldn't mind, tell us about your family and how you think you developed your sense of humor. Do you think you had a normal childhood?
Brent: I began to "develop" at age thirteen with full breasts and later moved on to the pubic region. But seriously though, I developed my sense of humor when I was three-years-old by acting gay and singing songs about poo poo. My dad was funny and so was my cousin, but in the end, my sister would be king. About the whole breast thing though, truth be told, I do have big nipples. One time, my friend Louis Katz and I compared them, (I was king).
SO: It's nice to be the king. Some adjectives I would use to describe your comedy are dark, bizarre, innovative, and evocative. How would you describe it? What do you like your audience to take away from a set? How do you think your comedy has evolved?
Brent: Why do you think my comedy is dark? The only thing dark about my comedy is the color of my connecting eyebrows. And some of my stool samples, but honestly, those are more of a milky brown. In a different interview, I summed up my comedy like this: penises, poo poo, dance moves. I want audiences to not think when they laugh and just have fun the way they did when they were twelve-year-old boys. Over the years, my comedy has become less about words and more about the sounds of words and visual things like fish paste and pigs feet.
SO: What were some of the first characters you created for the stage?
Brent: Bebe Dubbs has always been a very influential figure to me. He is my best friend and my life partner. His courage and his strength have guided and inspired me to be the mench I am today. Bebe Dubbs is… an R&B vocalist. Bebe Dubbs is… a fashion police. Bebe Dubbs is… a teacher/healer/actor/writer/producer. Bebe Dubbs is. (For more information visit him @bebedubbs.)
SO: We love you, Bebe. What was the first comedy gig you performed at? Do you find it becomes easier to make an audience laugh as you get more stage time under your belt? Do you still experience moments where you have no clue how to get an audience on your side?
Brent: My first gig was at a black club in Oakland, CA called Mingles. I was paid in chicken wings. This is true. I find it easier to make an audience laugh not by getting more stage time under my belt, but by using more stage time to loosen my belt, drop my pants, and say, "Hey, I am B.I.T.C.H., hear me roar." I never experience not knowing how to get the audience on my side, because the belt trick works every time.
SO: How do L.A. audiences differ from those in San Francisco? What's the strangest venue you've ever played? Do you prefer alternative clubs?
Brent: People are literally the same in every city. Literally, they are the same person. His name is Abner. He works as a model for Barbizon. He is brunette and athletic. He is. I've performed in all kinds of venues such as living rooms, bathrooms, washing machines, and Tokyo. One time, I performed in a thunder roadhouse type bar type place. There was country music blasting from the jukebox, a truck horn that the bar tender would sound off every 20 minutes or so, and a Confederate flag hanging from the ceiling. The members of the audience, who were in their 50's and 60's, had red necks. Their necks were actually red. And they were a great crowd and I had a great set. For a great time, call Barbizon, ask for Abner.
____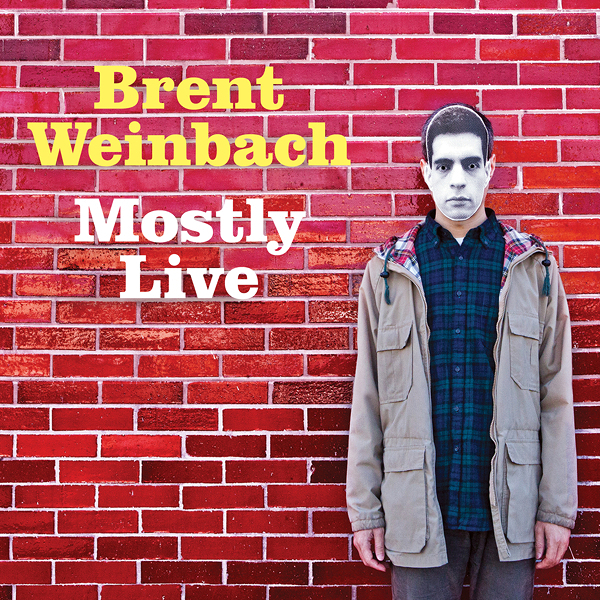 ____
SO: I will. Your newest album taped at UCBTLA, Mostly Live, just came out yesterday. Congrats! Can we expect more of the accents, music, characters and story telling you are known for in this album?
Brent: Yes. But this album is different from my last two albums in that it's almost entirely a live set in front of a live audience (as opposed to a dead one). Highlights include a French version of Pinocchio, a story by FrankoLou, Tuvan throat-singing, and my new hit single "Pictures of My…"
SO: Awesome! You were a recipient of the prestigious Andy Kaufman award. The criteria used to judge a winner include originality, creativity, spirit, and execution. How difficult was it to hone the skills necessary to perform at a level deserving of such an accolade? What advice would you give to aspiring comedians trying to gain the respect of their peers?
Brent: I trained for an entire year at Gold's Gym. I did mostly squats and crunches, and I did the Soloflex every night. I had fire equaling three men. My advice to aspiring comedians is: get big. The bigger you are physically, the better you are comedically.  Use ExtenZe if you have to. Not only will you get bigger, but you can last longer too. And, not only will you get bigger, you will get larger.
SO: Impressive. You had an early exposure to music. You supported yourself as a Jazz pianist for many years and you play other instruments like the guitar and drums. You've managed to utilize these abilities in your act. Do you find music an effective tool in your comedy?
Brent: Basically, my goal as a stand-up comedian is to become the number one primo top-selling R&B female vocalist in the Northwest. And when that day comes, I will stop in my tracks, loosen my belt, drop my pants, and say, "Hey, I am D.I.V.A., hear me roar."
SO: That is one lofty goal, Brent. How did The Legacy Music Hour podcast get started? Did you always have a fascination with video games in general?
Brent: Basically, I always wanted to leave a legacy for my future son-in-law. The Legacy Music Hour got started like this: Rob F. and I took a trip to Fairfield, CA, where we napped in his car together and listened to new age music. We were soaring. And that's where it all started. My interest in video games peaked with Tiger's handheld version of Karnov. Tiger Electronics, the golden age of video games. Graphics and sound have never been better.
SO: Your knowledge of 8 & 16-bit era video game music is astounding. How much research goes into each podcast episode? What are your favorite tracks? Do you and Rob F have anything exciting planned for the 100th episode?
Brent: I spend hours and hours researching video game music. It consumes my whole week, but at least it keeps my mind off of girls (and more focused on boyz). My favorite tracks are "I Feel For You" by Chaka Khan, "East Bound & Down" by Jerry Reed, "Oblivious Past" by Kazuo Hanzawa, and "Emperor of Balladry" by Hitoshi Sakimoto. For the 100th episode, Rob and I are going to do a live podcast recording, where any listener can show up and take a nap with us in Rob's car.
____
Dating Etiquette
____
SO: I'm feeling drowsy already. You've acted in, written and directed many comedy videos. One of my all time favorites "Dating Etiquette" stars both you and your longtime comedy friend, Moshe Kasher. The chemistry between you two is palpable. How did your comedy relationship get started? Do you prefer doing comedy solo or being part of a group?
Brent: Moshe came up to me one night. He was just some young buck comedian who saw me murder it at the Punch Line Comedy Club. He asked me if he could pick my brain. Next thing you know, I'm shooting videos of him naked on a treadmill. And yes, to answer your question, I do prefer solo videos of Moshe.
SO: How on Earth did you convince Pat O'Brien to perform in the video "NBA Fashion with Pat O'Brien" where you play one of your characters, the blind fashion expert?
Brent: Hypnosis. It's really effective. But first, I had to gag him with one of those red gag balls wrapped in a wet washcloth dipped in ether. It was too much! But Pat, or Patricia, as I call him, was a good sport and learned to love to obey me.
SO: I have a feeling Patricia may still be bound in your dungeon. The video "Sehr Gutes Haus" which you performed with your Boomtime troupe pals, Moshe Kasher and Alex Koll, is featured on Funny or Die. What was the inspiration for the creation of this video? How did you convince Moshe to perform pretty much naked in your parent's whirlpool bath? Do you still get into your folk's living room without taking off your shoes?
Brent: The inspiration for this video was Toni Braxton's nominal hit "You Mean the World to Me." At the risk of sounding a little clunky here, I felt that the jacuzzi scene with Moshe was a sort of tip of the hat style nod to the very best of that Babyface style of film making prominent in the early bowels of the mid to late 1900's. I didn't convince Moshe, he convinced me. And funny thing is, I've still never taken off my shoes!
SO: Ah, that explains so much. Is there early standup or videos that have been posted online that you now cringe at?
Brent: There are videos of me online that I don't like, but I don't want to say which ones, because I don't want people to look them up. Instead, I want people to look up Squeeze, The Real My Buddy Commercial, Soft Pianist, Change, Weinbach in Wonderland, and most importantly: www.UltimateDrummingTechnique.com
SO: You heard it here, fans. What's your next challenge? Any other projects down the pipeline?
Brent: My next challenge is the physical challenge. I'm doing a tour to promote the new album in cities such as Bakersfield, Sao Paolo, San Pablo, Historic Filipinotown, and Grant Lyon Road. As far as projects go, I really want to star in a family sitcom. I want to live in Full House with Uncle Jesse and Uncle Joey and Bob Saget. I wanna go to Kimmy Gibbler's Bat Mitzvah. It sounds like I'm joking, but I'm not. Let's do this thing. Brent Weinbach in a family sitcom. Get on it. ASAP.
SO: All aboard! Brent, thanks for allowing us into your wet 'n' wild imagination. We wish you all the best.
____
SO Note: Check out more Brent on his website here, follow him @BrentWeinbach, and buy Mostly Live now!