You know the guy. Coolness just oozes out of every pore. Everything he touches seems to turn to gold. Adored by everyone who knows him and, yes, even strangers like him. His success knows no bounds. Sure, no one is exactly perfect but Parker Jacobs sure comes close. He was a child actor on TV shows like "Charles in Charge", "Amazing Stories", and "The Wonder Years". He started the ska band GOGO13 with his brother. He then further honed his artistic skills with his involvement in the amazing Aquabats band. Post-Aquabats he worked at a little company by the name of Paul Frank Industries where he became Senior Design Director. He also helped develop a clothing line with incomparable American artist Josh Agle, AKA Shag. And if that wasn't impressive enough Parker was and is an integral part of the wildly popularly children's TV series "Yo Gabba Gabba". He's received several Emmy nods for his work on the show and I'm sure he's destined to win one soon because … Parker has co-authored the Goon Holler Guidebook which is just pleading to see TV airtime. Oh and I can't forget that he also has a hand in another fantastic TV show called "The Aquabats! Super Show!" Yes, it is SUPER. So you see Parker's life seems unbelievable and yet it is all true. And well, shucks, he's so kind and deserving you just gotta keep rooting for this true superstar.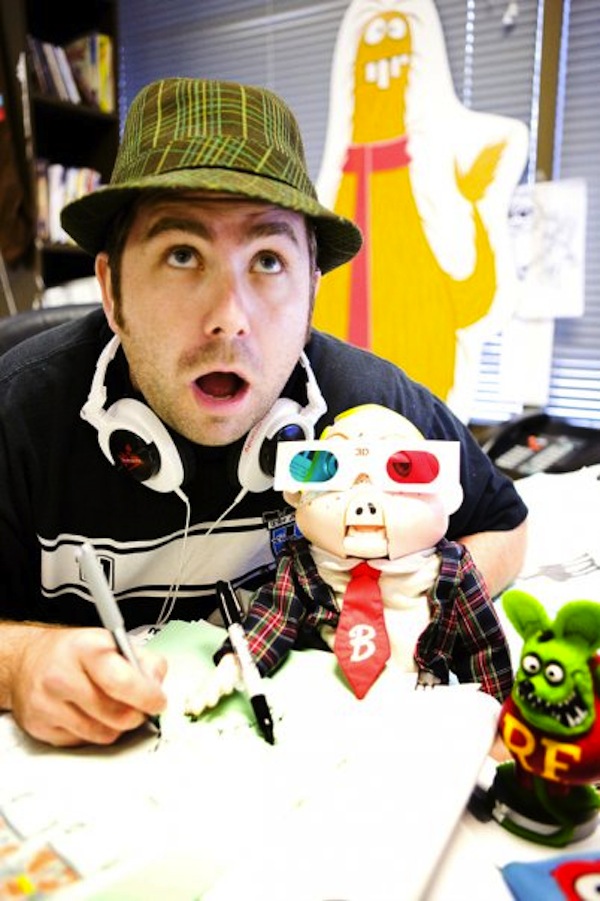 ____
Serial Optimist: Parker! It is such an honor to be interviewing, in my opinion, one of the great innovators of the Gen X & Millennial generations. Did you ever dream you'd be at the place you are now in your career when you were growing up in Ogden, Utah?
Parker Jacobs: Gosh, a great innovator of a generation, wowee! I guess I'm still dreaming of that, I just had no idea I had arrived yet.
SO: Arrived you have. Were you creative as a child? Who were your artistic and musical influences growing up? 
Parker: Well, actually I was born in Utah and my family moved to California when I was a toddler. We were raised as child actors and so it was a pretty unique situation. I would not consider my parents indulgent by any means, but they were very encouraging, so my siblings and I were always doing something creative. My mom was a costumer and had this big box of costumes that we would often get into. We were always dressing up and putting on plays or making home movies. I've always had an interest in drawing. I don't think my influences were much different than most kids at my age, The Muppets, Dr. Seuss, Walt Disney etc. I just took those things to heart and perhaps didn't grow out of them. We didn't have MTV but we were prematurely obsessed with music videos, punk and new wave music. Like when Oingo Boingo appeared on American Bandstand playing 1984, we were right there with the VCR, hitting record.
SO: I remember that! I can't believe I still own so many VHS tapes. Did you receive any formal art training? Can you recall the first time you received positive feedback on artwork you created? What was the experience like?
Parker: Not too formal. I took art in high school and a quarter of Graphic Design in college. When I learned about the term "artistic license" that was very liberating for me. It meant there really weren't any wrong answers… if I didn't want there to be. In art, if I felt that 2+2 equaled a water buffalo wearing a fez, I was right! It was the opposite of math! Freedom!
SO: Hooray for the fez and "new" math. Along with your siblings you got your first taste of Hollywood at a very young age. Did acting in high profile shows like "The Wonder Years" give you the backbone to continue on with your own creative ventures?
Parker: Yes, I think those experiences gave us a perspective that we really could do just about anything we were willing to work for. I think our family had a different approach when it came to acting. We were career actors trying to make rent. It was more like "having fun for a living" rather than selling our souls to be famous.
SO:  GOGO13, the ska band you formed in the early 90s had a heavy influence on the ska band scene of the times and motivated your older brother Christian to start up the Aquabats. Was GOGO13 just a past time at that point or did you wish to seriously pursue music as a career? Did you start exercising your graphic design skills early on with GOGO13 or did that only start when Aquabats were in full swing? Or should I say full ska?
Parker: When Tyler (my younger brother) and I started GOGO13, we were just fans of the music and starting a band was our way of showing our love for the cause. It is where I began making t-shirts and flyers. I can't say we directly motivated The Aquabats, but Christian did start his band later, and Tyler and I both jumped on board to help with that project too–in the same spirit of fun. We never really considered GOGO13 much more than just a hobby, but I still like to play.
SO: An awesome hobby at that! With the Aquabats band you seemed to have artistic carte blanche working on merchandise, stage design, costumes and of course participating in the stage show. How did you come up with the designs? Were you influenced equally by skater culture, pop-punk and manga? Or did you draw from other sources?
Parker: Oh yeah, all sorts of stuff! Whatever made us laugh or we thought was cool or funny. Christian has a great vision and we all brought original ideas to the table.
SO: MC Bat Commander also does an amazing backflip. When The Aquabats lost Goldenvoice as a label due to the Coachella debacle you moved on to work with the brilliant Paul Frank. Frank had already collaborated with The Aquabats prior and you ended up working at Paul Frank Industries for 7 years. What was it like working for such multi-faceted individual? What did you take away from your time there? Any funny anecdotes you can share with us?
Parker: Paul had a band that played shows with The Aquabats. He sewed a lot and made guitar straps, wallets and purses for his friends. The first belts that the Aquabats wore were designed entirely by him. He just brought them over to one show as a gift! Together we collaborated on making Aquabat merchandise through his company. I was fortunate to have worked with him for so many years. I gained a wealth of knowledge about design history, sticking to your creative guns and how to make just about any product. Paul's way of doing things was very similar to the way of us Jacobs brothers. It was more intuitive than trend oriented. Paul left the company to go solo in 2005. It was a big let down. I would've gone with him if he had he asked.
…I guess that wasn't very funny, though.
SO: What is your personal favorite Paul Frank character? I gotta pick the iconic monkey.
Parker: Julius the Monkey was #1 for sure. Paul had this character named Worry Bear that I really liked. Worry Bear was this great collector (like Paul) whose eyes were askew. He had this vulnerability that I found endearing. I worked on this Worry Bear purse that had printed lining with all of the fun stuff that Worry Bear collects. That was one of my favorite things we ever made.
____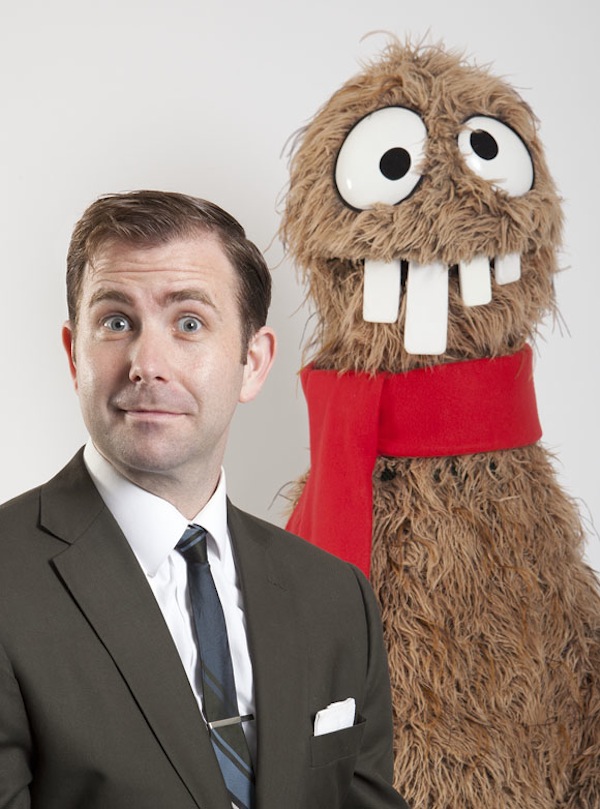 ____
SO: Adorable! As if you hadn't already accomplished enough at that time you were also working with Christian and friends forming what would become the immensely popular children's TV show "Yo Gabba Gabba". (OK, let's face it, adults madly love this show as well.) Do you recall what your brother Christian said to you to convince you to leave Paul Frank and jump full force into work at YGG?
Parker: The guys at Paul Frank (Paul was long gone by this time) were very supportive of "Yo Gabba Gabba's" development. They even helped fund the second pilot episode. I was hoping to bridge a merger between both companies. I'd work a full day at PFI then pull night shifts over at Yo Gabba Gabba. It was taxing and eventually I couldn't maintain burning the candle at both ends. One morning my boss at PF looked at my stubbly face with dark circles under my eyes, the evidence that I was running on hardly 2 hours of sleep a night and said, "Parker, it's time to pick a team". It was an easy decision for me to make, to pursue my dreams alongside my family and friends in making our own TV show, although I still wished I had shaved that morning.
SO: A little stubble never killed anyone (that I know of). How long did it take before you solidified how the YGG characters would look and act? Did you ever imagine it would be so hugely popular?
Parker: The characters and their motivations came before we even had the show format locked down. But like everything, it's a process. You never know exactly how it's going to turn out. For example, I really miss Brobee's original Maori accent.
The show's popularity is quite amazing. It's fun seeing it become part of pop culture. I'm so humbled and grateful with the show's success. I truly had hoped people would catch on and dig it the way they do, and as I totally imagined they would.
SO: You've received several nominations for the Daytime Emmy Awards as a result of the art direction and costume design work you did on YGG. Did you feel a huge sense of accomplishment when you received those calls? Do you measure success through rewards or via the personal satisfaction you get from doing something you love?
Parker: The Emmy nods are a great honor. I sure would love to even win one sometime. But that's not why I do it. Fame and notoriety are fleeting and as much an illusion as Hollywood, itself. I feel more accomplished when I hear that somebody is throwing a Yo Gabba Gabba birthday for their 2-year old.
SO: I believe I've attended one of those. You've always managed to focus on a positive message with all projects you've been involved with. When you draw do you constantly think about the message you are sending or is it just a happy consequence of your natural creative process? Take your time on that one. That took some heavy concentration.
Parker: Life is short. I try to be aware of what message I want to leave with people while I'm here. I understand the ripple effect. Just a smile or a frown can go a long way. I do try to keep it positive in my work, even if it may be in the form of a drooling, cockeyed, cartoon animal.
____
Goon Holler Guidebook Trailer
____
SO: Now of course we can't forget about your book The Goon Holler Guidebook which you've co-authored with brother Christian and Jon Berrett. Tell us about how came up with the idea for Goon Holler. Had characters like Tooba, Wiznat, Dosey Doe and Vert Vert been swimming about your noggin for a while? Did you want the book to be more than just illustrated stories from the get go?
Parker: These characters began with bedtime stories for my eldest daughter when she was little. Instead of reading her a bedtime story, sometimes we would write bedtime stories together. As you can tell by the book, I'm not exactly telling one tale, but introducing the place where they live and why they are there. I've always intended for Goon Holler to be more than just a book.
SO: What has the fan feedback on the book been like so far? I understand you have plans to turn it into a full-fledged TV show? Is that in the works?
Parker: We've had great feedback so far and it seems like the next question people always ask is do we plan on making a show out of it. Yes. We are in the TV show making business and we have been developing Goon Holler for some time now. We haven't locked into a deal yet, but this show, as a show, will knock your socks off.
SO: Wow! I'm giddy with anticipation. I can't end this interview without mentioning the "The Aquabats! Super Show!". It took literally years and years to get beyond the pilot stage but it's finally had a footing on the HUB network. I DVR'd every episode and its everything I dreamed of. All of the quirk, camp and fantasy a girl at heart could want in one TV show! Has your contribution to the show been primarily visual effects or are you doing much more behind the scenes?
Parker: I was involved with the Aquabats as a TV Show since way back when we produced our first pilot in 1997. We've had so many deals, so many production companies and networks on and off board. So many scripts. So many treatments, stories, ideas (and heck, theme songs!) over the years, it's ridiculous. After the blessed HUB finally gave the green light, I was involved in the early writing phase when we all plotted out the season. But my involvement had to be minimal because by then I was caught up in art directing season 4 of Yo Gabba Gabba, which was being filmed at the same time. Though I did manage to contribute some small something for just about every episode, I wanted to do more.
SO: How many episodes of "The Aquabats! Super Show!" Season 2 have been filmed? Any tasty hints you can give us on what we might expect in the new season?
Parker: All I will say is that it's happening and I think you'll LOVE IT.
SO: Hooray! You can't escape without talking about your daily doodles blog. You've posted a drawing every single day on this site since 2008. Do you think at some point these drawings will be compiled into a book?
Parker: I'm a constant doodler, which is a genetic condition that runs in my family. I thought it would be fun to upload some of the scribbles I find around my desk, but now it seems bigger than any of my other projects to blog about. Friends tell me that they check my daily doodles on Facebook to see how I'm doing; I guess it is somewhat journalistic. They're an expression of my current feelings, often containing love notes, secret messages, gripes, or whatever, but a lot of it's very mindless and silly. I would love to collect them in a book. I would also love to know when I should stop!
SO: Stop? NEVER! What other projects are you currently working on or have on the back burner?
Parker: I do have some! I wish I could share right now because it's all very exciting and diverse, but "those behind the curtain" would rather I keep things under wraps for now. I promise I'll share when I can. Thank you so much for interviewing me!
SO: It's been an absolute pleasure. I'm a fan for life! And we can't wait to find out what's going on behind the curtain.
____
SO Note: Follow Parker Jacobs @UncleParkle. Check out his daily doodles at parkerjacobs.blogspot.com.