He has one of our favorite beards in comedy and a style of storytelling that has landed him appearances on Conan, Comedy Central Presents, Judd Apatow's Funny People, and helped make his critically acclaimed album Death of the Party one of the best comedy albums in the last year. Not only is Kyle Kinane a hilarious stand-up comic, but he also is the "voice" of Comedy Central, spending part of his time recording voice-overs for promotional spots. He is on every "Best Of" list you can find when it comes to comedy, and truly is one of our favorites. Originally from Chicago and now based in LA, Kyle spoke with us from Indiana. Read on for more on his writing process, upcoming projects, and the only tweet he's ever deleted.
____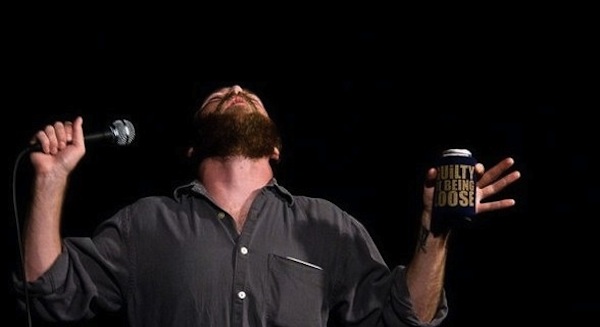 ____
Serial Optimist: Hi Kyle – tell us a little bit about you. Where are you right now as you respond to this interview?
Kyle Kinane: I'm in the lobby of a hotel in South Bend, IN. The ethernet cable in the room had boogers on it or something so I'm down in the lobby getting work done and not looking at boobs.
SO: You're pals with Matt Braunger and Mike Burns, and my editor David has a dream to tear up the town with you guys sometime soon. What madness would that consist of?
Kyle: I would get hungry, Braunger would get dancy, and Burns would get laid.
SO: How did you get your start in comedy?
Kyle: It was the next enticing dead-end after I realized I was bad at music. I needed to have an outlet. I didn't think it was going to be a career. Just needed something with my free time. Some people, it's their jobs, or their relationships. At least comedy made me feel productive–sure, I'm sitting at a bar with my friends every night, but there's an open mic in the other room, so I'm there as a responsibility to my craft. It's like finding your retirement hobby when you're 22. "Oh, this is why I get up every day." I totally understand the model train enthusiasts. I get it.
SO: Your album Death of the Party was quite successful – what do you think makes your comedy different than others, and how did you develop your style? What is your writing process like?
 Kyle: I don't know. Don't spend much time analyzing it. I try to present what I think is funny and lure others into it. It's not for everyone, but nothing creative ever should be. But I don't think I'm inaccessible either. I'm not trying to be elitist by any means. I'm middle of the road, but that road isn't very well traveled in the first place. Metaphors, oh boy! There's no writing process. I have a funny idea so I go on stage and try to find it. Read a blog recently where the author was very upset with that type of process, was very offended that a comedian would take the stage without a fully-written concept. He's entitled to his opinion, but I thought he was way off. To say that there's only one way to find out what was funny was very short-sighted. People that start out as writers can have that approach sometimes, sure. But I'm a barroom bullshitter type. I don't write out my conversations first. I go and sit there and bullshit with people and have a laugh, and that's how I try to approach comedy. I'm going to go up there and hang out with everyone–let's all laugh at something together.
____
____
SO: Who are some of you current favorite comedians?
Kyle: Braunger and Burns for sure. Quality standup is rampant right now. So many people in the scene. Different cities are packed full of some of the best comics nobody knows about (yet). The Beards of Comedy from Atlanta just moved out and everyone will know a bunch about them soon, not to mention a lot of the folks still there in Atlanta and Athens. Bloomington, Indiana has an amazing scene. College kids that are absorbing all the standup out there and instead of mimicking, they're taking that influence and running with it. The Northwest–Portland and Seattle have great scenes. A lot of people are approaching comedy as an art instead of for a quick route to fame. That's the right reason. They're using it as a form of expression and focusing on the craft without stressing about any commercial viability. Not to mention this is taking place in non-traditional venues or independently run clubs that are concentrated more on putting on a quality show rather than the number of blue drinks and chicken tenders sold. I know that's how they make the money, but nobody's going to come back if the show sucks. Clientele never says "The comedy was mediocre but the mozzarella sticks were to die for! Can't wait to come back."
SO: All time song to rock out to?
Kyle: Ramblin' Gamblin' Man. Duh.
SO: What's the worst place you've ever woken up at after a night of madness?
Kyle: I slept on the rocks where Lawrence Avenue meets Lake Michigan (in Chicago). I couldn't scale the wall into St. Bonafice Cemetery, which had been my first choice.
SO: When you get hecklers, what is your reaction? Do you ignore them, bust their balls, have fun with it, or just embarrass the shit out of them?
Kyle: I hate them. I don't travel all over the place to come babysit drunks. If they're malicious, I go after them. I have no qualms asking people to leave or having them kicked out. If they're drunk and affable, I try to have some fun but let them know that they should shut up after a minute. But if they're dicks, I want them gone. If I'm in the middle of a longer story, and I get interrupted, it messes with the whole flow. I don't care what Bill Burr says about how comedy should be this tough guy boxing match between a performer and an audience. I don't believe that at all. Bill Burr is great at it, don't get me wrong, as are a lot of guys. But it's not my style.
____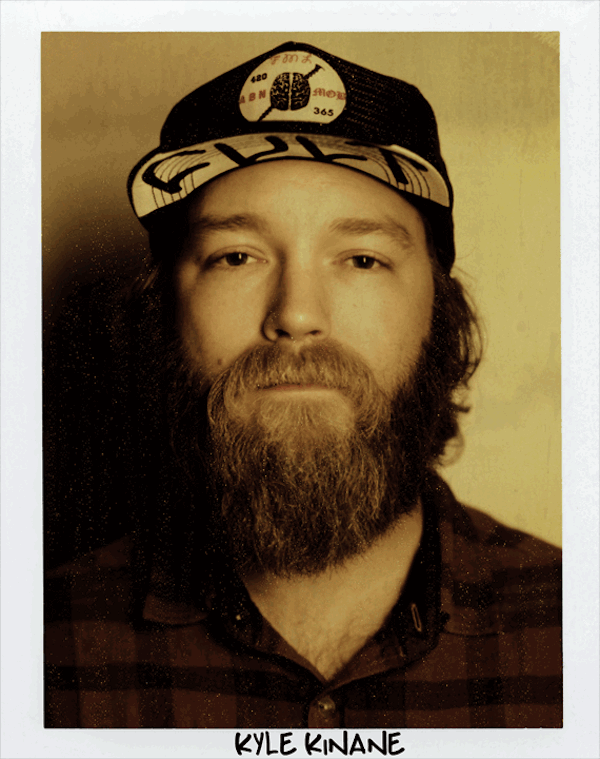 ____
SO: You're a pretty avid Twitter user. Being known for a storytelling style of comedy, it's quite different to squeeze a joke into 140 characters. Ever delete any tweets? (If so, what's the last tweet you deleted?)
Kyle: The only tweet I remember deleting was a picture I took of someone at a bar and made some comment about him. I didn't like myself for that.
SO: You've been names on several "Top Comedians To Watch" lists. Did that create additional pressure for you or just help promote your work?
Kyle: It's both. It was easier to surprise people when they didn't know who I was, but now I can show up somewhere and have a bit of a crowd for my type of comedy, which is nice. People know what they're getting into, but then they also have expectations they want met, so it's both.
SO: You have some stellar festivals lined up this summer with Bonnaroo and Just for Laughs. How excited are you to be included in these festivals, and how do big festivals like this compare to smaller more intimate shows, aside from the obvious?
Kyle: I'm excited. I'm still not over how many experiences I get to have just by being a comedian. I'm beyond privileged to be able to see so much music and comedy in my life, and to travel as well. The big festivals are the commercials for the intimate shows. I get to do 10 or 20 minutes for a bunch of people who are at a festival to take it all in, and then when I return to wherever they're from for a smaller show and a longer set, I hope they remember me. "Hey, we saw Kyle with all those sweaty people in a tent last summer. Let's go see him at a bar for ten bucks when he passes through here next week."
SO: You wrapped a pilot last year, and you're the "voice" on Comedy Central – what other opportunities are you pursuing, and where would you like your career to take you?
Kyle: Got a few things happening now, so we'll have to see how they turn out. Nothing is ever certain, even when you see it all done and beautiful someone can still pull the plug. I try not to have the answers to the "what's next" questions. Just going with it. Leave the wheel unmanned and see where I end up.
SO: Thanks Kyle!
Kyle: Thanks yourself!
____
SO Note: Follow Kyle @KyleKinane, buy his hilarious ablumn Death of the Party here, and find the minimal efforts of Kyle Kinane here.