He co-hosts the wildly popular Nerdist Podcast and "Nerdist" BBC America roundtable TV program. He writes for a little show called "The Soup on E!". Together with Kumail Nanjiani he hosts LA Weekly's #1 comedy show in LA, The Melltdown, at the Nerdmelt Theatre in Hollywood. He has been witnessed promoting America's favorite search engine, Bing. You know this! Right?? But, I bet you didn't know that he grew up in Hawaii, or that he worked on Web Soup, or that he created the "Freeloaders Guide to Easy Living" video series, or that he has a secret twin, or…..I've said too much! We talk to Jonah about all this and more. You can't miss this insightful interview with one of the tallest and funniest comedians around. I give you, Jonah Ray.
____
____
Serial Optimist: Howdy, Jonah! First off, congrats on your recent engagement! Will you be going to Hawaii for your honeymoon?
Jonah Ray: Haha, I doubt we'll go to Hawaii for our honeymoon as it's not like "getting away" for us. Taking a trip back to Hawaii becomes more about seeing family and friends than it is relaxing and exotic. I'm sure after the wedding, we'll have had our fill of family and friends. Besides, would you go back to YOUR hometown for a honeymoon?
SO: Ferris Bueller would not approve of any honeymoon in my hometown. What prompted you to leave the Aloha state for Cali? How much did your childhood influence your career choices?
Jonah: I left Hawaii right after I turned 19, in August of 2001. I came to Los Angeles with the idea that I was gonna do comedy. I didn't necessarily know what that meant at the time though. I just knew that that was the intent, and that the type of comedy I wanted to do wouldn't really fit into anything going on in Hawaii, which is usually just racial-based humor. I had made some friends in San Pedro by going on tour with a couple bands in California the summer before. So, that made the trek a tad less scary.
SO: How did you make the leap from punk rock to comedy and writing? Do you see similarities between the music world and the comedy one?
Jonah: I had always loved stand up, but I think my history of being in bands made me lean more towards doing sketch and improv. There were times after my band would play shows that I would get on the mic and recite poems about being a fat kid who couldn't get any action. But, even then, I had my friend Raf playing a Congo drum to back me up. They were parodies, usually, of pieces by THE LAST POETS. When I started in LA, I really thought there would be more similarities between comedy and music scenes. I figured, much like at a punk show, that if somebody else was doing what you're doing, they probably have a lot in common with you. That's not really the case. There are so many different types of people doing comedy within one comedy scene. I really started feeling out of place once I realized I was one of the only people I was hanging out with that didn't go to college.
SO: Why did we never see Ferris go to college? I digress. Can you recall your first comedy gig?
Jonah: My first comedy gig was an open mic in North Hollywood, at the HA-HA CAFÉ on Lankershim, I had just turned 20. It was probably the worst open mic I had seen at that point. I had actually started going to open mics every night for a couple weeks JUST TO WATCH. I wanted to get a sense of how other people did it before I just walked onto stage for the first time. The guy hosting this open mic was horrendous. He called everybody "Mother-Bitches" like it was some sort of catchphrase that would catch on. The one joke I remember was "Guys, I just got a pilot…..HE'S IN MY TRUNK! I'M A TERRORIST!" I thought it was nice of him to be racist FOR everybody. I wish I could remember his name… Anyway. I got up and I, for some UNKNOWN reason, took the mic out of the stand with confidence and just completely ran through my set like a babbling idiot all the while WHIPPING the mic cord all over the place with nervous energy. I was getting laughs, but I didn't stop to listen. Then, I did a joke that turned the audience on this nervous kid: "I grew up a fat kid and I blame that on my parents. There are certain things you discipline your kid about, like "get your fingers out of that cookie jar!" or "get your fingers out of that light socket!" or "get your fingers out of your sister!".  The audience fucking gasped, then I said "Oh, come on, it's okay. I don't really have a sister….anymore at least. She committed suicide when we were kids. I guess I'll never really know why. But I sure do miss her." Then a guy in the back stood up and yelled "GET THIS FUCKING CREEP OUT OF HERE!!!!" Then everybody started yelling at me, I didn't know what to do, so I bowed while saying, "I'm Jonah and I'm sorry." Then dropped the mic and walked off stage. I never went back to that place ever again.
SO: Oh, man! I'm laughing just thinking about you doing that bit. Your web series "The Freeloaders Guide to Easy Living" was stupendous. I still find the Laundry episode with Matt Braunger laugh out loud hilarious. What prompted the idea for the web series?
Jonah: Thanks; I'm very proud of that show. The laundry episode is also one of my favorites. The original idea came from a MYSPACE BLOG post I did called "The Scumbags Guide To Clean Living." Wherein I wrote people a how-to guide about getting around the nasty chore that is doing laundry. It was this weird, convoluted process that was actually way more work than going to a Laundromat. But, that was the start of it. Soon after that, DAN PASTERNAK (who's now at IFC) had been hired by Turners SUPER DELUXE (a comedy video site) and asked me if I had any ideas. So, I wrote up a treatment for what became THE FREELOADERS GUIDE TO EASY LIVING. I didn't know anything about production at this time, so I decided to collaborate with two friends Neil Mahoney (director of FREAK DANCE) and Peter Atencio (director of Key and Peele). We had all just gotten into LOOK AROUND YOU and GARTH MARENGHI'S DARKPLACE and took MANY cues from those shows.
SO: "I'm Garth Marenghi – author, dream weaver, visionary, plus actor. " OH, such sordid memories. Speaking of authors and dream weavers, I absolutely adored "Web Soup"! What was it like working with your buddy Chris Hardwick on that show? What was your favorite "Palate Cleanser" video? (I had to close my eyes for "Things You Can't Unsee")
Jonah: Working on "Web Soup" was probably the best experience of my professional life. The showrunners Brad Stevens & Boyd Vico really made an environment where you could come up and make the most bizarre sketches and bits for that show. Chris and I had been friends for a long time before that and he had been a fan of the SUPER DELUXE stuff I made as well. So, getting to collaborate was a blast. Like making Skate Chucks, Office Parkour, or the Whacked in the Nuts video. My favorite palate cleanser is hard to choose, but it was probably anything by Parry Gripp (Nerf Herder).
SO: The lovefest definitely made its way to the viewers. Co-hosting the Nerdist Podcast with Christ Hardwick and Matt Mira, what have been your most memorable moments to date? Is there a particular guest who made you as giddy as a child on Christmas morning?
Jonah: Doing the Nerdist Podcast has been a blast. None of us knew what it would become when we started it. It was more of a reason to just goof off with each other. Some of the most memorable stuff has come out of the live shows we do. Like when John Barrowman from Dr. Who and Torchwood just hit it off with us, and especially Matt at our last SDCC show. I hurt the next day from laughing so hard. The most giddy I've gotten though, was when we had Joel Hodgson from MST3K and CINEMATIC TITANIC on. He has been a huge influence on me as a person and I felt too lucky to be able to just sit down and talk to him. Then to have Henry Rollins right after that, these two guys that shaped my young life. Comedy and Punk.
SO: What a true privilege it must be to live your dreams like that. You and Matt Mira are just so precious together BUT you pick on him on a regular basis. Are you secret brothers teleported from another universe?
Jonah: I'm glad to finally get this out in the open. Matt and I are actually twins. There, I said it. Long ago on an island a bunch of scientists try to form the perfect sperm. But what was supposed to just be one child…became two. Now, we have to try and find our mom. And when Matt spills coffee on his hand….I can feel it.
SO: Aaaaaaaaand I just spit out my Tazo through my nose. What's it been like doing the Nerdist TV program on BBC America? What has been your favorite tribute show so far? Dr. Who?! Dr. Who?!
Jonah: The Nerdist TV show is a blast. Everybody that works on it is great and funny and it really does just feel like we're getting away with something. It's also, very minimal work for me for the most part. But as far as my favorite show? It'd have to be the SAN DIEGO COMICCON special. I mean, I got to run through an insane zombie obstacle course at PetCo Park. That was a fucking raddream come true…yeah, I came up with the term "RadDream"
SO: Is that like Al Gore inventing the Internet? Serial Optimist recently did a piece on The Meltdown show that you host with fellow comedian, Kumail Nanjiani. I think a lot of what makes the show successful is the winning relationship between Kumail and yourself. What do you think makes you two such a great team?
Jonah: You compliment too much. You are starting to sound like Hardwick, haha. Kumail and I have a bit of a competitive spirit up there and it's mixed with what I THINK is respect for each other. If the producer Emily Gordon forgot to light us, we'd probably do a 90-minute show of riffing and talking to the audience. Kumail is one of my favorite comics and to get to perform with him every week is really fucking awesome.
SO: Hardwick and I are actually fraternal twins. What's made you laugh the most doing The Meltdown show?
Jonah: The most I've ever laughed at THE MELTDOWN is probably when Kumail and I brought ED SALAZAR out for his birthday then we started reading his texts with a girl he was trying to bang. Ed was mortified and everybody else was just the MOST delighted. It was so mean, and that's why it was so funny. Nothing is worse than a crowd of people reading flirty texts of yours.
____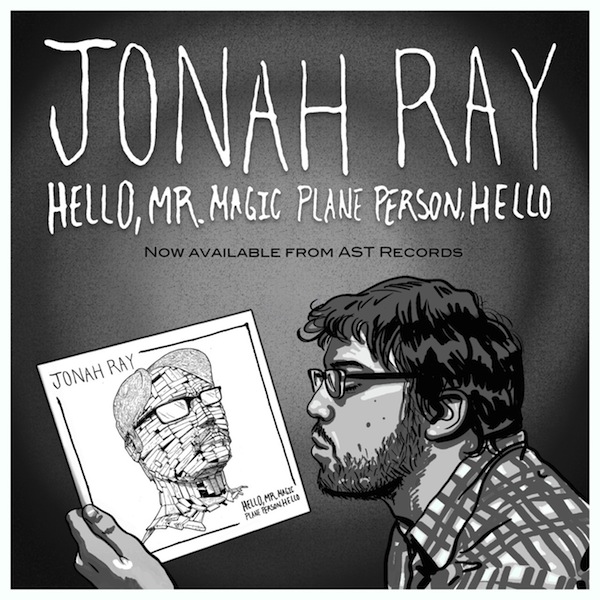 ____
SO: Poor Meltdown cheerleader. Love you Ed! Your comedy album "Hello, Mr. Magic Plane Person, Hello" has been out for a few months now. What has the reception been like?
Jonah: The album debuted at number 1 on iTunes Comedy for about two days, which was crazy. It also took the 500 copies of 10" vinyl about a month to sell out. People seem to like it so that's nice. I'm just scrambling to put out an LP with AST RECORDS by next summer. The album will be called "BREECH HULL, ALL DIE" which is, keeping with the theme of the past two, a line from the MST3K movie.
SO: I bet it also helped that the album cover art was F**ing awesome. Props to the Kloc. The Bing It On Challenge, how did that commercial spot come about? What is your preferred search engine? Smile.
Jonah: Commercials were something that I had sworn off after a bad day trying to get to a horrible audition. On the way to make it to a shitty, cattle call style audition for some cereal I got pulled over for speeding. I went in and had a shit audition. Then when I got to my car I had a parking ticket…and then realized that I had locked my keys in my running car. So, when asked to come audition for BING, I said no. Then they said that the director requested me. So, I went in because it was down the street from THE SOUP. Afterwards, I realized the director was Jason Woliner. A buddy of mine with whom I worked with on Human Giant. I got a call back, and then I booked it the next day. It was fun to work with Jason but man, that was a brutal two days. Also, my preferred search engine is my Encyclopedia Britannica.
SO: I remember when books were heavy weapons too. Will the Jonah Raydio podcast be happening? It's such a cool concept. You play music (which folks can send in), tell stories, and interview people PLUS you get drinks at a bar with someone and have them tell you about a time they poo'd themselves. What could be better?
Jonah: Jonah Raydio is on its way. I'm compiling lists of songs people have been sending me, ripping audio from cd's and records people have physically sent as well. It's gonna be more freeform when it starts. Play some music that should be heard, play some songs that remind you of what's going on, music stories, rock talk, etc. As far as the portion where people tell the stories about them shitting their pants? Well, I waited too long to do that, and now somebody else has a podcast ONLY about that. Cosmic Unconsciousness, man…plate of shrimp.
SO: Fiddlesticks! I was so looking forward to arse goblin stories with Jonah. However, I'm overjoyed about Jonah Raydio. Yay! Can you tell us a bit about the "Mash Up" TV series you've been involved with? Do you know when it will be broadcast on Comedy Central?
Jonah: "Mash Up" starts on FRIDAY OCTOBER 9th at 12:30am. I'm really excited to be a part of it as it's got an insane line up of comics you know and some you'll be excited to find out about. I'm not sure when my episode airs, but Tom Segura is on it as well. He's one of my favorite comics and was a writer on my Comedy Central Pilot "Jonah's Arcade". T.J. Miller  and Jordan Vogt-Roberts (who also directed my pilot) really made the best realization of stand up/sketch hybrid shows. TJ has got such an absurd take on things and Jordan is this visual mastermind that can shoot the shit out of stuff. I'm really glad to be a part of it, mainly because I got to hang out with a penguin for a whole day.
SO: With such a full plate, how do you unwind? Are you able to escape your throngs of nerdy followers?
Jonah: I watch the movie ED WOOD.
SO: "My girlfriend still doesn't know why her sweaters are always stretched out." A real classic. What other projects does Jonah have lined up?
Jonah: I'm gearing up to start Jonah Raydio, put out another album next year, putting together my Half Hour for Comedy Central, and developing some stuff with Daniel Wiedenfeld (Eric Andre show, China, Il), doing more Nerdist stuff of all types, and getting married in the spring. I'll be an April bride.
SO: Precious. We are so excited for you, Jonah! I know our readers will be looking forward to all the comedy coming down the pipeline.
____
SO Note: Follow Jonah @jonahray, check out his super fun tumblr, find him on the Nerdist Podcast, and go get his hilarious album now!