Alex J. Mann is writer/director/comedian living in New York City. He's the creator of "Conversations with a Twitter Feed" (CWATF.com), a web series featuring comedians chatting with Twitter feeds that's been written about in BuzzFeed, Tubefilter, HuffPo and IMDb. Alex is a writer for someecards.com. Funny or Die called Alex "one of the funniest dudes to follow in 2013." Oh and let us not forget he is also super nice, one of our favorite people to follow on Twitter, and we give him 5-Stars at life. Enjoy a great interview with a great guy.
____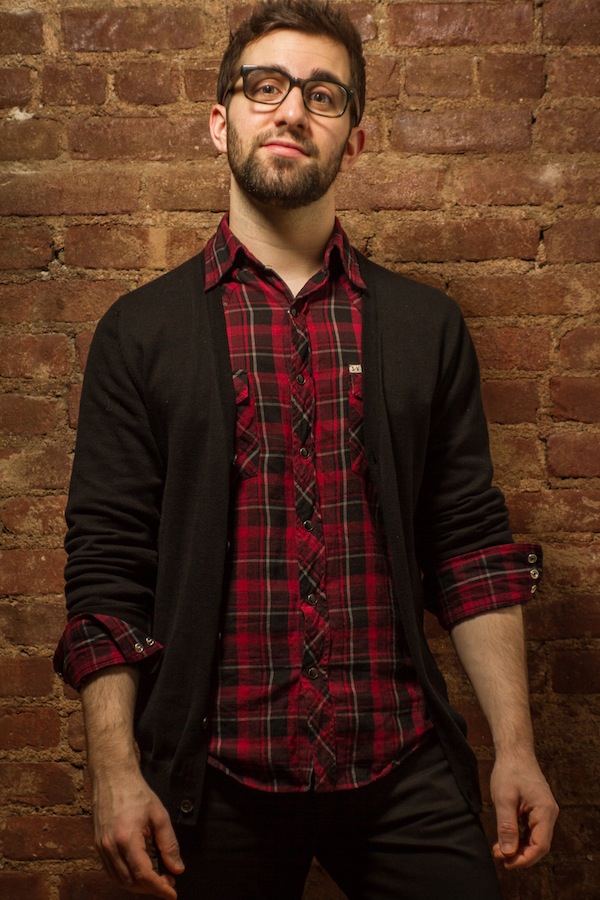 Serial Optimist: Good tidings to you, kind Sir. Do you have a spring in your step and a tweet in your heart this fine day?
Alex J. Mann: Cool runnings to you, madam. There's a spring in my step (but not a skip), which now that you've mentioned, I should probably tweet about.
SO: How many times has that middle initial J. come in handy?
Alex: Twice. The first time was when I needed a way to differentiate myself from the other Alex Mann with a moderate Internet presence. I'm pretty sure he now goes by Alexander, so I guess I won.
The second time it came in handy hasn't happened yet, but I'm predicting I'll use it as a way to relate to David O. Russell (another middle initial guy) if I ever run into him on the street, at a party, in a sauna, etc.
SO: I'd like to delve deep into the dark underbelly of Alex J. Mann's psyche. First off, where did you grow up?
Alex: Philadelphia. There's some history/cream cheese there.
SO: Was comedy always the goal in life? Who wore the comedy pants in the family? Parents, siblings, interstellar caregiver, or yourself?
Alex: Being creative and somehow getting paid for it was always the goal in life. Comedy feels like a way of doing that.
Everyone in my family is pretty funny (i.e. Jewish). For example, every year for my birthday, my Uncle David sends me a box of junk.
Also, both of grandfathers are hilarious. My mom's dad, Bill, emails me a Festivus card every December. Also, after a recent piece I wrote for CollegeHumor about a fro-yo shop with a baby wipe flavor, he wrote to me, "The baby wipe flavor is good but a used baby wipe flavor is even better; more robust." I thought that was a solid, much funnier suggestion. Something my other grandfather, my dad's dad, Harold, did is one of my earliest memories of ever laughing. He squeezed his index and middle finger knuckles together and reflected them onto the back of a spoon. Then he goes, "It looks like a butt." It did.
So, I'd say my grandfathers wore the comedy pants in the family, until I took their pants off and put them on, metaphorically, so to speak.
SO: How did you find your way to the UCB, comedy writing, performing and producing?
Alex: My friend Abbi Jacobson (of "Broad City") had been involved with UCB for a few years before I even moved to New York, so she was a big resource for me when first started getting involved. Through UCB classes and open mics, I started making friends with similar goals/interests and we started working together.
SO: Who have been your greatest influences on the path to world domination?
Alex: It sounds obvious, but I admire the legends like Mel Brooks, Albert Brooks, Woody Allen and Steve Martin. They've been successful across so many different mediums, from joke writing to standup to television to film to books to even music. They've let none of their talent go to waste.
I also look to writers like David Mamet, David Foster Wallace, Bret Easton Ellis and Lester Bangs. They combine the wit, intensity and clarity into their writing that I try to work towards.
SO: What are the key ingredients to awesome sketch writing?
Alex: I'm not an expert, and I certainly don't know more than my friends who work on shows and get paid to write sketches, but generally, a clear consistent game (in non-comedy talk, "game" is a theme or idea that runs throughout the sketch) that heightens (becomes more unusual) that's performed by fully-committed, believable characters. Also, anything involving David Cross and Bob Odenkirk.
SO: How did you get involved with someecards.com? They are kind of the movers and shakers of the greeting card business these days. Who wouldn't want their writing all over Target?
Alex: I started writing jokes on Twitter and my friend Jason Mustian who works there thought I had the right voice for it. I'm not sure what this says about me as a person, but I'm okay with it. They're doing well, although it usually takes me saying, "Someecards are those little cards with the Victorian style images and snarky jokes that are all over Facebook" for people to know what I'm talking about.
____
Charming Bastard
____
SO: You wrote, produced and acted in the short film Charming Bastard which tells the story of a guy who relies on a pick-up line generator to talk to women. How did you come up with the idea for this short? Is social media ruining dating?
Alex: Technology plays a big role in forming (and destroying) relationships. I wanted to take this idea head-on and explore a character that was entirely reliant on an app for talking to girls. Plus, I wanted to produce something that was scored by Paul Simon (who thankfully still hasn't asked me for a licensing fee.)
I don't know if social media has ruined dating as much as it's changed dating. And when I say social media, I'm referring to everything from text messaging to Twitter to Facebook to OkCupid. I imagine dating used to be simpler. For example, sometimes I think about how many text messages I exchange (and likely misinterpret) before even going out with a girl. Or, how many times I don't go out with someone because I misinterpret a text message, or because she's misinterpreted mine. Then, there's this whole idea of privacy that social media has eliminated. Say someone tells you they're too busy to hang out, but then they post on Facebook, "MIMOSAS WITH THE GIRLS," or they post an Instagram photo of them at some cool restaurant posing with the celebrity chef. Obviously these girls I'm describing sound irritating, but still – were they too busy to hang out, or just too busy to hang out with you?
Then, when a date is actually planned, before going out, you can Google the person that you're going out with. What we can now Google used to be what the first date was for! The Internet has eliminated first dates! But, we all still go on first dates asking questions we already know the answers to, just so the pre-date Googling doesn't become obvious.
It's not just dating, either. A third of all divorce filings in 2011 contained the word "Facebook."
____
Startup Diaries: Episode 7 – "Failure" (Featuring David Pakman)
____
SO: To add to the list of your accomplishments you created the Startup Diaries web series. This series follows two gentlemen trying to start up a company. The series really captures the trials and tribulations folks experience building a business. Did you come up with ideas from personal observations?
Alex: I did. I worked for a tech startup for a few years. Pretty much everything in there (the buzzwords, the absurd ideas, the half-truths, the pitching, the investor and entrepreneur characters) are heightened versions of what I experienced. I still think there is a lot of untapped comedy in that space, which is why I was excited to hear about Mike Judge's new HBO pilot on Silicon Valley. The HBO show Girls is also doing a good job satirizing startups with Charlie's storyline.
SO: BTW, I can't get that episode closing song "Everyone In Town Wants You Dead" out of my head. Perfect selection! Oh, and I am obsessed with the character of Tomas. Did you ever have thoughts of pitching the series as a pilot?
Alex: Yeah, you're not the first person to tell me that about the song.
Tomas was played by my friend Tomas Delgado. If you notice, in all Tomas's scenes, he's wearing a pretty tattered white t-shirt. My grandmother, who was possibly Startup Diaries' biggest fan, would often call me after watching an episode and offer to buy Tomas a new shirt.
I'm not pitching Startup Diaries as a pilot, but there are elements of the startup pitch process that I'm working on for another television project. Sorry to be so vague, but this is Hollywood.
SO: Do you think comedians are falling behind if they are not multi-faceted these days? How did everyone turn into a Renaissance man/woman all of a sudden?
Alex: I don't think you can rely on just one medium to be successful. Maybe you can, but it doesn't help your odds of reaching higher-levels of success, and in turn, your odds of really figuring out what you're good at.
I think what you're seeing with the Renaissance man/woman are creative people using the "barrierless" Internet to express themselves in a number of different ways. Either that, or kids are just being pressured to be good at more things from a younger age. Probably a combination of both.
SO: How important do you feel entrepreneurial social media is when it comes to comedy?
Alex: As much as I hate seeing "entrepreneurial social media" and "comedy" paired together, I think the more ways that you can be heard, the better. It's like, if you're just starting out, you can go to an open mic, perform for 10-15 people, or you can tweet and make a web series, and if they do well, you can easily be seen by thousands of people. Performing at an open mic, writing tweets and producing a web series are obviously very different skill sets, but what I'm saying is, you're ideally doing all of these things, and together, they're having more results than just one of these things alone.
SO: And speaking of social media we cannot overlook your current web series Conversations with a Twitterfeed (CWATF). What a novel way of implementing Twitter for comedic purposes! I absolutely love it. Tell us about how you came up with the idea?
Alex: I came up with the idea for CWATF when I was submitting a writer's packet for a show. I had to pitch a segment and liked this idea of "verbally responding to tweets." Do you ever read tweets and make comments out loud? I think everyone does. I'm trying to package those emotions into a narrative. So, I pitched the idea to my friend and DP David Monk who then helped me shoot the pilot and all episodes to date.
SO: What kind of feedback do you get back from the Twitter account holders? Are most excited about it?
Alex: It seems like people have really enjoyed seeing some of their favorite Twitter comics do something besides tweet. The account holders of people we've chatted with to seem to be supportive. Andrew W.K. loved his episode, which helped us get him on the show. LeVar Burton tweeted out his episode. So did Sally Kellerman, Trick Daddy, Questlove, and a bunch others.
____
Andrew W.K. Chats With The New York Times
____
SO: Besides the creator, my favorite interviews have been Andrew W.K. vs. The New York Times, Dave Hill vs. Justin Beiber and Elaine Carrol vs. Neil deGrasse Tyson. Who writes the dialogue (Twitterfeed aside) or is it all improvised?
Alex: It's partially improvised and partially written. I prepare the tweets beforehand, send them to the comedian, and then we come up with a narrative of responses while shooting.
SO: Do the comedians get to choose their Twitterfeed victims?
Alex: Yes, although I make suggestions. I generally tell people to choose someone they'd like to have a conversation with in real-life.
SO: What comedians are you just dying to get on CWATF?
Alex: Lena Dunham! John Mulaney! Anthony Jeselnik!
____
Ryan O'Connell Chats With Lindsay Lohan
____
SO: What's been CWATF's most popular chat to date? Do you see CWATF expanding beyond the web series?
Alex: Our most popular episode is my friend Ryan O'Connell's chat with Lindsay Lohan, which we're still waiting for Lindsay to respond to.
My goal is to get the series on television. I think it'd be perfect for VH1's Best Week Ever. The tone is similar and it's an easy way to incorporate topical, pop culture stories with social media, something the networks all seem to be trying to figure out.
SO: What's next for Alex J. Mann?
Alex: Producing CWATF for television. Selling one of my pilots. Hopefully finding myself somewhere with David O. Russell so I can tell him about our mutual affection for middle initials.
____
SO Note: Follow Alex @alexjmann, check out his rad portfolio at alexjmann.com and GO NOW to CWATF.com for big time laughs.