If you want to laugh so hard your sombrero falls off and you drop your taco then you need to get on the Kurt Braunohler bandwagon STAT. This seasoned New York comedian's brand of comedy is honest, edgy and perhaps slightly perverse. Kurt does not shy away from the unconventional, so it is no surprise he has landed the role of host on IFC's new anti-game show, Bunk.  Trust me. You will not want to miss all the shenanigans June 8. Besides Bunk, you can catch Kurt on TV in Bob's Burgers on FOX; Delocated, The Heart She Holler, and Assy McGee on Adult Swim; Comedy Central Presents, and John Oliver Stand Up (airing later this month) on Comedy Central (amongst many other credits). But TV isn't the only place you see Kurt's talents. He manages to write and participate in a long-standing variety show with Kristen Schaal, gives free relationship advice on Vice, create original videos (Secrets of America and Penelope Princess of Pets), perform stand-up, and recount personal Rumspringa adventures on This American Life. Still not impressed? Well, Kurt was featured in Time Out NY's recent 50 funniest and named "Comic to Watch" by Comedy Central, the New York comedy festival and Time Out NY, as well as "Best Male Standup" by the ECNY and Best Unscripted Host" at the NY Television Festival. So there! Now strap on those seatbelts and get ready for the wildly hilarious ride that is Kurt Braunohler.
____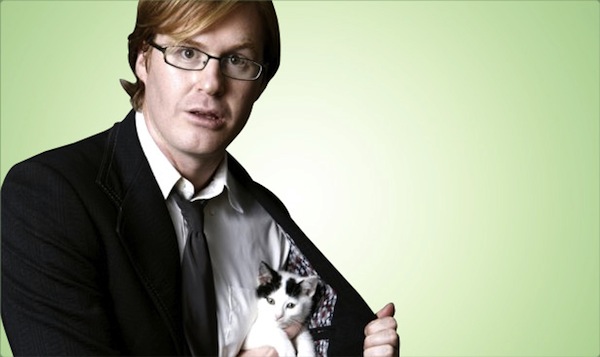 ____
Serial Optimist: Greetings Kurt! Quick! What is your favorite game show of all time and why? I could be carbon dating myself but my favorite would have to be "The Match Game", hands down. You can't go wrong with a mix of charming host, Gene Rayburn, quirky celebrity panelists like Charles Nelson Reilly, and so many clueless contestants. Am I right?

Kurt Braunohler: Shit! Quick! Ummmm…. Off the top of my head I'd have to say my favorite game show would be a tie between "Stick Your Head in the Prize Hole" and "Shut the Fuck Up for $5,000!" I loved Stick Your Head because you just never knew what would be in that prize hole! Is it a new car or a punch in the face?! Such beautiful tension. And STFU5K was just groundbreaking in how many people simply could not shut the fuck up. Very cool concept. Also, I love silence, so when they won, I won.
And finally, yes, you are right.
SO: Phew! As it turns out, you will be hosting the new IFC anti-game show, BUNK, which premieres June 8. IFC describes it as a "panel of comedians that compete in inane challenges to win surreal prizes." From the clips I've seen so far it looks like you have your work cut out for you! Did you have to audition or were you approached by IFC? What's the silliest thing that's happened on set so far? Could you describe the surreal prizes?
Kurt: The creators Ethan T. Berlin and Eric Bryant approached me to help host and formulate the show when they self-produced our first pilot a few years ago, which we submitted to the New York TV Festival. IFC picked it up for development from there. We shot another pilot with them and then they bought 10 episodes.
The silliest thing that happened is difficult because almost everything is stupid and silly on the show (just the way I like it.) But my favorite moment might have been when, during game play, a laser appears on comedian Chris Gethard's forehead. I scream "We've got a sniper!" pull out a rifle and shoot a sniper before he can run away. I then casually throw the gun off camera and continue playing the game like nothing happened. It was clean and awesome.
The prizes are what we call the contestants' "Non Charitable Causes." Some causes are as simple as "Playing to get my Teeth Fixed" to "Playing to get my Parents to Remarry after 20 years of Divorce" or even "Playing to Clone My Girlfriend So I can Have a Three-way She's Cool with". Each cause has a manifestation on the Non-Charitable Causes couch, so every day, on set, we had aliens, Bigfoots, mad scientists and more weird shit sitting there.
____
http://www.youtube.com/watch?v=Bn7Pw-bTceY
____
SO: It sounds AWESOME!
 For those just discovering Kurt for the first time, can you tell the n00bs how you got your start in comedy? Was it always your dream to be a comedian?

Kurt: I got my start improvising at the Upright Citizens Brigade Theatre in 1999. I did improv religiously for 6 years and then met Kristen Schaal in 2005 and started writing sketch with her.  I started writing and performing stand up for myself maybe 4 years ago. And here I am. I'll have my first set of stand up on TV on Comedy Central's John Oliver New York Stand Up Show this summer. I'm very excited. But, no, it was not my dream to be a comedian. As a kid I wanted to be either a Priest or a Marine Biologist. Then I realized I loved to fuck and was bad at science. So, Stand Up it was.
SO: Speaking of Kristen (popular for roles on Flight of the Conchords and 30 Rock), you've had many successful collaborations with her like the NYC staple variety show, Hot Tub, and the popular web series, Penelope Princess of Pets, aka P:PofP. How and where did you meet? Did this comedic rapport develop immediately? How would you describe your roles in developing new material?
Kurt: Around 2005, Kristen and I were both improvising at a theatre in NYC called the PIT. I wanted to start a variety show and had asked the Artistic Director of the theatre about it and he told me that Kristen had just asked him the same thing. I knew she was backstage at the time, so I simply walked backstage and yelled across a crowded room, "Hey you wanna start a variety show?" and she said, "Sure!" We had had one conversation for about 30 seconds before that, but we both just liked the cut of each other's jib. Turns out we worked really well together and had the same sensibilities.
Our process to develop new material is a lot like anyone's I guess. We go to Kristen's Idea Lab out on her ranch in New Mexico where I've built kind of a cave-grotto-cum-hot-tub-sauna room. We sit in the sauna for a good 45 minutes, until we're almost dead, then we plunge into the ice-cold water in the cave. We float to the bottom (because we've tied rocks to our ankles) and then Kristen or I will be inspired to mouth one word, like "fart" or "cheese doo-doo". Then we'll rise to the surface and start the nitty gritty hashing out of what that word means using finger paints on the cave wall. No judgments is the rule here. Then we pay a local man to come and photograph everything, but not with normal film, with infrared film. We then retire to her cabin with cups of cocoa and look at those images. That usually will become the skeleton of one of our sketches.
____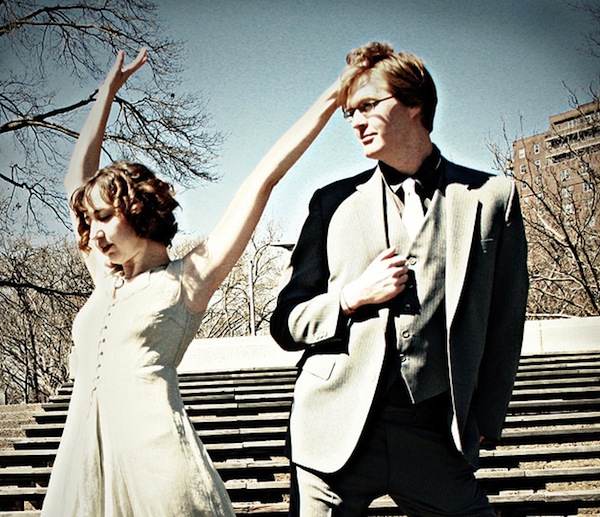 ____
SO: One episode of P:PofP doubled as the video for the New Pornographer's "Mutiny, I promise you." How did you end up working with the band? Would you produce videos for other bands in the future? Have you ever opened for a band? If so, what was your worst experience?

Kurt: Kristen and I were both fans of the band and she met them in London some time ago. I later met Carl Newman through some comedy connections (he loves comedy.) And our friend and collaborator Scotty Landes' cousin worked at Matador and had approached him about seeing if he knew any comedians who would want to work on a video for the NPs. We had also, separately, been approaching the band about making a video for them. So it was like a perfect storm. We were in the middle of producing 9 more episodes of P:PoP and thought we could use the Superdeluxe money to make a video AND an episode of Penelope. (Superdeluxe was a now-defunct comedy website run by Turner.) And the band was down to do it! And the label was down to do it! We got the band for 6 hours. We shot that whole video in roughly six hours, minus 1 other day of green screen without the band. And it was awesome. It was so much fun.
And then after we finished the whole thing, and we liked it, and the band liked it, and Matador liked it, and we were like "Here Matador! We made a video for your band for FREE!" then the lawyers got involved and just shat all over the party. Beggar's Group whom reps Matador would NOT let us "use" the music from "their band" in a video for SuperDeluxe. Superdeluxe would NOT let the video be shown on sites other than their own. It was awful. It just shows you how creative collaboration can get destroyed by corporate bureaucracy and greed. It was so fucked. So the video was just sitting on the shelf for a year and we were not allowed to release it. By the time it came out, the record had been out for a LONG time and hardly anyone saw the video. Which sucks. Because I think it's a cool video.  Wow, I haven't talked about that in years. Thanks for listening.
SO: I guess showbiz really isn't all sunshine and roses. Now I must, Must, MUST ask you about the Rumspringa experience you embarked on with your long time girlfriend of 13 years. What motivated you to recount this funny yet touching tale on This American Life with Ira Glass (Episode 457, to be exact)? Do you find it cathartic to talk about personal moments on stage? Do you ever get any grief for using your past as a source of material? (For those unfamiliar with Rumspringa, it is the period when Amish youth may "run around" and engage in rebellious behavior before they are taken in as adult members of the church.)

Kurt: I had been using that story as a framework for an hour long stand up show I was going to bring to Edinburgh last year (which got cancelled because I ended up shooting a part on "The Heart She Hollers" for Adult Swim instead.) But I just didn't know what to do with the story after I had done that show a few times. My friend Elna Baker, who was working for TAL on finding comedians for the show, approached me and asked me to pitch some ideas. I pitched that and they seemed interested. Then I wrote out my whole one man show and Elna looked at it and was like "This isn't the story, this is a frame work for jokes." Which was true. That's how I had been using it. So I went back to the drawing board and just wrote, in horrifying honesty exactly what happened. And out of that document, combined with the other one, was how they brought me in for the interview. Originally it was just going to be a 5-minute quickie story, but after Ira finished he said "I think this could be 20." And then it was. It still is a surreal experience, start to finish.
I'm not sure talking about it is cathartic anymore. Maybe when I first told it. But it still always feels good to talk. The interview with Ira was interesting and fun. We talked for over 2 hours. He really is amazing at what he does. Everyone at TAL is. They know how to make you sound good even when you don't. But now that it's this "thing" in my life, it does feel a little weird to talk about it all the time. But being a stand up is a lot about vulnerability and connecting with an audience. So it's part of the tools of the trade, I guess.
My ex has never been upset about it being out there. She's maybe uncomfortable that people who know me and know her now know a little bit about her personal life. She's always been supportive. But for other projects people have gotten upset with me. It's inevitable. I hope after the emotion runs out, they'll be able to see that I'm making something that's a testament, not exploitation.
____
____
SO: In addition to recounting personal tales of relationship forays, you give free relationship/sex advise on your Vice column: Dear Hot Dog and the Lady Bun. What's the best piece of advice you've doled out?

Kurt: Being unpredictable is the best way to liven up a boring relationship. Why not change your legal name to Squirtman Coolbird. Nobody will expect that! And turn the heat up in the bedroom with this winning line: "I've hired a clown to watch us make love. His name is Pickles. But I call him Homeless Man That I Put Clown Makeup On."
SO: Eeeek! Any clown would certainly get my attention! You wrote and starred in a hilarious video called 'Secrets of America', which you filmed at the Brooklyn Bridge. Do you plan to do more of these? History Channel, are you listening? What is the best part of living in New York? How are New York audience compared to other cities around America?

Kurt: I would love to do more of these. I just need to pitch it to someone and get some money, because we're gonna need to travel! The best part of living in NYC is the ripe round smell of a NYC summer. Like a hobo vomited into a balloon that's filled with diarrhea and then let that balloon go just as you walk past him.
SO: An acquired smell indeed! Besides stand-up, variety shows, game show hosting, radio, you also act and do voice work on TV. Shows like Bob's Burgers and Delocated have a strong following. Do you tend to seek out work that's more edgy or does it find you? Where will we find Kurt Braunohler next?
Kurt: I just work. If only the weirdos like me, I'm fine with that.
Currently I'm working on turning the story I told on This American Life into a TV show, doing a pilot for BBC3 with Kristen, doing a ton of stand up, continuing my late night talk show "Night of the Living with Kurt Braunohler" and my variety show "Hot Tub with Kurt and Kristen". You should totally book me at your college.
SO: Book him now! Keep up the stellar work Kurt. Thanks!
____
SO Note: Check out Bunk on IFC June 8, and wait anxiously with some previews here. Follow Kurt @kurtbraunohler.