Kay Cannon, the Emmy-nominated writer and producer for "30 Rock," co-executive producer for "New Girl" and screenplay writer of the hit movie Pitch Perfect is not only driven and talented, she's beautiful and kind. She's someone I've admired since I first watched her move from the Chicago comedy scene (she toured with Second City, performed with Boom Chicago in Amsterdam and the Upright Citizens Brigade Theatre in LA and NY) to becoming one of the hottest comedy producers in Hollywood. It could've all gone to her head, but the down to earth Kay still takes the time to give advice to aspiring television writers like me, post silly pictures on Twitter and talk to Serial Optimist.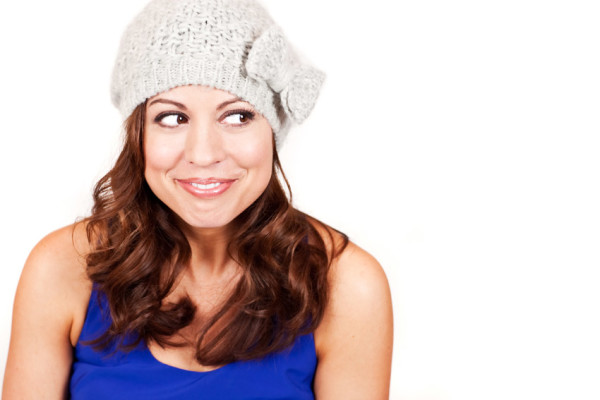 Serial Optimist: Hi Kay! Thanks for taking the time out of your busy schedule to talk to us. You've done a lot of cool stuff, but I'm really interested in you as a writer. For example, what's your writing process like? Are you a sit-in-a-coffee-shop kind of gal or more of a hole-yourself-up-in-a-basement-with-Jack-Daniels type?
Kay Cannon: I have never written in a coffee shop. I have also never had a sip of coffee in my entire life! What would I drink there?! I write on my couch in my living room and will often put the script up on my TV. It stops me from watching TV – which is all I ever want to do. Ever. Hold on, I'm going to watch TV for a few hours and then get back to answering these questions.   
SO: I'll wait… You're back? Ok cool. What did you learn from working with Tiny Fey for so long?
Kay: I learned so much from her that it's hard to answer this question on paper. It would take too long! Writing-wise: I learned to never cut a joke, try to refrain from putting a character in a funny shirt only to make a joke about the shirt you put him in, and that words like "Anyway" or "Besides" aren't really used by humans in everyday conversation to start a new topic.
Anyway… In a broader sense, she taught me – through example – what it means to work hard. Oh, and I also learned that I will never be as good as a writer as Tina Fey. She doesn't tell you that but she shows you, with her eyes.
SO: Clearly you picked up a few things from her along the way. Speaking of working hard, congratulations on Pitch Perfect! Everybody loves it. What was it like to write your first feature film and then on top of it, see it do so well?  
Kay: Thank you! I'm so happy that it did well. I (and Brownstone Productions) sold the idea of "PP" to Universal after season two of "30 Rock" and then I wrote it during season three. I had to be very disciplined when writing the movie while on a TV show as demanding as "30 Rock." And then, of course, the script sat dead on a shelf for a couple of years. "Glee" was sweeping the nation and my little a cappella movie couldn't compete with it. Ultimately, the movie wouldn't be made 'til four years later! So it was unbelievably satisfying to see it come out and do well. When I watched it at the premiere, I don't think I was breathing. I mean, I obviously was breathing or else I would be dead, but I remember feeling tingly all over right up until the end credits rolled. I don't know. Maybe I was horny.
Other than the long wait, I didn't have the typical feature writer experience and for that I am grateful. I never lost ownership of it. My script was never rewritten by a bunch of writers and then re-conceived by a director and then changed even more by a group of actors. I was the sole writer the entire time, had a kickass director who shared the same vision (Jason Moore) and a group of ridiculously talented actors who made the material better than on the page.  
SO: Proof of a great script from the get go! How much influence did you have in the actual filming process?
Kay: I was writing at "30 Rock" during the filming of "PP" so I wasn't able to be on set everyday. I did fly to Louisiana the weekend before they started shooting to do a final rewrite and work with some of the actors. I would also frequently Skype with Moore to talk about how it was going. And he and the producers were great about sending me videos of performances and bits (like testing how the burrito was going to hit Rebel Wilson). And I was still punching up scenes as they shot them and constantly giving my two cents, but it's difficult when you're not present.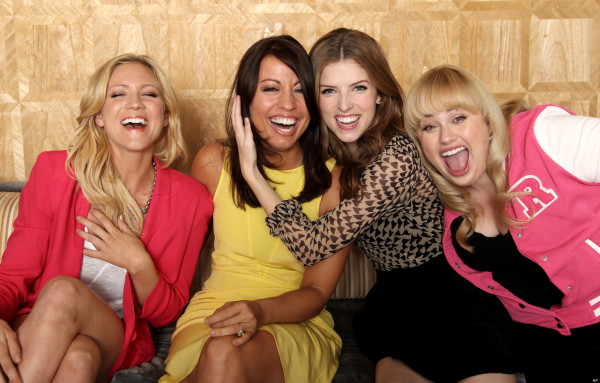 SO: They say, "write what you know" which is advice I assume you follow, because you've given that advice to me. So in "30 Rock" "New Girl" and Pitch Perfect what are some moments that are directly from your own life? 
Kay: There's a lot. "30 Rock" – I don't remember specifics, per se, but my husband at the time (Jason Sudeikis) played "Floyd" on the show and I feel like he and Liz Lemon had conversations that came right out of our real lives. And then, when we divorced, my friend made me write a list of all the things I wanted in a man. That nugget of an idea became Liz Lemon's monologue (while getting hit by dodge balls) in the episode "Lee Marvin vs Derek Jeter." I was very proud of that episode because A. It came from so much of my life. B. Tina and I co-wrote it. And C. It received an Emmy nomination.
"New Girl" – I wrote an episode last year called "Eggs" about women over thirty and infertility. That came directly from what I was going through at the time. My husband (Eben Russell) and I were having trouble conceiving, so I took the "Egg Timer" test that tells you how many eggs you have in reserve as well as their quality. (Full disclosure, I make a crapload of eggs and won't go through menopause til I'm about 60!  Jealous?!) That episode sparked a lot of fear and panic into the minds of women everywhere, but I'm happy to have played a part in starting an honest conversation about fertility and age. And as I write this, I am two weeks away from having my first kid!
Pitch Perfect – I actually got hit in the chest by a burrito from a drive-by. I fell to the ground and thought I had been shot. And growing up, I was on a lot of bus rides with girls (for sports) where we broke into song —  like the Bellas do with "Party in the USA." I love that scene.       
SO: See, everything happens for a reason. So beyond writing, now you've had your first official starring role in the Independent film The Little Tin Man. Tell us about the movie and your experience making it. 
SO: I was super excited to be asked to play the part of "Miller" and even more excited when it fit into my schedule. I've often have to turn down acting parts because I'm unavailable – which is a real bummer because I prefer to act over write. Shooting an independent movie is always tough and this one was no exception. I just tried to make the material pop off the page. I tried to make the material stronger – like actors do for me. I'm hoping that's how it came across.
SO: It premiered at the Seattle International Film Festival on June 1st. How's the reception been?
Kay: I wasn't able to attend the festival because I was too pregnant, but I heard it all went well.
SO: I know they (whoever "they" are) call it your official acting debut, but you were an actor in Chicago and you appeared in a few episodes of "30 Rock" and you do a great job of drinking orange juice in that one orange juice commercial. What makes you prefer acting over writing? 
Kay: You get so pampered and taken care of! Free food! Hair and make-up done! C'mon!
To be honest, I like to act in stuff I've written. For better or worse, I like feeling that kind of control. And I lose any insecurities that I'm not "doing it right." I played the role of "Melissa" on the "Eggs" episode on "New Girl." It was fun to play with that great cast when it's your own script. I loved it!  
SO: Totally makes sense. I feel the same. As a writer you write with a certain voice in mind (often your own), so it makes it so much easier to play it the way you wrote it and visa versa.
Obviously you're really good at your job. You were thanked by Alec Baldwin at the Golden Globes, are Emmy nominated, have won the Writers Guild of America Award for best Series three times, as well as a Peabody Award for your work on the show. Plus you wrote the screenplay for Pitch Perfect and are now the co-executive producer and writer for "New Girl." (Duh, you know all this.) Of all your work, what are you the most proud of? 
Kay: I guess I'm the most proud of not getting fired after the first season of "30 Rock." That writing staff was so unbelievably talented and that show was so special… and I didn't know what the hell I was doing. But I worked hard and tried to contribute as much as I could. Thank god I made it through!
SO: And then some! How do you feel like you've changed or grown from "30 Rock" to where you are today?
Kay: See above! I've learned so much. I don't know. I'm not as nervous as I used to be. I'm much more confident. My hair isn't coming out in clumps anymore.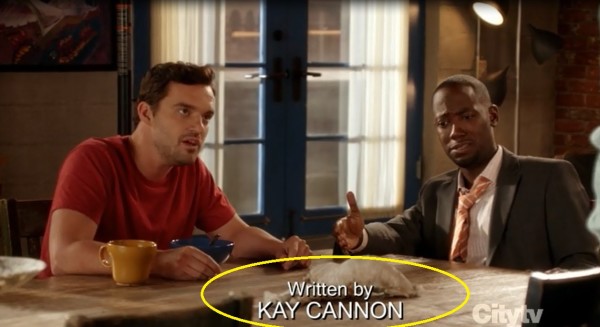 SO: Don't worry, your hair looks lovely. So, besides writing and starring in independent films, you're married and are about to become a first time mom. How do you balance married life with such a busy schedule and what are the hopes for being a working mom? 
Kay: I'm very lucky because my husband is a super talented comedy writer. We will often work together and help each other on our projects. The work doesn't feel like work because we laugh so much. I'm a very happy lady!
I'm trying not to have any expectations as a working mom. I'm just going to take it one day at a time. I've tried to get a lot of writing done pre baby so I can focus on her after she's born. But I love working. I don't "relax" easily.
I lost my father five months ago. He was a lawyer who owned his own firm. At  his funeral, I talked about how much he LOVED the law. He spent his spare time reading about it, watching it on TV, and talking about it with anyone who would listen. It was the greatest life lesson he ever taught me – which is to love and be passionate about what you do. And it's that life lesson that I hope to teach my own daughter. I hope she's not passionate about stripping.
SO: What other exciting projects are you working on these days? You know, besides growing a baby. 
Kay: I just sold a single-camera comedy to CBS called "The Runt" that I will write on my maternity leave. I'm also writing the sequel to Pitch Perfect. I have a couple of other movie/TV projects that don't have hard deadlines yet but that I'm excited to work on once I finish "PP2."
SO: First off, wow! That's a lot. Second, yay, Pitch Perfect 2! Can't wait! Third and maybe most importantly, we all know you're a really talented writer, but do you have any stupid hidden talents?
Kay: I can throw a game night party like nobody's business! And I'm pretty good at playing "Murder" or "Mafia" or whatever you want to call it. I call it "Murder." You're the murderer, Monique.
SO: Ooh! I have a great poker face… and an even better murder face. I'm totally winning this thing. Thank you again for chatting with us, but before I let you go, I have a more important thing to thank you for. Did you know that you were the first person to tell me about Spanx and the first to introduce me to tinted lotion? 
Kay: No kidding?! Glad I could have been of help. I am a loyal fan to both. I even wear pregnancy Spanx, which is absolutely ridiculous when you think about it.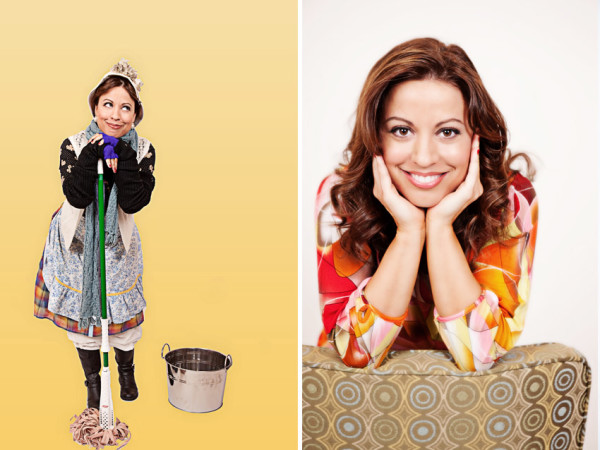 ____
SO NOTE: Season 3 of "New Girl" premieres tonight on FOX at 9/8c. Watch episodes HERE. Follow Kay @KayKayCannon.