What might the synergy of 1970s soul and funk yield if they could be combined with the principles of ever-resilient 80s electro, and just a touch of a crooner's burnished tone? More than likely, the resulting amalgam will include Brooklyn quartet, Body Language. A group initially conceived in Hartford Connecticut's annals of education and the sanctity of obscure dive bar dance parties, has come forth with a new revision to their sophomore effort. Tracing the band's evolution through their initial 2009 EP, "Speaks" to their next, 2010's "Social Studies," found the group ready to explicate just what their sound was about. On October 18th, Body Language and Om Records released the "Social Studies" Deluxe Edition; a thirteen-track album including a live version of the single "You Can", and four remixes.
The union between Matthew Young, Grant Wheeler, Angelica Bess, and Ian Chang has produced an enviable soundtrack that complements the tastes of both the roller disco denizen, and tenant of the modern indie dance floor. The additional element of the vocals provided by Young and Bass call to mind what collaboration between Minnie Riperton and the Editors' Tom Smith might offer. As Body Language narrows the scope concerning the kind of music they want to purvey, they continue to open themselves to a growing fan base that value novelty and ingenuity in a market perpetually stacked with new faces. We got in-depth with Matthew Young about all things Body Language, which is by far one of our favorite bands of 2011.
Serial Optimist: Prior the band's inception, what were you playing in Hartford at Vegas Blvd soirées? Original compositions? Who were you remixing?
Body Language (Matthew Young): We were playing a bunch of ghostly stuff like Matthew Dear, Osborne etc. Also we were way into the banger/French house thing that was huge back then like Justice, Simian Mobile Disco, Daft Punk, and Crookers. The first BL track we DJ'd out was called "Outside" – it was the first track I ever sang on and our first of the project. It was a super slow jam so eventually we phased it out. I don't know if the public will ever hear that one.
We did a lot of remixes of 90s stuff like "I'm Too Sexy", "Caribbean Queen", "She Drives Me Crazy" and "All She Wants To Do Is Dance".
SO: How was it decided that Angelica's vocals were an integral part of Body Language's sound?
Body Language: She had recorded some stuff on a project grant and I had worked on previously entitled The Landau Orchestra. We were all friends so it seemed like a no brainer.
SO: What do you find that Ian's drumming lends to the live performance?
Body Language: It makes our sound a little more organic and bombastic. Also having a live drummer doubling our programming live feeds into the energy on stage.
SO: As far your individual and collective goals as musicians are concerned, what has changed or evolved between the release of "Speaks" and "Social Studies"?
Body Language: "Speaks" was less songwriting based and more from the bass music tradition. "Social Studies" also came after we worked with Michael Angelakos of Passion Pit. I personally learned a lot about the process of songwriting from him – especially about instinct and forethought.
SO: The band doesn't seem to shy away from experimentation within reason. Does being able to switch back and forth between songs like the irrefutably sexy "You Can" and the tribalesque feel of "Seeds of Sight" make you a unique pleasure?
Body Language: We listen to a very wide range of musical styles, so we write all sorts of styles. I get really bored writing in the same style all the time.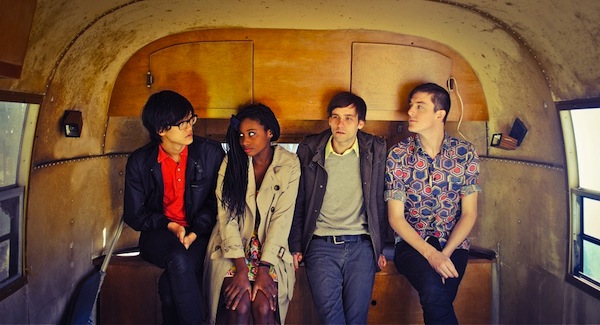 SO: Among collaborators past and present: Who are you working with now? Were any of them instrumental to where Body Language finds themselves today?
Body Language: Machinedrum, Michael Angelakos, Theophilus London and the singer of Vacationer (who will remain unnamed) have influenced us immensely. I would say there's a piece of all of them in our sound. I wouldn't say they really helped advance our band in any way though.
SO: Who would you say you most enjoyed touring with? By the way, I couldn't help but notice the New Year's Eve gig with Matt and Kim. How did that come to be?
Body Language: We loved touring with Zero 7. They were all so friendly and positive about our music. NYE should be fun! I am not sure how most shows come our way – I think people who book and promote are fans of ours and just wanna have us out.
SO: Was the video to "Holiday" a timely release considering the season, or simply something you felt deserved a visual interpretation?
Body Language: Yeah we wanted to give a bit of the Christmas spirit to everybody this year. The people at Frankenhole reached out to us because they thought the song was visually compelling and they made a cute narrative for it.
SO: Between songwriting and tours, where can you be found?
Body Language: In the studio- it never stops. We work on a lot of people's records so we are constantly moving.
SO: Does Body Language have any inkling to produce a full-length album, or is getting music out to the public the most important aspect of production? Do you feel as if you have created a distinct aperture through which people view the electronic genre?
Body Language: We are working on a full length at the moment. We should be done with it in February. All the songs are written so we are just finishing the drums and vocal recordings.
I would say we occupy our own little corner of the music world – that's one thing that will never change.
____
SO Note: For all things Body Language check out bodylanguagemusic.com, fan up Facebook here and follow them on Twitter here.