Robin Bacior is pure magic. It's difficult to pinpoint her sound exactly, but what comes to mind is a vision of She & Him dancing through a colony of fairies in the woods in Portland. Seriously. And we're totally in love. Robin calls Portland home, so that isn't too far off of reality. We were lucky enough to score an interview with this young songstress, and she is an absolute gem! If you haven't checked out her music yet, add it to your to-do list. Or do it now, before you get to your to-do list. Trust us, you won't regret it.
____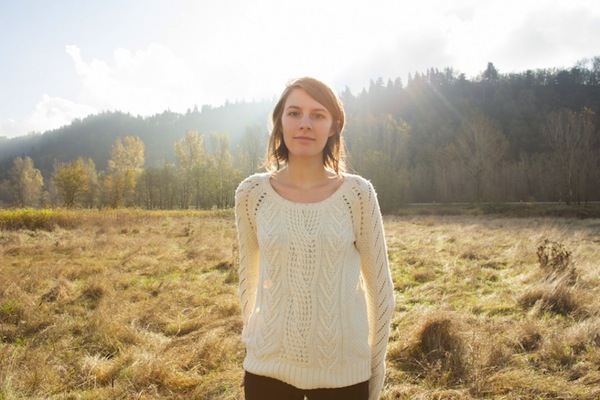 Serial Optimist: If you could introduce yourself to the Serial Optimist audience in the most unique way possible, how would you do so?
Robin Bacior: It's funny, I feel like the blog craze of the last few years has turned the word 'unique' into 'largest life-like meme possible', which makes me feel like I'm staring straight at a strobe light. I'm too much of a turtle for that speed (however, Dana Falconberry's answer to this question is hilariously wonderful and unique the best way). So, I think what I would do is ask them to meet me in the middle of a field with no light, and wait for our eyes to adjust to shake hands and say howdy. I'm a slow mover at heart, so I think it would be fitting.
SO: You're right. That answer IS unique. And sweet. How did your love of music ignite, and where does your inspiration come from?
Robin: It's always been there… now I can't help but think of that Billy Joel song "We Didn't Start The Fire" which I was oddly obsessed with around the age of six… ANYWHO, my mom plays flute, my dad plays guitar, and most of their friends dabble in music, so they were always getting together and playing. It seemed like a natural part of life. My inspiration comes from my own brain kinks and quirks and all the people I love, which can sometimes be a volatile thing. It took me a while to not feel weird about that, to sing in front of people and have this weird unspoken agreement I was calling them out or calling myself out. It felt confrontational or weirdly aggressive to be melodically shouting "I LOVE YOU A LOT" or "I'M SO CONFUSED" in some lyrical shape, but something very healing comes from it, so I keep doing it.
SO: You grew up in California and let the folk scene influence your music. Are there any childhood memories that also contribute to your style?
Robin: I grew up in a pretty incredible community of people, and each year a huge group of us would go camping and be a huge family in the woods for a week. At night we'd gather a ton of people and pass the guitar around and sing and harmonize for hours. I did this for the first 20 years of my life. Late-night campfire singing has a very strong intimacy to it, and I think that safe space and concentration has carried into my music.
SO: That sounds very exciting and tranquil at the same time! What has been your favorite venue/city/event to play so far?
Robin: So many venues and cities are great for so many different reasons, it's hard to pick one ultimate place. I'd say the two tied ones right now are in Big Sur at Fernwood Resort and playing here in Portland at The Piano Fort. Fernwood was full of such wonderful winter campers coming up to drink beer and listen to music for the night in a cabiny cozy space, my cellist and I met a ton of great people at that show. The Piano Fort is this fantastic space in Sellwood that does piano maintenance by day and hosts shows by night. The stage is multi-dimensional and built on actual old grand pianos, and the steps leading up are keybeds!
SO: I am definitely going to have to check that out! What 7 songs are your favorites at the moment?
Robin: Phosphorescent "Los Angeles", Grand Lake Islands "Flood", The Go Round "Midtown", Lady Lamb the Beekeeper "Taxidermist, Taxidermist", Father John Misty "Misty's Nightmares 1 & 2", Alabama Shakes "Hang Loose", Andy Shauf "You're Out Wasting".
SO: If you could choose one line–from any song ever written by any person–as your absolute favorite, which would you choose? Why?
Robin: I'd probably choose this line from Joni Mitchell's "Willy": But you know it's hard to tell
/When you're in the spell if it's wrong or if it's real
/But you're bound to lose
/If you let the blues get you scared to feel
/And I feel like I'm just being born/
Like a shiny light breaking in a storm It's SO SO simple, it seemingly shouldn't be special, but it's so incredibly special, and the delivery has this very modest build to it. I've listened to this song countless times, and this part gets me EVERY TIME.
SO: Now you're inspiring me to dig through old record collections and re-listen to some things! That's amazing! The music video for "Ohio" is very interesting. Where did the concept come from? How involved were you in the process? Robin:
Robin: The video was done by Alex Fischer and Ellis Bahl. I met up with Ellis and told him I wanted him to make make a visual that was his own interpretation of the music. Alex had been wanting to try this 12-screen concept for a while, and the two seemed to go hand-in-hand. They asked Kristina Donello to then choreograph her interpretation of the song. So, it was a combination of three visions. It was SO much fun to watch the whole process materialize.
____
Robin Bacior – "Ohio"
____
SO: So much creativity and vision in one video! It's incredible the way people can pull that off. If you could travel with any act (whether it be band, artist, comedian, juggler, bearded woman, etc.), whom would you choose? Why?
Robin: I'd really love to travel with Feist. After watching Look At What The Light Did Now I was so inspired by what a communal artistic experience her live show is, and I'd be so honored and excited to be a part of that.
SO: Slightly disappointed you didn't choose the guy with really long fingernails. But I digress. A lot of fast food chains have been re-designing their logos recently (i.e. Arby's, Wendy's). That got me thinking. If you could draw a logo for yourself as a person, what would it look like?
Robin: Oh man, I'm TERRIBLE with visuals. The only time I tried to draw a poster for myself it ended up being a stick figure with a crude T-shirt that said "I love Joni Mitchell". If I tried again, it would probably be something similar.
SO: That definitely made me laugh! Alright. Key question here. Kimodo Dragon or Rainbow Lizard?
Robin: Lizard. Champion the underdog.
SO: You sound like my mother. Kudos! So what new and exciting things are coming our way from you?
Robin: I'm heading to New York in a couple weeks to play some music, then coming back to the Northwest for shows and recording through the summer and an October tour! A lot of sing-songing ahead.
SO: We will come check you out in New York! Thanks so much Robin!
____
SO Note: Check out more of Robin and tour dates at robinbacior.com and like her up on Facebook here.