JC Coccoli is quickly climbing up the Hollywood ladder (not to be confused with Jacob's Ladder). This gal is the whole package fellas. She is charming, witty, fashion-conscious and hella funny. And might I point out that I find her accent sublime. JC began touring as a stand-up comic, performing at college campuses, local comedy clubs, and alt venues, of late. Some of the numerous venues she's performed at include UCB, The Meltdown, The Laugh Factory, The Comedy Store, Tiger Lily, and Public House, where she puts on her own weekly show "Keep It Clean". JC has benefited greatly from studying with the Upright Citizen's Brigade. She has acquired the comedy skills that have allowed her to explore opportunities as both freelance comedy writer and consultant to comedy and acting talent. JC is one of the authors linked to Zooey Deschanel's online project, HelloGiggles. JC also hosts the HG monthly shows at UCB that have also branched out to festivals like Bonnaroo. You must check out her wonderful blog, JC Coccoli is Pretty, where you can catch her Champagne Problem vids, Diamond Gothic posts, celebrity commentary, book reviews and anything and everything JC. Now take notice and share your fleeting summer day with intoxicating JC Coccoli.
____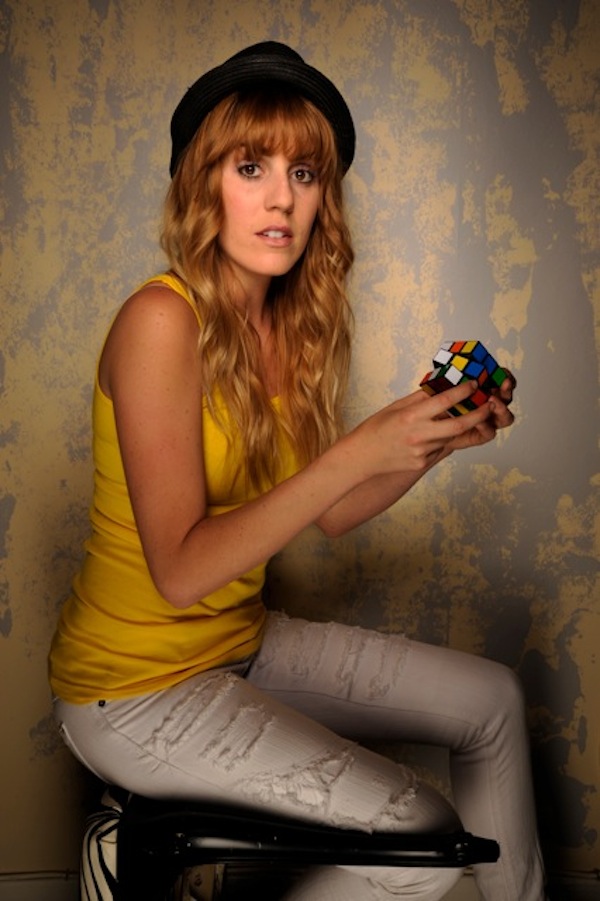 ____
Serial Optimist: Let's get down to brass tacks. Where do you shop and can I have your wardrobe? As a fellow fashionista, did you celebrate Fashion's Night Out?
JC Coccoli: Ha! No brass tax here sister. Let's see, I shop at many different unique places (Oh balls, I sound lame already) a lot is researched online through various blogger websites I discover. My favorites are Pixiemarket, DC Women's collection (my sponsor), Lookbook.nu, Top Shop at times, consignment shops in LA, NY and Palm Springs (my absolute favorite felt hat was found there for less than two billz. It's like, "whaaa?") I make a monthly visit to the Pasadena Flea Market at the Rose Bowl to shop for authentic jewelry pieces from dead or retired people (too far?). And what ever look books I receive in the mail I go out of my way to mimic the pieces for casual wear in comedy. 'Cause there's a fine line with wardrobe in comedy for sure.
FNO! Fashion's Night out was the jam. LF here in LA really went for it. As well as some rinky-dink shops in Echo Park. I mean "rinky-dink" in a dope way. I wish I would have been in NY at the time, but Lil Momma bleeds LA so being here was beyond worth it. We ended up at swanky soho house where I was in tied died fluorescent shorts, an old school Betsy Johnson top and ripped-so perfectly-nylons and army boots. I drive my Vespa there because the valet guys love it so there is no room for heels at that joint.
SO: A girl after my own heart. Was JC always this well dressed, composed and super funny? What was the Pittsburgh, PA JC like growing up? Bullied or just plain "bully" in the jovial sense?
JC: Whoa! Keep dem compliments coming would ya? I always had an affinity for fashion. Not necessarily labels because, well, I'm from Pittsburgh. But the styling aspect of taking risks and using color and falling away from the pattern of sweatshirts and jeans on a daily basis was something that my Mother will tell you at a young age was "cute, but annoying." Was I composed as a kid? No way man. I was a tomboy through and through. My best friend David will tell you that first day of third grade he turned around to 'hit' on me and I looked him dead in the eye and said "Does this hurt?" And took a newly sharpened pencil and stabbed it through his hand. I was sent home immediately on the first day.
After anger management at age 8, three various sit downs with the Pittsburgh fire department because of my obsession with arsenary (after seeing "Dances with Wolves" I would like to point out) and my drop of a dime use of the "f-bomb," I settled into my own skin as I began to work in entertainment in my early tweens.
It's funny that you asked if I was a bully or did I get bullied because regardless of my rebellious nature I HATED when people bullied kids in our class. Because I was off doing my own thing I didn't have a clique or a group that I bowed down to but if I saw those jocky guys going after a science genius because he was smaller than them. Boy, oh boy did I let them have it. I think I flushed Bobby Lang's crucifix necklace down the toilet after he picked on a kid. Then he told me I had a flat chest. And, then I said his "ginger freckles were revolting" I was a reallllll catch.
SO: A pint size Beatrix Kiddo, hard as nails. How did you get your start in stand-up? What was your worst open mic experience?
JC: Honestly, I know someone somewhere has me doing my first performance ever on tape, but I stand by the fact that I killed it (lies. All lies). I was in 19 years old in Orlando, Florida in the restaurant in our student union and there was a stand up 'contest.' It was all guys and of course, me being all "I am women let me roar on your face" I asked to enter. They said I couldn't be in it because the entries were closed but that they would give me a guest spot towards the end. So I scrambled in the bathroom and wrote two Mandy Moore jokes (praising her. Not kidding) and a Miller Lite joke and oh! Remember when collect call commercials were all "don't dial collect, dial 10-10-220 then the number?" I wrote a joke about that too and it demolished the 8 people in the room. I was a rising star and got free lemonade out of it.
SO: Videotape? I think you are safe. Wink. Who are some of your comedy mentors?
JC: Maria Bamford's vocal work stops me dead in my tracks. Her timing and her dedication to characters changes stand up for me. I could listen to Andy Kindler jump topics all day. Sarah Silverman's candid delivery and kindness on and off stage is something I value each time I am in a room with her. People that have taken me under their wing and have made me a better comic and person are without a doubt Jeffrey Ross and Hannibal Buress. As well as my manager and my true comedy mentor, comedy fan and friend, RR.
SO: Road Runner. Smile. Would you label yourself an alt comic? What comedy shows do you love performing at?
JC: I mean, I don't mind the word 'alt." Alternative is meant to be "alternative from the norm" so its a compliment. And, if you know anything about me I'm a sucker for when words are chopped and made hipper. So, sure I'll take it!
Shows. Let's see. I'm bias because I've had my own show every Monday at 10pm in Los Feliz for the last few years. Tiger Lily at 8pm on Monday nights is an addiction for me. UCBTLA has something about it that makes the room glow while on stage and back stage. The Comedy Palace is this intimate attic like venue atop of a Chinese restaurant in Los Feliz and I've had my best sets there. The Improv on Melrose because of the kindest staff in the history of staffs. Laugh Factory in LA has nostalgia for me, so going there is def in my tops. In NY the Knitting Factory has such a unique dynamic that makes you feel like you are in an alternate comedy universe. Last time I was there it was pouring rain and everyone (crowd and comics) were soaked and they all couldn't have been more invested in every word. It gives me chills to think about. There is also Union Hall in NY. The Ace Hotel run by comedy genius and friend, Jena Freidman. UCBeast in NY. Littlefield is a massive warehouse in Brooklyn that feels like you are out of the world of normal comedy and puts you in the hands of absurdist. Man, I could list for days. Purple Onion in San Fran. A bathroom at the Philadelphia airport. Etc.. you get the idea.
____
Laugh Factory Set
____
SO: I bestow to you the award for completeness in the comedy category. How did you get involved in writing for HelloGiggles? (I must say your Champagne Problem of the Week "Have You Ever Been Dumped via Text?" had me in absolute stitches.
JC: Well Zooey is a huge fan of mine…(kidding, I don't even think she knew what color hair I had until I began working for the site.) Sophia Rossi and Molls are people that ran in my comedy circle for as long as I could remember. And having Zooey attached was just magical. All three of them are empowering, brutally honest and hardworking females that set their eyes out on a goal and go above and beyond to see it through. When the site was in its beginning stages Sophia and I communicated and Champagne Problems was born. It really was to resemble an honest, bright and comedic voice for twenty and thirty somethings that find them selves complaining about irrelevant things in life just because its human nature. And, you'd be surprise how wonderful it is to make them.
And, thank you for the compliment about the "Dumped bit." That's one of my favorites too. Far too often are people getting ripped apart by technology contact and it happened to me. So, I felt inclined to spread the word so others didn't feel alone. It strikes a cord with people to laugh at things like that.
SO: Let's blame Steve Jobs. Why do you think a site like HelloGiggles has been so popular among young women today?
JC: I think young woman were looking for an outlet or a home to be themselves without the pressure of fitting into society based on being thick skinned to survive. So when HG launched it was this forum for people to well, just..be nice. And, I think some people, mostly young woman, were tired of gossip sites, and insulting fashion blogs, and shows that make cast members appear drunk or incompetent for entertainment purposes. Being mean gets old and it's tiresome. So when something positive came along I think women everywhere took a collective sigh of relief (and some adorable men too. I didn't forget you.)
SO: It's a very refreshing concept that is obviously working. How did the UCBTLA HelloGiggles live show get started?
JC: Well, it's a story telling show that allows not only live performers and standups, but television actors, comedy writers, bloggers and entertainment enthusiasts to speak to live audience of people hungry for good humor with an opinion geared towards being real, honest and kind. So, I believe after the site had legs the logical next step was to bring the audience to meet those people behind the site in a live setting. UCBTLA has always been an incredible place to exude creativity and present unique twists to shows so of course that is where HG settled on. And, it has been going monthly for almost a year now with sold out performances every time. It's truly dope town USA.
SO: What was the experience like taking HelloGiggles live to Bonnaroo?
JC: Holy Bejus. It was by far the most mind-blowing experience to date. I travel a lot and I go from show to show and never have I boarded a plane, drove for miles, laughed uncontrollably, performed every night and slept in an RV with some of the most talented people in my life and lived to tell about it. We couldn't stop laughing and at the same time we were exhausted. We were draped in super adorable GAP clothing because that was our glorious sponsor and we entertained audiences nightly as they were coming down from whatever spiritual high they were on. We saw most every band we wanted to see, enjoyed VIP treatment of washing our feet in a sink and just lived in our truth as we ate chili bowls and got spray painted tattoos of Edward Scissorhands on our necks. It was incredible and I would do it again for not only myself, but also the amazing HelloGiggles fans that came out.
____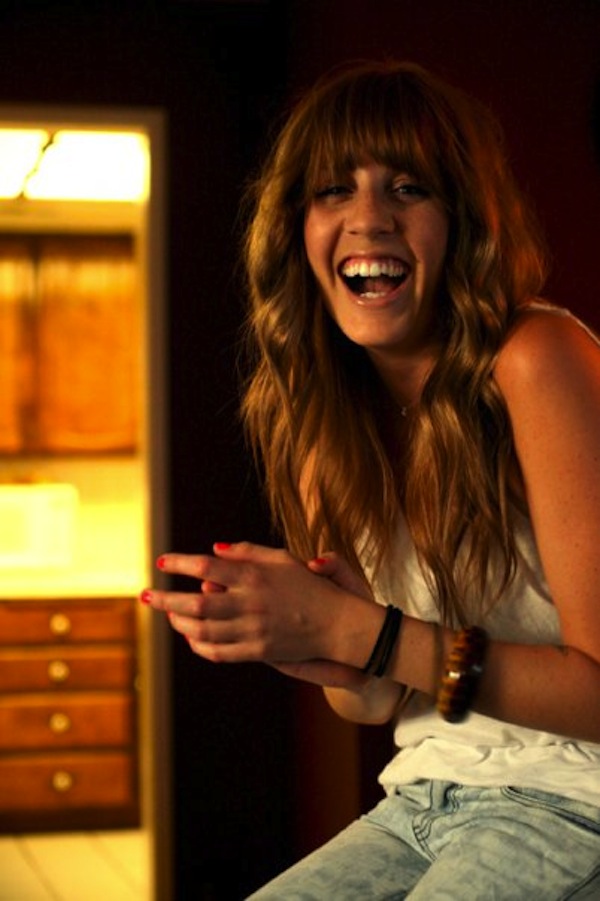 ____
SO: Putting Bonnaroo on my must-do list. How would you describe "Diamond Gothic" for those who have never read it or visited HelloGiggles?
JC: "Diamond Gothic" is a vogue-esque thriller set in the south in the roaring twenties. It is the brainchild of Bethany Joy Lenz with Abigail Spencer and myself attached. We just wanted to present a project that was both different and fan based as well as represents Young Adult in a fashionista (there's that word again!) way. We are working on the second season now and find ourselves engrossed in the characters since they literally come to life more and more. The concept is to "Yes, and" the chapter before yours in a rotating novel type of way. So, even we as the writer's don't know where it is going to end up and sometimes throw it out to the fans to decide. Should she live? Should she die? What will she wear? That way everyone has a hand in the story telling. And, when it eventually moves to a novel or a TV show or a film the fans can say, I" voted on that! I decided her fate!" which I think is really cool.
SO: Social media at its best. WMD!!!!!! (aka White Man's Dick w/ Susan Sarandon) SO FUNNY! How did that Funny or Die video come to be? Was it a fun writing gig?
JC: Oh man, thank you! What an honor to work with Susan Sarandon. And, more an honor to have a voice in something that matters to me and essentially to women everywhere and have Funny or Die in on it. All great people. Basically what happened is I was asked to MC the War Against Women rally a few months back in LA with speakers and comedians like Sarah Silverman and Zach Galifianakis to appear. We (UCB performer Melissa Stephens and I) were sitting around thinking of who is our ideal list of candidates to appear and what exactly we wanted to deliver message wise. Then it hit us, we were like duh, "Susan Sarandon waving a dildo." That's it. And, she was in. It was surreal and hysterical to write. We spent hours on end at my loft downtown just spit balling ways to take it further. We only had a week to pull it together so we were proud. I still have Susan's phone number and after a few glasses of wine I wrestle with calling her just to say, "Hi Susan, I was the girl that wrote White Man's Dick. How are you?"
SO: Thelma says DO IT! How long before you get your own spot on Fashion Police?
JC: Ha. Do they want me on Fashion Police? Kidding, of course they do. Kidding, again. (They have no idea who I am…) Um, I would be honored to be on that show before I die. I'm worried I would just sit on Joan River's lap and hug her the whole time, but if they're down with that, it'll make a hell of an episode(s).
SO: It couldn't be any worse than wading through a fountain with Ryan Lochte to try out your pee joke in front of the E! Studios. Yes, Joan did that people. Can you tell us a little about your involvement in Morgan Spurlock's glorious manscaping documentary "Mansome"? Handle bar mustaches, in or out?
JC: I got a call from a friend of mine out of New York about a year and a half ago and she said one of the film producers is a fan of mine and wants to hear my opinion on facial grooming on men. It's a topic I feel strongly about since I am convinced all the real man were sucked into a vacuum and spit out waxed and tanned so I showed up to meet them and its a huge film I was requested on. It was insane and I met a handful of people that kept me laughing while I was on set. Truly a great experience to be apart of. And to answer your question, as long as you have a job, you can do whatever you want with your mustache. (That's how low my standards are now.)
SO: Ok, that made me snort with laughter. What projects do you have lined up?
JC: Currently working on developing my own show based on my life that I am so excited for. As well as taking HelloGiggles' Champagne Problems to another level with possible coffee table book deals. I will be touring for standup starting in January throughout April and I will be hopefully be working with MTV comedy in the near future on a project I can't quite disclose. But, momma bear likey, therefore I guarantee baby bear will too. (I'm Momma bear, you're Baby bear.)
SO: Baby bear wishes you all the best. Knock em dead!
____
SO Note: Check out JC on her fab website JC Coccoli is Pretty, follow her @JCcoccoli, she is the best on HelloGiggles so get at her here, and and stay up on your Tiger Lily here!